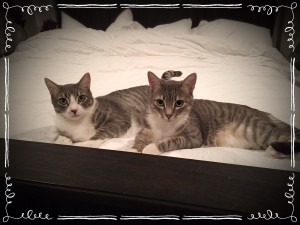 Hello Readers!  I know it's been a long time since I've posted a recipe or how-to… but if you guys haven't figured it out yet, I'm taking a break!
I started this blog with the intention of posting some recipes now and then, as a step-by-step "how to guide" for people who are learning to cook/bake.  I also wanted to help give more experienced cooks and home bakers an opportunity to learn different cuisines and techniques, and to help cultivate a curiosity about trying new ingredients and techniques.  As our technology progresses, people overall seem busier from day to day, with less time to devote to things like cooking.  I noticed that many young people seem disinterested in learning how to cook/bake… it makes sense… the world is changing and we all have less time to devote to learning these skills (that many perceive to be difficult) and must prioritize other things in our lives.  I wanted to help change this misperception that "cooking is hard" and make it easy for people to learn, at their own pace.
Hopefully the recipes that I have posted over the past few years have helped further this goal.  My website is here, for free, for anyone to read… so please take what you like and leave the rest!  By no means is my way the only way of doing things… and I would encourage everyone to experiment in the kitchen with ingredients and techniques as much as you can.  I've learned a lot from trying new things – being excited by seeing a new spice in the market or a new type of cooking tool or utensil… and I hope that I have helped in some small way to cultivate that curiosity in my readers.  Aside from having a kitchen with cabinets overflowing with all sorts of ingredients, pans, and tools (I ran out of space a long time ago!)… my "experiment" has been a happy one, something that brings me great joy.  Yes, I've had a lot of failures (exploding dough, batter overflowing onto the oven floor, wasted ingredients, etc.)… but with every failure, I've learned something and it has made me better in the end.
To access my recipe index (quickest way to find a specific recipe), click the tab at the top of the page that says "Recipe Categories", and it will take  you to my index page that lists all the recipes that I have ever posted on this blog.  You can also hover your cursor over the "Recipe Categories" tab, and the individual categories will appear below that you can click on – and then you can scroll through the pictures.  I have tried to divide the recipes into categories that make sense (like a cookbook); cake, quick breads, cookies, types of cuisine, etc.  If you are searching for something specific, you can also enter some key words into the search box (on the right sidebar) which should (hopefully) pull up what you are looking for.  I have 6-7 years worth or recipes that you can access on this website… over 339 blog posts to this date!
Since the beginning of this year, I have decided to take a much needed break.  Part of that is because the two little guys on the top left of this screen are keeping me busy in much of my free time… my little shelter kitties that are the BEST CATS EVER!  The other reason is that while I love cooking and baking… the pressure to pull out the camera and take pictures, measure ingredients exactly, and hurriedly upload and write everything up so I don't forget the steps of what I did was taking the joy out of my favorite hobby.  Hopefully what I have done so far is enough to give my readers "the basics" of my experience.  This is by no means a "goodbye" letter… I still plan to post some recipes now and then if I do something new and exciting, or make something worthy of sharing.  Thank you for joining me on this journey!
-Mika
>^..^<