This evening, I needed to make a birthday cake for a vegan friend… and I've already made her a Chocolate Bundt Cake with Peanut Butter Glaze several times (based on the cake portion of my Old Fashioned Chocolate Cake recipe which doesn't require dairy or eggs)… thinking it was time to bake something different, I modified that recipe to make a Coconut Rum Cake.
For this recipe, you can use regular all-purpose flour… but if you can get it, White Lily flour (a Southern USA staple) is a great ingredient to make the texture of this cake fluffy and moist!  White Lily Flour is made from red winter wheat which has a lower protein (gluten) content than regular AP flour – this makes it the ideal flour for delicate baked products such as biscuits, quick breads, and cakes (not so great for bread making or products that require a higher protein content).  Unfortunately, they don't sell White Lily flour here in California… so I usually buy it online.
Vegan Coconut Cake:
3 c. all-purpose flour (White Lily)
2 c. sugar
2 tsp. baking soda
1 tsp. salt
2 c. unsweetened coconut milk (for drinking), hot
3/4 c. vegetable oil
2 T. white vinegar (or cane vinegar)
1 T. coconut extract
1/4 c. shredded coconut
Coconut Rum Glaze
1/2 c. coconut oil
1/4 c. unsweetened coconut milk
3/4 c. – 1 c. sugar
1/2 c. coconut rum (Malibu)
1/4 tsp. salt
1.  Preheat oven to 350 degrees, prepare bundt pan by spraying with non-stick baking spray (I use Pam for baking spray).  Sift the flour, sugar, baking soda, and salt in a bowl and whisk to combine.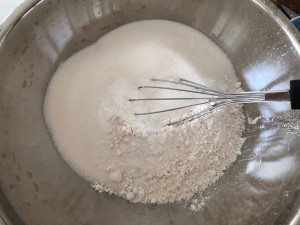 2.  Microwave the coconut milk for about 3 minutes to heat. (Use the unsweetened coconut milk that comes in a carton for drinking, not the heavier kind that is canned meant for cooking.)  In a separate bowl, combine the vegetable oil, vinegar, coconut extract, and hot coconut milk.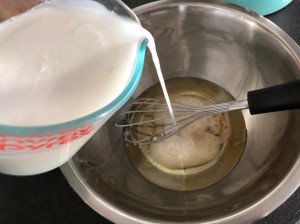 3.  Combine the wet ingredients with the dry, mix until just combined (do not overmix).  Stir in the shredded coconut.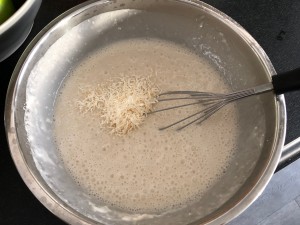 4.  Pour the batter into the prepared bundt pan and bake for 35-45 minutes.  Baking times will vary on your particular oven… so start with 35 minutes, but check before removing because your cake may need more time.  (My cake took about 38 minutes, on the convection setting.)  Remove the cake from the oven and allow it to cool for 5-10 minutes.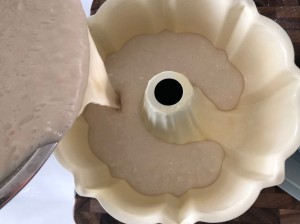 5.  Meanwhile, make the rum glaze.  Gently heat the sugar, salt, coconut milk, and coconut oil in a saucepan until bubbly and sugar is dissolved.  Continue to simmer, while stirring, until slightly thickened.  Remove the pan from the heat, and add the coconut rum.  (Start with less sugar if you like… you can always add an extra 1/4 c. if you would like your glaze to be a bit sweeter.  Normally when I make this type of glaze for Caribbean Rum cake, I use a dark rum… which isn't very sweet.  But coconut rum, like my favorite Malibu, does have a lot of sweetness to it – so I feel you don't need as much sugar.)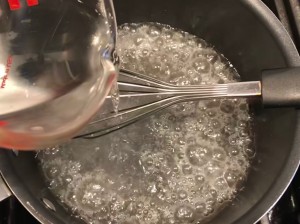 6.  With a small paring knife, lightly poke some holes in the top of the cake (this will allow the cake to absorb the rum glaze).  With a spoon, slowly spoon the glaze all around the top of the cake – do this slowly so that the rum glaze has time to soak in.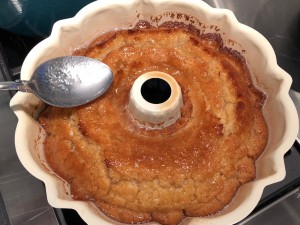 7.  Allow the warm cake to soak up the glaze and sit for about 10 minutes before inverting onto a cake platter.  Serve when cool!