With the upcoming holidays, I've been looking for some simple, but flavorful, dessert recipes to try out for Christmas.  I like to stick with ingredients that are in-season if possible – so for winter in Southern California… that means citrus!  I love the bright & tart flavors that citrus fruits impart to cakes… the inclusion of olive oil also helps to give this cake a very unique flavor.
The olive oil you choose for this cake depends on your preference… use high quality extra virgin olive oil if you would like the fruity essence of olive oil to be apparent in the cake (which is what I do).  If you are concerned the olive oil flavor might be overpowering, try it first with light olive oil (which has a more neutral taste)… then next time you make the cake see how you like doing half light olive oil, half extra virgin olive oil.
This olive oil cake can be modified to any citrus fruit (lemon, tangerine, orange, blood orange, etc.).  You can also add complementary herbs/flavors as well.  The next time I make this cake, I'm planning on doing a lemon-rosemary version (or possibly a lemon-lavender version).
Orange Olive Oil Cake
4 eggs
1 c. sugar
1/2 c. orange juice (from 1 large Navel orange)
1/2 c. olive oil
1 tsp. orange zest (from 1 large Navel orange)
1/2 tsp. vanilla extract
1 c. flour
1/2 tsp. baking powder
1/2 tsp. salt
powdered sugar (optional)
1.  Preheat oven to 350.  Spray a 9″ springform pan with non-stick baking spray (I use Pam for baking).  Wash and dry an orange, then zest.  After zesting, cut the orange in half and juice.  (I got enough juice + zest from 1 large Navel orange, but depending on the size and how juicy the oranges you have are – you might need more.)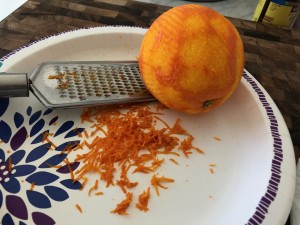 2.  Using a stand mixer or hand mixer, whip the eggs and sugar until fluffy and pale (about 4-5 minutes).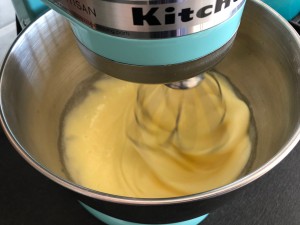 3.  Combine the orange juice, olive oil, orange zest, and vanilla extract into a glass measuring cup with a spout.  Whisk with a fork to combine.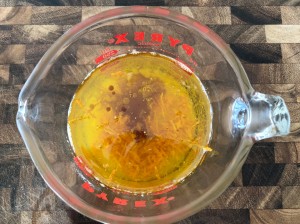 4.  Reduce the mixer speed to low, then slowly pour the orange juice mixture into the egg mixture.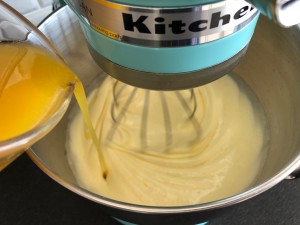 5.  Whisk the flour, baking powder, and salt together in a bowl to combine.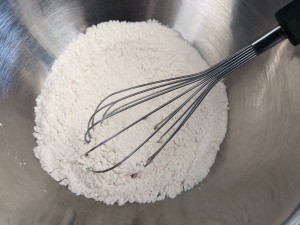 6.  Pour the dry ingredients into the liquid, then gently combine with a hand whisk.  (You should have a light and foamy batter.)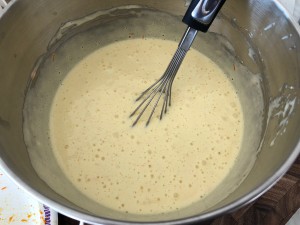 7.  Pour into the prepared pan, then bake for approximately 45-50 minutes at 350 degrees.  When done, the top of the cake will be golden brown with the edges just pulling away from the pan (toothpick inserted near the center should come out clean).  Don't be alarmed if the middle sinks in a little bit… as long as the toothpick in the center comes out clean, the cake is done… and not much you can do about it.  Olive oil cakes have a tendency to sink in the middle.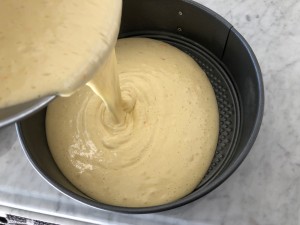 8.  Cool 15-30 minutes in the pan, then unhook and remove to cool completely on a serving platter.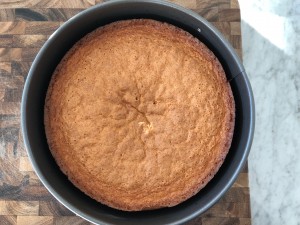 9.  Dust with powdered sugar, and serve!  Cake will keep (covered) for up to 1 week at room temperature.