One of my most favorite cocktails is Roy Yamaguchi's Hawaiian Martini (from Roy's, a popular upscale Hawaiian fusion restaurant).  It's a potent cocktail, and at about $12 per glass… somewhat pricey… but considering how good (and strong) it is – you usually only need one!  Roy's is one of my favorite restaurants down in La Jolla… their food and drinks are really unique and very good!
If you ever have the chance to go to a Roy's, my recommendation would be to try the Hawaiian Martini, the Misoyaki Butterfish (it just melts in your mouth!), and the Melting Chocolate Souffle for dessert.  Even better, if you are able to go to one of the Roy's in Hawaii – these are all still owned and operated by Roy Yamaguchi himself.  (A few years ago, on a trip to Oahu, we had the chance to visit the Original Roy's, Hawaii Kai…. it was in a small strip mall on Kalanaanaole Hwy., in Honolulu, HI.  Because we went at night, we missed the lovely ocean view – but it was a wonderful experience…. my favorite part was the "forbidden city rice" – an heirloom variety black rice that was previously reserved for emperors in ancient China.  And of course, we enjoyed the original Roy's Hawaiian Martini!)
The Hawaiian Martini is a pineapple infused cocktail – made with vodka, vanilla flavored vodka, and coconut flavored rum.  Earlier this year, Roy's shared the recipe for their Hawaiian Martini on their facebook page (re-posted below).  I saved the recipe, of course, and figured I would try making it at some point in the future when I had the time.  Well this was the week!  I had some cut pineapple from Costco that was leftover from another recipe… so it seemed this would be a good time to try it.
If you have a gallon sized glass jar with a tight lid – I find these are the best for infusing alcohols and making liqueurs like Limoncello.  If you don't have a glass jar, any clean gallon sized container should work – but I would try to stay away from plastic if possible.  (Sometimes you can "taste" the plastic when you infuse in a plastic container.)  One recipe of Hawaiian Martini mix takes about 5 days to infuse properly, and will make approximately 6-8 servings.  (To make one serving, you mix about 1/2 c. of the Hawaiian Martini mix in a shaker with some ice and strain into a chilled martini glass.) If you have any leftover Hawaiian Martini mix, you can strain it and store (refrigerated) in a glass container for approximately 1-2 months.
**FYI, to make simple syrup – just microwave water & sugar (in a 1:1 ratio) in a pyrex measuring cup for a minute or so until the sugar is fully dissolved.  Cool before using.
Roy's Hawaiian Martini:
1 ripe pineapple
2 cups Skyy Vodka
1 cup Malibu Coconut Rum
1 cup Stoli Vanil
2 oz. simple syrup** (about 1/4 cup)
1.  Slice and peel the pineapple (if you are starting with a whole pineapple).  (I got pre-cut pineapple from Costco, so about 6-7 wedges is about 1 pineapple.)  Put the pineapple in the bottom of a 1 gallon glass jar.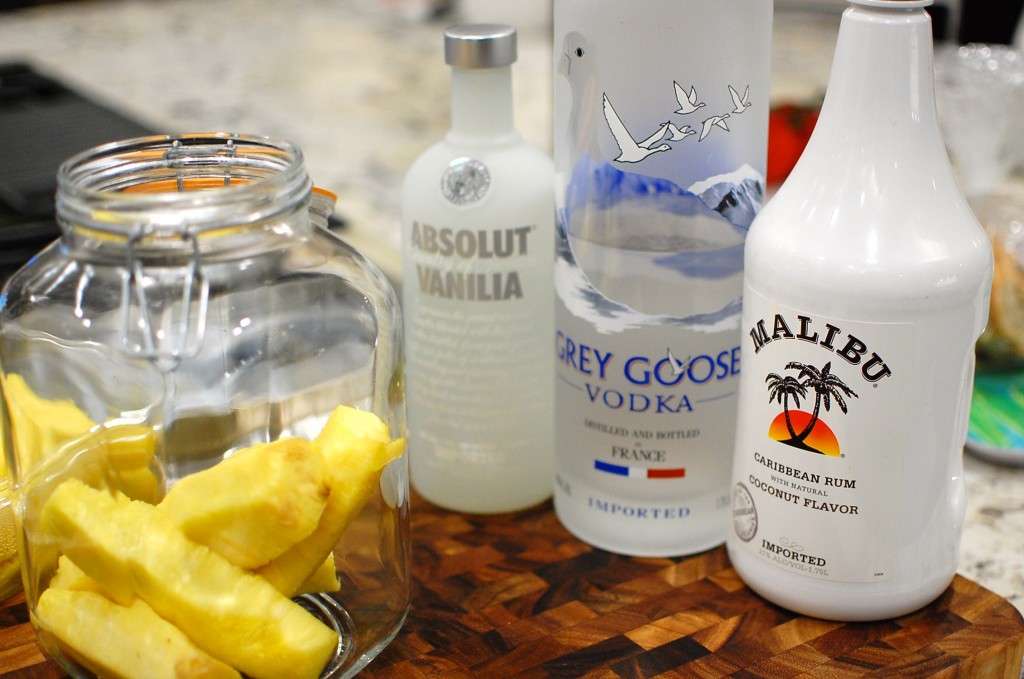 2.  Pour the vodka, Malibu, and vanilla vodka, simple syrup over the pineapple.  I didn't use the exact brands recommended by Roy Yamaguchi… I had Grey Goose in the cupboard, so that's what I used instead of Skyy Vodka.  Also, I had Absolut Vanilia… so I used that instead of Stoli Vanil.  Just use what you have.  But be careful with the vodka – while you don't have to use Grey Goose or Skyy… use a vodka that is at least of decent (drinkable) quality.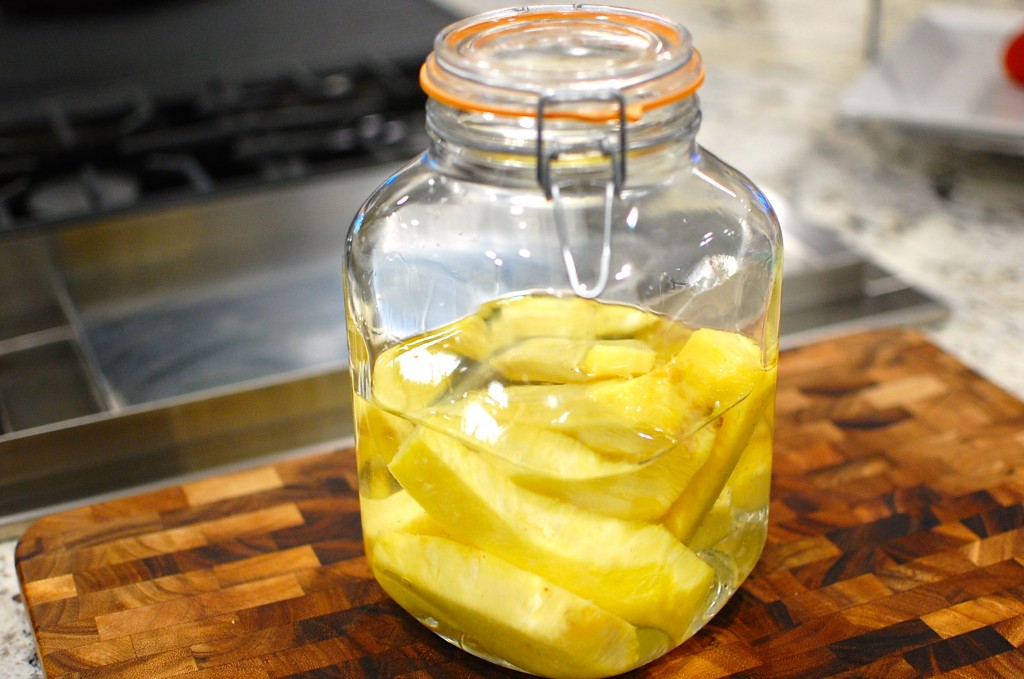 3.  Allow to stand at room temperature for 5 days to infuse the pineapple flavor into the spirit mixture.  Although not specified in the official Roy's recipe, I think it's best to store the jar in a dark place (like inside a cupboard).  On day 1, I used a long knife to cut the pineapple into 1″ chunks, inside the jar.  (I'd like to pretend I did this because I was trying to keep the juices in the jar… but the truth is I totally forgot to cut the chunks smaller before pouring the alcohol over it.)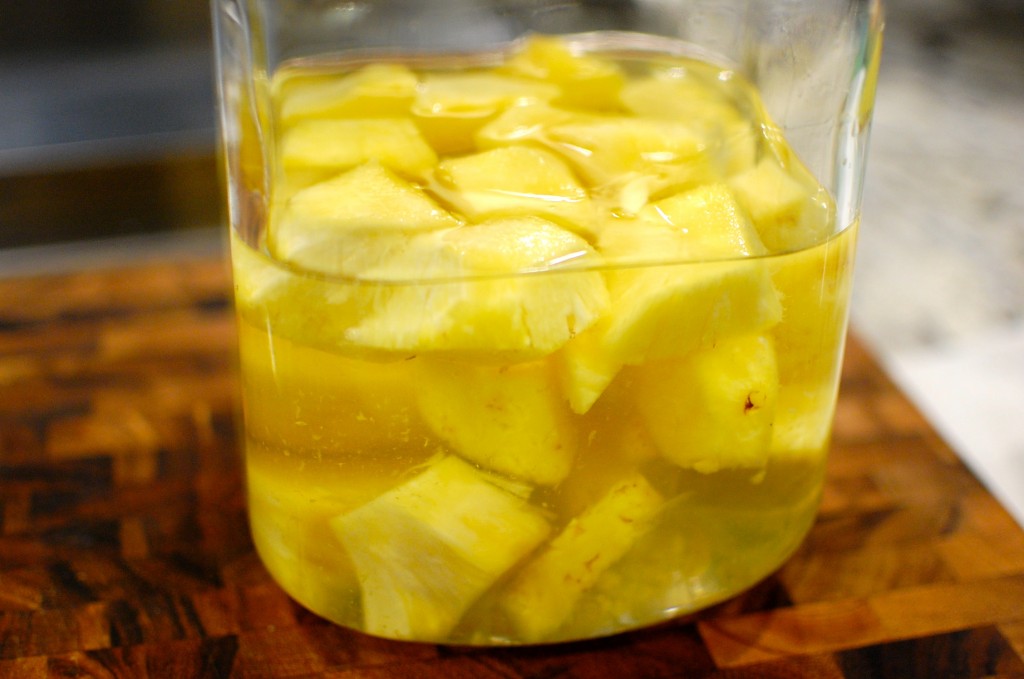 4.  5 days later:  To serve, fill a martini shaker with crushed ice and 4 oz. (about 1/2 cup) of strained Hawaiian Martini Mix.  Before mixing, taste the martini mix – if you prefer it to be sweeter, you can always add extra simple syrup at this time if needed.  Shake "aggressively" and strain into a chilled Martini glass.
(I got this Martini shaker for free last year with a gift set of Grey Goose.  Right before Christmas, the supermarket usually has gift sets of name-brand liquor – usually about the same price as one regular bottle – and they often come packaged nicely with freebies like cups, glasses, or martini shakers.  Since Christmas is around the corner – just FYI that these sets make nice gifts, or you can score some free barware or bar tools for yourself.  Right now my local supermarket (Albertson's) has these sets for 30% off if you buy 6 more more, which is a really good deal!  I got a full sized 750mL bottle of Grey Goose in a gift set with 2 free martini glasses for about $20 on sale.)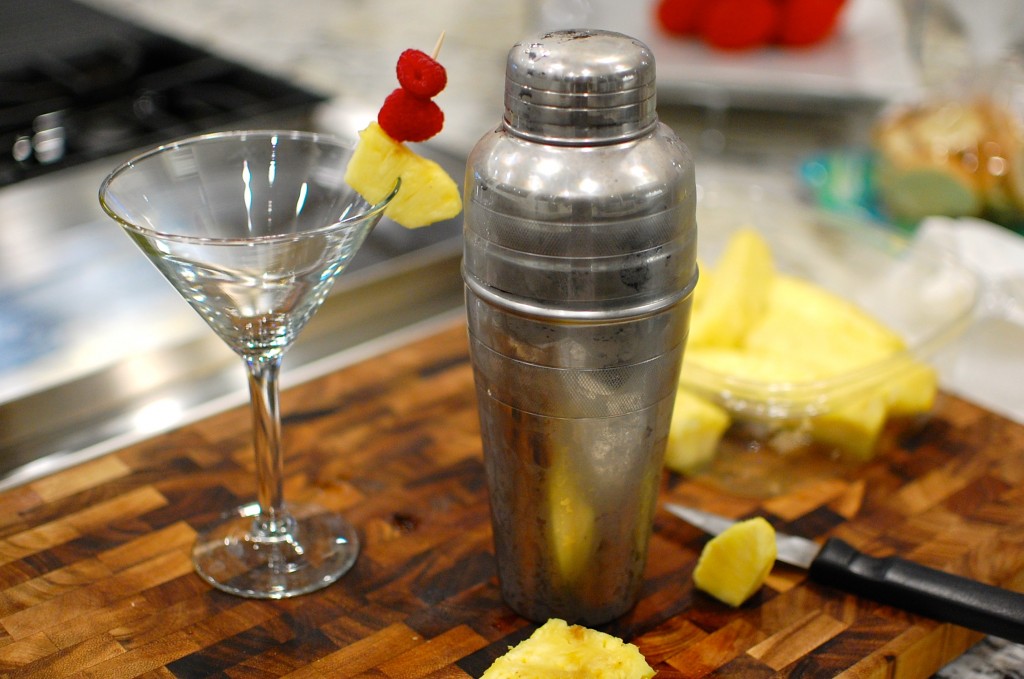 5.  Garnish with cut wedges of pineapple, and serve.  Depending on how large you like your martinis, you should end up with about 6-8 servings.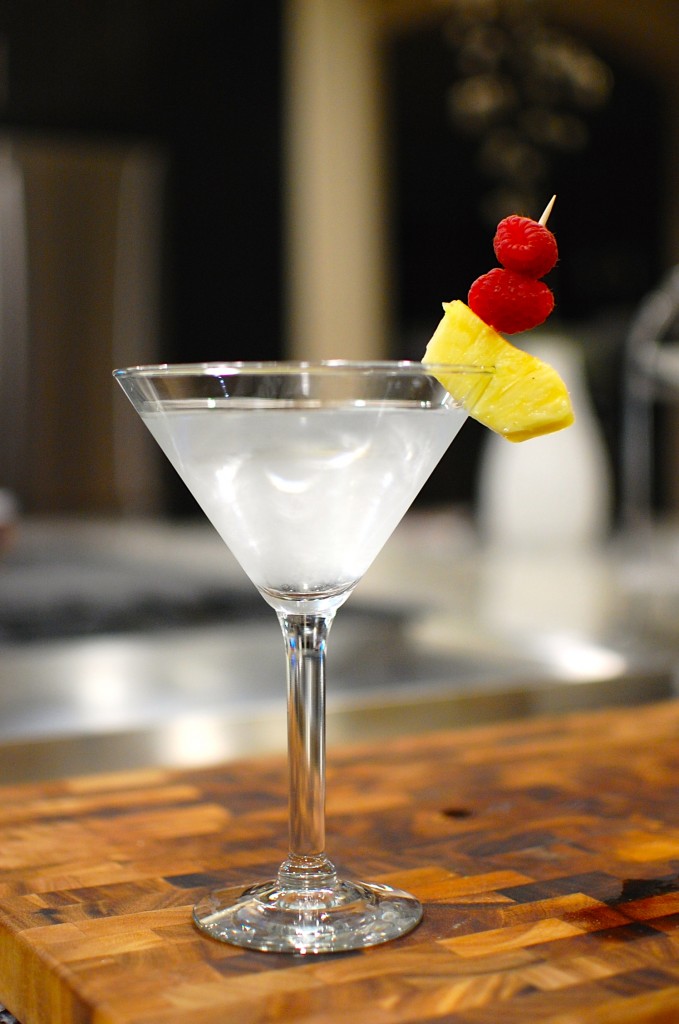 To store any leftover Hawaiian Martini mix, put the strained mixture into a clean glass jar and refrigerate.  Once strained, spirits infused with fresh fruit should last a few months if refrigerated.