Do you ever get in that donut mood?  I try to eat healthy for the most part, but sometimes you really need a good donut!  A few months ago, I was craving Krispy Kreme glazed donuts… which motivated me to figure out the recipe.  I was shocked and excited when I was contacted by the Huffington Post to have my recipe featured in their Kitchen Daily section as one of the "13 Donut Recipes worth lusting over".  So cravings can sometimes have good outcomes!
This time, I was craving chocolate cake style donuts.  However, I'm trying to cut back on some of the sweets (I pretty much eat ALL of everything that I make)…  and I remembered that several months ago I had bought a Norpro Mini Donut Pan (to bake instead of fry donuts).  So this time, I decided to try to make a healthier version of a chocolate cake donut.  It's definitely not low-calorie… but it is lower in fat since it is baked and not fried, and uses heart-healthy canola oil instead of butter in the batter.  So it's probably the healthiest "donut" that you can make that doesn't taste like cardboard. (If you want to make a normal recipe healthier, you can't cut both the fat AND the sugar without making the final product into cardboard… cut either the sugar, or the fat… but not both otherwise… wood pulp!  Blech!)
You can vary the flavor of these donuts by substituting the milk with other ingredients.  If you want regular chocolate cake donuts, then use milk in the batter and the glaze.  For something a little bit different… for a mocha-flavored donut, substitute cold black coffee for the milk.  Or, for something completely different… try using Coke (to make Coca-Cola Cake flavored donuts)!  And chocolate sprinkles are always good too!!!
Speaking of Coca-Cola, my recipe for these Chocolate Coke Donuts has been published on the Coca-Cola website in an article celebrating Fastnacht Day (a Pennsylvania Dutch holiday revolving around eating donuts before Lent)!   As a big Coke fan (How could I possibly live without diet Coke?), I felt very honored to have my recipe spotlighted by their creative team.   If you decide to make these donuts with Coke (which I HIGHLY recommend), you can top the Coke-flavored glaze with a sprinkle of chopped pecans to give it that Coca-Cola cake touch!  Check out the article written by Laura Randall if you are interested in learning more about this holiday and how my Coke flavored donuts fit in with this long-standing tradition.
When I made these donuts, I ended up with a little over 2 batches.  If you only have one mini-donut pan (like I do), bake the first batch, then clean out, spray, and bake the second batch.  (The batter will be fine if it sits on the counter for up to 30 minutes).  Definitely clean the donut pan between batches with soap and water (to remove any crumbs) – this will keep the second batch from sticking, and will also cool down the pan.  Also, use a large Ziplock bag to fill the pan with batter… it really helps!
Mini Chocolate Cake Donuts:
1 1/2 c. flour
1/3 c. unsweetened cocoa powder
1 tsp. baking powder
1/2 tsp. salt
2 eggs
2/3 c. sugar
1 tsp. vanilla
1/2 c. milk, cold black coffee, or Coca-Cola!
2 T. canola oil
Chocolate or Mocha Glaze:
1/4 c. unsalted butter
2 T. unsweetened cocoa powder
3 T. milk, black coffee, or Coca-Cola!
2 c. powdered sugar
1 tsp. vanilla
1/2 tsp. salt
Other items:
Pam for baking spray
chocolate sprinkles or chopped pecans (optional)
1.  Preheat oven to 325 degrees.  Sift the flour, cocoa, baking powder, and salt in a bowl with a wire whisk.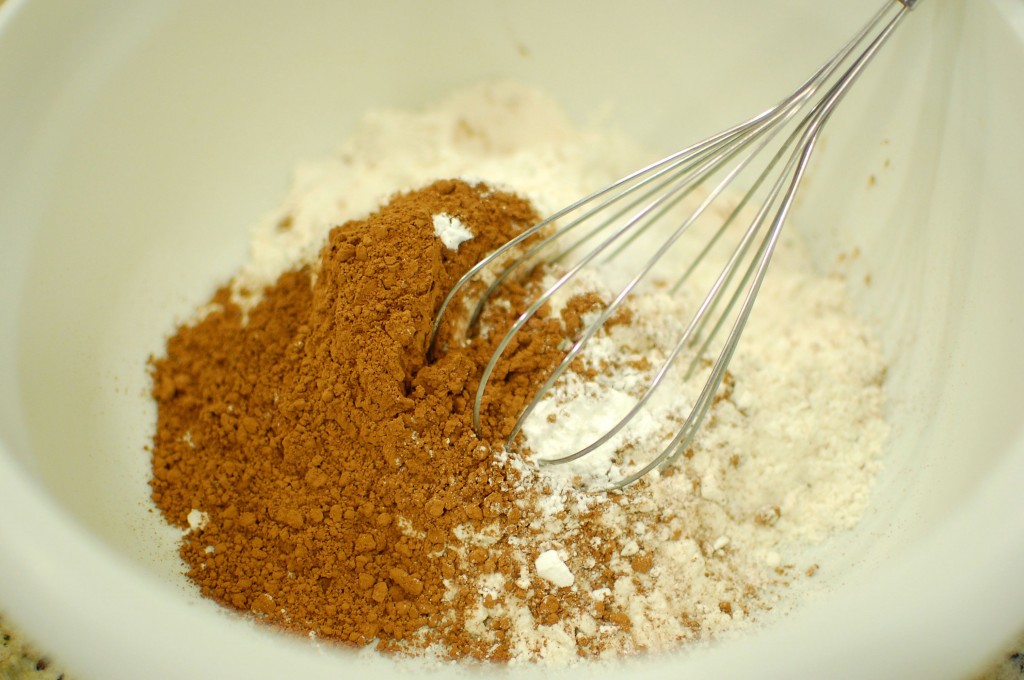 2.  In a separate bowl, mix the egg, sugar, vanilla, milk/coffee/coke, and oil together.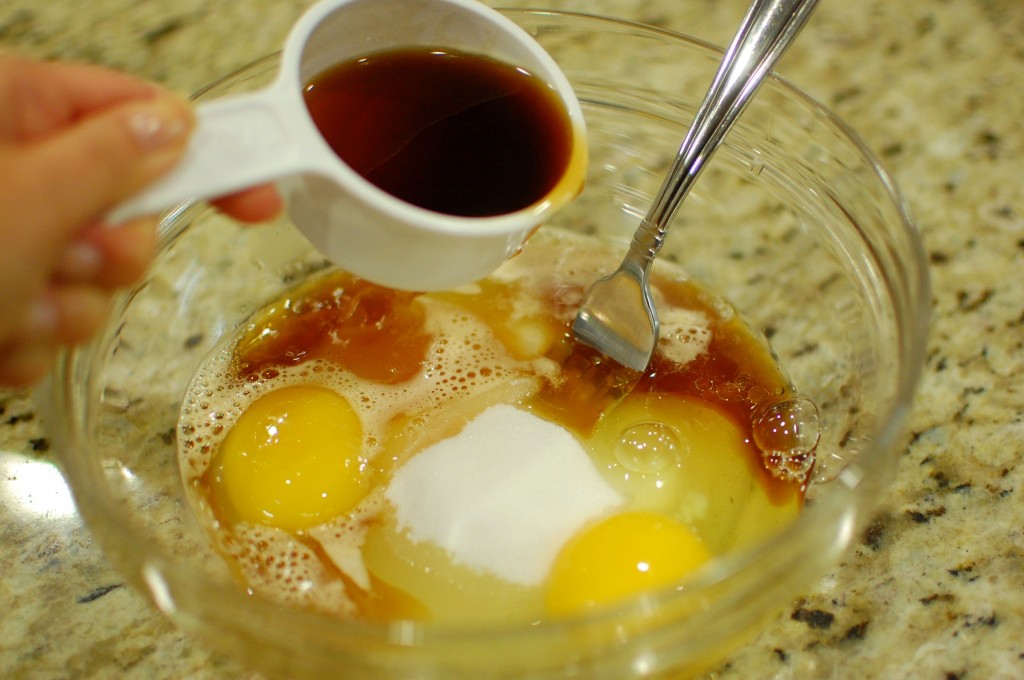 3.  Mix the wet ingredients into the dry and combine until mixed well.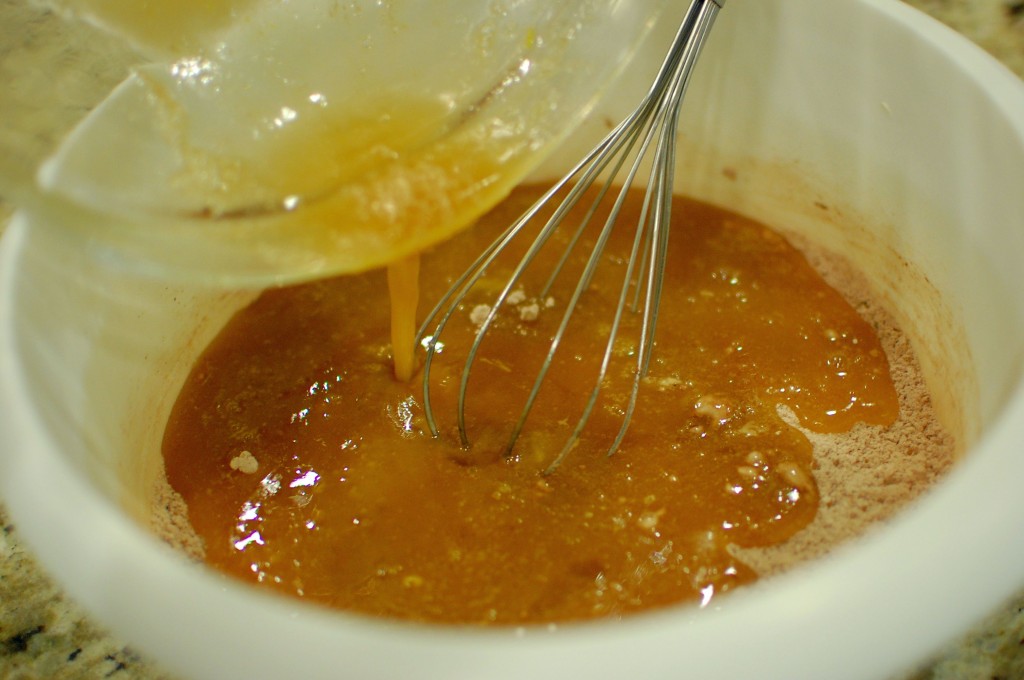 4.  Transfer the batter into a gallon sized ziplock bag.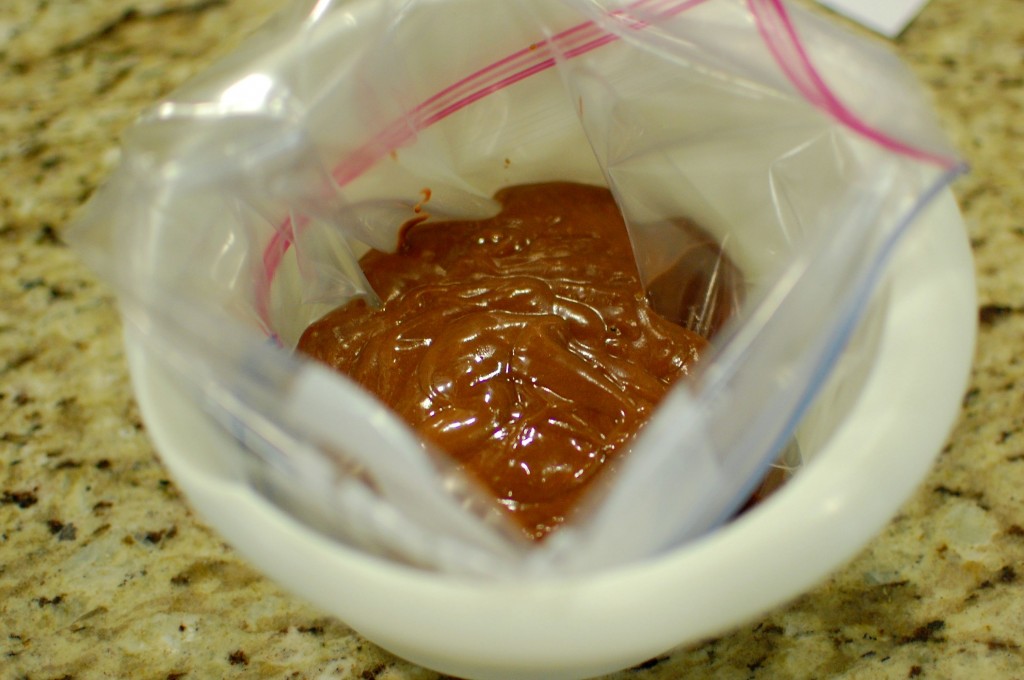 5.  Spray the mini donut pan with Pam for baking.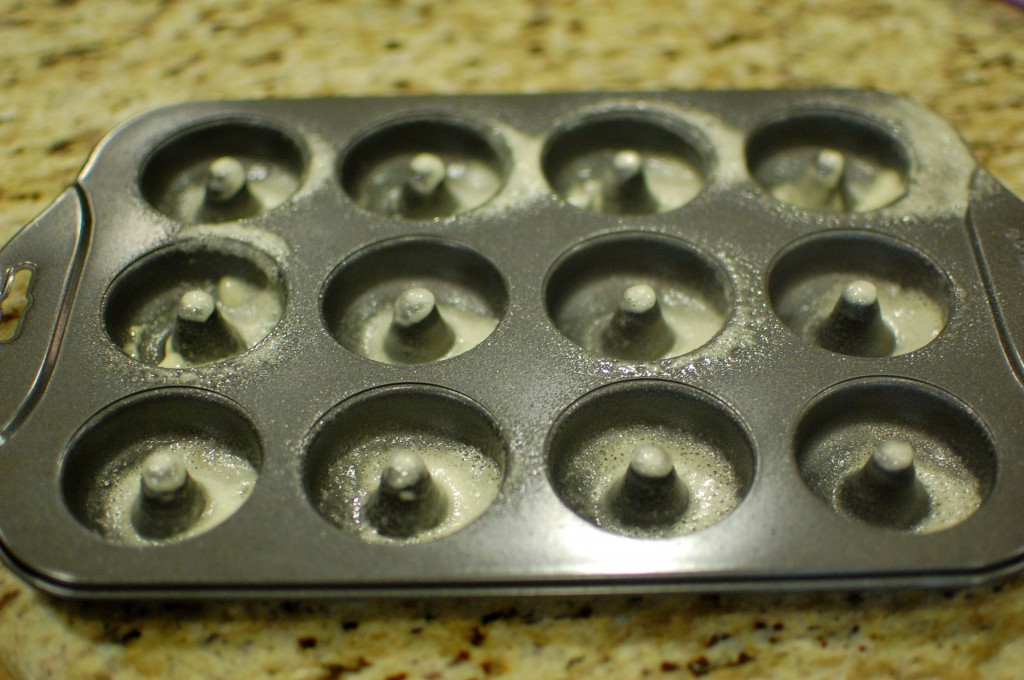 6.  Snip off a small corner of the ziplock bag, and use the bag to pipe the batter into each donut depression, about 2/3 full.  (Do not over-fill or you will have an explosive mess in your oven!)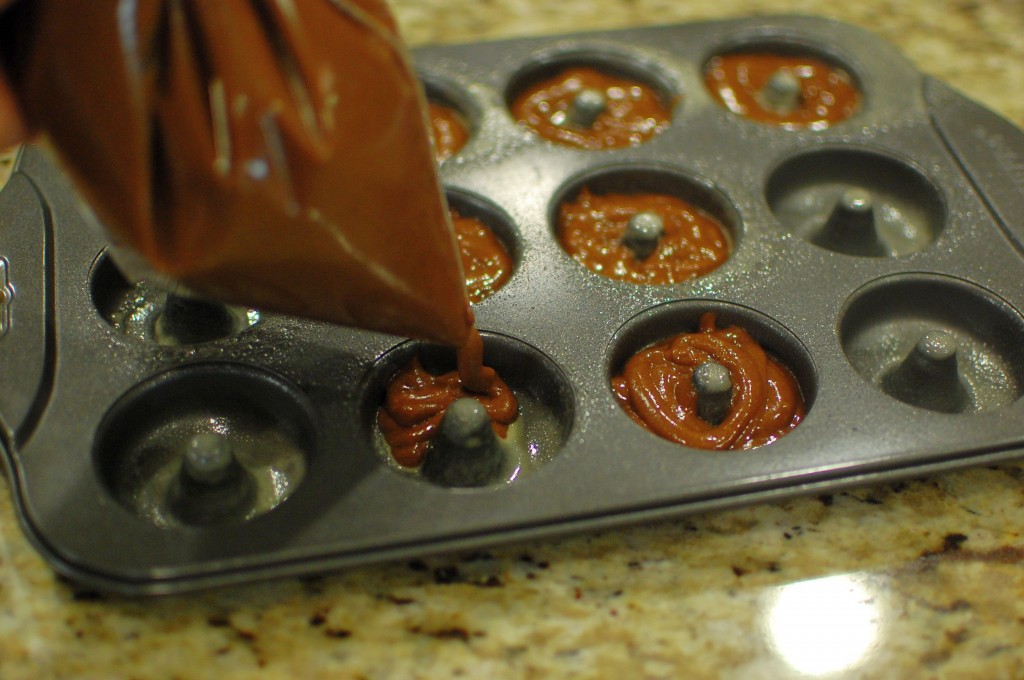 7.  Bake 8 minutes at 325 degrees.  Remove from oven and invert onto a wire rack.  The donuts should come out easily with a little shake.  Wash the pan and dry in between batches.  (This is to prevent sticking, and to make sure that the temperature is correct for the second batch).  I got about 27 mini donuts total.  Allow the donuts to cool.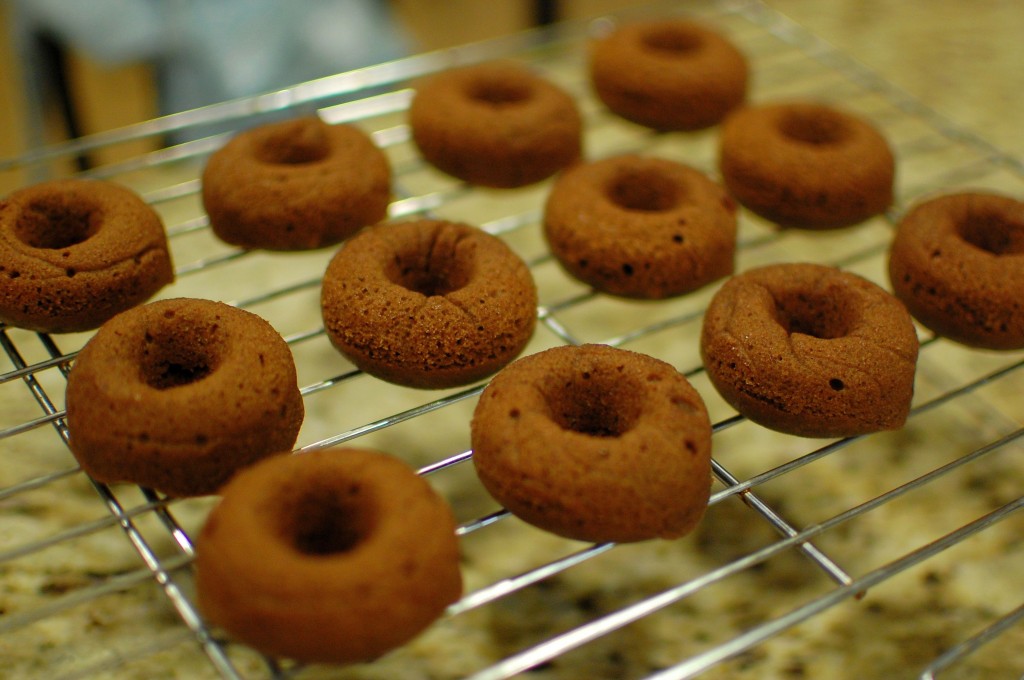 8.  Meanwhile, melt the butter with the milk/coffee/Coke to make the glaze.  Pour over the remaining ingredients and whisk to make a glaze.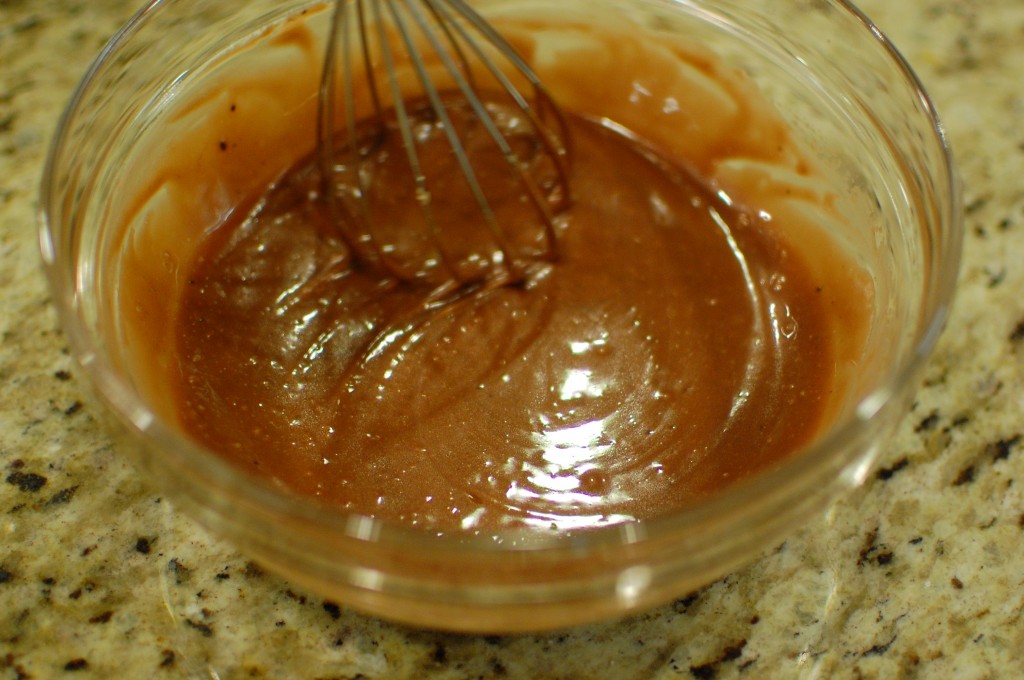 9.  Dip the donuts into the warm glaze, allowing the excess to drip off slightly.  Then, immediately dip in chocolate sprinkles (if desired).  (To dip, pour some sprinkles into a small custard cup.  Dip the glazed donut immediately into the sprinkles or chopped pecans, then turn right side up to dry on a rack.)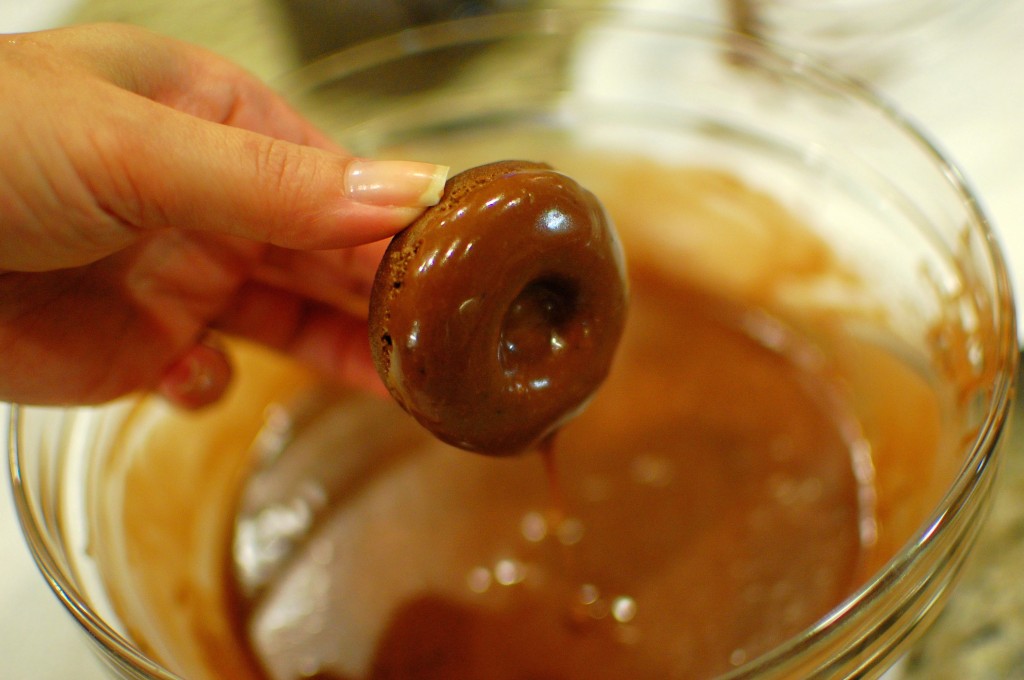 10.  Allow the glaze to set for 30 minutes or so before serving.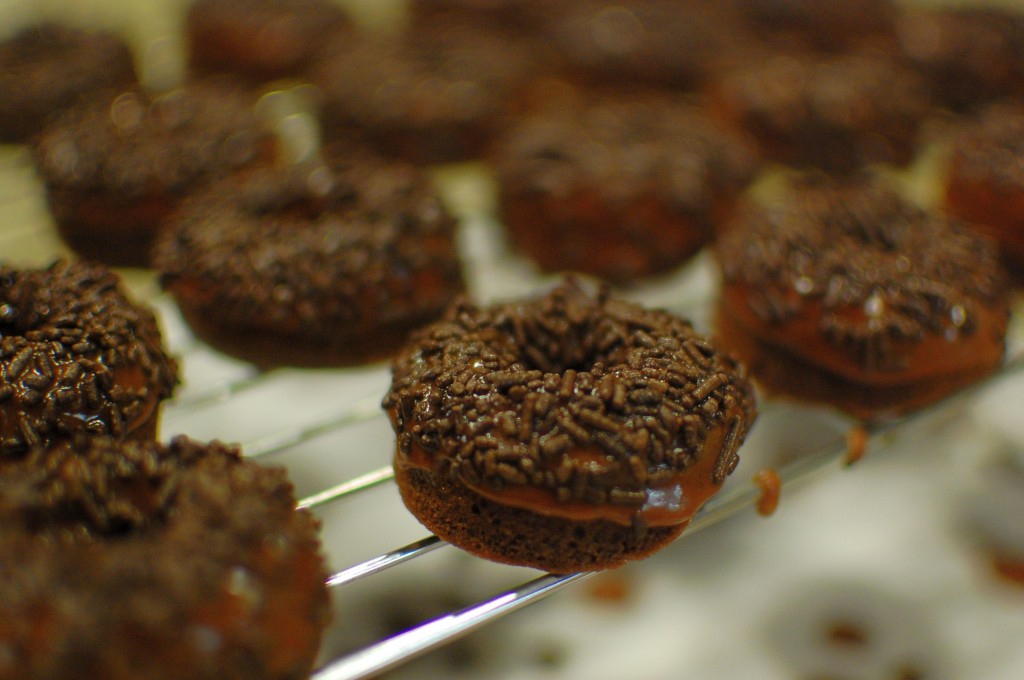 I left about half of the donuts without sprinkles… just for a little bit of variety: