Happy Halloween everyone!!!!  When the night is over, don't forget to reclaim your Jack O'lanterns to make pumpkin puree.  You can then freeze the puree, and use it throughout the year to make pumpkin bread, pumpkin pie, pumpkin soup… whatever you feel like!  Making pumpkin puree from field pumpkins is a little bit time consuming, but worth it if you feel bad wasting your Halloween Jack O'Lanterns.    I always feel bad throwing away Jack O'Lanterns!  I mean, pumpkin is a vegetable, and while field pumpkin doesn't have quite the same flavor as a sugar pumpkin… it can be cooked into a variety of dishes and baked goods.  (And don't forget to turn the seeds into gourmet roasted pumpkin seeds!)
(If you don't want to go through the trouble of making puree, you can peel and grate your pumpkin, and use in any baking recipes calling for zucchini or shredded carrot… like Cinnamon Crumble Pumpkin Bread, Pumpkin Streusel Bread, or Pumpkin Butter!)
Here's a recipe you can use your leftover pumpkin for – Banana Pumpkin Bread!  Leftover field pumpkin puree isn't quite as flavorful as sugar pumpkin puree (sugar pumpkins are the smaller pumpkins that most people prefer for baking – they have more flavor and sweetness)… so combining it with banana makes an excellent combination for a wonderful sweet bread.
Honey is also one of the main ingredients in this recipe – because of the honey, the oil and sugar were reduced a little bit.  So in this recipe, do not attempt to reduce the oil or sugar any further – any less will make your bread too dry or change the texture.
I like to top most quick breads with a sprinkle of large crystal decorating sugar (Wilton makes a good one).  If you don't have decorating sugar, you can use raw pepitas (peeled pumpkin seeds) to decorate the tops of the loaves.  (At the supermarket, in the Mexican/Latin aisle, they usually have little plastic packets of spices for $0.99 – this is probably the cheapest way to buy pepitas, unless your market has a bulk bin.)
Banana Pumpkin Bread: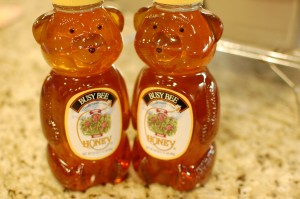 5 c. flour
2 tsp. baking powder
2 tsp. baking soda
1 tsp. salt
2 tsp. cinnamon
1/2 tsp. ground ginger
3/4 tsp. nutmeg
2 c. mashed banana (about 3 large)
2 1/2 c. pumpkin puree
1 c. sugar
1 c. honey
2/3 c. canola oil
4 eggs
2 T. large crystal decorating sugar
1.  Preheat oven to 350 degrees, and grease two 9″ X 5″ loaf pans.  Mash the banana with a potato masher or back of a fork.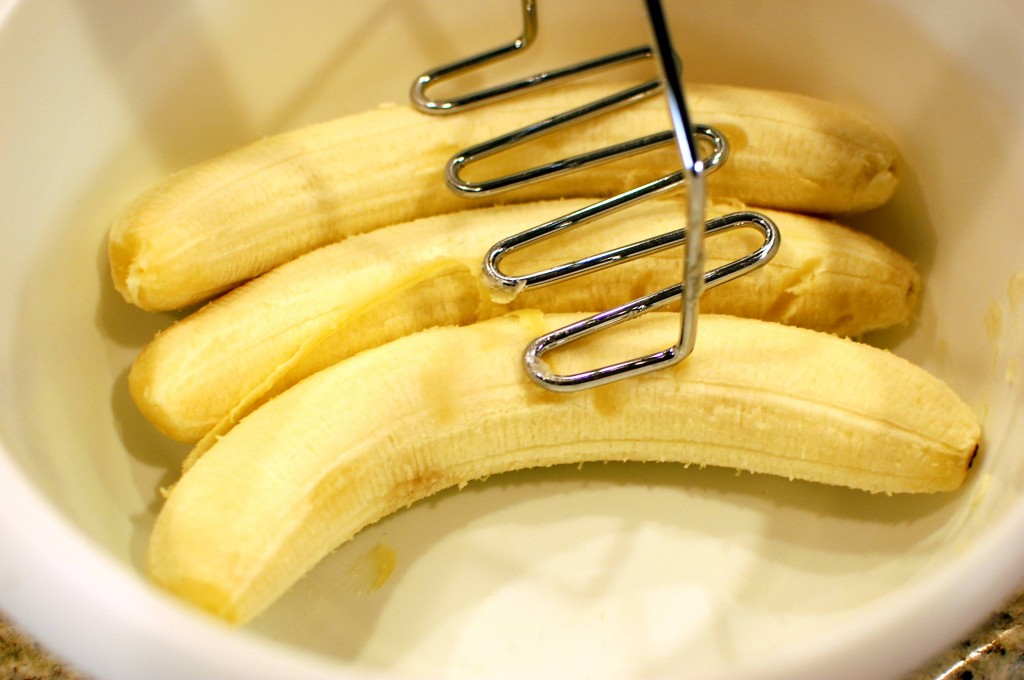 2.  Sift the flour, baking powder, baking soda, salt, and spices in a large bowl.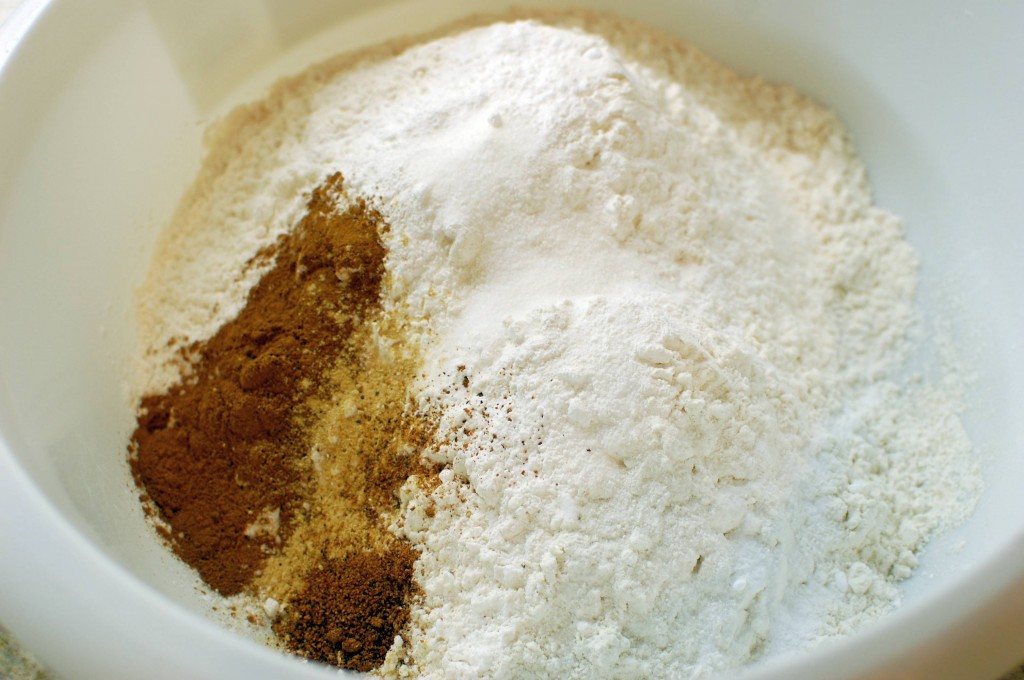 3.  Add the pumpkin, sugar, honey, oil, and eggs to the mashed banana.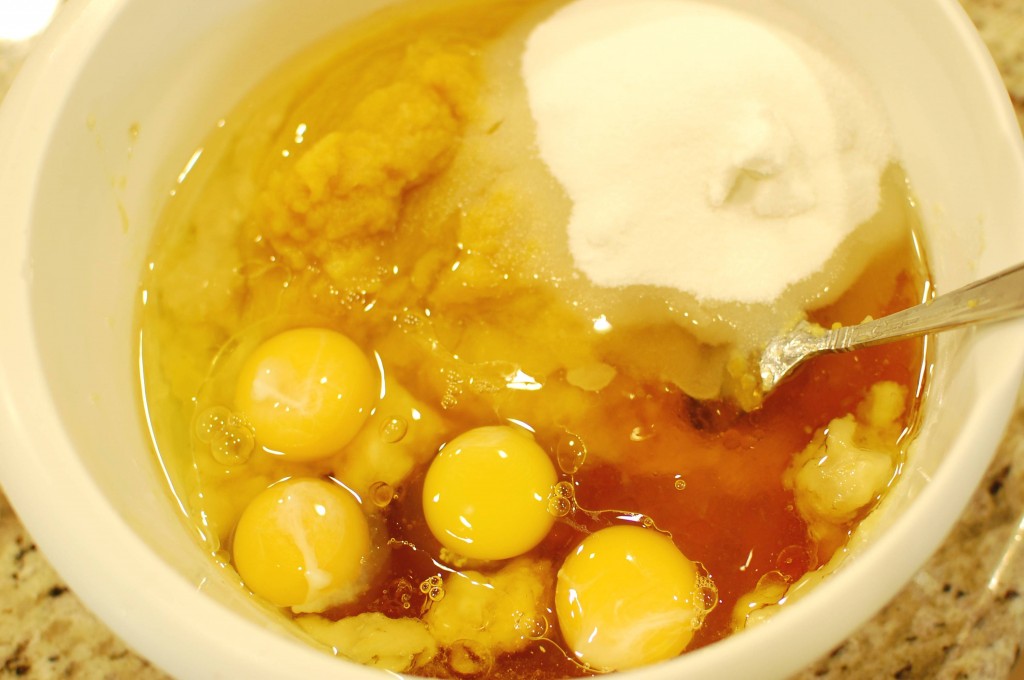 4.  Stir the wet ingredients into the dry until just combined.  (Do not over-mix!)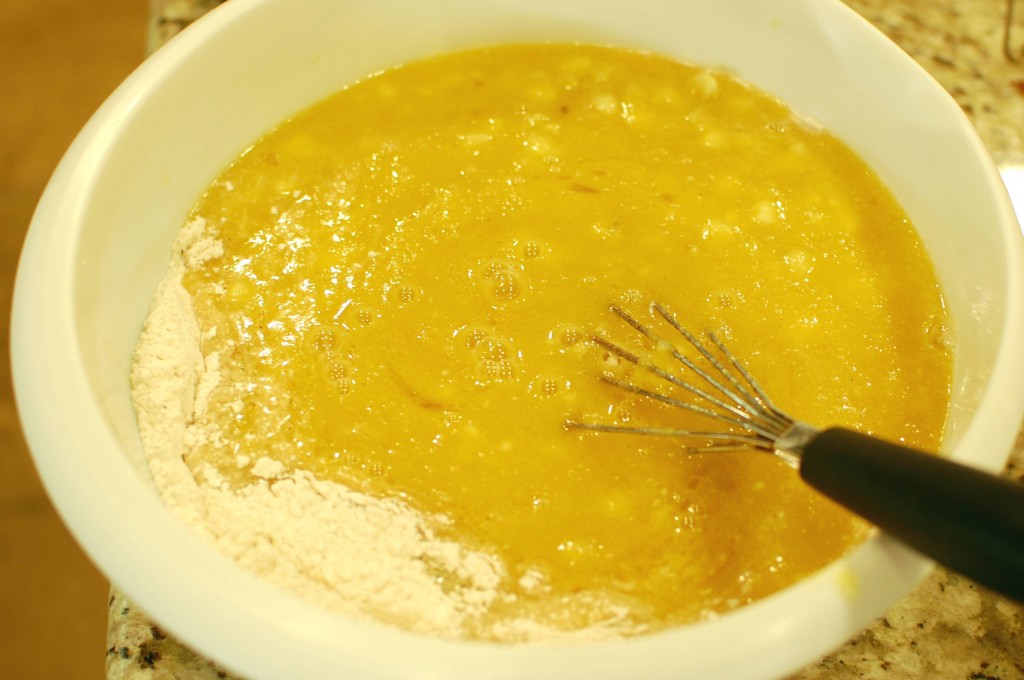 5.  Divide the batter between the two loaf pans, sprinkle the tops with large crystal decorating sugar (or you can use regular sugar).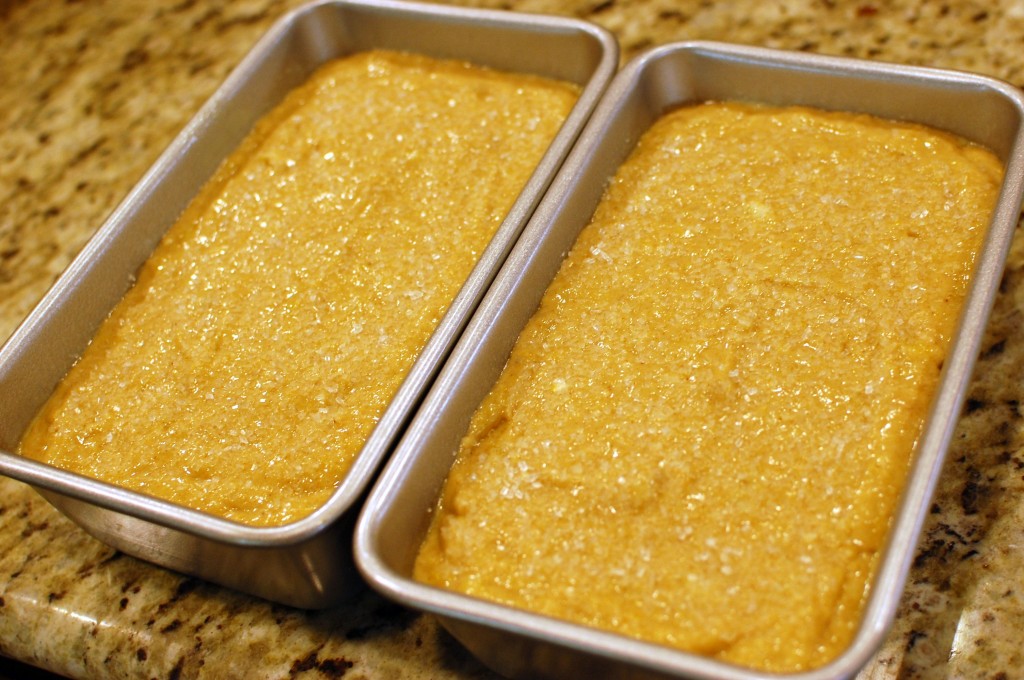 6.  Bake at 350 degrees for about 45-60 minutes.  Cool for 10 minutes, then invert onto a wire rack to cool completely.