Every Halloween, I go through the same thing.  I stay up really really late the night before carving Jack o'lanterns (storing them in the empty garage refrigerator overnight)… then I put them out at dusk to greet all the neighborhood kids that come by trick or treating.  After the crowds have gone, I reclaim the jack o'lanterns for food – I clean them out, cut them up, peel them, and either go on to make pumpkin puree or store the flesh for other use.  Last year, I made a bunch of loaves of cinnamon crumble pumpkin bread (based on my recipe for pumpkin streusel bread) – which was a great fall treat.  I've also made some savory dishes like Japanese pumpkin cream stew, pumpkin & shrimp curry, and Indian spiced sweet potato and pumpkin soup.  You can also substitute grated raw field pumpkin in most cake/bread/muffin recipes that call for grated zucchini, such as my chocolate zucchini cake recipe.
A week ago, I was browsing through the Willams Sonoma store at the mall, and saw this fabulous looking Pumpkin Butter for sale.  However, it was $12 for a jar!  $12!!!  I don't mind spending money on something that I can use over and over again (like a cake pan, or an appliance) – but for pumpkin mixed with sugar?  Outrageous!!!!! I can make homemade pumpkin butter myself for much less!  Using my leftover Halloween pumpkins makes the main ingredient essentially free (and in any case, I only spent about $5 each per pumpkin anyway).  Brown sugar usually goes on sale for $0.89 this time of year… and the spices I already had in the pantry.  I was able to make about 10 pints for about $16 total… which works out to about $1.60 per jar.  That's more like it!
What do you do with pumpkin butter?  Spread it on toast, pancakes, crepes… mix it into your oatmeal… you can even stir a spoonful of it into your coffee to make a "pumpkin spiced latte".  What else can you make?  I google searched and found a few recipes that I really want to try soon:  No-bake pumpkin cream pie and Williams Sonoma's pumpkin butter pie.  Just remember that the sweetness of this homemade pumpkin butter may be less than commercial pumpkin butter… so if you do make one of those recipes, you may need to add a little bit more sugar.
(***UPDATE 16October2013:  I made the Williams Sonoma pumpkin butter pie using a 1 pint jar of my homemade pumpkin butter… I substituted 3 T. maple syrup for the 3 T. bourbon (to add more flavor and sweetness), and added 1/2 c. extra sugar (because my pumpkin butter is not nearly as sweet as the one called for in the recipe) – it turned out perfect!  I made the pie crust using this recipe.  I posted photos of the pie at the bottom of this page.***)
(***UPDATE 23October2013: I made the No-bake pumpkin cream pie using a 1 pint jar of my homemade pumpkin butter.  First I made a wafer cookie crumb crust (10 oz. nilla wafers + 1/3 c. melted butter).  Then I spread 1/3 c. of the pumpkin butter directly in the bottom of the pie crust.  Last, I spread the pumpkin cream mixture over that.  To make the pumpkin cream mixture, I used the rest of the jar of pumpkin butter (about 1 1/2 c.), 8 oz cream cheese, 1/2 c. extra sugar, and 3/4 c. heavy cream (whipped).  The recipe in the link calls for "whipped topping" – but real whipped cream tastes much better!  Wow.  This pie was good.  I think I'm going to hoard all my jars to make this pie over and over!)
Now, if you are buying pumpkins for cooking only and you are NOT planning on carving them as Halloween jack o'lanterns… then buy the smaller sugar pumpkins instead.  They are far superior (in color and flavor) over the larger field pumpkins meant for carving.  But if you do have field pumpkins – don't waste them – make something with them!  Food is food – don't throw it out!
I have adjusted my recipe to be just sweet enough – sometimes less is more.  But if you like your pumpkin butter to be a little bit sweeter, you can add more brown sugar – up to 1 lb. extra.
Pumpkin Butter:
3 Jack o'lantern's (about 30 lbs. total weight of whole field pumpkins)
1 lb. dark brown sugar
1 T. salt
1/4 c. apple cider vinegar
2 T. ground cinnamon
1 tsp. ground nutmeg
1 tsp. ground cloves
1 tsp. ground ginger
Hardware needed:
10 pint storage jars
large crockpot
stick (immersion blender)
1.  Make sure your field pumpkins are fresh.  I typically carve my Jack o'lanterns the night before Halloween and store them in our garage refrigerator until the next day.  The Jack o'lanterns sit outside (in the chilly October air) for about 3 hours max to greet our neighborhood Trick or Treaters, then are promptly taken inside to clean (wash inside and outside in the sink).  I cut the pumpkins up, slice off the skin, and use the food processor to grate.  (The grated raw pumpkin can also be frozen for later use.)  If you start with three 10 lb. pumpkins, you should end up with a total of 18-20 lbs. of raw pumpkin flesh (minus the seeds, guts, and skin).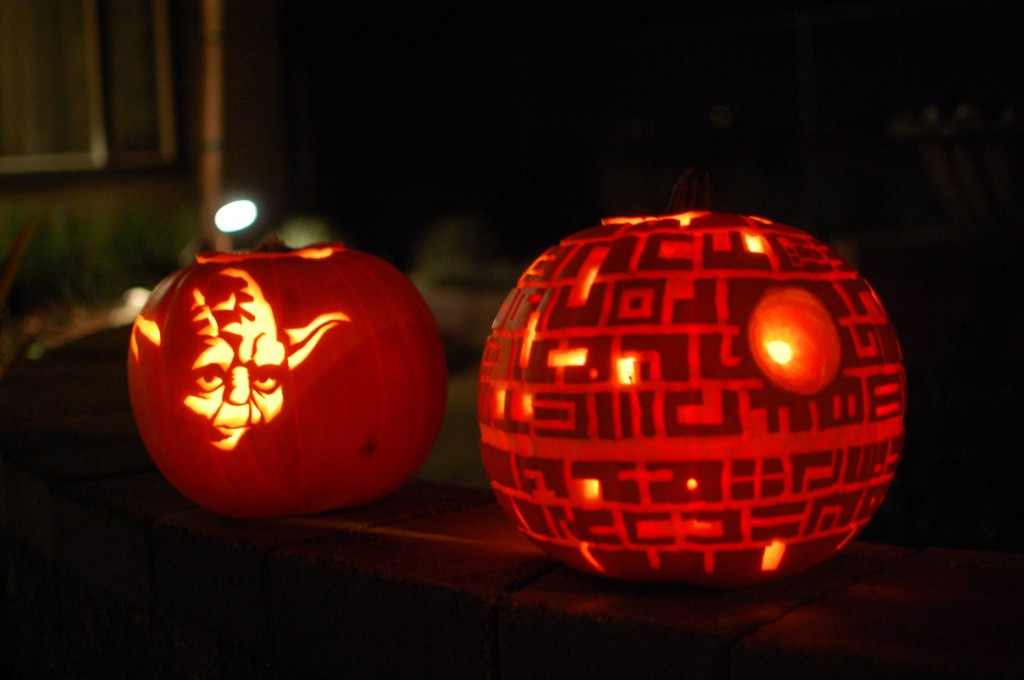 2.  You can make your pumpkin butter from raw or from frozen grated field pumpkin.  Squeeze out the excess moisture from your field pumpkin.  (I find that freezing the raw grated pumpkin makes it easier to liberate the excess water – freezing creates ice crystals which puncture the cell wall and membranes, allowing the extra water to drain out.)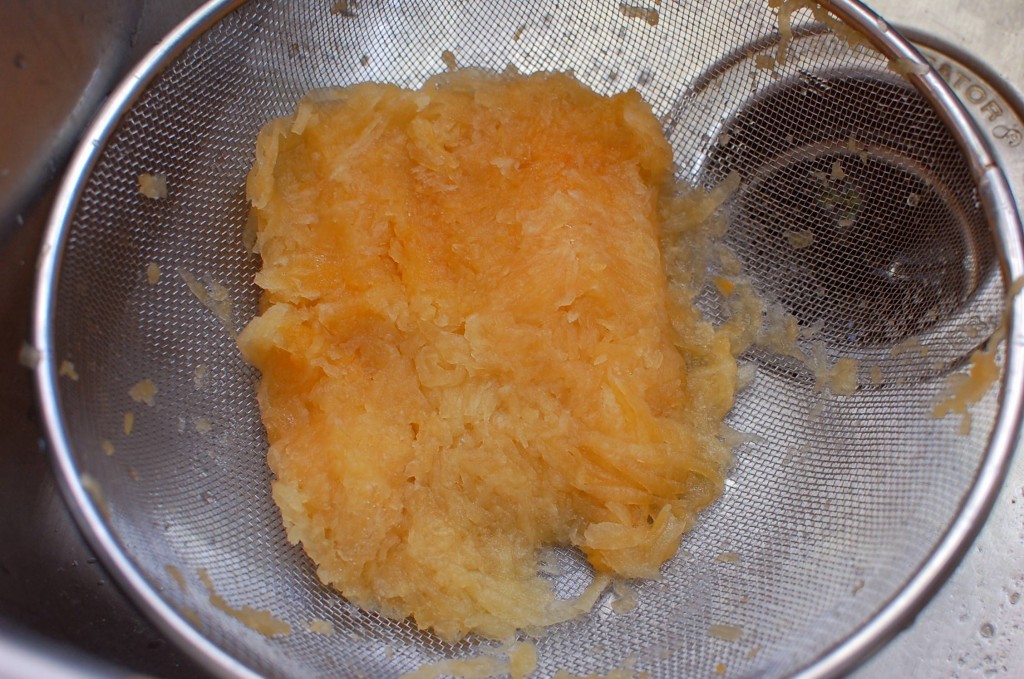 3.  Next you will want to cook your grated field pumpkin in a crockpot (covered) on high, for 6 hours.  I only have 1 crockpot… and I could only fit half of the pumpkin into my crockpot at this point – so I put the remaining pumpkin in a stockpot and cooked over low heat (covered) on the stove top for 2-3 hours.  If you have two crockpots, just fill both crockpots with the pumpkin.  (If you don't have a crockpot, you can cook this in a large stock pot on the stove top – just make sure you stir from time to time and make sure you don't leave it unattended.  If is much quicker cooking on the stove top – 2-3 hours for the initial cooking, then 1 hour additional after adding the spices.)
4.  Once the pumpkin mixture is soft and cooked – use a stick (immersion) blender to puree the pumpkin.  (At this point, your pumpkin puree should only come up halfway in your crockpot – the air pockets should have disappeared, and a bit of the water should have cooked out.)  If you do not have an immersion blender, you can puree this in a regular blender in batches – just be careful – don't fill more than 75% full, and make sure you vent the blender so that you don't have a hot pumpkin explosion.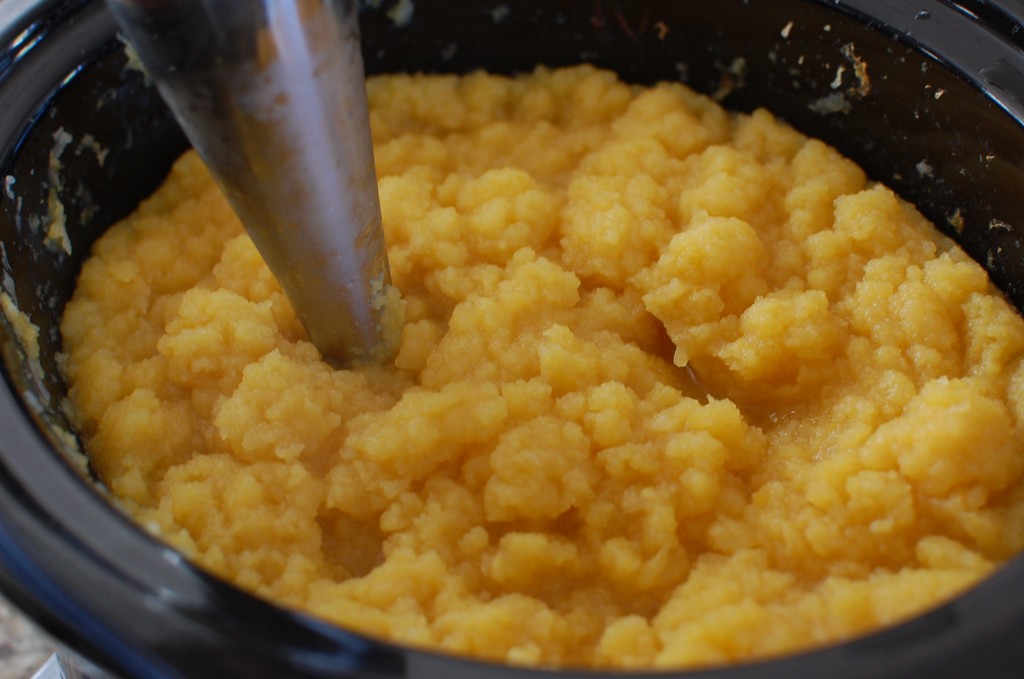 5.  Add the remaining ingredients to the pumpkin mixture in the crockpot and stir.  (I used the immersion blender to stir – it helped distribute the spices throughout the puree easier than just hand stirring.)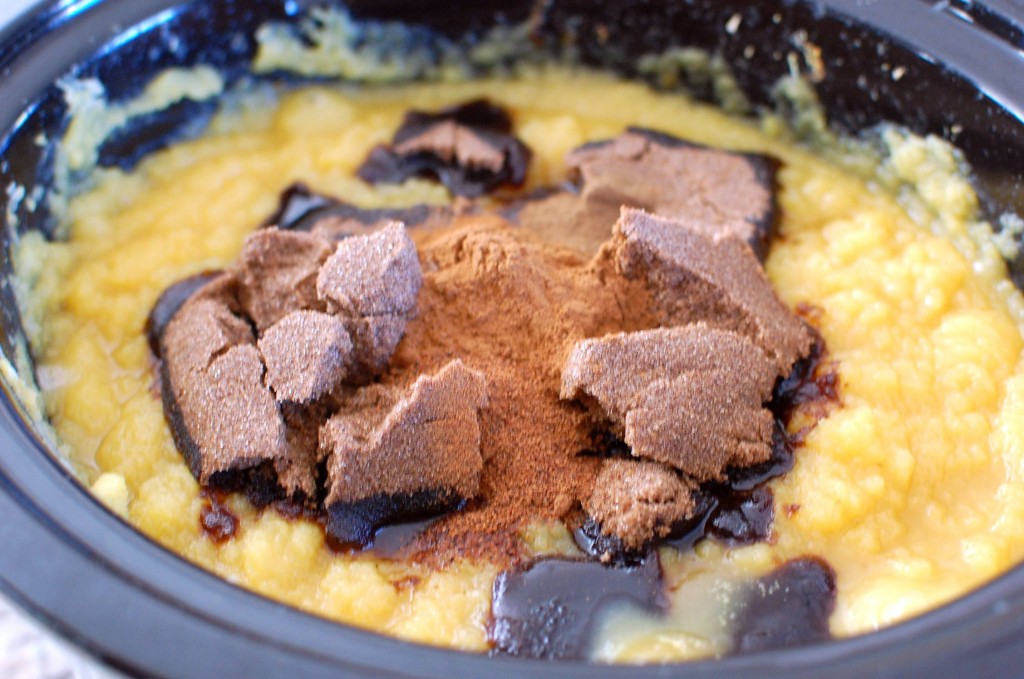 6.  I was able to fit the rest of the puree (that I made in the stock pot) into my the crockpot at this point (just barely).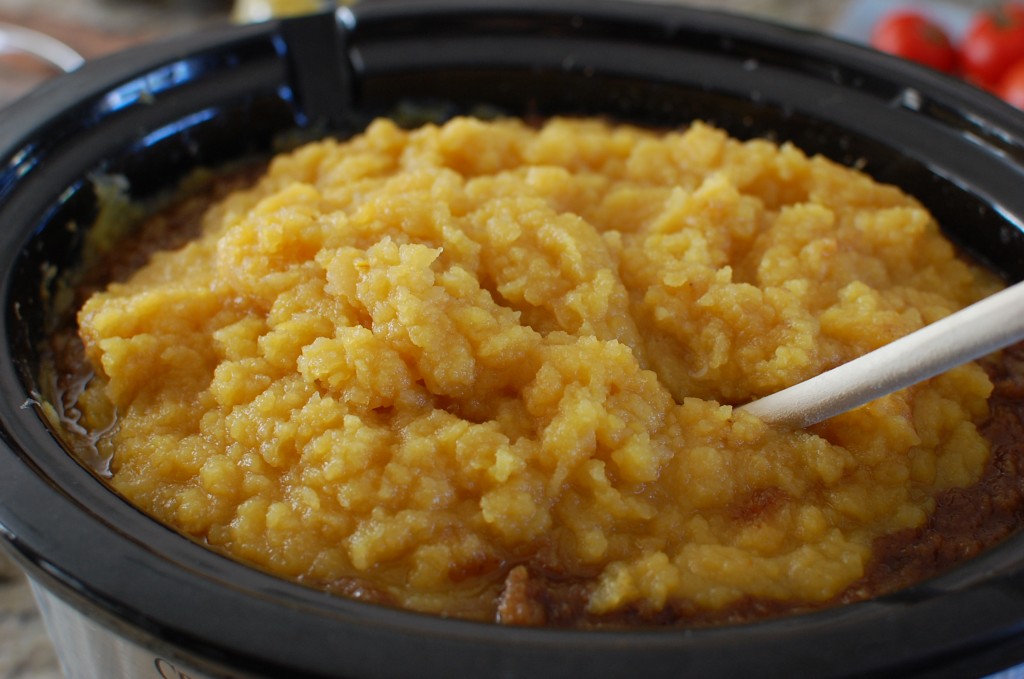 7.  Cover the mixture, and set the crockpot on high for 4 hours.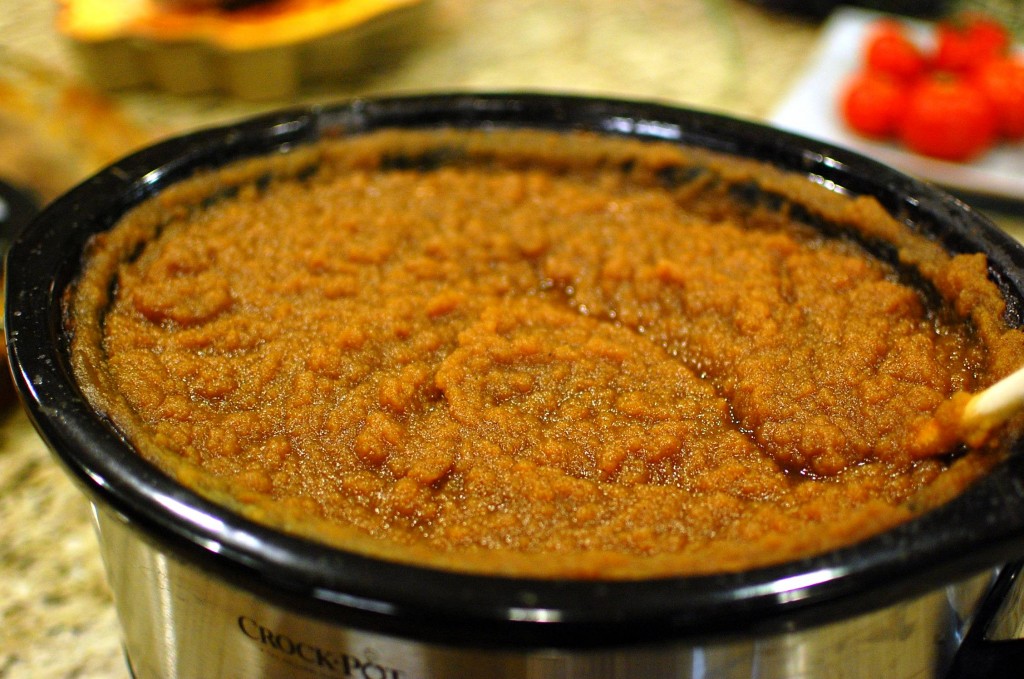 8.  Remove and store in clean pint jars, or freezer jars.  You cannot safely home-can pumpkin butter, so refrigerate once the jars are cool enough, and store in the refrigerator up to 3 weeks.  You can also freeze the pumpkin butter for long term storage – use freezer storage jars instead if you plan on freezing.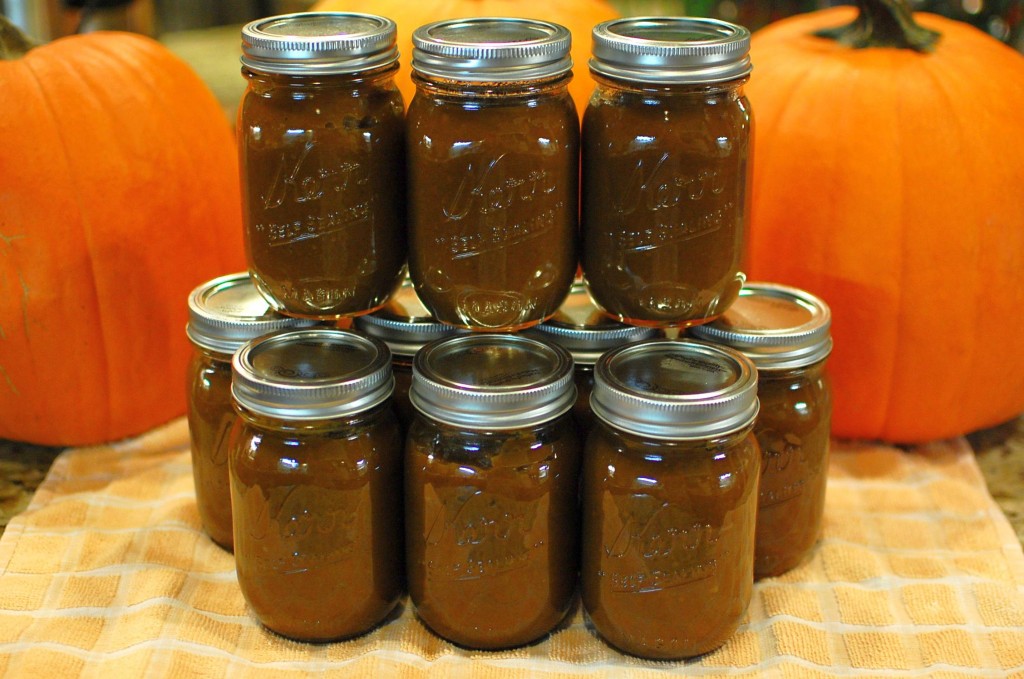 ***UPDATE 16October2013:  I made the Williams Sonoma pumpkin butter pie using a 1 pint jar of my homemade pumpkin butter… I substituted 3 T. maple syrup for the 3 T. bourbon (to add more flavor and sweetness), and added 1/2 c. extra sugar (because my pumpkin butter is not nearly as sweet as the one called for in the Williams Sonoma recipe) – it turned out perfect!  I made the pie crust using this recipe.***