I am currently in the process of making Limoncello… which takes 80 days.   After zesting about 15 lemons for that recipe (check back in 80 days for results), I had 15 lemons worth of juice.  My husband got sick of drinking lemon drop martinis, so I made lemon curd with the remaining juice.  Now I have an overabundance of lemon curd – so I guess it's time to make some lemon tarts!
I bought mini tart shell molds at Bed Bath and Beyond, for about 30 cents each… but after peeling and scraping all the price tags off the bottom of each one, I was a little tired, and didn't feel like rolling out dough and making individual tart shells.  (Why do they have to put super sticky paper stickers on the bottoms of each tart shell???  Why??!!!!?!)  I had some pre-packaged pie crust in the refrigerator, and in my lazy mood, decided to use that instead to make the tart shells.  I used a flower shaped cookie cutter to punch out the unbaked pie crust, and arranged the flower shaped dough "cookies" in a mini muffin pan to make the tarts look more decorative ( vs. standard pastry rounds haphazardly crammed into the mini muffin tin).
My mini tarts turned out really cute, and I'm really happy with how easy it was.  In the future, I might use this method again to make mini-tart shells… but I prefer the taste of homemade pastry over the store bought crust which is rather bland.
UPDATE 9/17/2013:  Several people have sent me messages asking for a lemon curd recipe.  I do have a step by step recipe for lemon curd (you could also make lime curd) that I have posted.  (The lemon curd recipe can be cut in half.)
For alternate filling ideas (chocolate ganache, cheesecake cream, etc.), see my post on homemade Mini Tart Desserts.  
If you would like to make your own pie crust and roll it out, try my pastry recipe for tart shells.
Mini Lemon Tarts: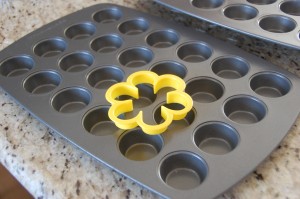 1 unbaked pie crust
1 jar lemon curd
1 T. powdered sugar
Hardware:
mini muffin pan
flower shaped cookie cutter
1.  Unroll the pie crust.  Cut out as many flowers as possible.  Re-roll the scraps and cut more flowers, you should be able to get 12 flower shaped dough pieces.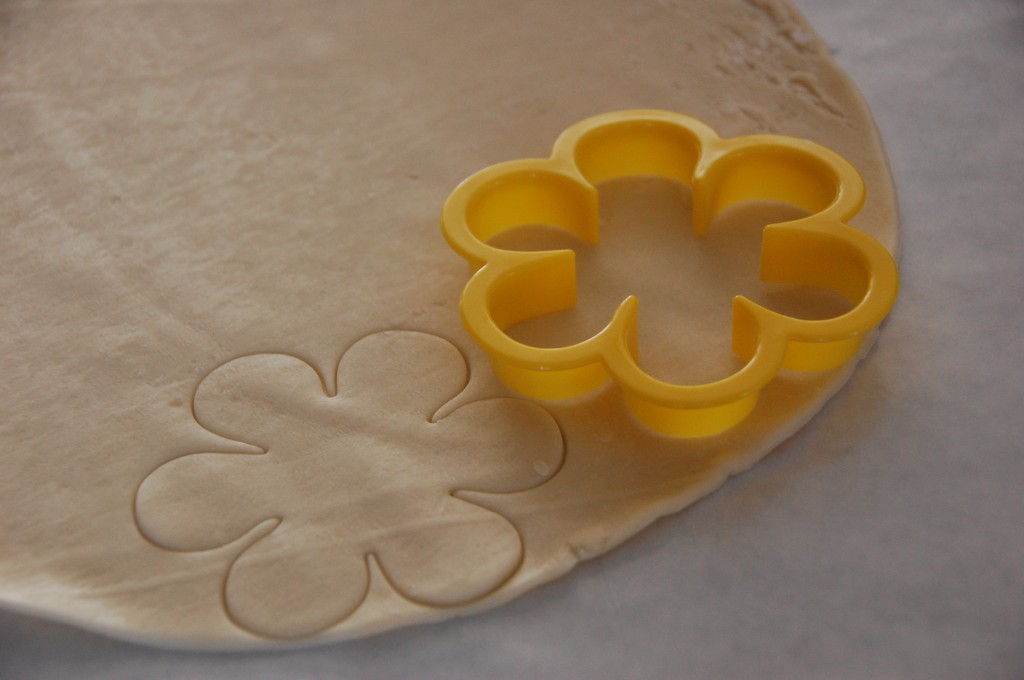 2.  Center each flower over a mini muffin depression.  Fold alternate petals inward, and gently push the dough down into the bottom.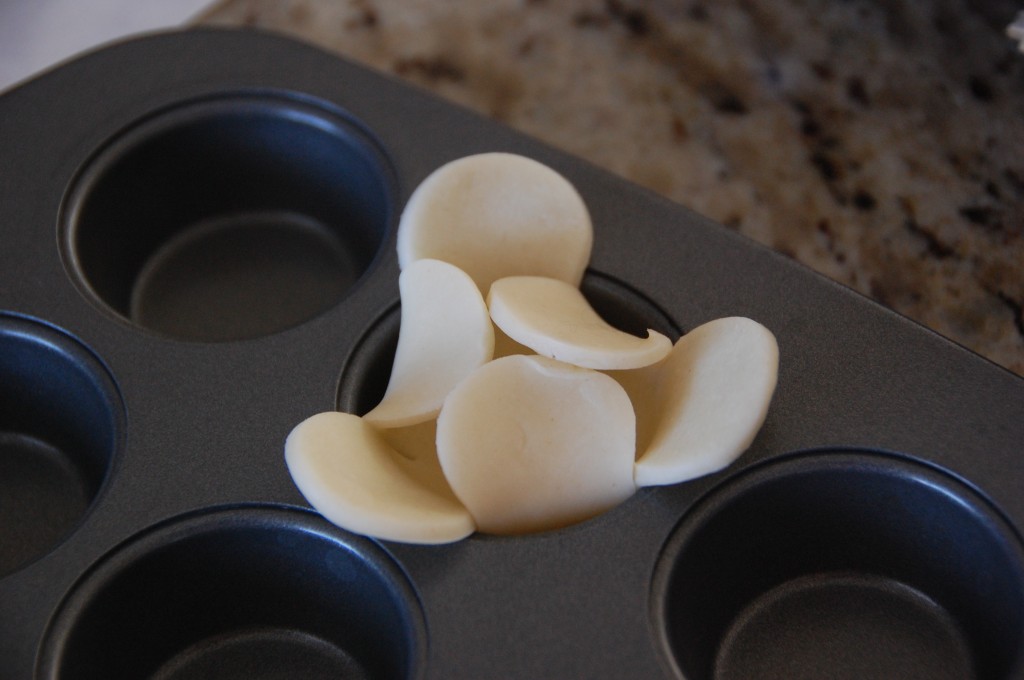 3.  Gently push the outer petals against the muffin pan sides, then push the inner 3 petals against the sides and outer 3 petals.  You will end up with a flower shaped unbaked tart shell.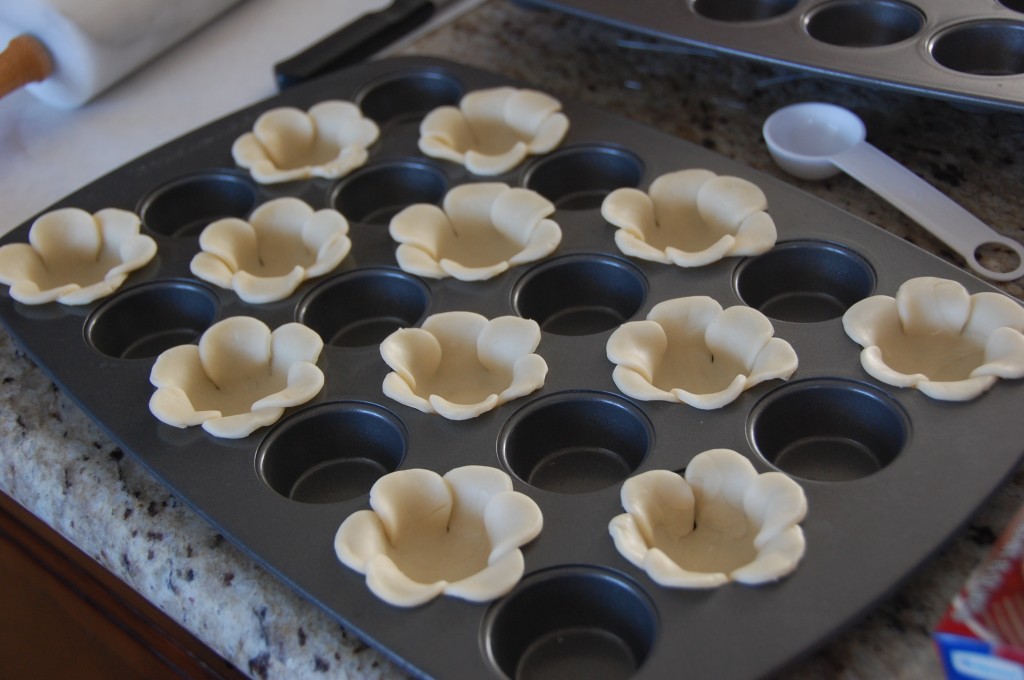 4.  Prick each of the bottoms of the unbaked dough shells with a fork, twice.  Bake at 425 degrees for about 5-7 minutes until golden brown.  Remove to a plate.
5.  Fill each shell with a few teaspoons of lemon curd.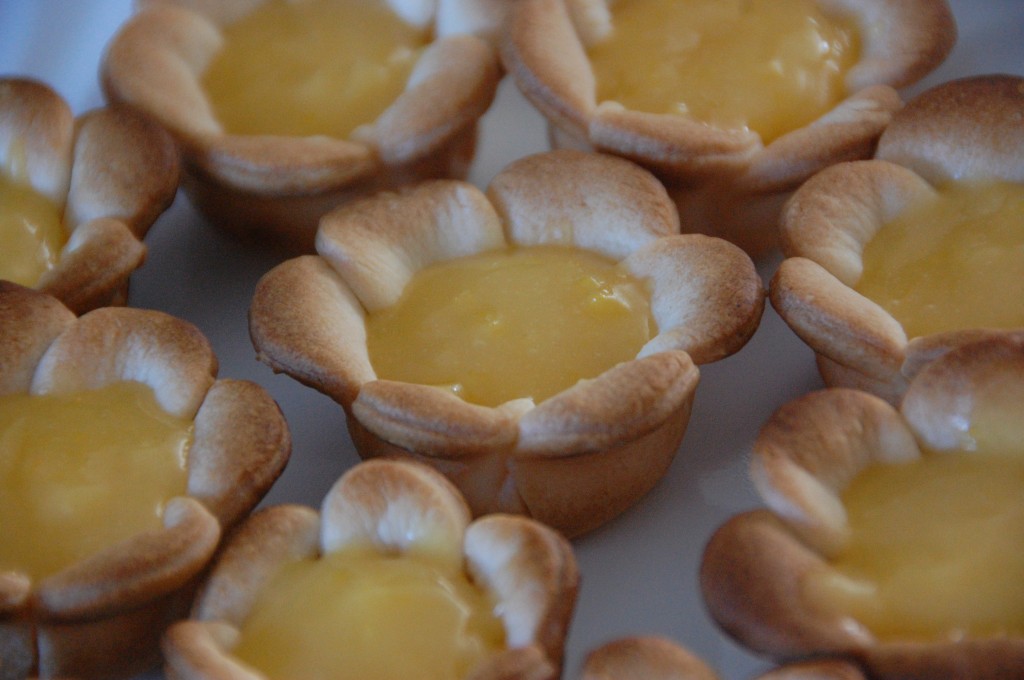 6.  Dust the powdered sugar over the tops.  Voila!  A fancy dessert that is cute, and very simple to make.  (A variety of fillings that would also work:  nutella, jam, vanilla pudding or custard topped with berries… the possibilities are endless!)