Do you still have leftover Jack O'Lantern (field pumpkin)?  I still have about 2 pumpkin's worth of raw field pumpkin in the fridge… and besides making "pumpkin bread"… what else could I make with it?  Well, a few days ago, pineapple was on sale for $0.88 each at the market… so why not combine the pineapple with the pumpkin to make something interesting?
I was trying to make something with a similar flavor as a carrot cake… but with more of a bread pudding like texture.  (If you don't like nuts, try substituting with raisins instead.  You could probably also use grated carrots in the place of raw pumpkin if pumpkin is not in season.)  This cake is awesome served warm… moist and soft, with the added amazing flavor of the melty cream cheese frosting to top it all off.  Make it on a cold fall or winter night… it will warm up your house and make it smell wonderful too!
Warm Field Pumpkin & Pineapple Pudding Cake: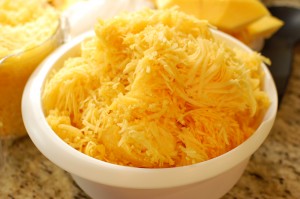 4 c. grated raw field pumpkin (16 oz.)
1 c. crushed/pureed pineapple (about 1/2 whole pineapple)
1 c. sugar
1 c. brown sugar
1 c. canola oil
3 eggs
1 tsp. vanilla extract
2 1/2 c. flour
1 tsp. baking soda
1 tsp. baking powder
1 1/2 tsp. salt
2 tsp. cinnamon
1 c. pecans or walnuts, chopped
Cream Cheese Frosting:
4 oz. cream cheese
1/4 c. unsalted butter
1/2 tsp. salt
1/2 tsp. vanilla extract
1 c. powdered sugar
1.  Line a 9″ X 13″ baking pan with foil, and spray with non-stick pam for baking.  Preheat oven to 350 degrees.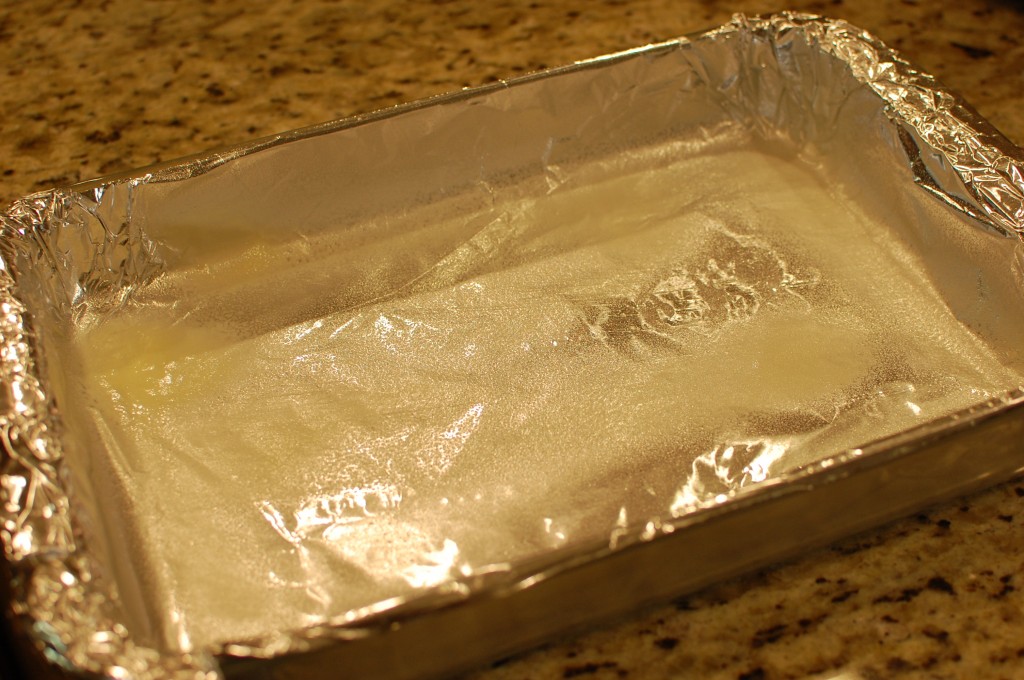 2.  Sift flour with baking soda, baking powder, salt, and cinnamon.
3.  Mix the grated pumpkin with the pineapple, sugar, brown sugar, canola oil, eggs, and vanilla.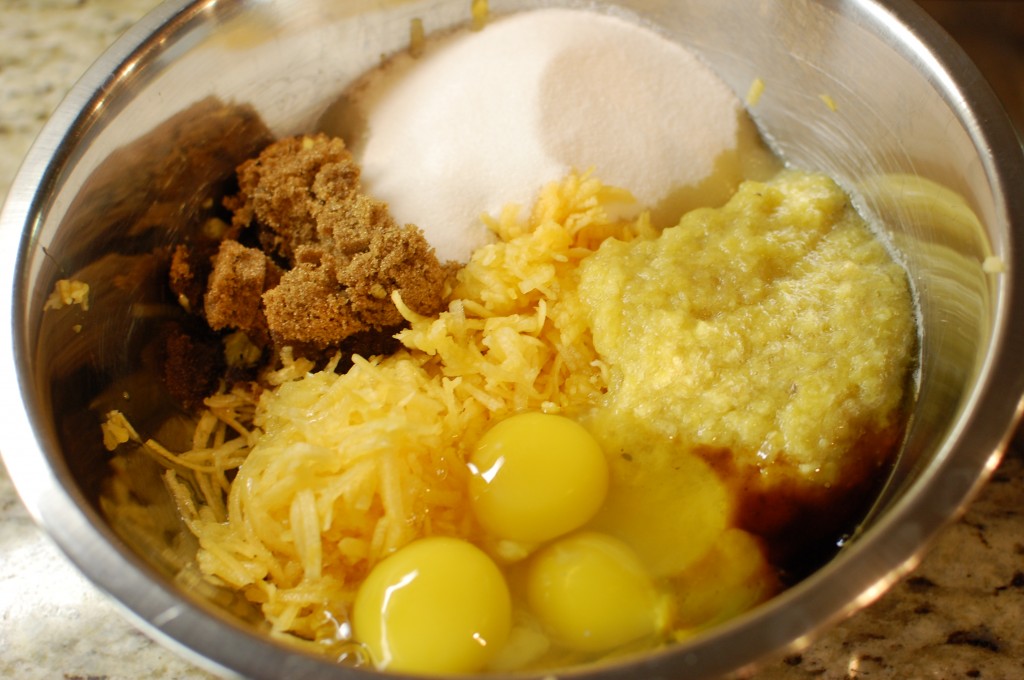 4.  Chop the pecans or walnuts.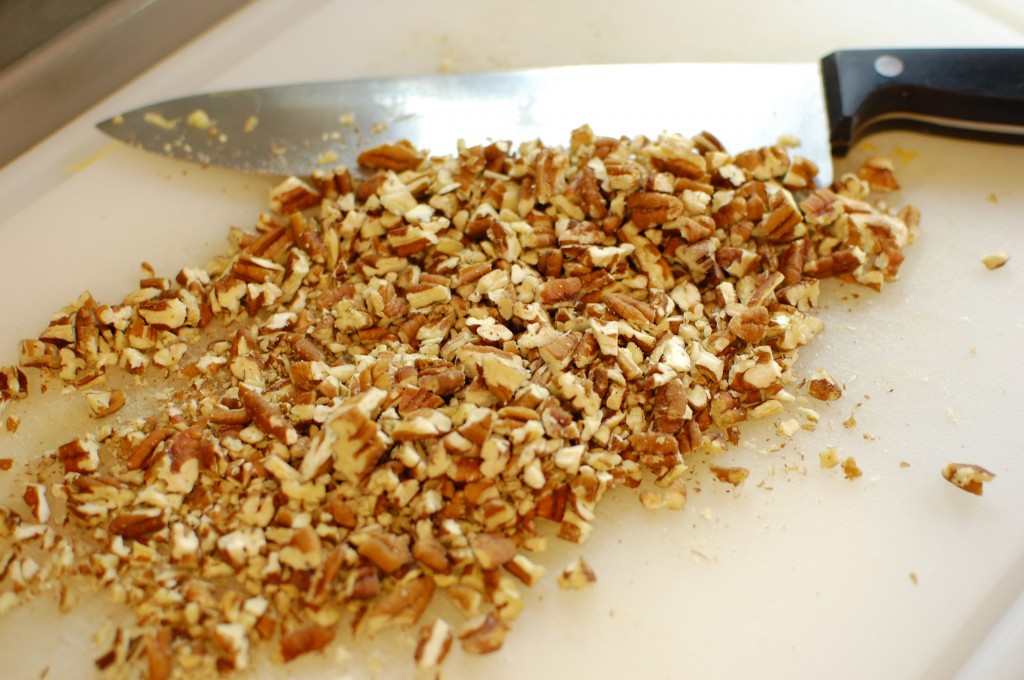 5.  Mix the wet ingredients into the dry until just combined, then mix in the chopped nuts.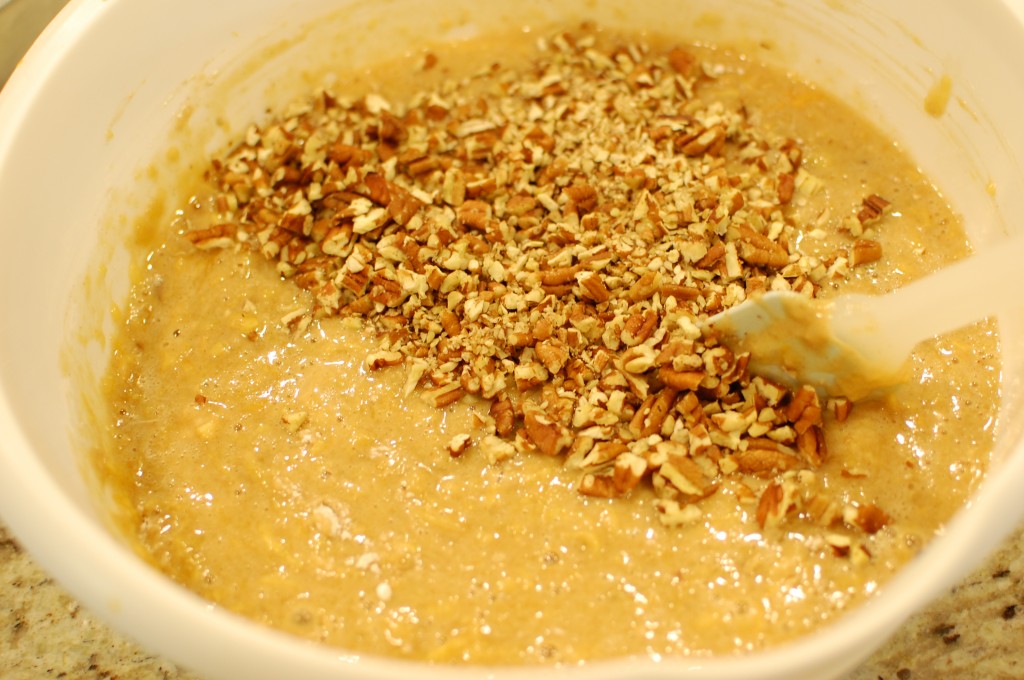 6.  Pour the batter into the prepared pan, and bake for 55-60 minutes until done.  Cool for 5 minutes in pan, then pull the foil up and slide the cake onto a wire rack to cool for another 5-10 minutes.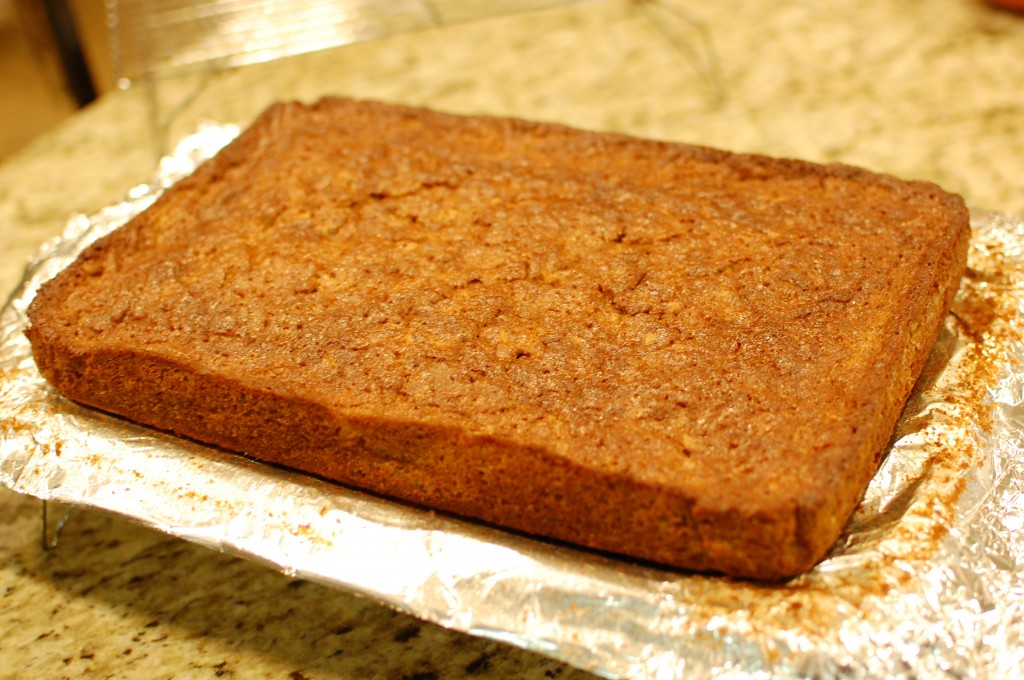 7.  To make frosting, beat the cream cheese, butter, salt, vanilla, and powdered sugar with an electric mixture until smooth and fluffy (about 2 minutes).  Frost the top of the cake, and serve warm.  (The frosting will get kind of melty and will partially soak into the pudding cake.)  Refrigerate any leftovers and microwave a small piece for 30-45 seconds to reheat.