Am I the only one who goes nuts over Cream Pan?  (Japanese sweet bread buns filled with a thick baked vanilla custard.)  As a child, I died for these buns.  I only got to eat them once in a blue moon… but when I had them… OMG!  They made up for everything bad… all unhappiness would be washed away as I got to savor my special treat.
My mom would take me to Little Tokyo in downtown Los Angeles for a day of shopping when I was a kid.  I always dreaded going… because it was usually a 1 – 1.5 hour car ride to get there.  Not that it should take 1 -1.5 hours to get there… anyone else could make it there in 30 minutes.  However, my mom (without fail) would always take the wrong ramp, and get us on the wrong freeway at the last minute.  "Left, mom, stay on the left!  No, the left!  You need to stay on the 101, don't get on the 110!  Mom, you're in the wrong lane.  No, don't go that way – go to the left!  The left!  THE LEFT!  Nooooo…. not the right!!!!"  She never listened to me… and ALWAYS got on the 110… then we'd end up lost among the one-way streets, and somehow *I* was the one who needed to navigate us back to 1st Street and San Pedro.  (Sigh)  Stressful times for a 3rd grader.
But then we'd get there eventually… we would have lunch, then do some shopping.  After getting a new pack of origami paper, and
my Cream Pan, I was happy.  It's so hard to find good Cream Pan these days.  Sometimes Mitsuwa market has packages of Cream Pan for sale (loaded with preservatives for long shelf life)… but they are never the fresh bakery quality ones I remember from the old corner bakery at the Little Tokyo Village Plaza.  I've been thinking about cream pan a lot these days… now that I've perfected my Japanese Milk Bread recipe, and figured out how to make An Pan (Red Bean filled sweet buns), why not give Cream Pan a try?
While making the buns this time, I figured out an easier technique for filling the buns before baking.  I used to just hold the dough in my hand, put a ball of filling on top, and attempt to awkwardly wrap the dough around the filling and pinch it upwards.  Instead, this time, I lined a small custard cup with the flattened dough circle – put the filling in the depression, and pinched up the dough on the sides.  This was much less awkward, and about 1000 times easier (especially with a rather soft filling like this custard)!
For more info on the dough itself, please see my post on Tangzhong and Japanese Milk Bread.
Cream Pan Dough:
2 1/2 c. bread flour
2 tsp. active dry yeast
4 T. sugar
3 T. unsalted butter
1/2 tsp. salt
1/2 c. tangzhong
1 egg
1/2 c. milk
Tangzhong:
1/3 c. bread flour
1 c. water
Japanese custard cream:
1 3/4 c. milk
4 T. unsalted butter
4 egg yolks
1/2 c. sugar
5 T. flour
2 T. cornstarch
1/2 tsp. salt
2 tsp. vanilla bean paste (or vanilla extract, or seeds scraped out of 1 vanilla bean pod)
Egg Wash:
1 egg yolk beaten with 1 T. water
1.  Make the tangzhong.  In a small saucepan, gently heat the bread flour + water, while slowly whisking.  When the mixture thickens, and swirl lines appear – remove from heat and cool.  You will only end up using half of this mixture – store the other half in the refrigerator (covered) for up to 3 days.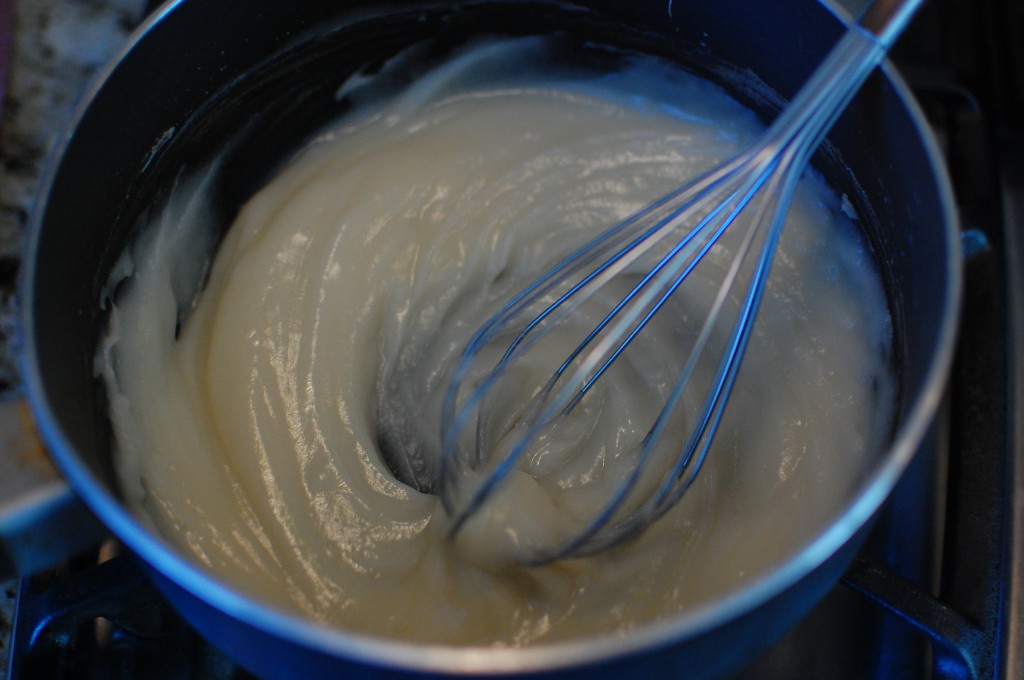 2.  Make the cream pan dough.  In a bread machine pan, add the tangzhong, butter, sugar, salt, and egg beaten with the milk.  On top of those ingredients, add the bread flour.  Make a depression in the center of the bread flour, and add the yeast.  Turn the bread machine on the "basic dough" setting.  (Alternately, you can make the dough by hand – knead all of the ingredients together for 10-15 minutes, then allow the dough to rise (covered) for 1 hour in a warm place.  Punch down, and allow to rise another 30 minutes.)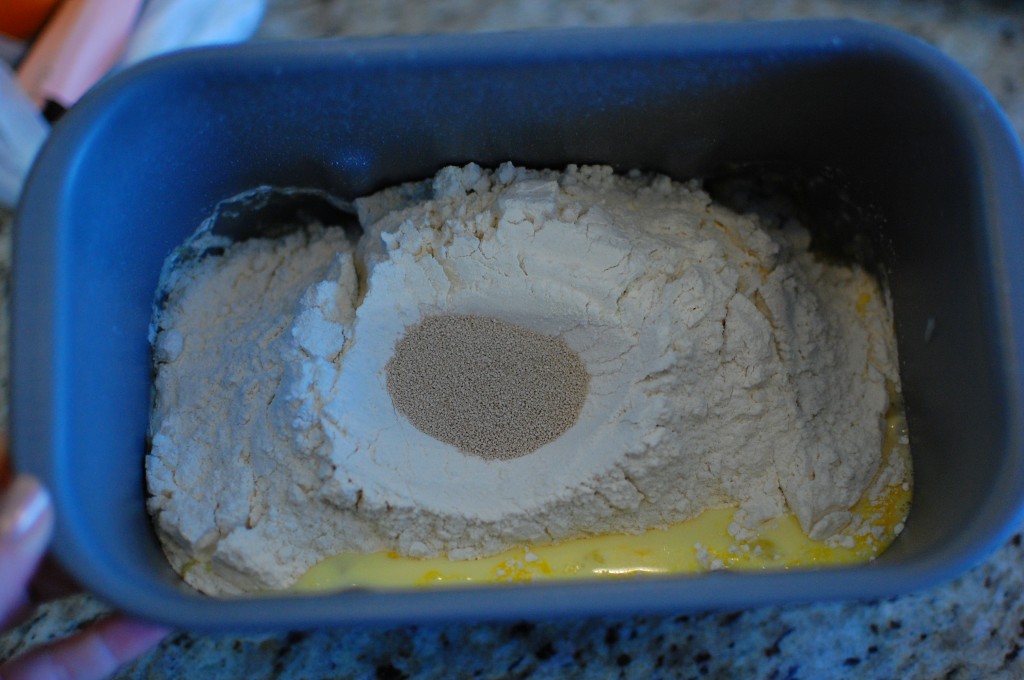 3.  While the dough is rising, make the custard cream.  Scald the milk and butter in a large pyrex measuring cup by microwaving for 2-3 minutes.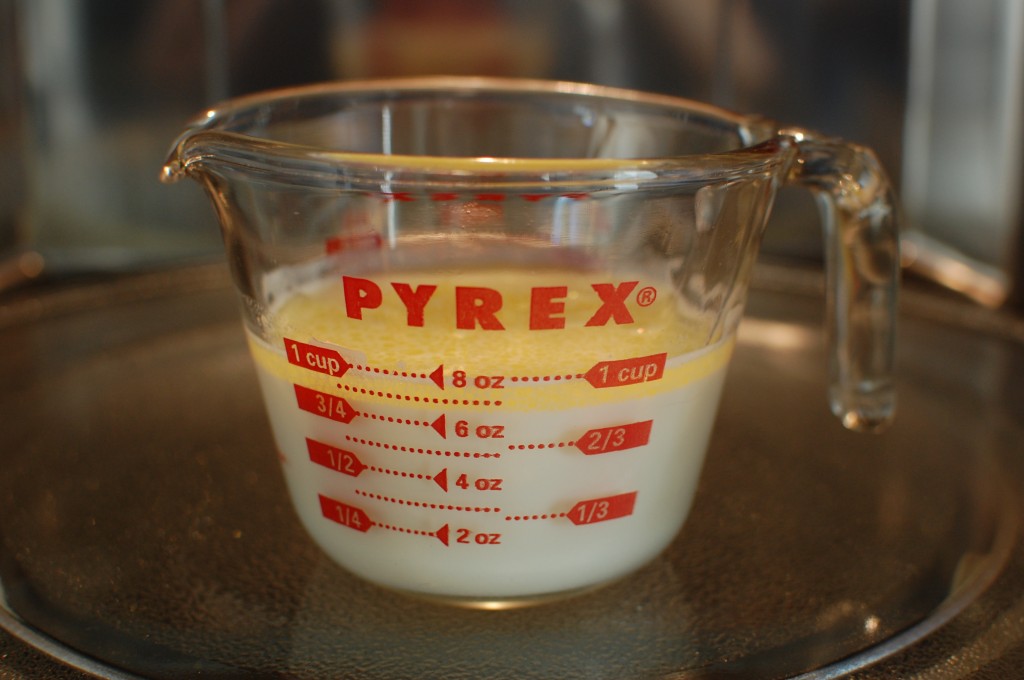 4.  Beat the egg yolk with a whisk, and add the flour, cornstarch, salt, and sugar.  Whisk together to form a thick paste.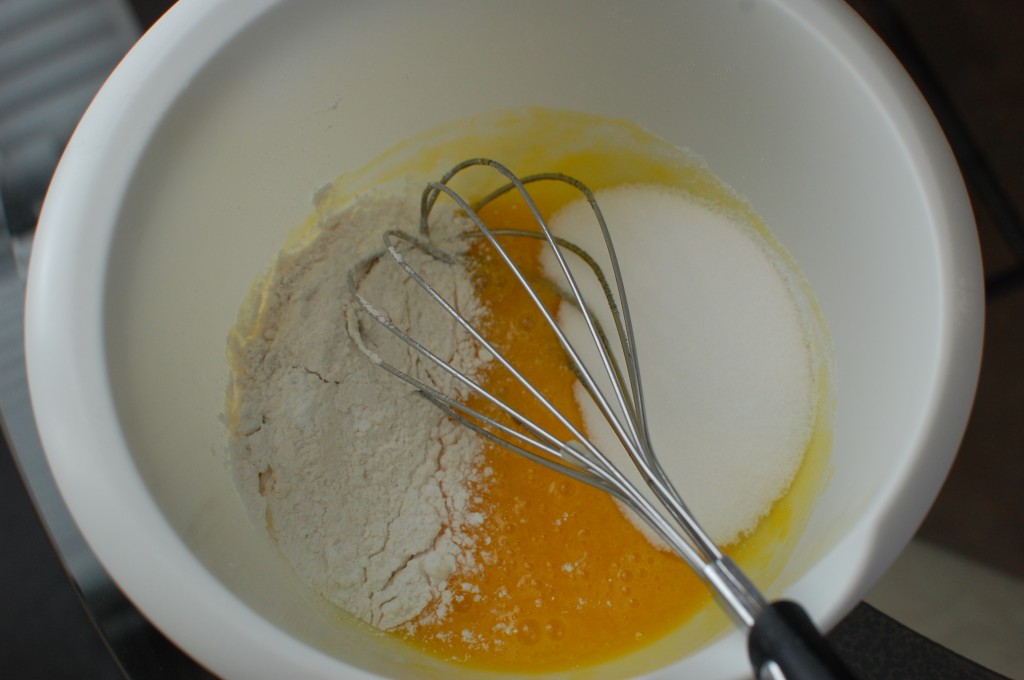 5.  Add about 1/3 of the warm milk mixture to the paste, and whisk constantly.  (This step tempers the egg, and loosens up the paste so that you can add the remaining warm milk.)  Add the second 1/3 of the warm milk, and whisk until combined.  Then add the last 1/3 of the warm milk, and whisk until combined.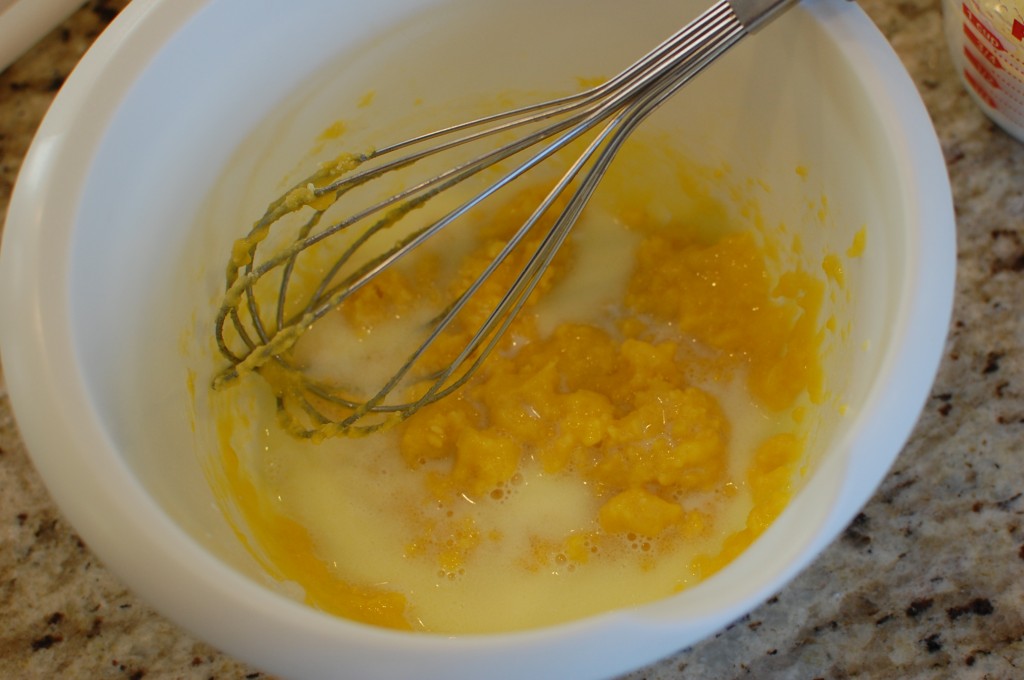 6.  Strain the egg mixture into a saucepan.  (This will catch any lumps, and any bits of egg that may have "scrambled".)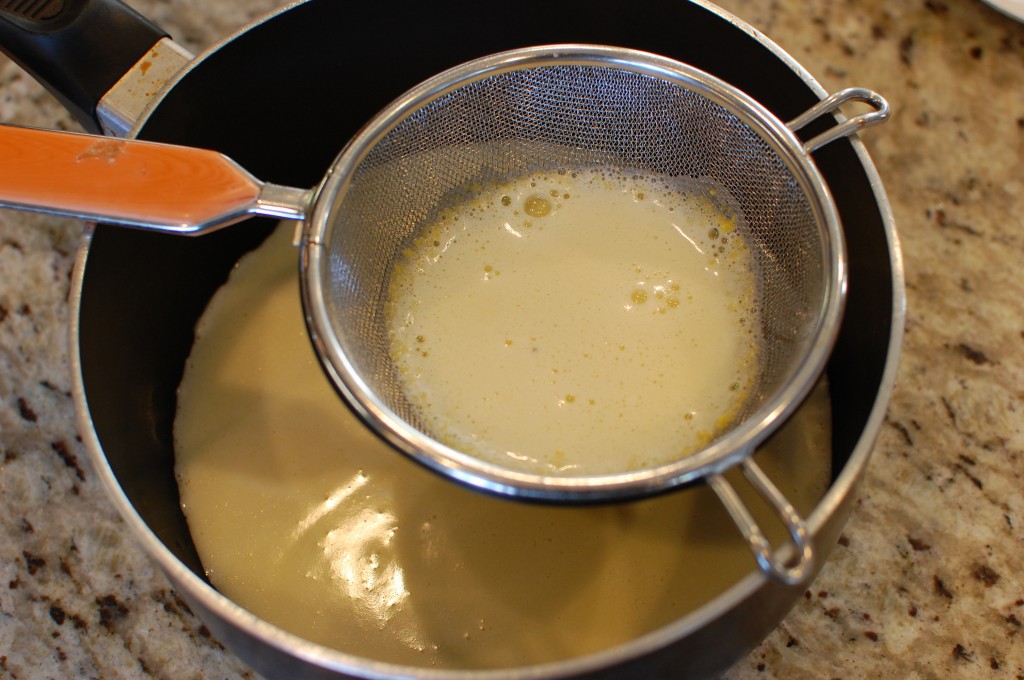 7.  Add the vanilla bean paste (or vanilla extract, or scraped vanilla bean guts), then slowly heat the saucepan over medium low heat (whisking constantly).  When the mixture thickens so that swirl lines appear, remove from heat and continue whisking another 30 seconds.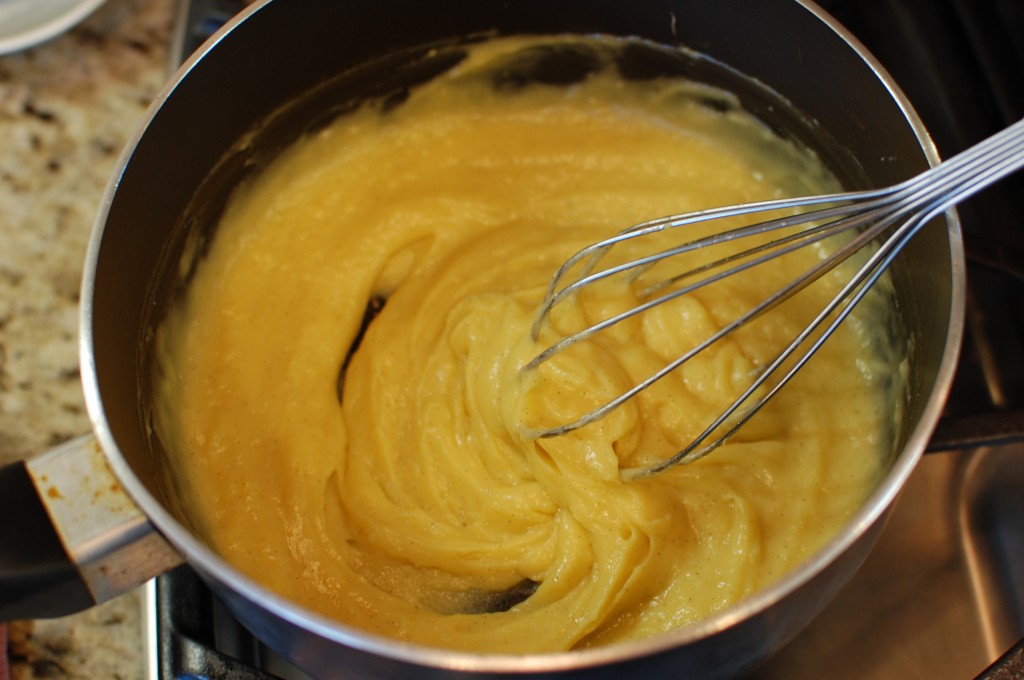 8.  Refrigerate the custard cream until cold and thick in a covered container for several hours.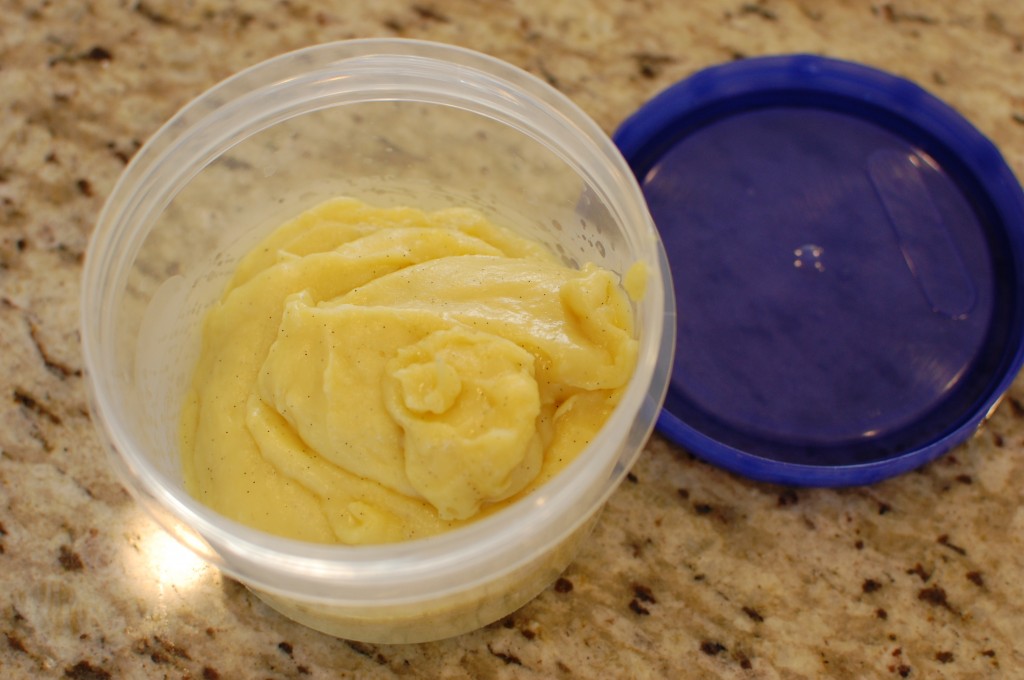 9.  Dust a work surface liberally with flour.  Divide the dough into 16 pieces.  Using a cookie scoop, portion out 16 balls of chilled custard cream.  (I usually set the custard portions on top a sheet of reynold's non-stick foil.)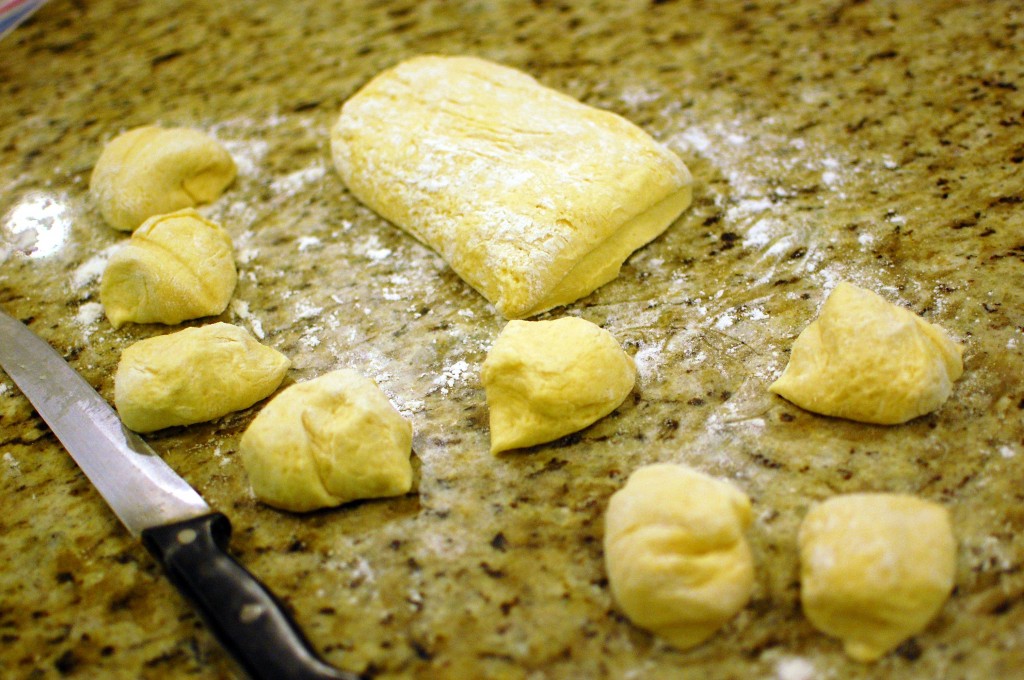 10.  Flatten each piece of dough with the palm of your hand and place in a small custard cup.  Use a small spoon to put a portion of chilled custard into the depression.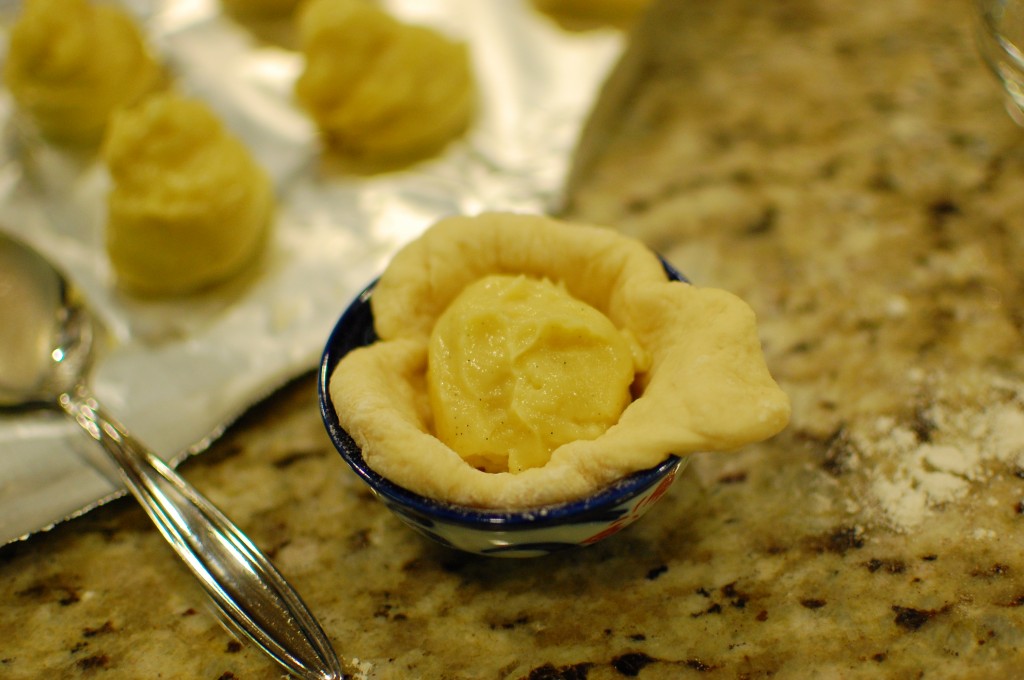 11.  Pinch the edges upwards to seal and place seam side down on a silicone lined cookie sheet.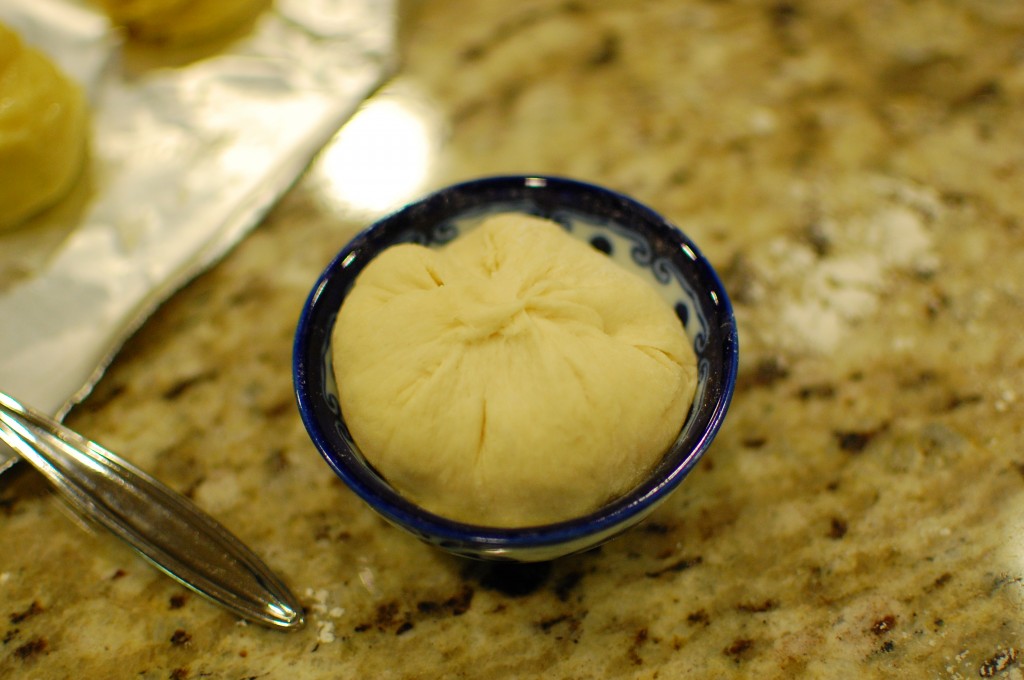 12.  Cover with plastic wrap and allow to rise for another 30-60 minutes.  Brush the tops of the buns with the egg wash, and bake at 335 degrees for 15 minutes.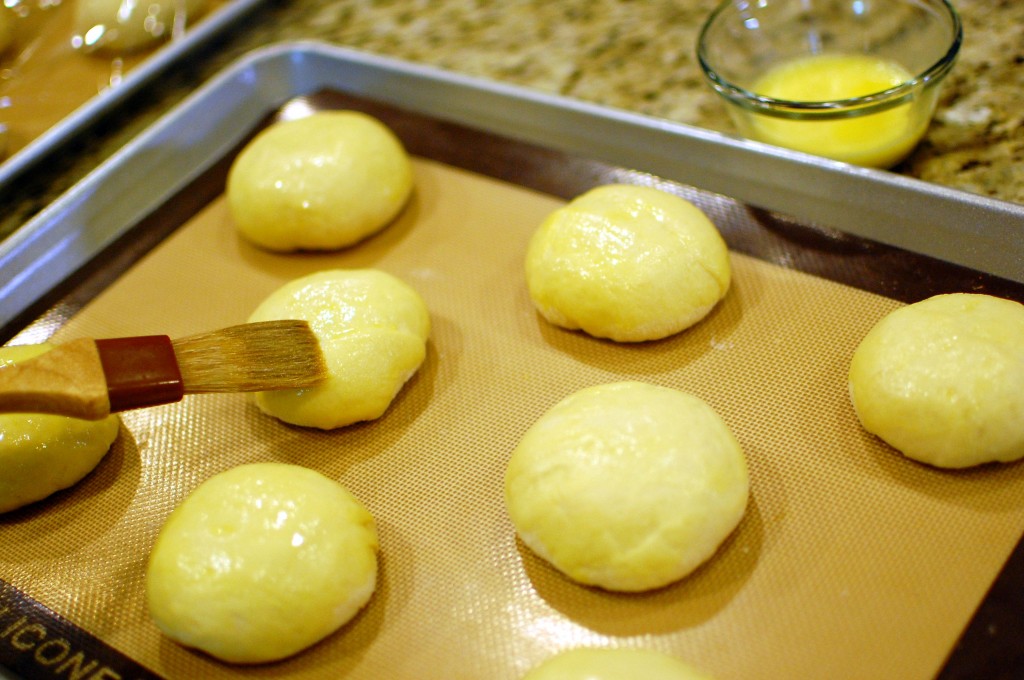 13.  Remove from oven and cool thoroughly.  Refrigerate to store.