I'm on a mission these days to try new foods… new vegetables, new flavors… basically anything that is outside my normal routine.  It helps that the supermarket down the street now carries all kinds of exotic fruits and vegetables.  For example, I can buy lemongrass, daikon radish, shitake mushrooms… even yuca root!  I don't normally eat kale, but since it is high in antioxidants (especially vitamin A, C, K, and B6), I thought I'd give it a try.  When I went to grab the (dark green) kale a few days ago, next to it was a pretty purple version, labelled "flowering kale".  Hmm.  Well, I'm a sucker for purple, so I bought that one instead.
I was planning on sauteing the kale (like spinach)… but it seemed so boring.  Instead, I decided to make a roulade with chicken breast, and stuff it with goat cheese and pesto made from the kale.  If you look at the photo down below of the pesto… the photo just doesn't do it justice.  It was such a lovely mix of purple (from the kale) and green (from the basil) – and with a little bit of olive oil, this would have made a wonderful sauce for a pasta dish.  (Maybe next time!)
Pine nuts can be a somewhat expensive ingredient.  I buy big bags of pine nuts from Costco, which makes this ingredient much more affordable.  However, pine nuts go rancid quickly – so make sure you store them in the freezer (tightly sealed in a zip-lock bag with all air squeezed out).  If stored properly, your big bag of pine nuts will last for a very long time, making it much more cost-effective.  If you don't think you will ever use pine nuts again, or don't want to buy them, just substitute with walnuts.
Goat Cheese and Kale Pesto Chicken Roulade:
2 chicken breasts
4 oz. log goat cheese
1 head purple "flowering" kale
1/2 c. basil leaves
1/4 c. parmesan cheese
1/4 c. pine nuts
1/2 tsp. salt
1/2 tsp. black pepper
White Wine Reduction:
1/2 c. white wine
1 T. butter
1/2 tsp. salt
1.  Wash the kale and cut from stem.  Microwave for 2 minutes to soften.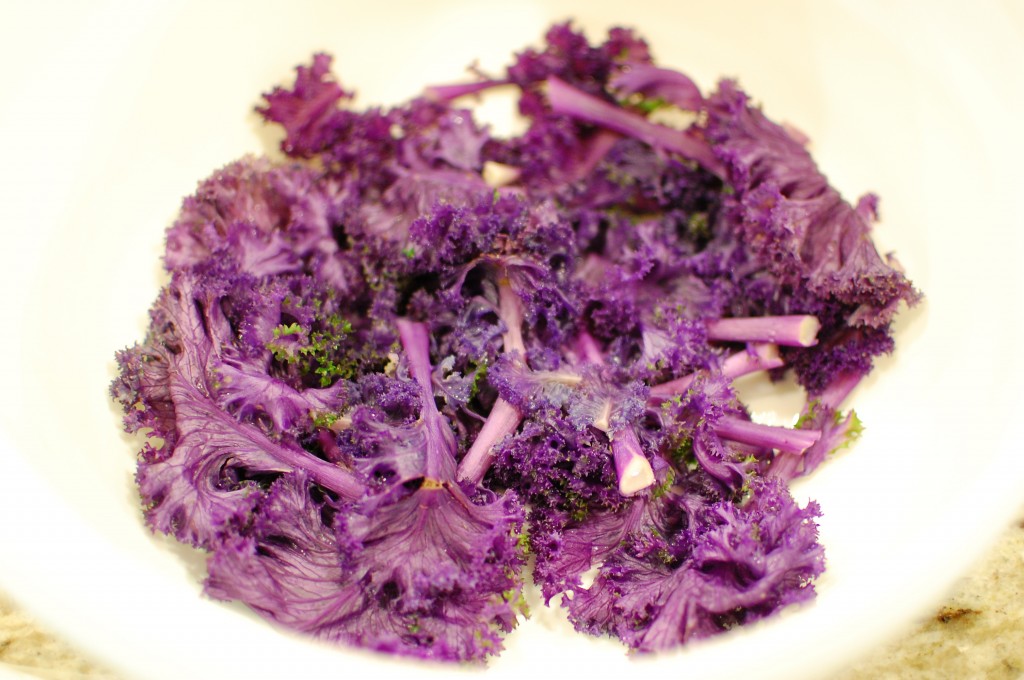 2.  In a food processor, combine the kale, basil, parmesan cheese, and pine nuts.  Pulse until a rough paste.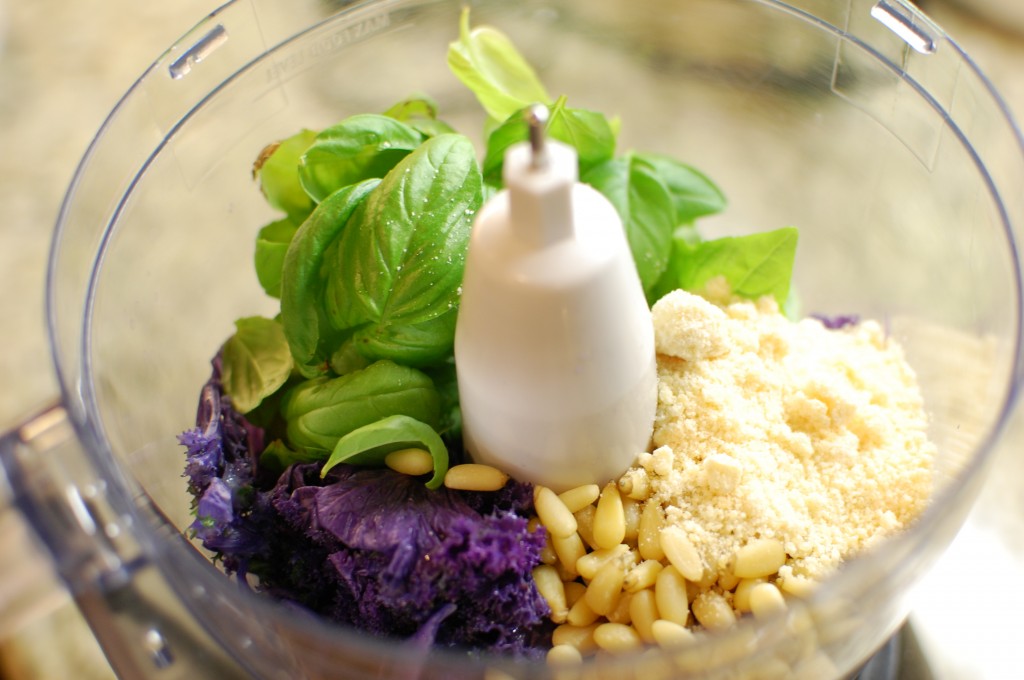 3.  Butterfly the chicken.  (Cut almost all the way through in half horizontally, then "open" like a book.)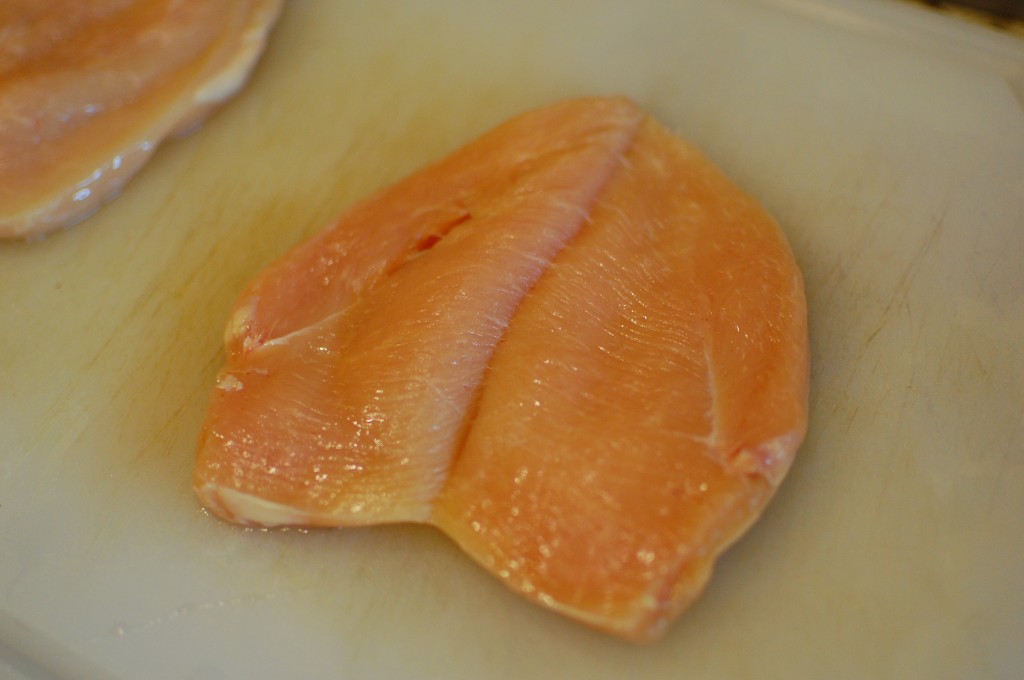 4.  Cover the chicken with plastic wrap and pound with a meat mallet to flatten.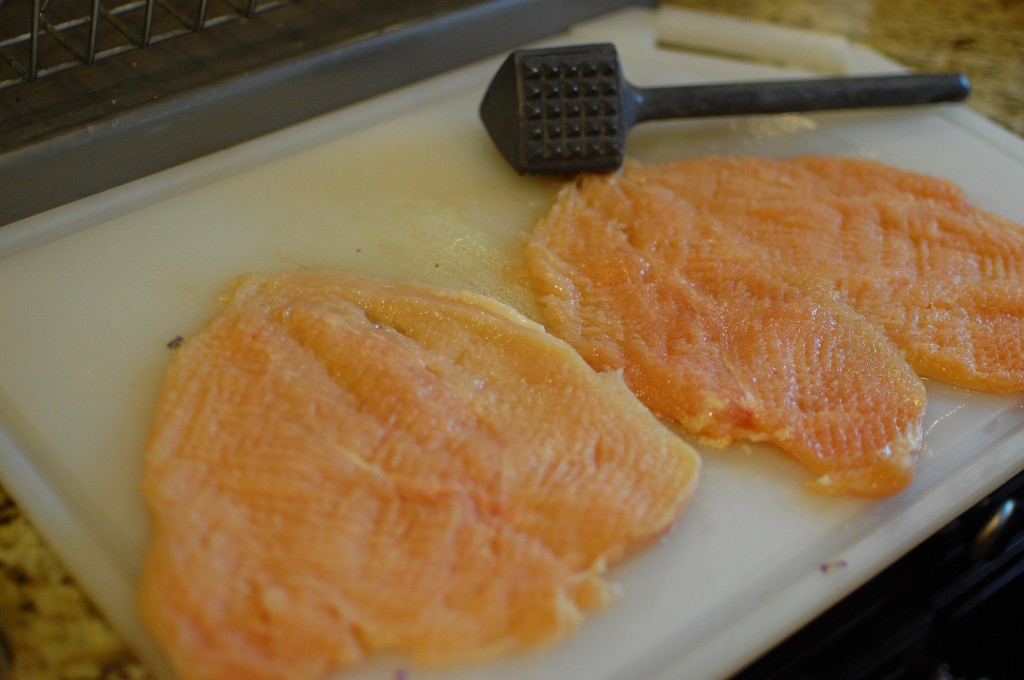 5.  Spread the goat cheese over the chicken breasts, then top with the pesto.  Smooth out.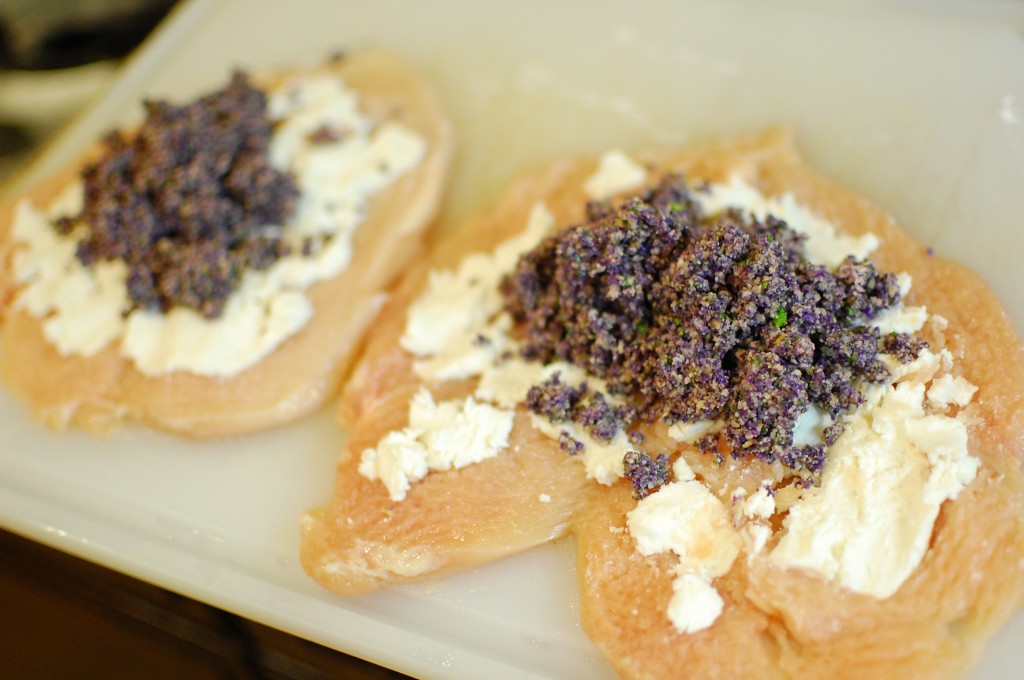 6.  Roll the chicken into a log, securing with toothpicks.  Sprinkle the outside of the roll with the salt and pepper.  (If it looks a little messy, that's ok.  It will look much better once cooked and sliced.)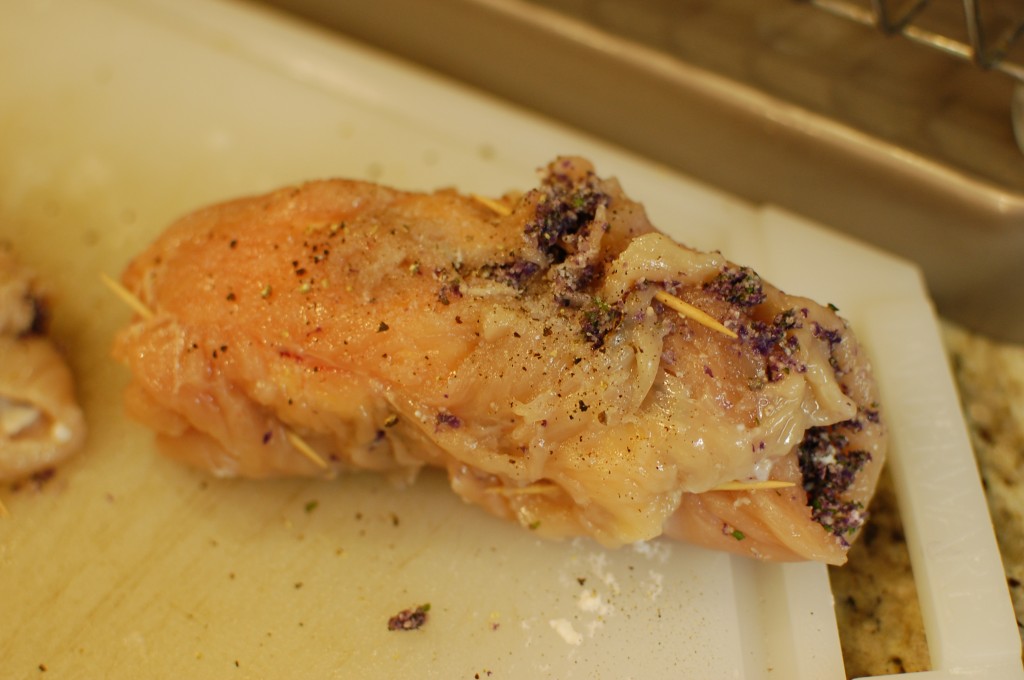 7.  Heat 1 T. of canola oil in a cast iron skillet over medium high.  Add the chicken, and brown on all sides.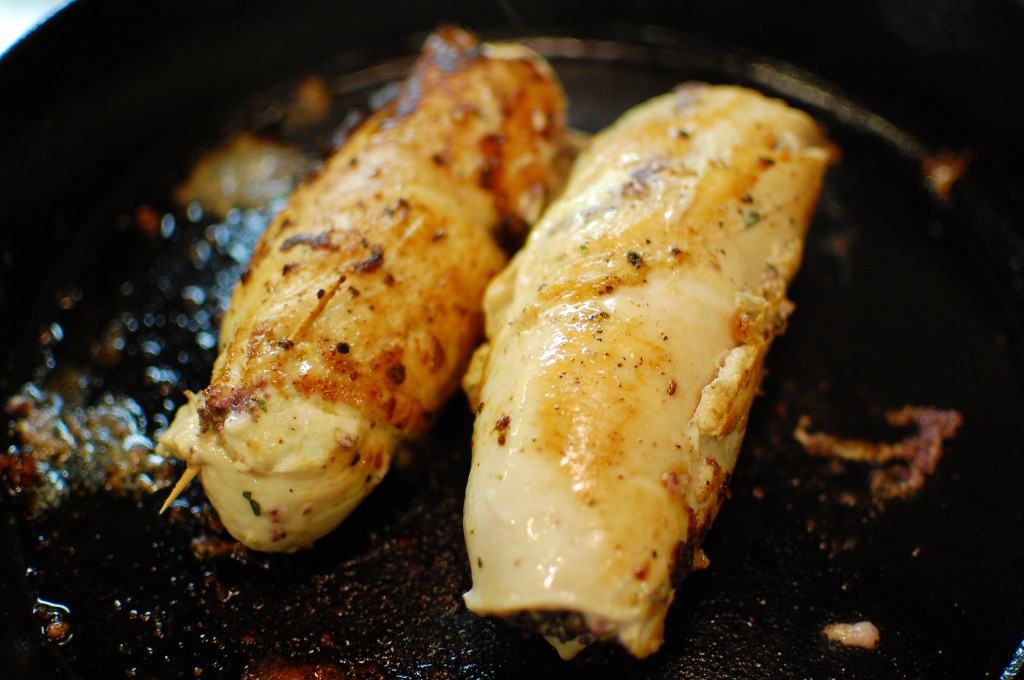 8.  Cover the skillet with foil, then bake for 20 minutes in a 350 degree oven.  Remove from the oven, transfer chicken to a plate, and cover with the foil to keep the heat in.  Put the skillet back on the stove top, and add the butter and let it melt.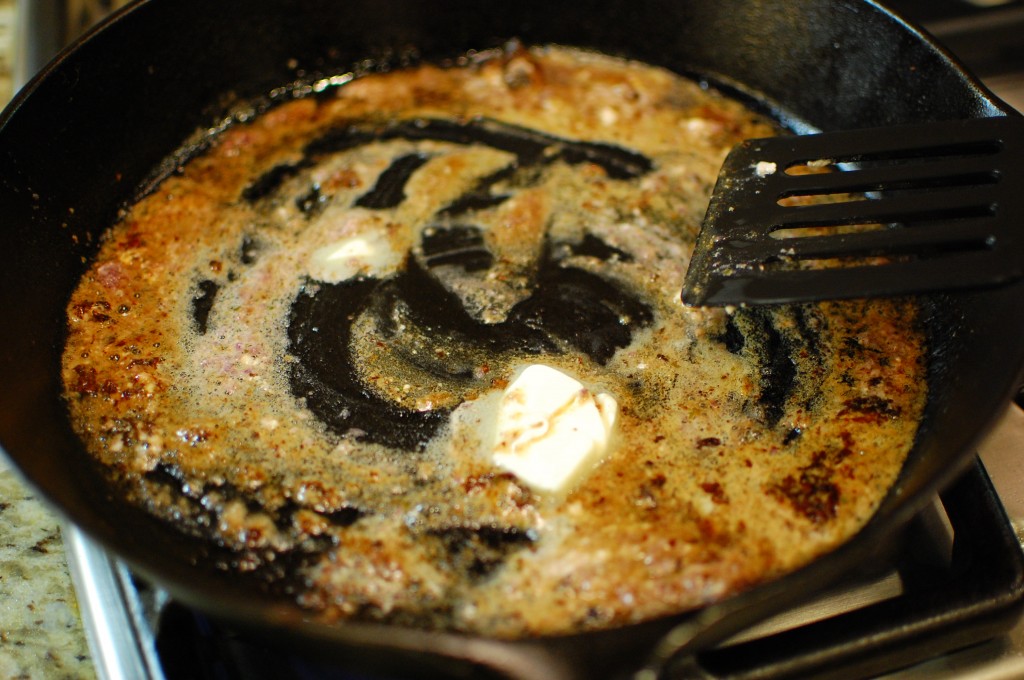 9.  Add the wine and salt, and scrape all the brown bits off the bottom of the pan.  Cook until reduced and thick.  (Strain if desired)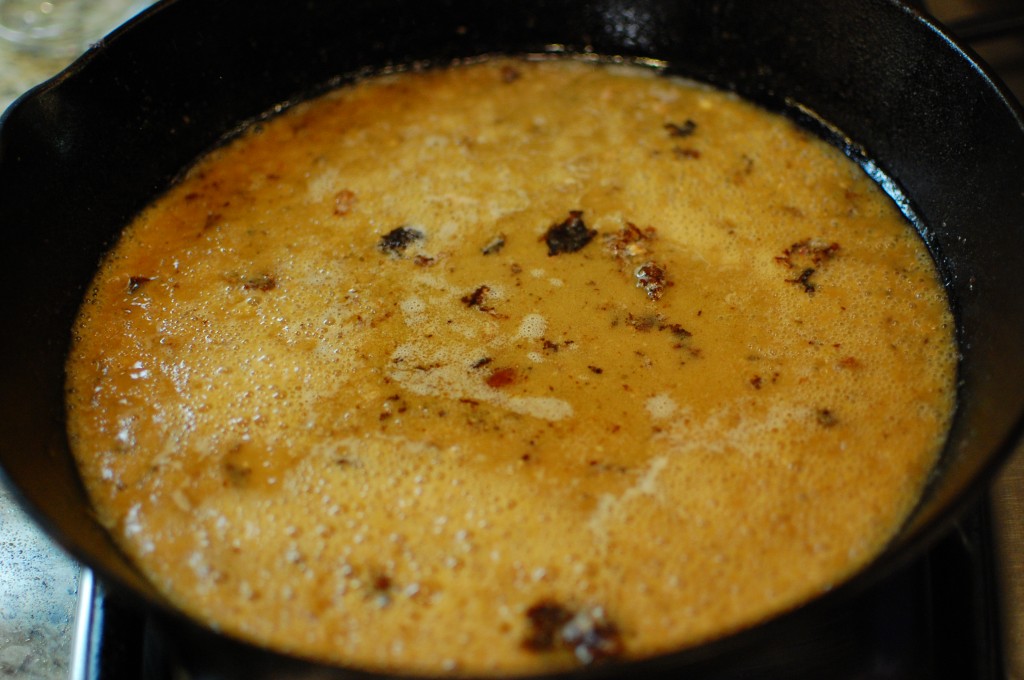 10.  Remove toothpicks, and slice the chicken roulade.  Place slices on a plate and drizzle with sauce.  Top with a few reserved pine nuts or chives.