It's Oktoberfest right now!   Oktoberfest is a 16 day festival lasting from late September through the first weekend of October, and is considered the world's largest fair – held annually in Munich (Bavaria), Germany.  Specials beers and all kinds of wonderful German foods are served during this celebration… one of my favorite German treats is  "Brezeln", or pretzel breads!
What better time to celebrate German/Bavarian foods – especially those with a heavy beer influence?  For this occasion, I felt like making a more traditional looking pretzel bread… something rustic and authentic.   I do enjoy my regular soft baked pretzel recipe – the only problem is that the color is not dark like traditional German style pretzels.
The problem is that the dark brown colored crust is usually achieved by dipping your pretzel dough into a caustic lye solution before baking.  Lye, also known as Sodium Hydroxide or "Caustic Soda" is a very strong base, with a pH in the 13-14 range.  That's dangerous!  You can permanently blind yourself if you accidentally splash lye in your eye!  You can also give yourself a severe burn or cause tremendous damage to your skin – it is highly corrosive!  I always say that "baking is just like organic chemistry", but I really had no desire to break out the safety glasses and nitrile gloves just to make pretzels.
The solution to the solution problem (haha!) is to use a basic (alkali) solution that won't kill or maim… and for most  home cooks, that means BAKING SODA!  Is it exactly the same?  No.  But it's much safer, and easier to get.  Everyone probably has baking soda in their pantry, so no special trip to the chemical supply store necessary!  With the combination of the (milder) alkali solution made with baking soda, plus an egg wash… I was able to achieve the characteristic dark color to my pretzel bread rolls.
I used my Zojirushi Bread Machine to make my pretzel dough – it's so easy to use the "basic dough" setting… the machine does all of the mixing, kneading, and rising work for you!  I have also included instructions to make the dough by hand, just in case you REALLY want to go the authentic route…
Pretzel Bread:
3 3/4 c. flour
1 1/3 c. beer (a little bit less than 12 oz. bottle)
3 T. brown sugar
2 T. unsalted butter
1 1/2 tsp. salt
1 1/2 tsp. yeast
kosher/pretzel salt (to top)
Alkali Solution:
5 c. water
1/3 c. baking soda
Egg wash:
1.  Pour the beer into the bottom of a bread machine pan.  Add the brown sugar, butter, and salt, then top with the flour.  Form a depression in the flour, and place the yeast in the depression (do not allow the yeast to come in contact with the liquids).  Turn the machine on to the "basic dough setting".  (If you are mixing by hand, then dissolve the yeast into the beer for a couple minutes, melt the butter, and knead all ingredients together for about 15-20 minutes, then set aside to rise for 30-45 minutes.  Punch down, and allow to rise again for 30-45 minutes.)  (I use my Zojirushi Bread Machine to pretty much make all of my yeast dough recipes… it's just so much easier to let the machine do the work for you!)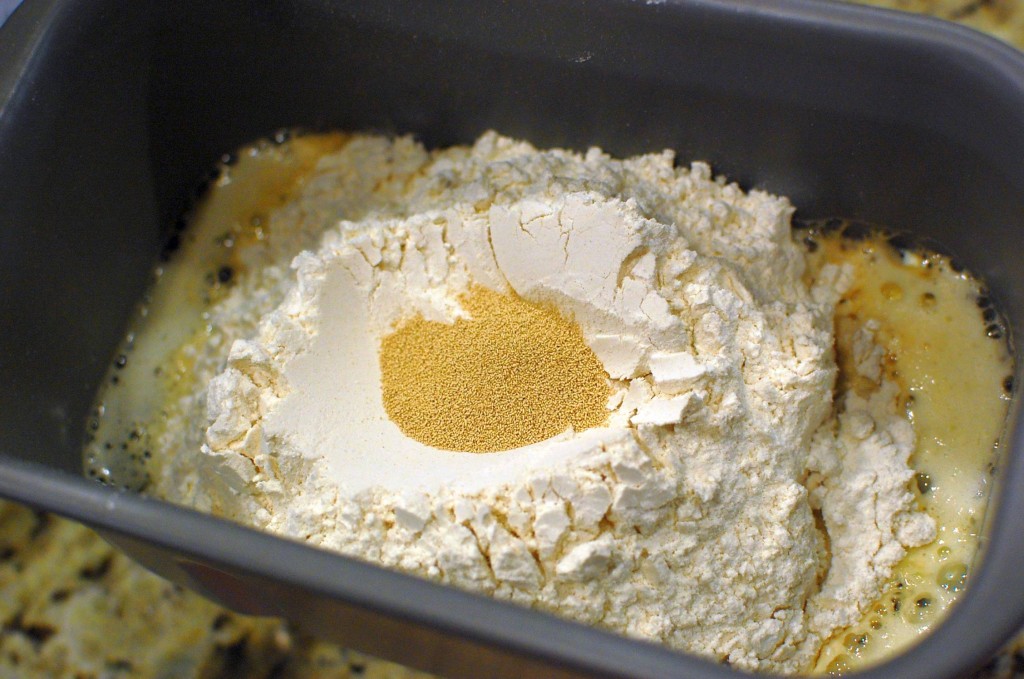 2.  Once the dough is ready, turn out onto a floured surface and cut in half.  Cut each half into 8 pieces, for 16 pieces total.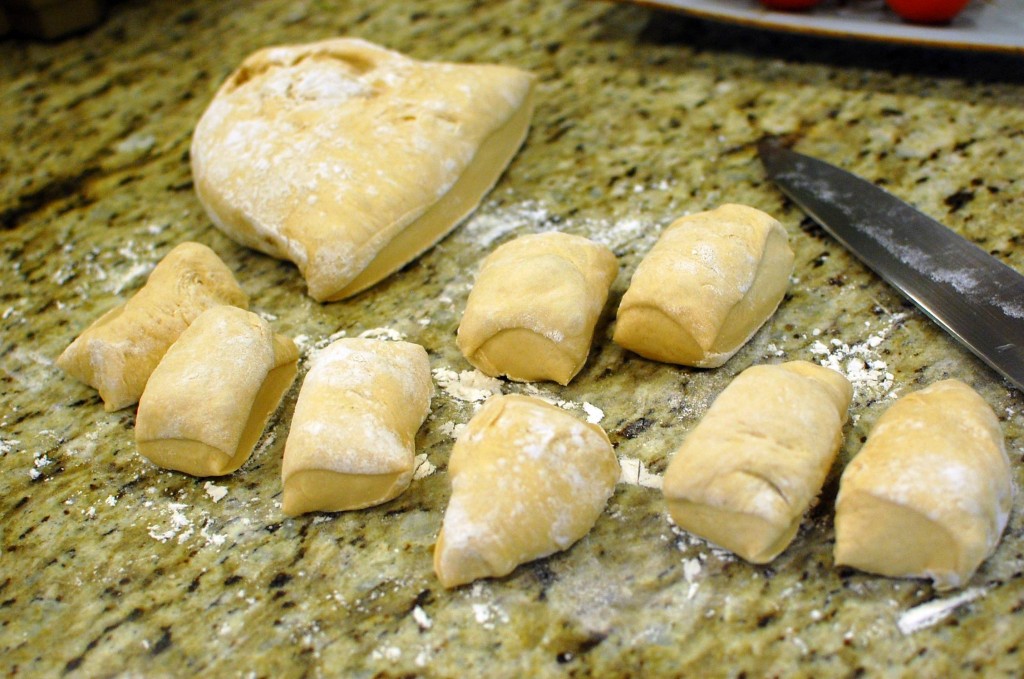 3.  Pat each piece into a rough ball shape, and set 8 pieces to rest on a silicone lined baking sheet for 30-45 minutes in a warm draft free location.  (If you prefer to make traditional shaped pretzels, roll the dough pieces between your palms to create a long rope, then loop it into the traditional pretzel shape.  See my post on soft baked pretzels to see how to do this.)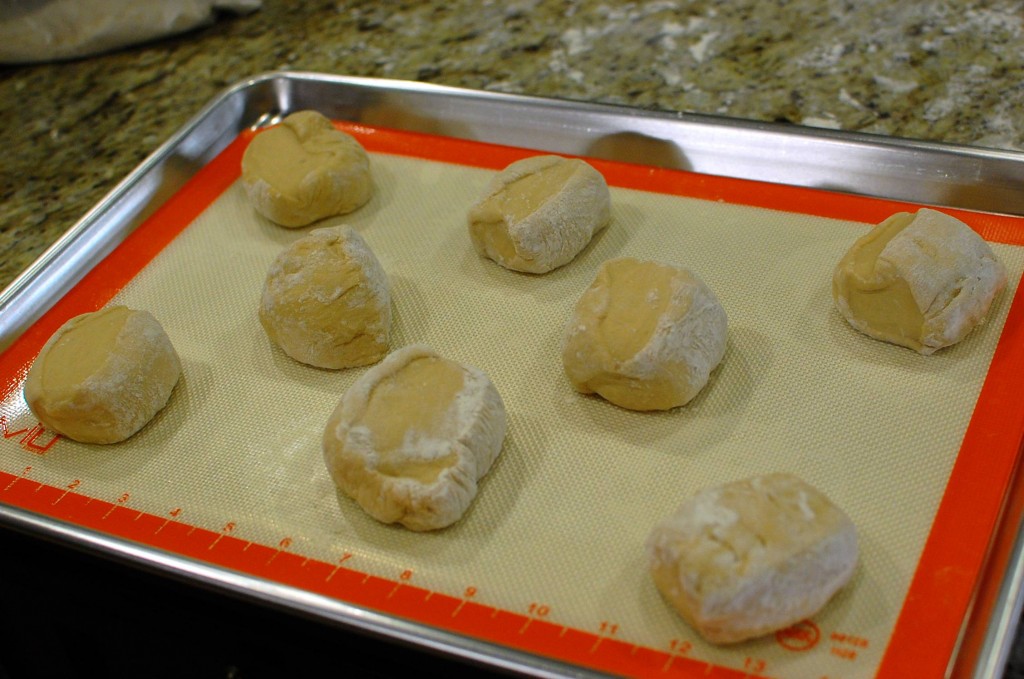 4.  Preheat the oven to 425 degrees.  Add the water into a saucepan, and add the baking soda.  (This is to create an alkali solution – dipping the dough into this solution before baking will help give the rolls that characteristic "brown pretzel" color.)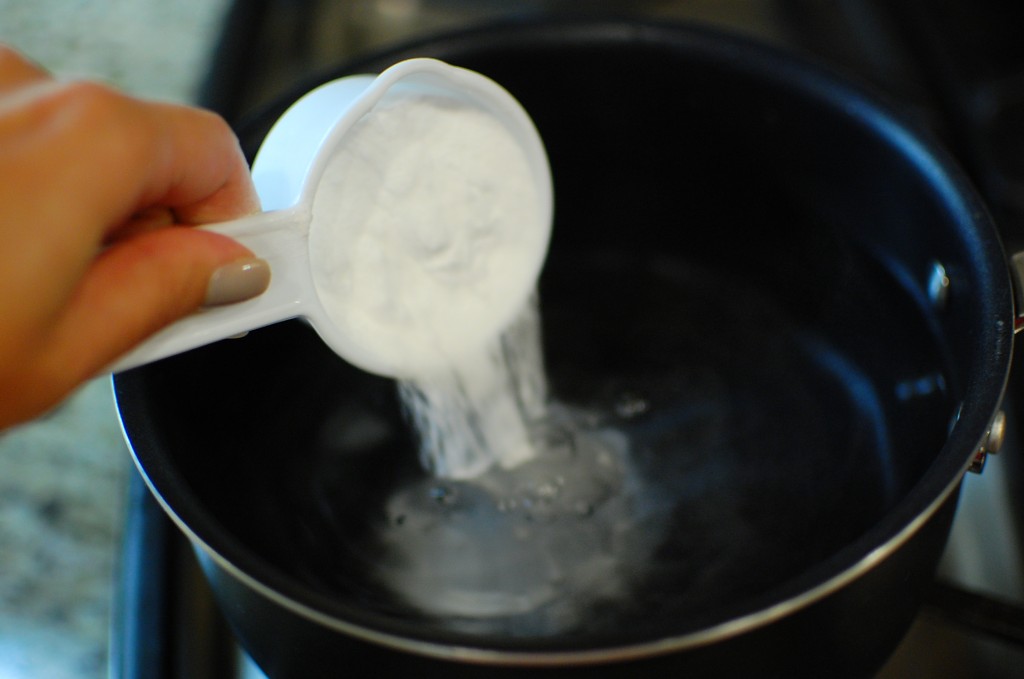 5.  Bring the solution to a simmer, and gently simmer the rolls in the solution (2 at a time) for about 45 seconds, turning them every 10 seconds.  (The solution may bubble or foam up a bit as you do this… so make sure you use a large enough saucepan to contain all the foamy bubbles.)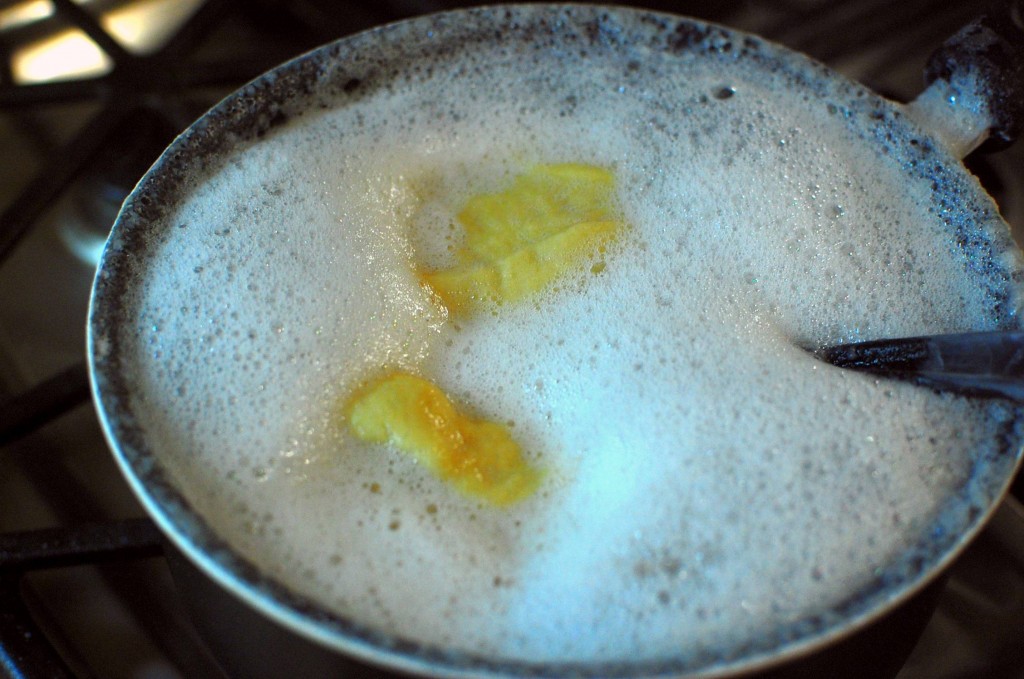 6.  Remove with a slotted spoon, shake off the water, and place the rolls back onto the silicone lined baking sheet.  (They are going to look kind of wrinkly, slimy, and kind of ugly at this point.  It's ok… they will turn out much nicer looking in the end, so don't worry!)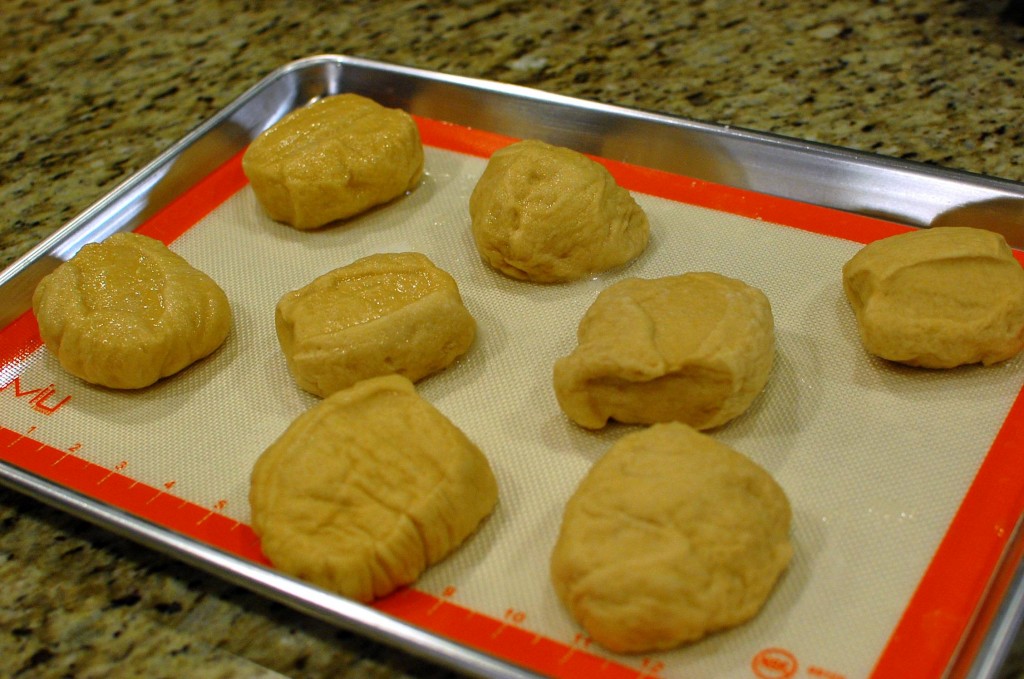 7.  Brush the tops with the egg wash, and sprinkle with the coarse pretzel salt (or coarse sea salt or kosher salt).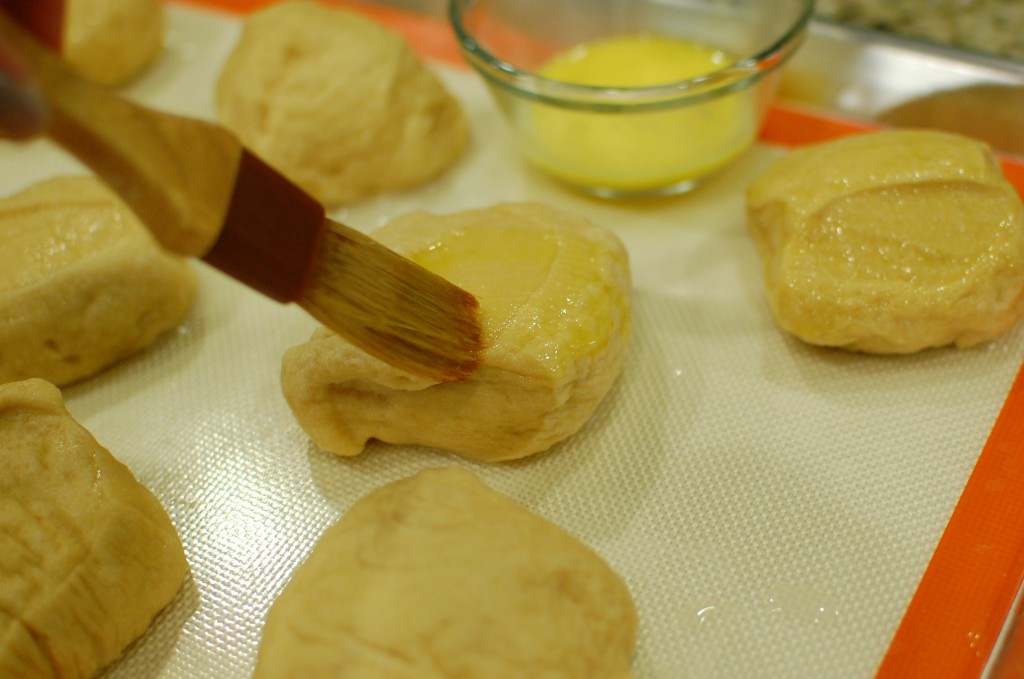 8.  Make a cross-wise slash in the top of each roll with a sharp knife.  (Or you can make two parallel slashes – whichever you prefer.  The slashes will be the "light" part of the pretzel roll that shows through the dark crust.)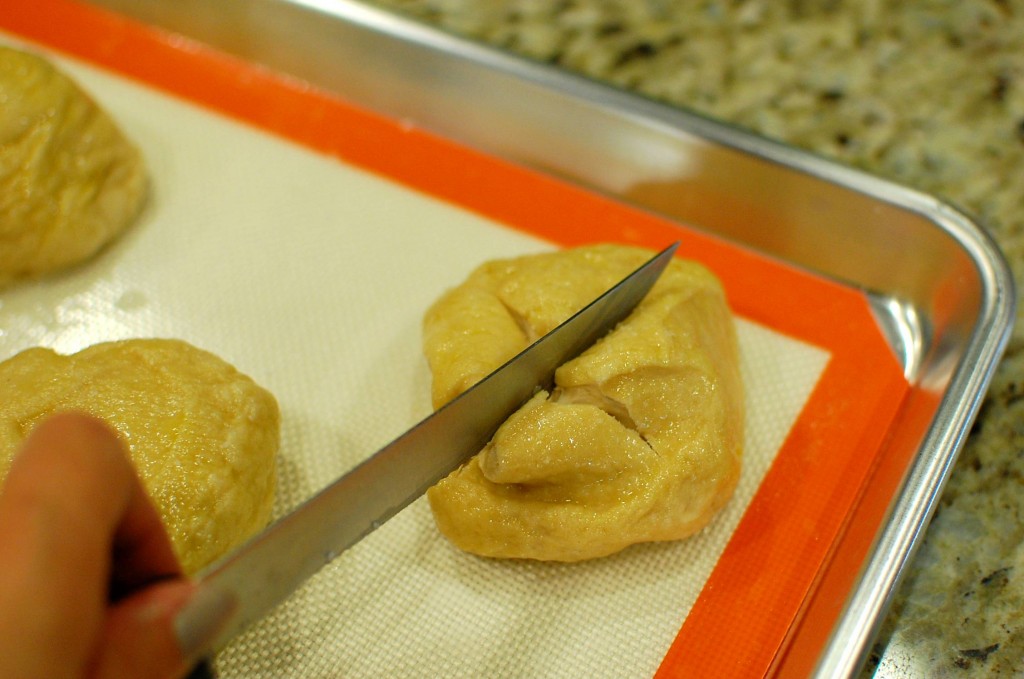 9.  Bake the pretzel rolls for about 15 minutes.  Remove to a rack to cool for 5-10 minutes before serving.  Prost!