Happy St. Patrick's Day!  I know many people feasted on corned beef and cabbage for dinner tonight to celebrate…  And – it means that tomorrow, packages of corned beef are probably going to be on sale for about 50% off at the supermarket!  The day after St. Patrick's Day is a great day to fill the freezer with corned beef!  Just pop the vacuum packed plastic package into the freezer as is.  When you are ready to make corned beef, defrost and braise (cover the meat with water and bring to a low simmer) on the stovetop for 3 hours (or crockpot all day) with some spices: 1 tsp. mustard seed, 1 bay leaf, 1 1/2 tsp. mixed peppercorns, 1/2 tsp. cloves, 1/2 tsp. allspice.
Many people use the leftover meat for corned beef sandwiches… layer slices of corned beef with mustard and pickles – yum!  You can also make a Reuben sandwich by adding a little bit of sauerkraut, swiss cheese, and Russian dressing between two slices of rye.  Don't feel like a sandwich?  Change things up a bit, and make Chinese style Corned Beef Fried Rice!
You can use any leftover cabbage from your St. Patrick's Day dinner in this fried rice – or you can do what I do and use chopped baby or regular Bok Choy or Napa cabbage.  To make the rice mild and not too spicy, make sure you remove the seeds and membranes from your Jalapeno pepper and red chili peppers.  If you want your fried rice on the more spicy side, then leave the membranes and seeds in the peppers when you chop them.
Corned Beef Fried Rice:
2 T. canola oil
3 cloves garlic, minced
2 green onions, chopped
1 jalapeno pepper, minced
1 red chili pepper, minced
1/3 lb. (about 5-6 oz.) bok choy, napa cabbage, or cabbage
1 1/2 c. chopped cooked corned beef
3-4 c. cooked calrose or jasmine rice
2 eggs, beaten
salt, pepper to taste
1 T. soy sauce
1.  Mince the garlic, green onions, jalapeno and chili pepper (remove the seeds & membranes if you don't want the fried rice to be too spicy), and cabbage.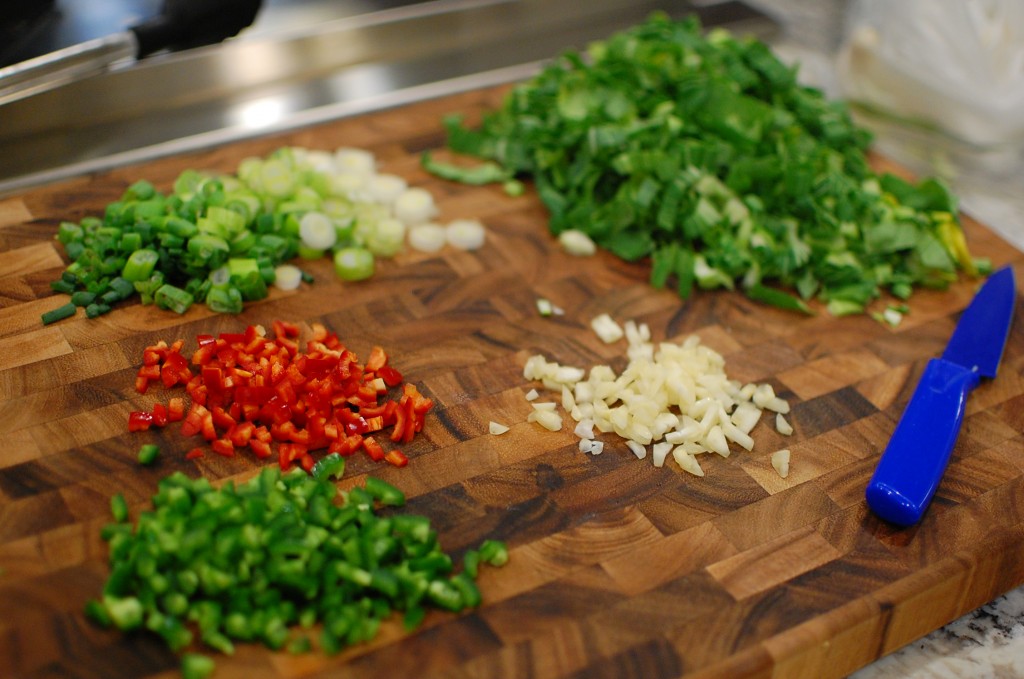 2.  Add 1 1/2 T. of the oil to a wok and heat the wok over medium high heat.  Add the garlic, green onion, jalapeno, and chili pepper.  Stir fry for about 1-2 minutes with a pinch of salt.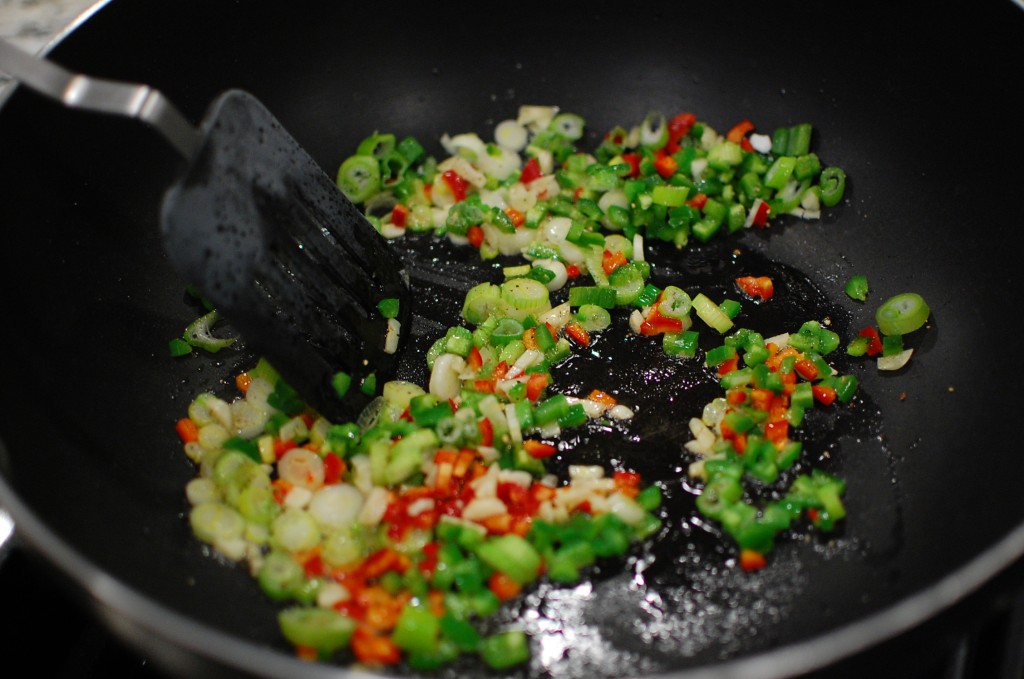 3.  Add the chopped bok choy and saute another minute until wilted.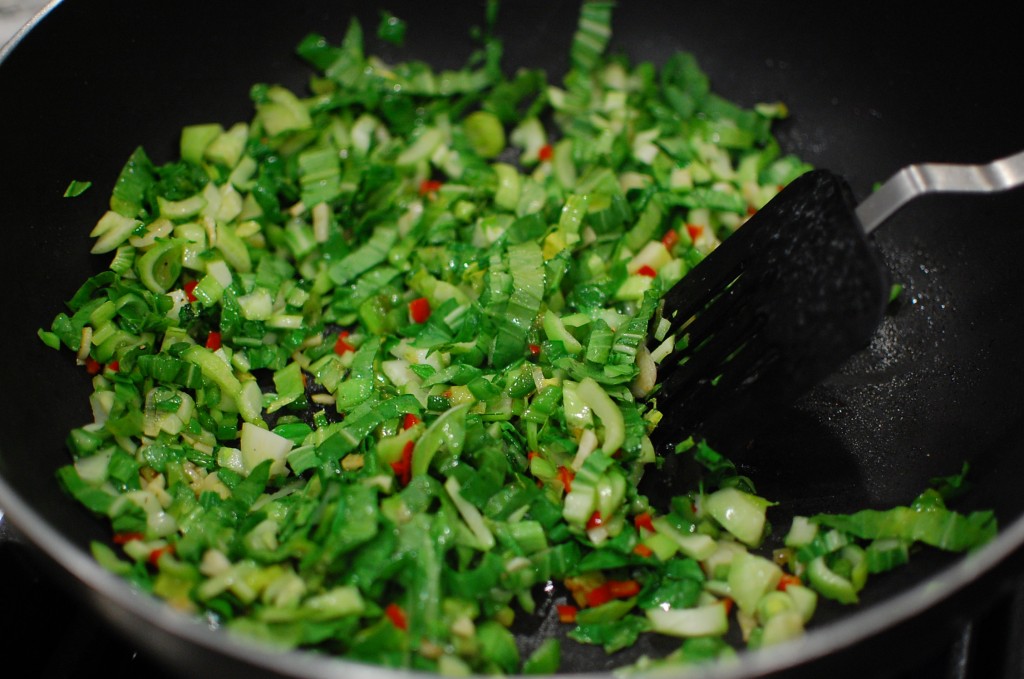 4.  Mix in the corned beef.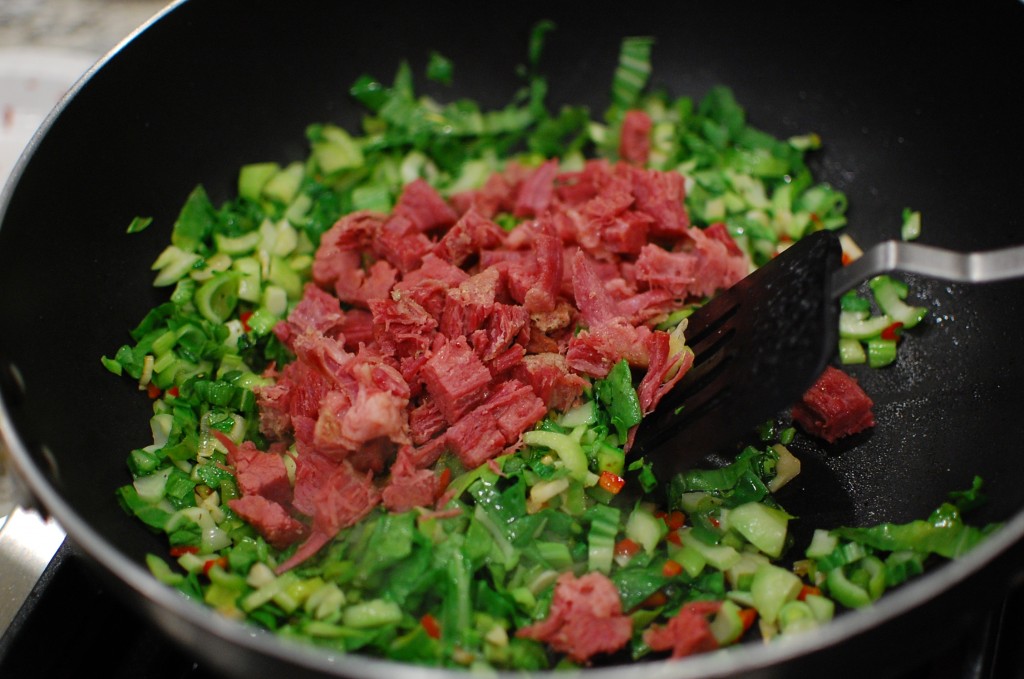 5.  Add the rice, season with a little bit of salt and pepper (about 1/2  tsp. salt, 1/4. tsp pepper) and the soy sauce.  Stir fry another minute and continue to mix.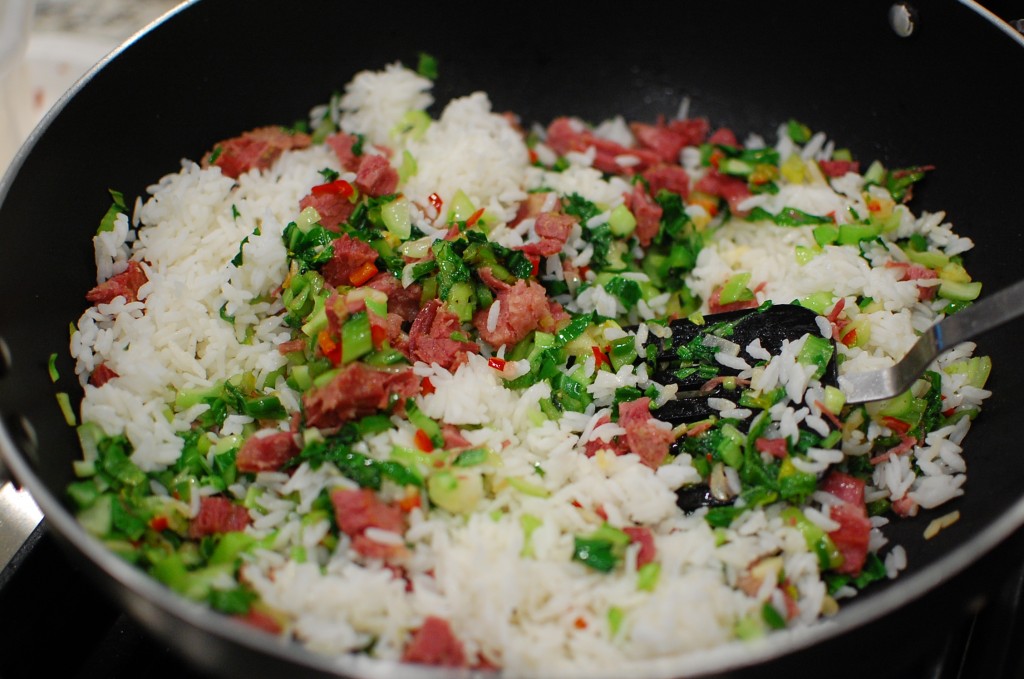 6.  Push the rice mixture to the side, add the remaining 1/2 T. of oil into the space.  Add the beaten eggs to the space, and scramble.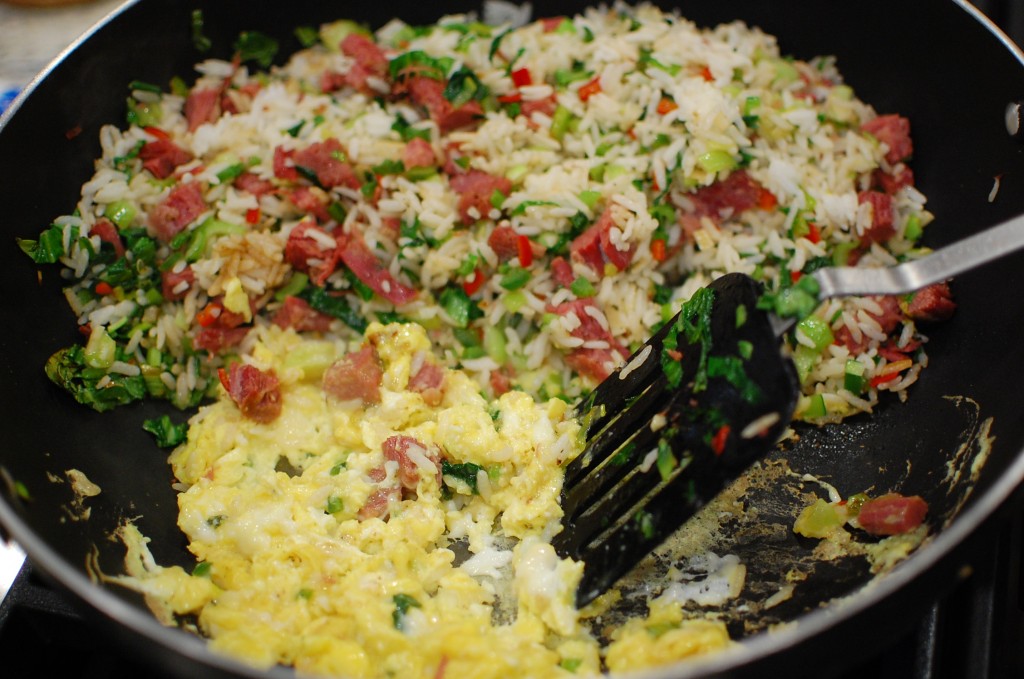 7.  Mix the cooked egg back into the fried rice.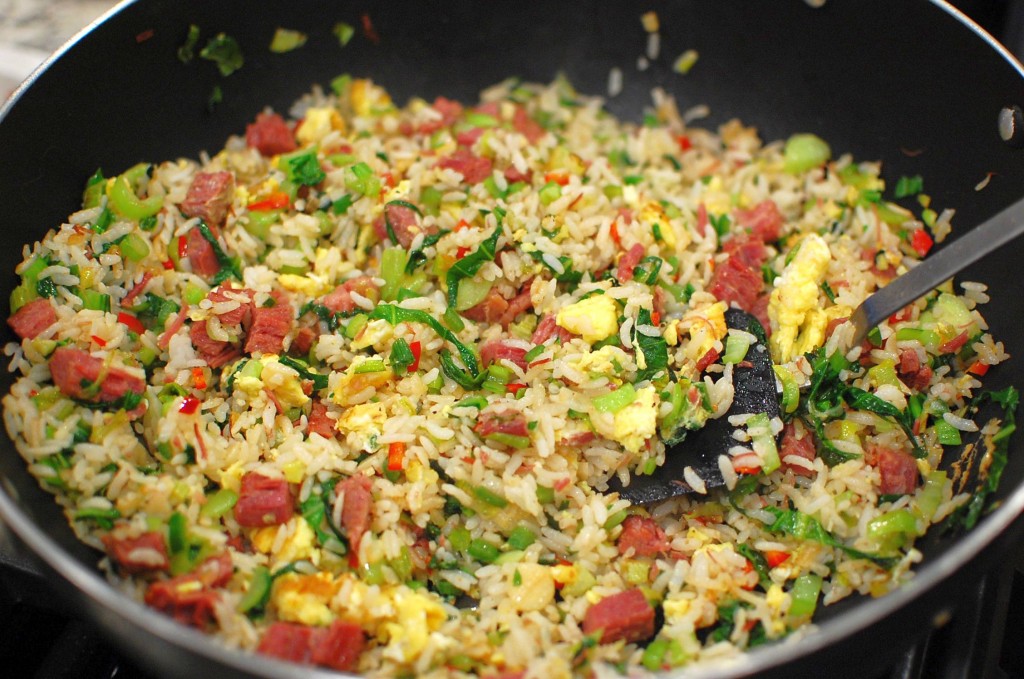 8.  Taste the rice, and add more salt, pepper, and soy sauce if needed.  Serve immediately!  Makes about 2-3 entree sized portions or 5-6 side dish portions.