Chicken Cacciatore, or "hunter's style chicken," is an Italian meal of meat (such as chicken) braised in a stew of tomatoes, onions, garlic, and red wine.  It often contains other ingredients, such as bell peppers, mushrooms, or black olives.  In my version, I prefer to use mushrooms – but if you don't like mushrooms, you can substitute with a (drained) can of black olives or with 2 chopped bell peppers.
When I was a kid, my mother often made Chicken Cacciatore.  Her version involved dumping chicken legs into a roasting pan, pouring a jar of spaghetti sauce over – along with a drained can of black olives – and baking for an hour (which was then served over Japanese rice).  If you are looking for an easy way to make this dish – you certainly can do it using my mom's "quick and dirty method", but your end result will be just as good as the ingredients you put in.  There is a time and a place for canned spaghetti sauce… but using it in Chicken Cacciatore feels somewhat "heavy" and… not fresh… to me.  Right now, we are at the peak of tomato season – so take advantage of that and make this dish with fresh garden tomatoes and herbs!  Using fresh tomatoes lightens up the dish, and adds a healthier (and more gourmet) quality to the flavor.  The addition of whole garlic cloves and red wine also enhances the flavor.  As far as the bay leaves go – more is not better.  Use only 3 bay leaves, maybe only 2 if your bay leaves are large.  Too much bay leaf will make your dish bitter – so be warned!
You can use any kind of chicken pieces you like – I think that boneless/skinless chicken thighs braise the best – but you can also use chicken thighs with the bone (just adjust the cooking time a bit longer), or use boneless/skinless chicken breasts (reduce cooking time to avoid drying out).  Buon Appetito!
Chicken Cacciatore:
2 lb. boneless skinless chicken thighs
1 T. olive oil
1 large onion
5-7 cloves garlic
3 c. tomatoes, roughly chopped
10 oz mushrooms
3 bay leaves
1/2 c. red wine
salt, pepper to taste
fresh herbs (parsley, basil, or thyme) for garnish (optional)
1.  Heat the olive oil over medium in the bottom of a pot.  Add the boneless skinless chicken thighs, season with salt and pepper.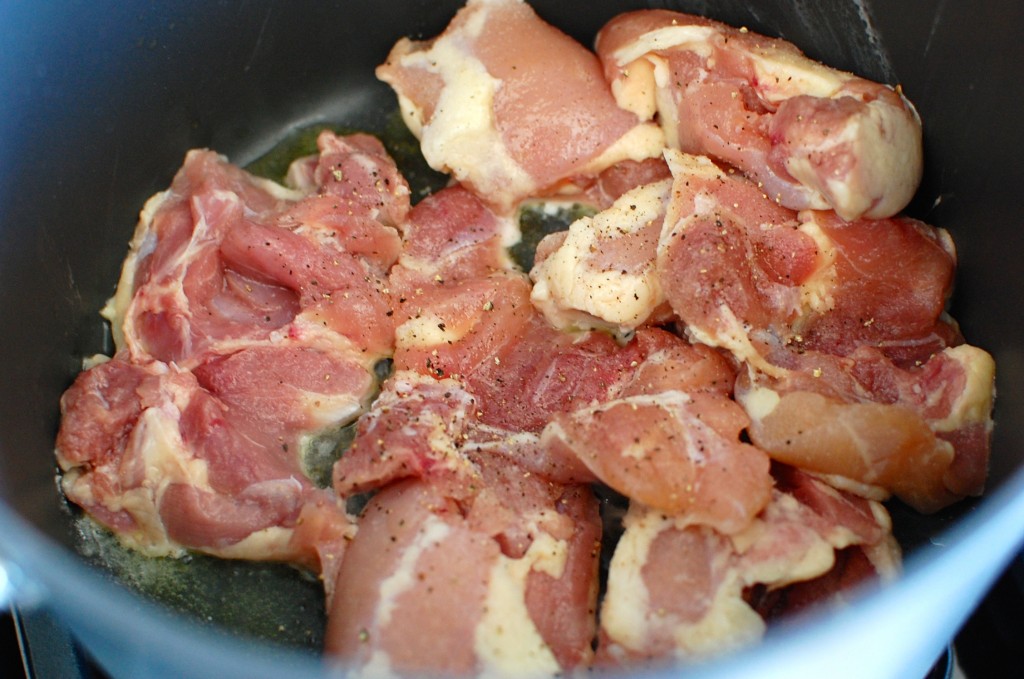 2.  Brown the chicken thighs in the olive oil on both sides.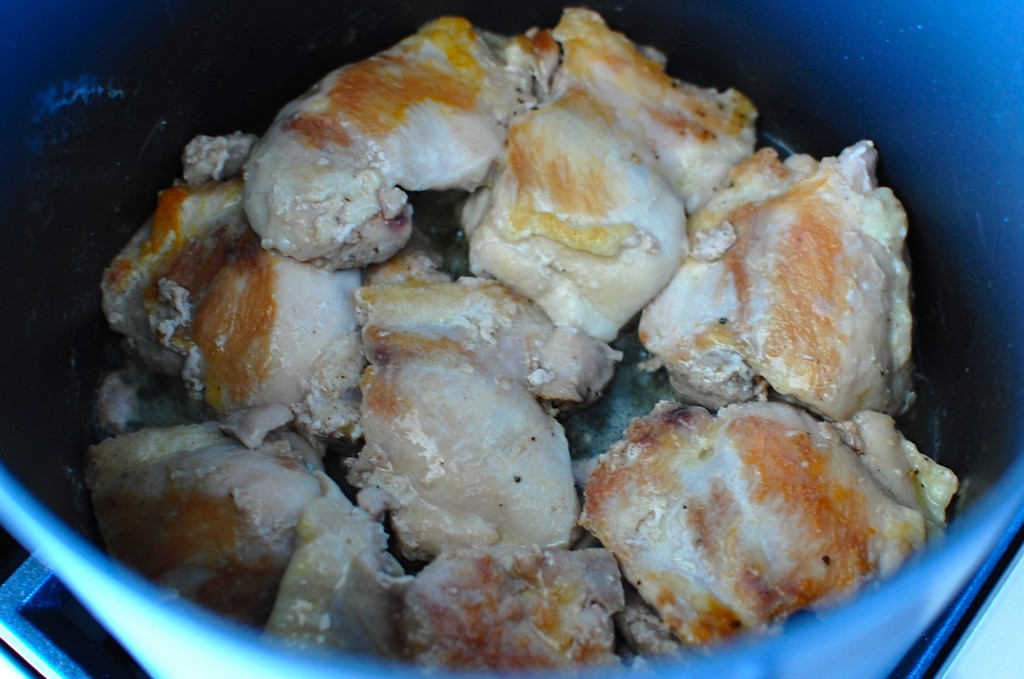 3.  While the chicken is browning, slice the onions into medium sized chunks.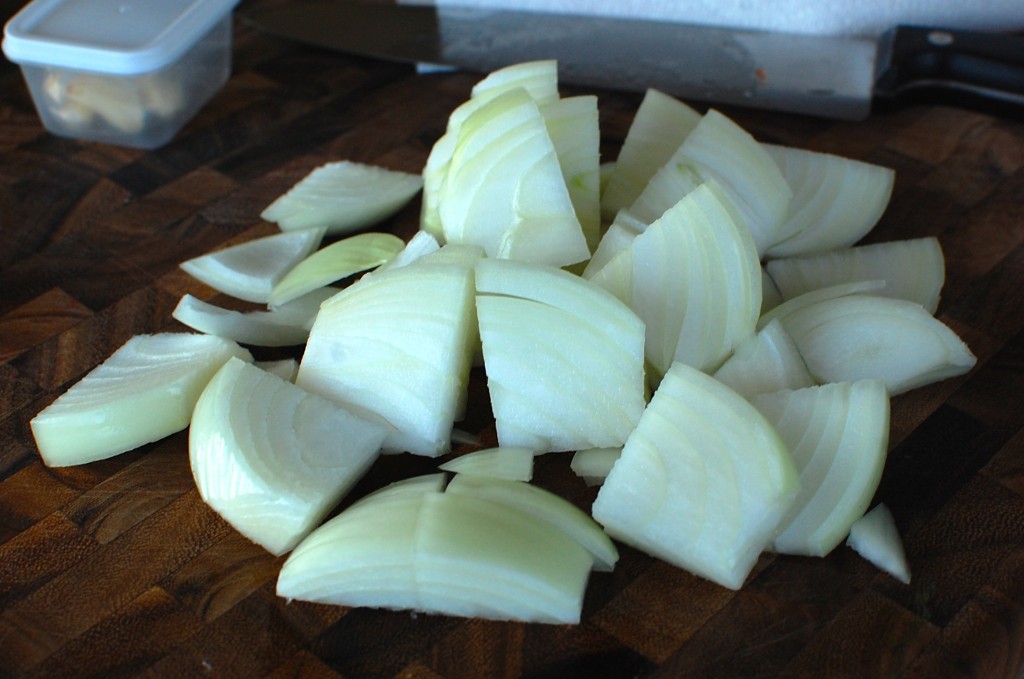 4.  Roughly chop the mushrooms into quarters.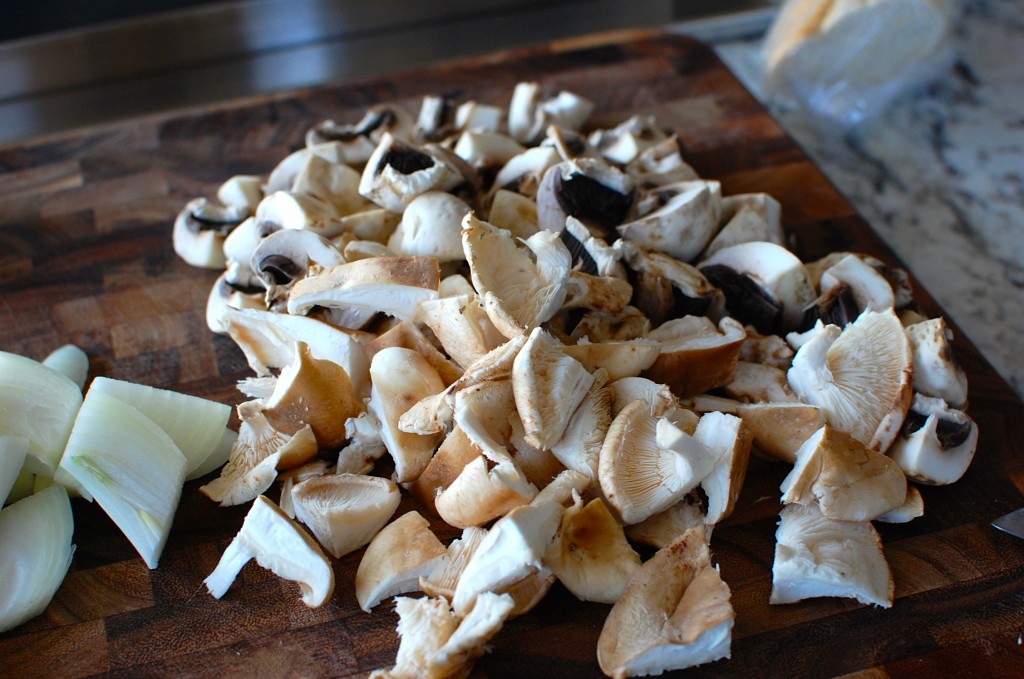 5.  Remove the chicken to a plate and set aside.  Do not drain the olive oil from the pan.  (In the picture below, you can see the olive oil, along with bits from the chicken, and juices that have run out of the chicken – there is a lot of flavor here – which will be the base of your stew.)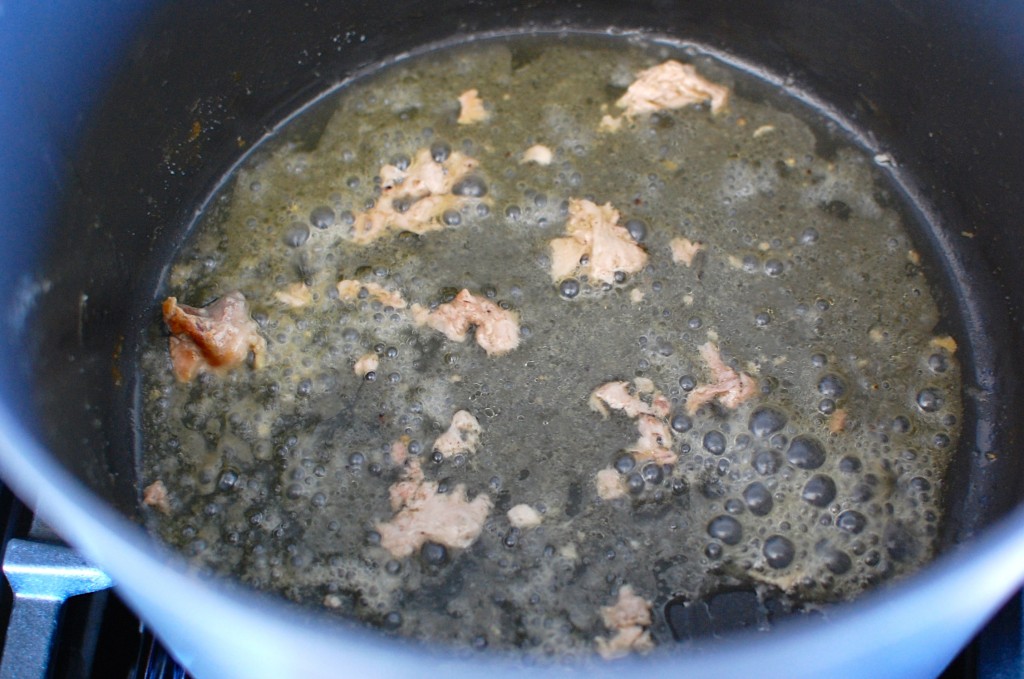 6.  Add the onions and whole garlic cloves to the olive oil over medium heat. Season the onions lightly with a little bit of salt, pepper, and the 3 bay leaves.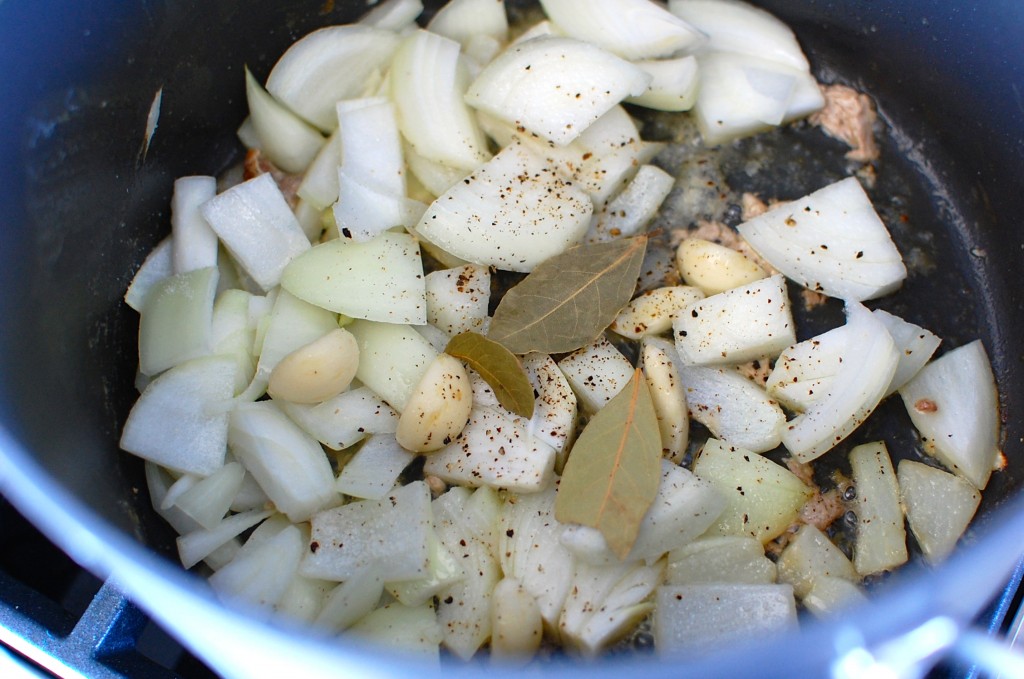 7.  Sauté the onions for a few minutes until they begin to brown.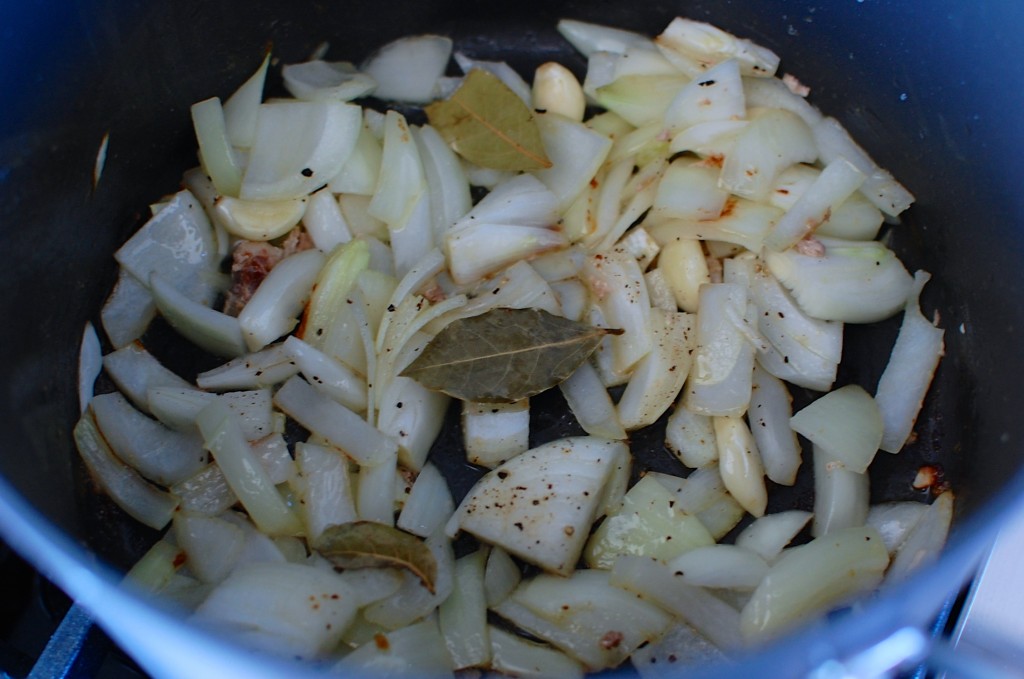 8.  Add the mushrooms, and sauté a few more minutes until they begin to caramelize and brown.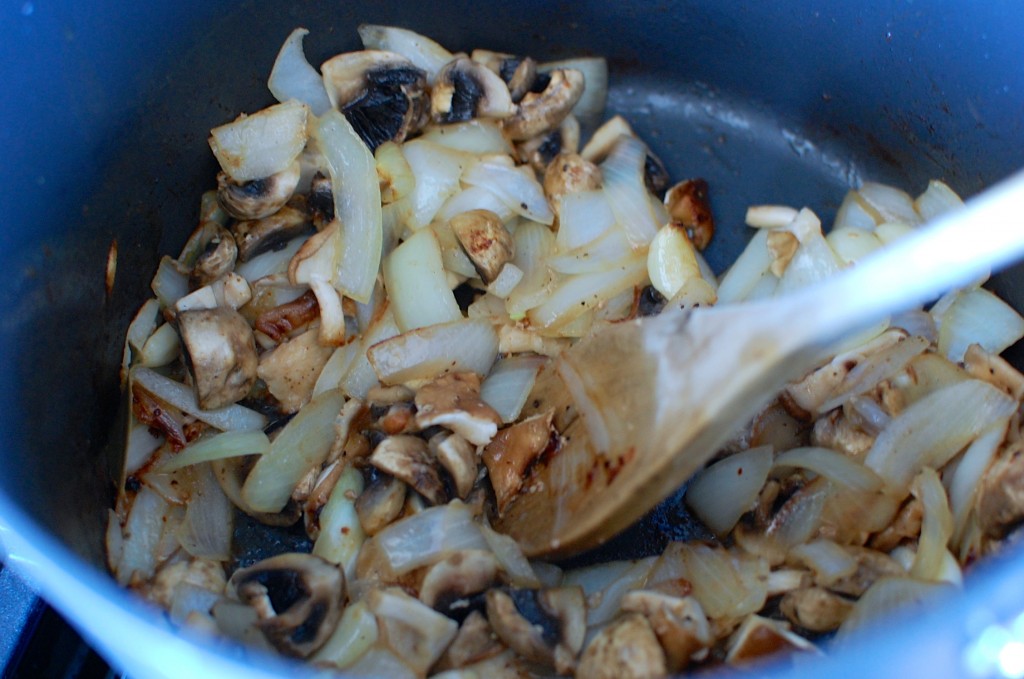 9.  Add the tomatoes, then add the red wine.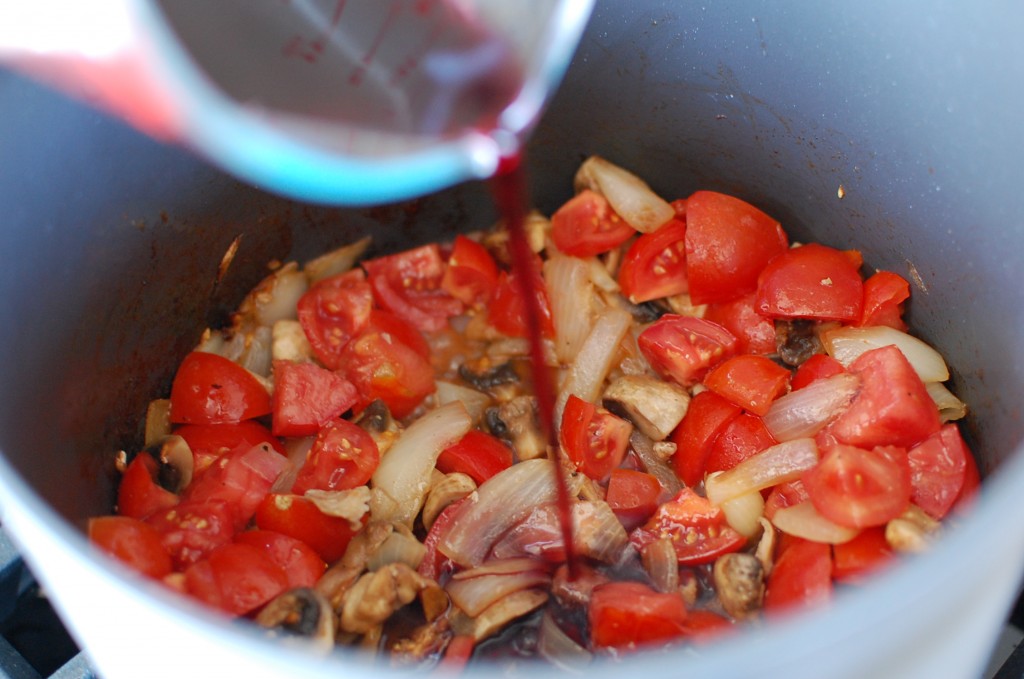 10.  Place the browned chicken (along with any juices) back into the pot, bring to a simmer.
11.  Cover and reduce the heat to low.  Braise for 30 minutes, until the chicken is cooked and tender, and the sauce is thickened.  (If you would like the sauce to be thicker, remove the lid and cook a few minutes over medium heat to allow more of the liquid to reduce.)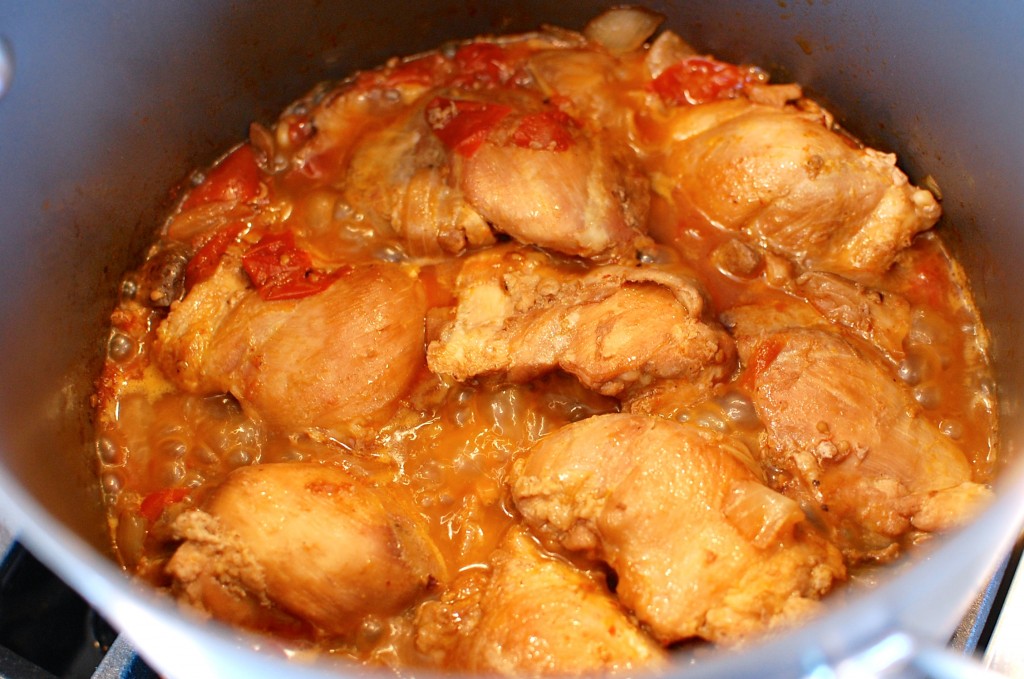 12.  Taste and add additional salt/pepper to the sauce if needed.  Serve over steamed rice or egg noodles, garnish with chopped fresh herbs (like parsley, basil, or thyme).