If you have ever been to a Hawaiian luau, one of the main attractions is the preparation/serving of "Kālua pig" – a whole pig that is roasted using the "Kālua" method.  Kālua is a traditional cooking method in Hawaiian cuisine that uses a specially prepared underground oven, called an "imu".  To make an "imu", a large pit is dug in the ground and a fire prepared in that pit.  Once the fire has burned down to coals, the pit is lined with rocks and leaves (usually banana or ti leaves), then a whole pig wrapped in more leaves is buried in the pit (covered with more rocks and dirt) and left for hours to slow cook and steam from the wood coals and banana leaves.
Another part of traditional Hawaiian cuisine, is the use of "Alaea Salt" (also known as "Hawaiian Salt").  Alaea Salt is a reddish sea salt that comes from the Hawaiian Islands.  The red color comes from the red volcanic clay rich in iron oxide, which is mixed into the sea salt.  This type of salt has many uses (both culinary and spiritual), and is a common ingredient in seasoning Kālua pig, and other Hawaiian dishes such as poke (raw fish "salad") and pipikaula (Hawaiian beef jerky).  If you can get it, use Alaea salt from Hawaii – if not, then substitute with regular sea salt.
It's pretty hard to make authentic Kālua pig at home (unless you want to dig a pit, build a fire, and have access to a whole pig!).  Fortunately, it's quite easy to make "Kalua Pork" (the sister of Kālua pig) at home in your crock pot or slow cooker.  (You could even use the regular oven – but the crock pot makes it even easier).  Instead of relying on the smoked mesquite wood flavor from the imu, we substitute with a little bit of liquid smoke (preferably mesquite or hickory flavored).  I found liquid smoke in the seasoning aisle of the regular supermarket – one small bottle will last you a long time since a little goes a LONG way with this ingredient.
Since most of us are interested in making Kalua Pork at home for dinner (not a huge crowd at a luau), a 3-4 pound pork roast is usually the best size to choose.  You'll want to select a cheap cut of pork (such as pork butt) with plenty of marbling and fat in the meat.  (Lean cuts of meat such as tenderloin will dry out and don't do well with long cooking – so save the more expensive cuts of pork for a different use.)  FYI "pork butt" doesn't come from the rear end of the pig – it is actually a cut of meat that comes from the shoulder area, where there is a lot of fat and marbling in the meat.  I can usually get "pork butt" on sale for $0.75 to $0.88 per pound – the best price is usually at the Chinese Market (99 Ranch), but the price at the regular market is also fairly low at around $0.99 per pound.  I paid less than $4.00 for the pork roast pictured below (it was just a little over 3 1/2 pounds).
**You can bake this in the oven if you don't want to use a slow cooker – place in a roasting pan, cover with foil, and roast at 400 degrees for 3 hours.**
Kalua Pork: 
3-4 lb. pork butt (pork shoulder)
2 c. water
1 tsp. liquid smoke
2-4 T. Hawaiian sea salt (Alaea Salt)
1.  Line your crockpot or slow cooker with a Reynolds Slow Cooker Liner.  (You don't really have to line your crock pot if you don't want to… but these liners have been a huge time saver for me – much less baked on mess to SCRUB off at the end of the day!  You can usually find crockpot liners at the supermarket next to the foil and plastic wrap.)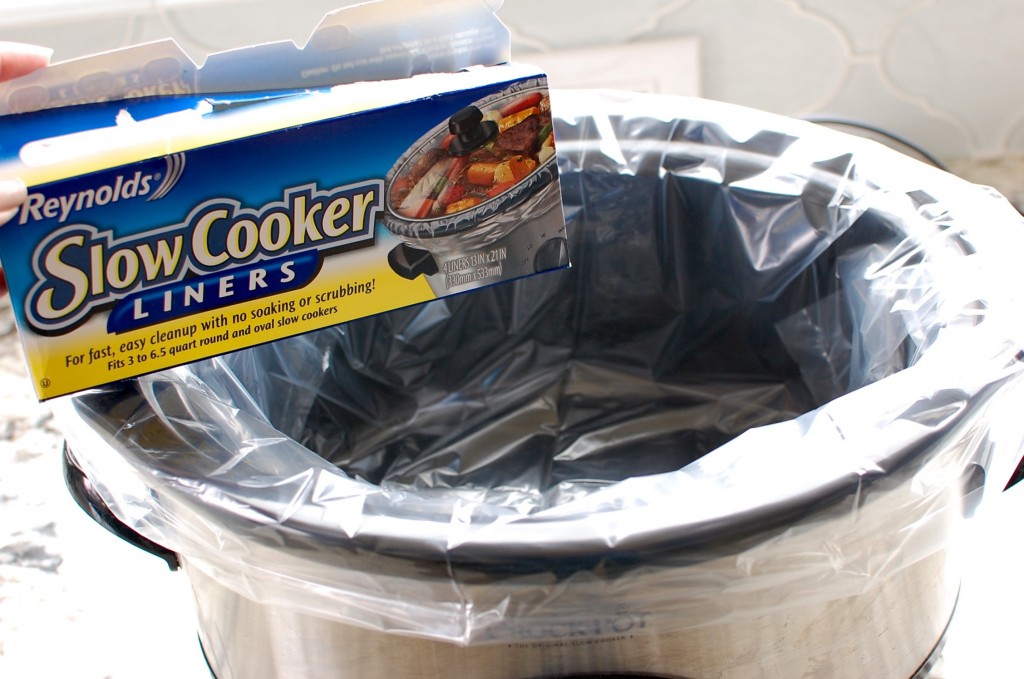 2.  Mix the 1 tsp. liquid smoke into the 2 c. of water.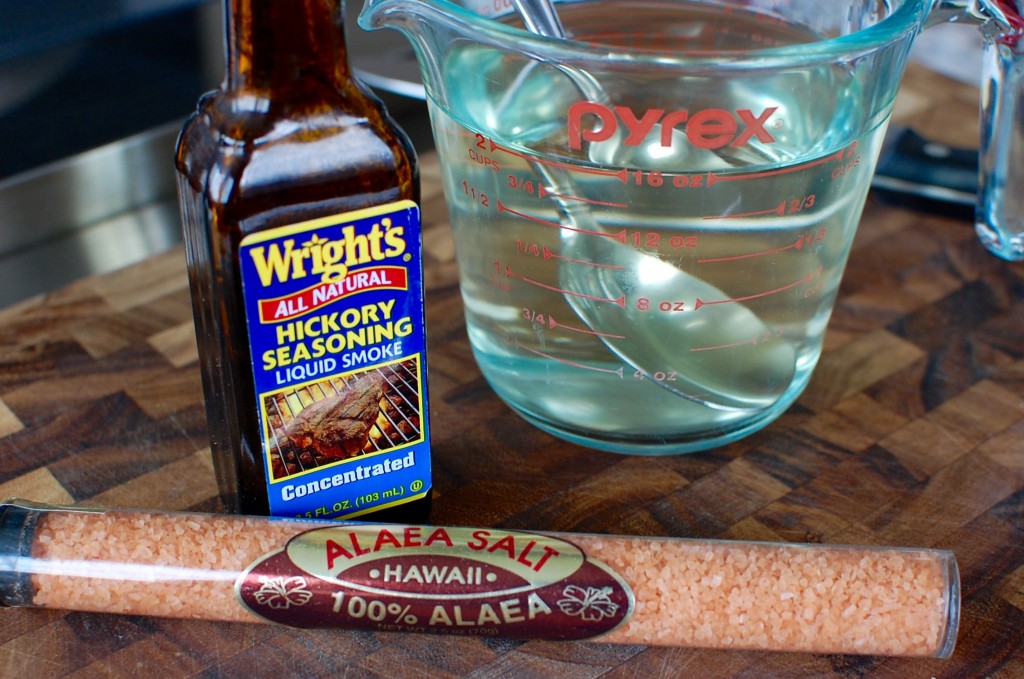 3.  Place the pork butt into the crock pot. and pour the liquid smoke water over.  Sprinkle 2 T. of the Hawaiian sea salt over the pork roast.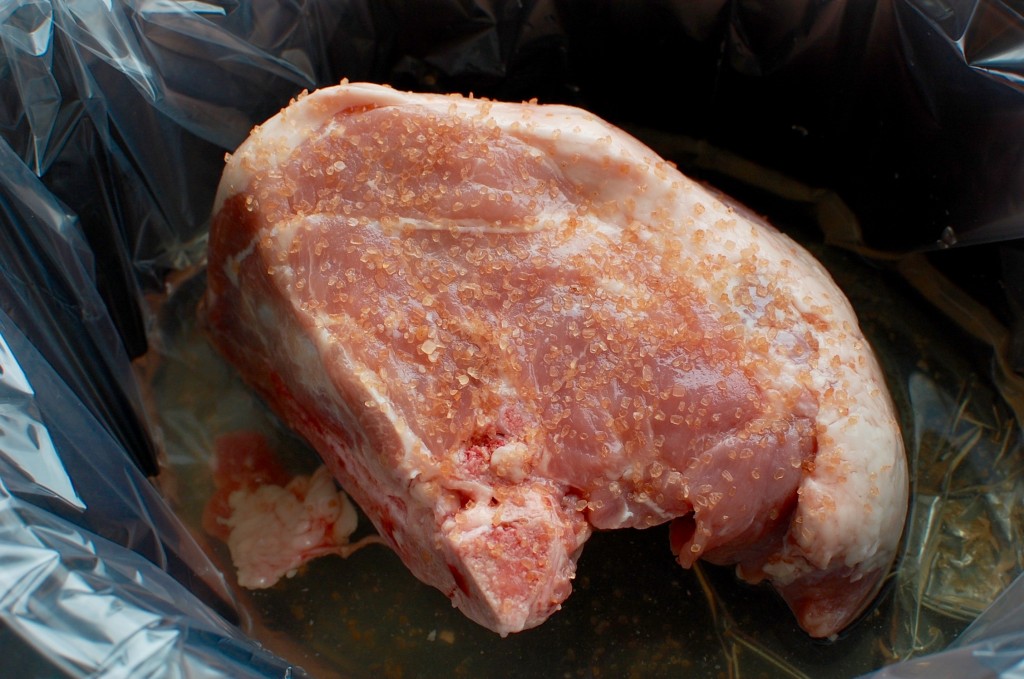 6.  Cover and cook on high for 6 hours.  (**You can bake this in the oven if you don't want to use a slow cooker – place in a roasting pan, cover with foil, and roast at 400 degrees for 3 hours.**)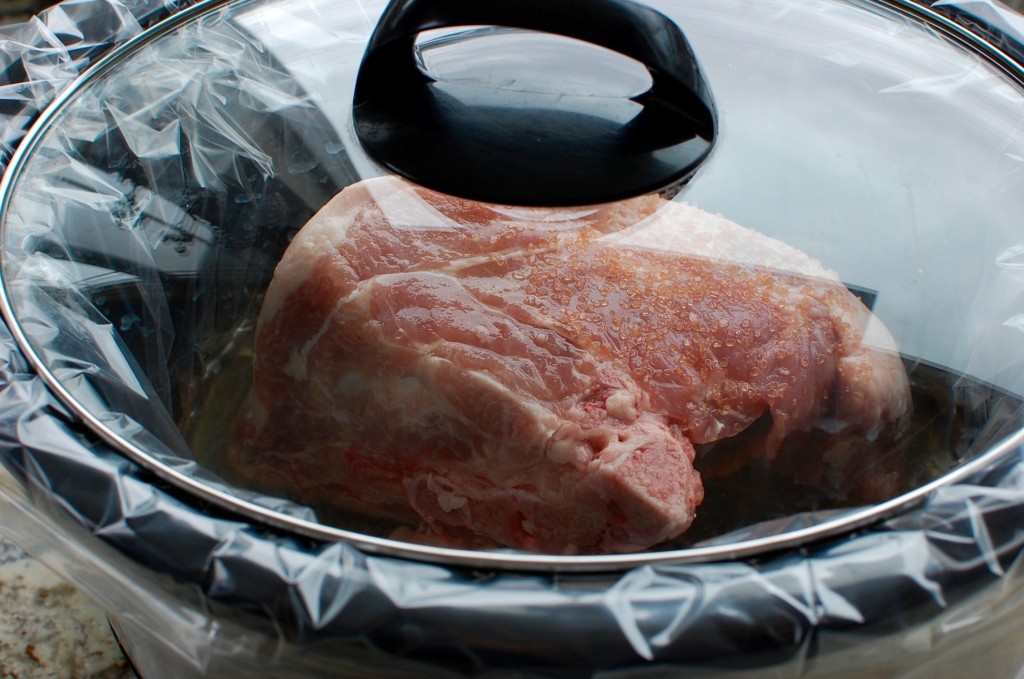 7.  When ready, remove the meat from the bone and discard any extra lumps of fat (if desired).  (This should be pretty easy to do, as the meat should literally be falling off the bone at this point.  It will be *HOT* though – so be careful not to burn your fingers!)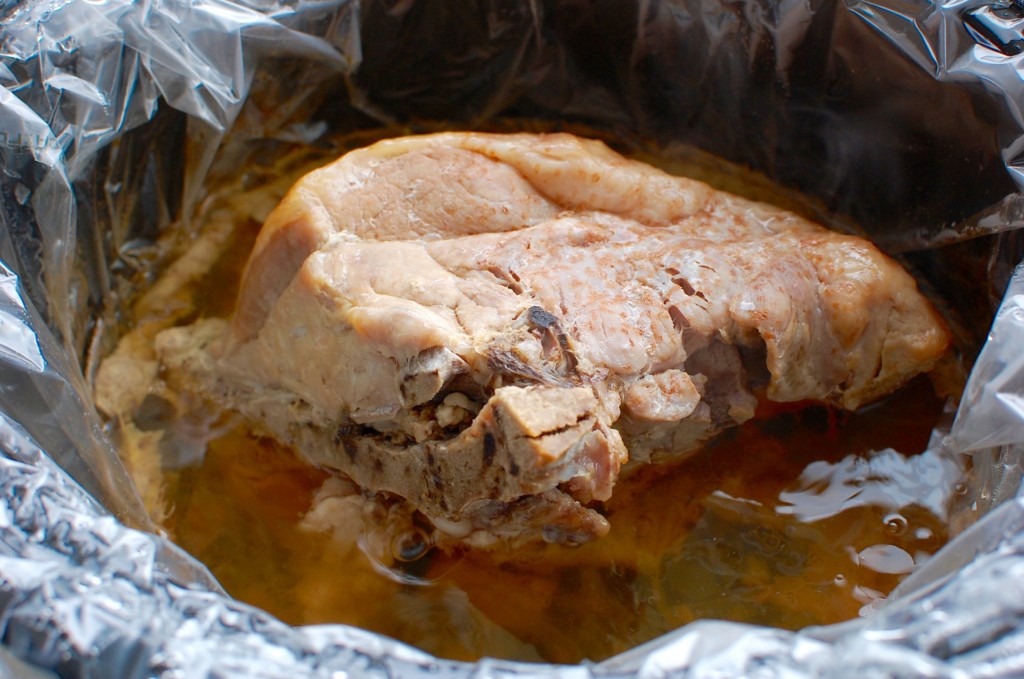 8.  Shred the pork meat, and return it to the sauce.  Season with up to 2 T. more Hawaiian salt to taste if needed.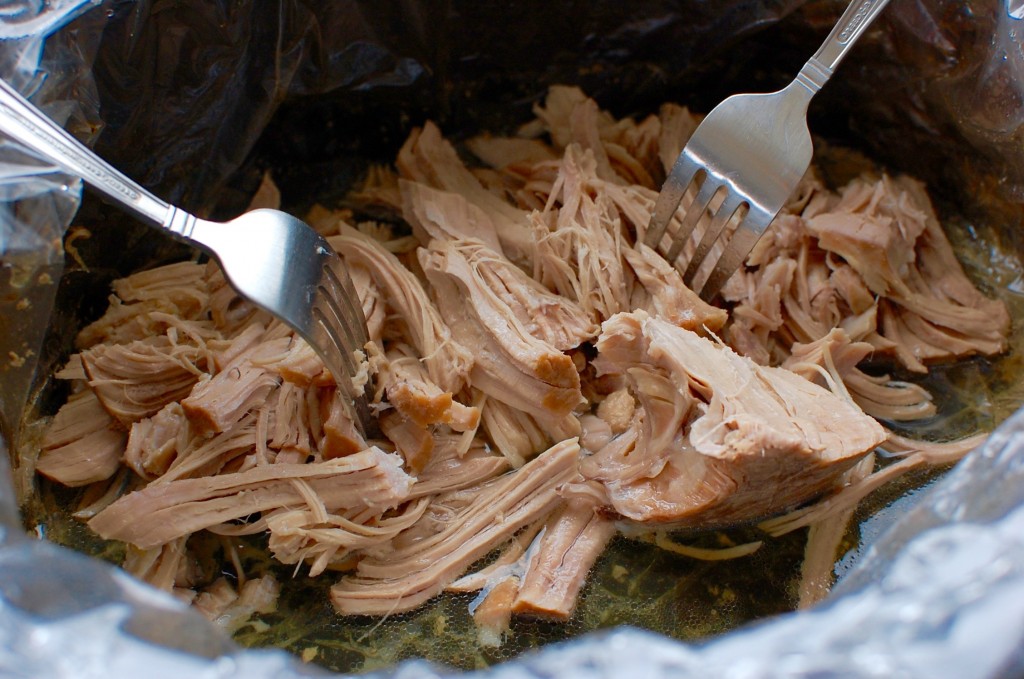 9.  Serve with a side of rice and macaroni salad.