Although it is now officially "autumn", the tomato plants in my garden must not have gotten the memo…. a few days ago, I had a ton of tomatoes sitting on the counter and I wasn't sure what to do with them.  When my farm box arrived (it's a once a month service that delivers produce straight from the farm to your doorstep)… I discovered that I had received some eggplant and zucchini.  With the tomatoes, eggplant, and zucchini… I had all the ingredients to make Ratatouille!
If you are unfamiliar with the dish "ratatouille", it is a Mediterranean vegetable stew that originates from Provence, France.  While it is typically served as a side dish, ratatouille can also be served as a vegetarian main course (made more filling with the addition of some bread, pasta, or rice).
There are many methods and ingredient variations in the making of ratatouille.  In addition to the base ingredients of tomatoes, eggplant, and zucchini… onions and peppers can also be used.  My recipe (below) is a very basic and uncomplicated way to make this dish – just layer ingredients in the crockpot and cook all day until soft and the flavors are melded together.  To serve, top with fresh chopped herbs (basil/parsley) and some grated Parmigiano-Reggiano.  Enjoy!
Ratatouille:
1 large eggplant
2-3 zucchini
1 lb. tomatoes
1/2 bunch parsley
2-3 T. fresh basil
6-7 garlic cloves
2 T. olive oil
salt, pepper to taste

Optional

:  1 onion (sliced), 1-2 bell peppers (sliced)
1.  Slice the zucchini into half-moons.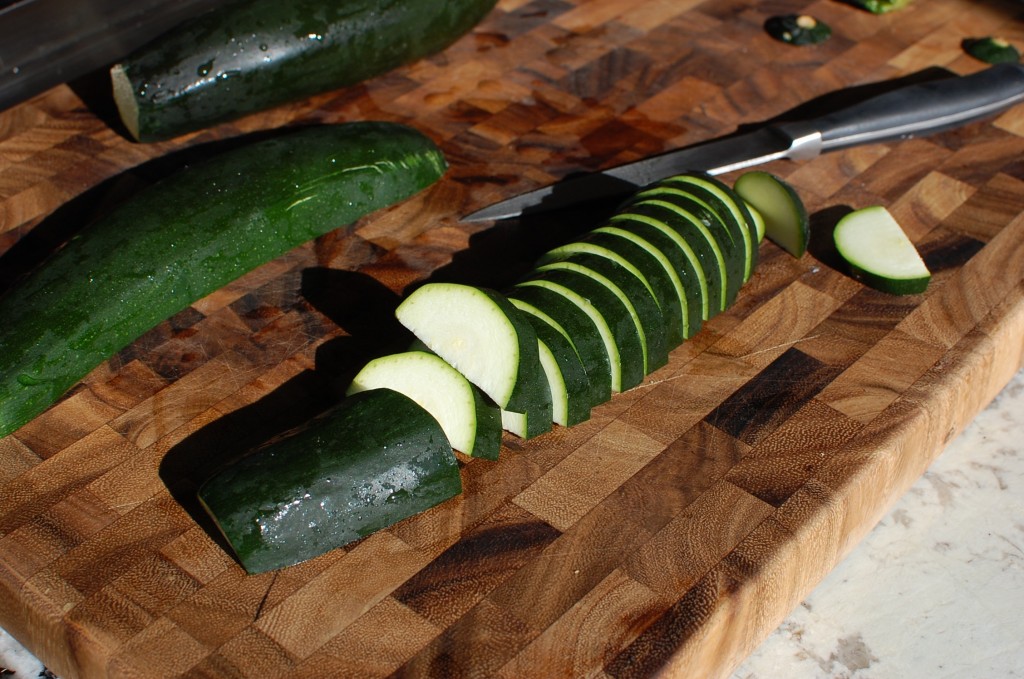 2.  Place half the sliced zucchini into the bottom of a crockpot.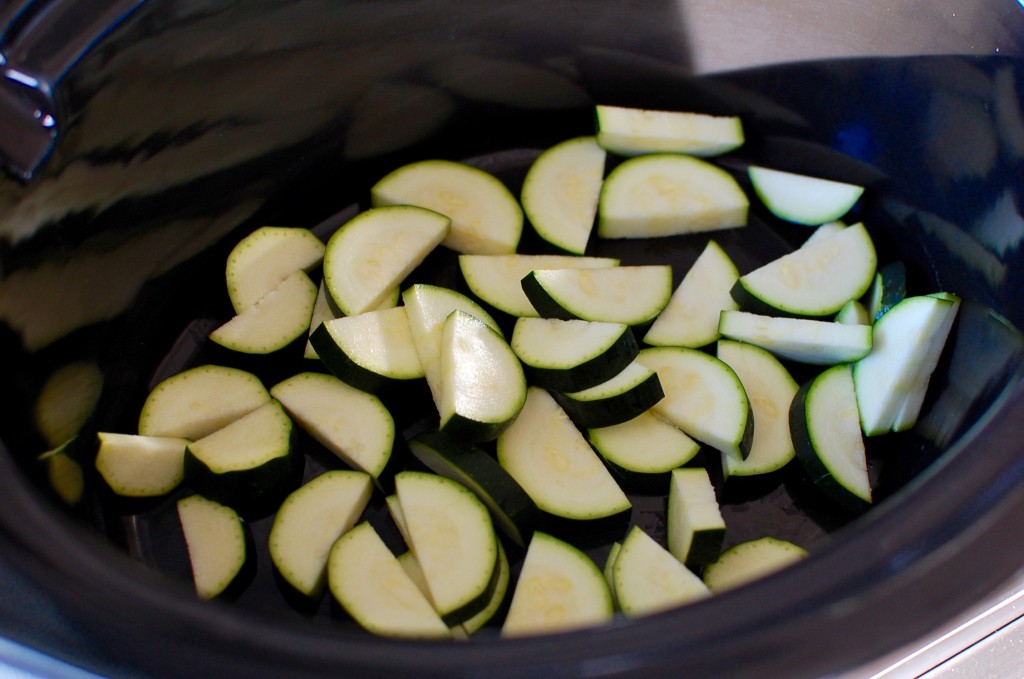 3.  Slice the eggplant in half lengthwise, then slice into pieces similar in size to the zucchini.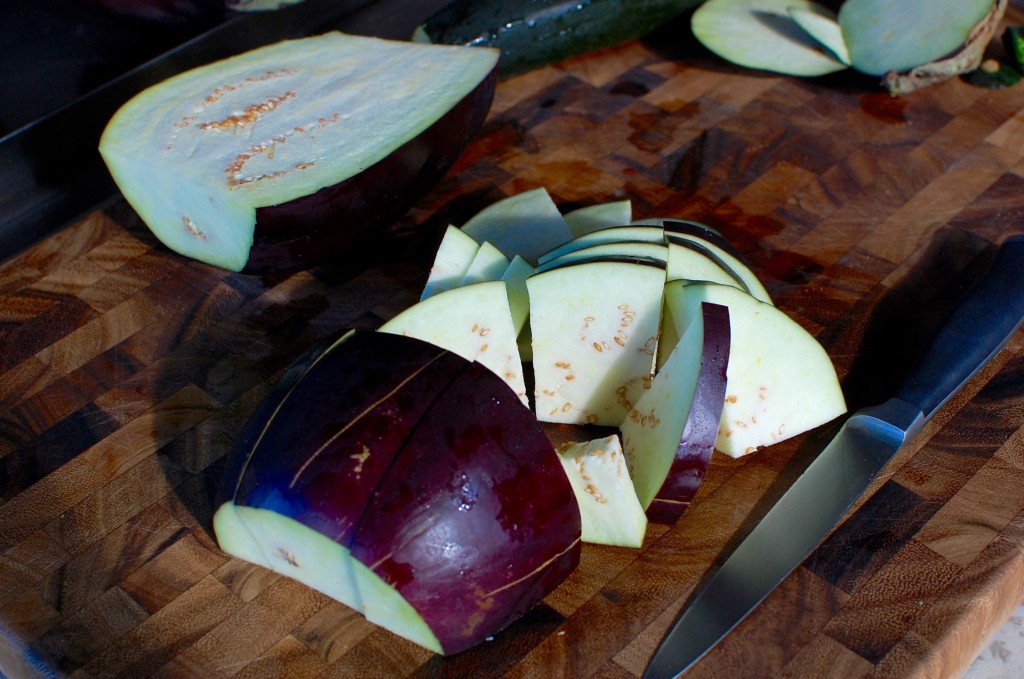 4.  Layer half the sliced eggplant over the zucchini in the crockpot.  Sprinkle the eggplant with a little bit of salt (about 1/2 tsp.) and a few grinds of fresh black pepper.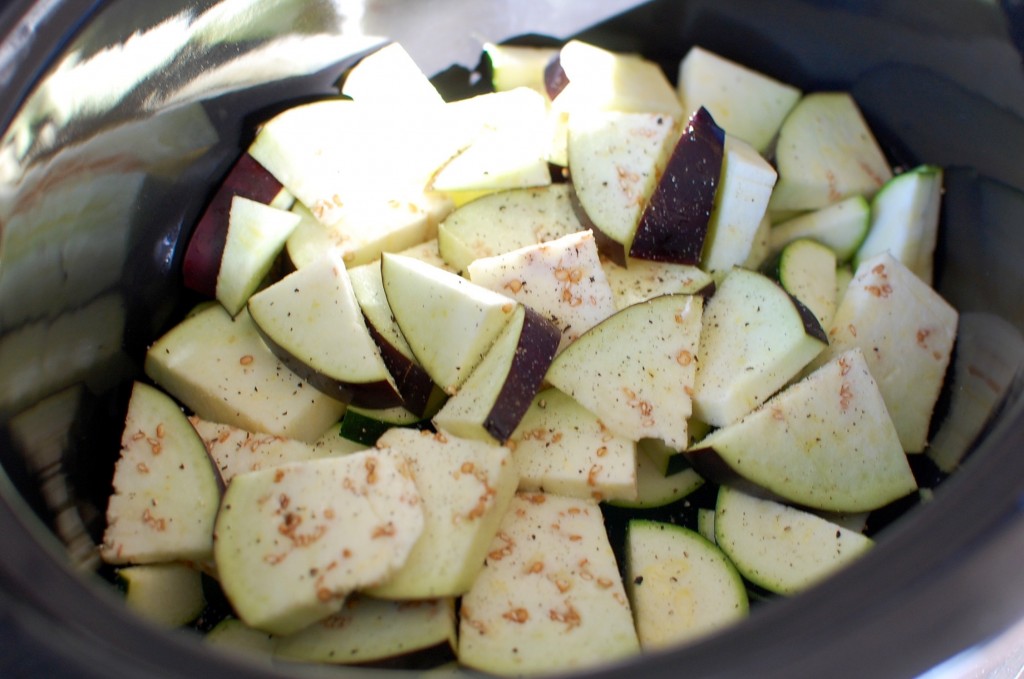 5.  Cut the tomato into large chunks, then rough chop the fresh parsley and basil leaves (you don't want the herbs to be too fine… but you do want to break up the leaves a little bit).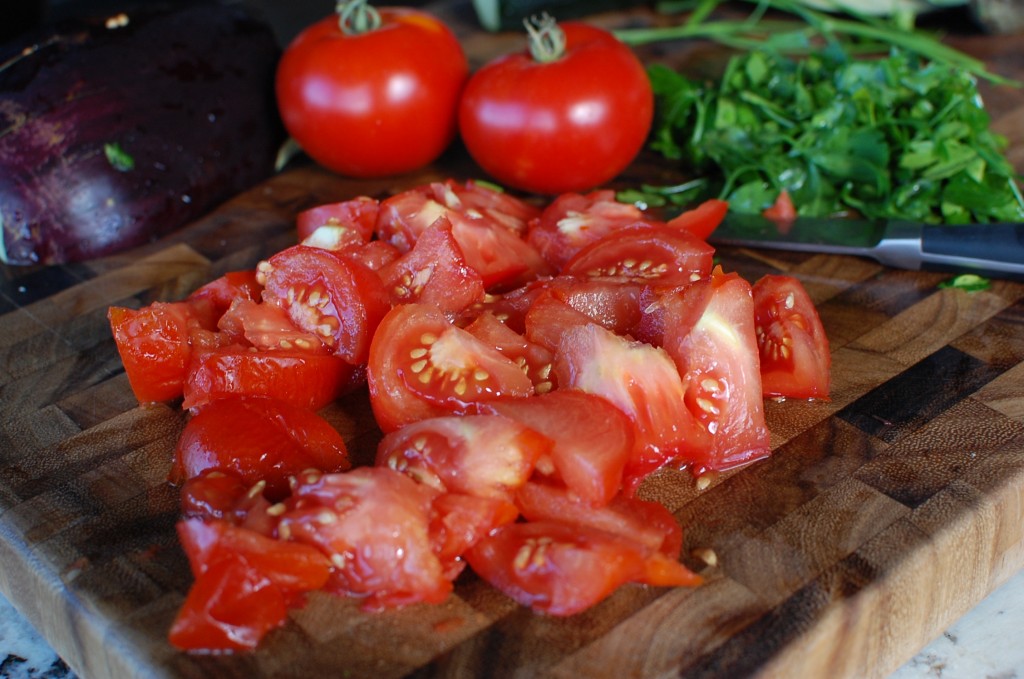 6.  Smash the garlic cloves with the back of a knife, then rough chop into slightly smaller pieces.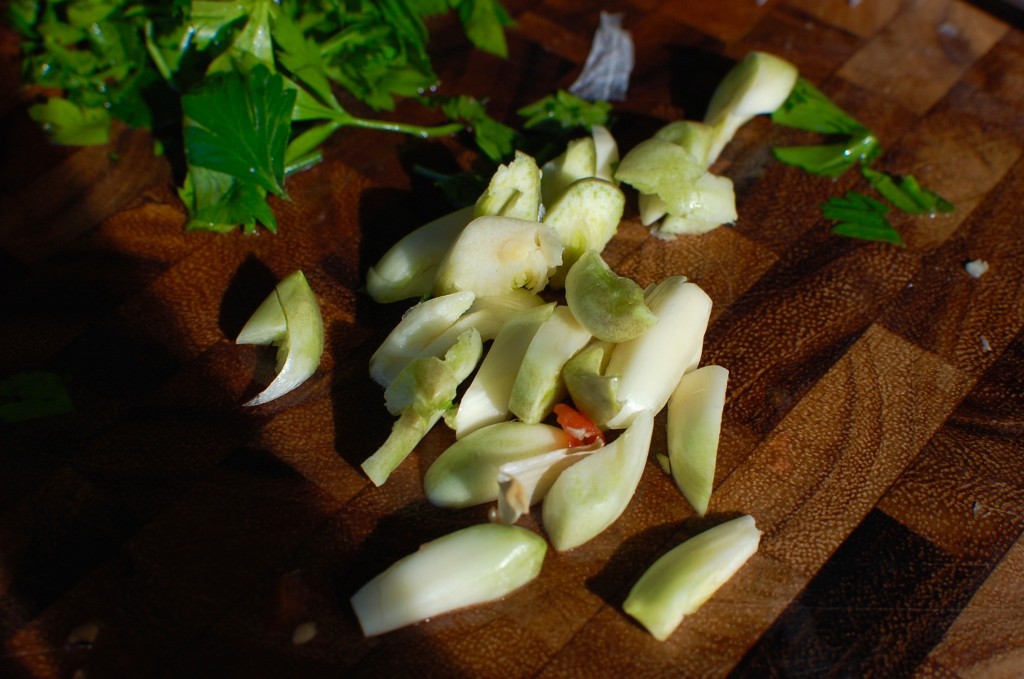 7.  Add half the tomatoes to the crock pot, then top with half the garlic and half the herbs.  Sprinkle with a bit more salt and pepper, and drizzle with half the olive oil.  (If you would like to add onions and/or bell pepper, layer them in at this point.)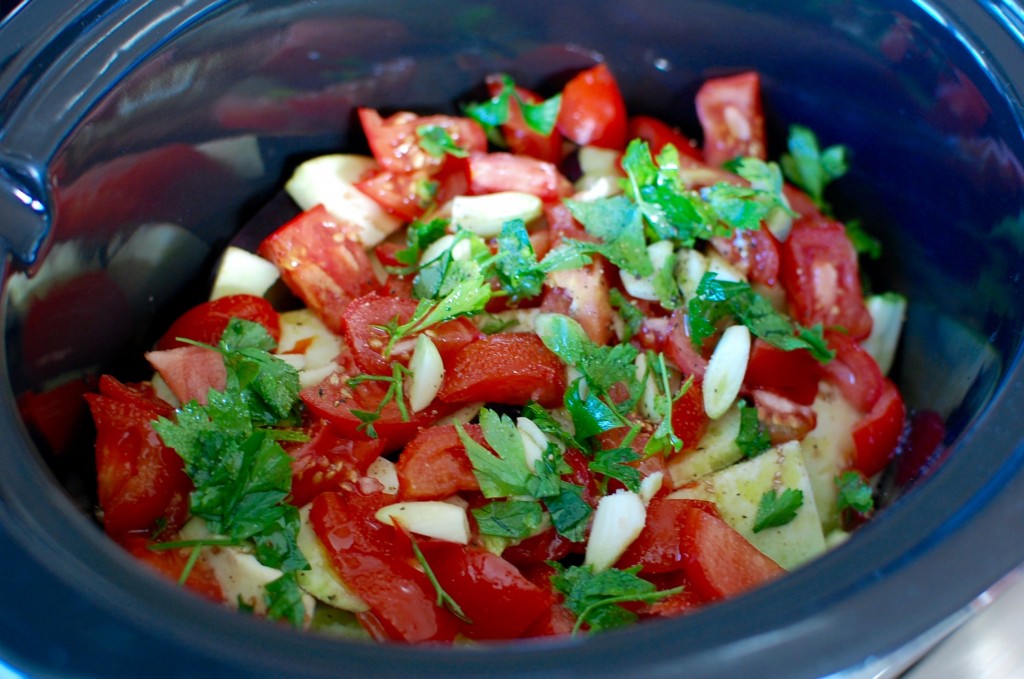 8.  Repeat all the layers to fill up to the top of the crock pot.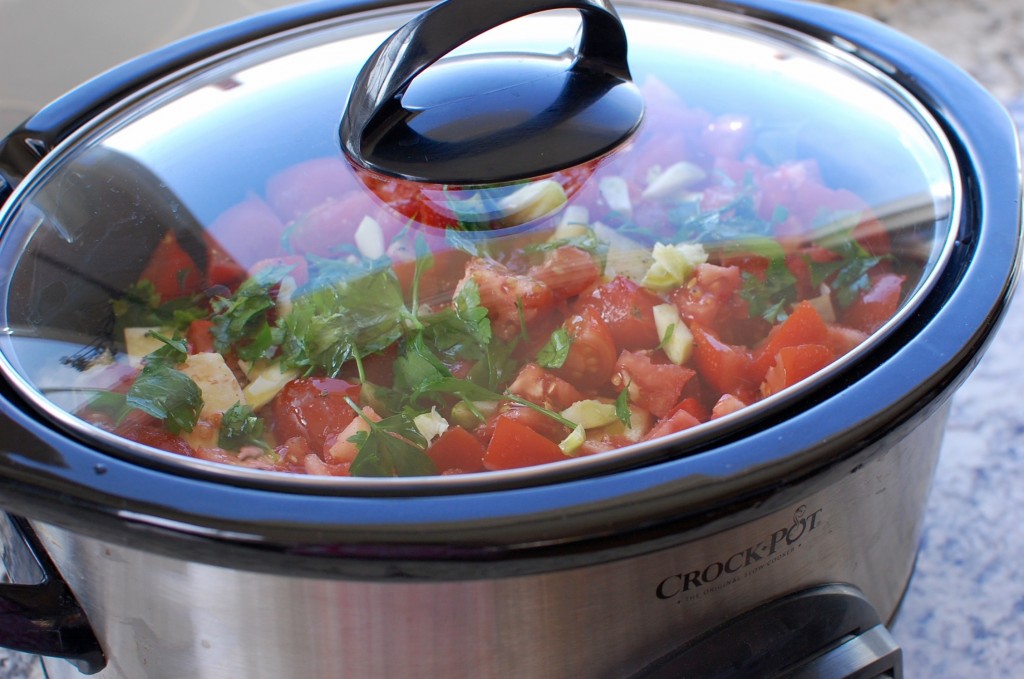 9.  Cover, and set on low heat for about 8 hours.  When ready, the vegetables will be soft, and a layer of flavorful juices will be on the bottom of the crock pot.  Taste and add any additional salt/pepper if needed.
10.  Serve as a vegetable side dish or as a main vegetarian course with a side of toasted bread.  Garnish with a sprig of fresh basil/parsley and some fresh grated Parmigiano-Reggiano.