Stollen is a German/Austrian winter holiday tradition – a sweet yeast bread containing dried and candied fruits and nuts, coated thickly with a powdered sugar shell.  Typically, this bread is usually served during Christmas, when it is called "Weihnachtsstollen", "Christstollen", or "Dresden Christstollen".  This holiday staple originated about 500 years ago in the Christmas markets of Dresden, Germany where it was first sold as a "Christmas Bread".  Every year, stollen is celebrated in the city of Dresden with the Dresden Stollen Festival – a giant stollen is baked, then paraded through the streets of historical Old Town before being sold at the Striezelmarket (Christmas Market).
One thing Stollen is NOT… is "fruitcake".   Fruitcake is a very heavy CAKE with preserved fruits, and the entire cake drenched in some type of liquor like rum.  In contrast, Stollen is a rich sweet yeast BREAD, with liquor soaked dried fruits as a filling ingredient.  The closest relative of a German Stollen, is the Italian Panettone – however, they differ in that Stollen dough is more dense and rich, while the panettone dough is more airy and light in texture (similar to Challah).  I love a good Panettone… but nothing says Christmas to me like a good homemade Austrian Stollen!
Growing up in Southern California, we were lucky to live nearby a German Delicatessen where my father brought home a loaf every Christmas.  Then – the German deli went out of business, and we no longer were able to get Stollen until Trader Joe's started selling loaves during the holidays (this was before the internet, obviously).  Now, you can find Stollen all over the place, in many different flavors (I've seen chocolate, poppy seed, marzipan… all kinds!) – but these days, I prefer to make my own.
Stollen is not hard to make – it is just a yeast bread with some dried fruits and nuts added.  Before I got a bread machine, I used to knead these loaves by hand… but now, my Zojirushi bread machine has definitely helped to speed up the dough making process!  For my Stollen, I use sliced almonds, candied Citron (easy to find in the baking aisle of the supermarket during the holidays), golden raisins, and for the Austrian touch – dried apricot!  Before adding the dried fruit to the dough, you soften and plump it up by soaking in a combination of orange juice + cognac.  Regarding the soaking liquor, you can also use brandy or Grand Marnier – some people like to use rum – but for me it seems odd to put something with a distinct Caribbean association into a traditional European recipe… so I don't typically choose rum.
You can customize your filling ingredients if you like.  For example, you can substitute regular raisins, currants, dried cranberries, or dried cherries for the golden raisins called for in my recipe.  If you don't like citron (or can't find it), you can use candied citrus peel (orange or lemon) or candied ginger.  Substitute your favorite dried fruit for the apricot (or leave it out), if you don't care for apricot.  You could even use sweet poppy seed paste (mohn back) or marzipan to fill your Stollen.  Happy Holidays!
Christmas Stollen Dough (Makes 1 loaf):
2 3/4 c. bread flour
1/2 tsp. salt
4 T. sugar
1/8 tsp. ground mace
1/8 tsp. ground nutmeg
3 T. unsalted butter
1/2 c. milk
1 egg
1/2 c. orange juice
zest of 1 lemon + 1 orange
2 1/4 tsp. active dry yeast (1 envelope)
Stollen filling:
1/2 c. chopped dried apricot
1/3 c. chopped candied Citron
2/3 c. golden raisins or currants
1/4 c. cognac, brandy, or Grand Marnier
1/4 c. orange juice
1/2 c. sliced almonds
Stollen Topping:
2-3 T. melted unsalted butter
1/4 c. granulated sugar
1/2 – 3/4 c. powdered sugar
1.  To make the dough in a bread machine, place the 3 T. unsalted butter, sugar, salt, mace, and nutmeg in the bottom of the bread machine pan.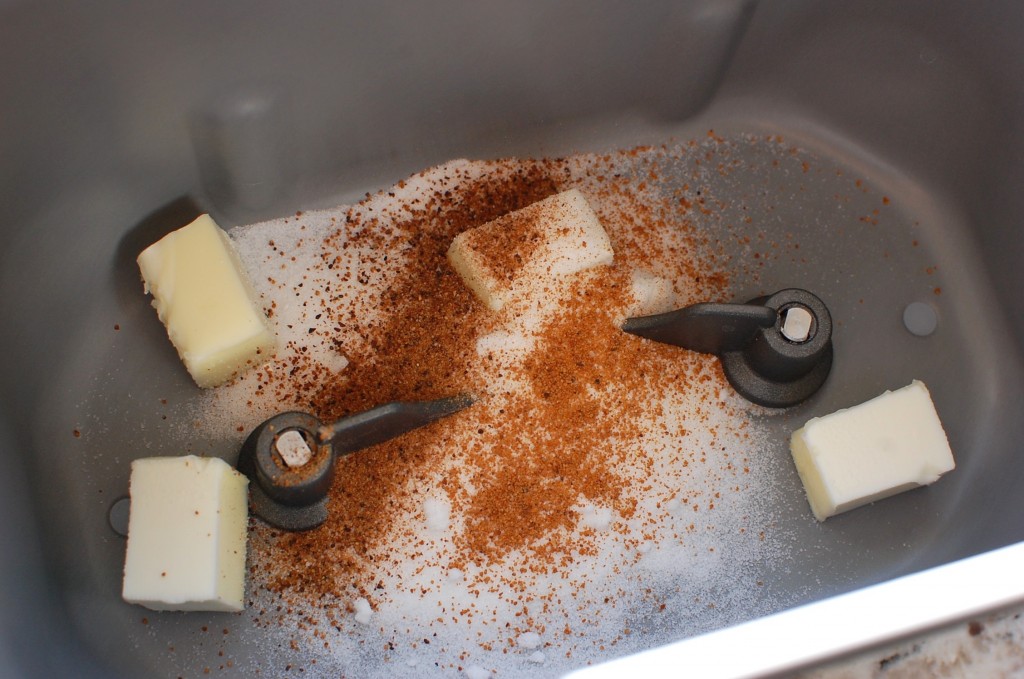 2.  Beat the egg into the milk.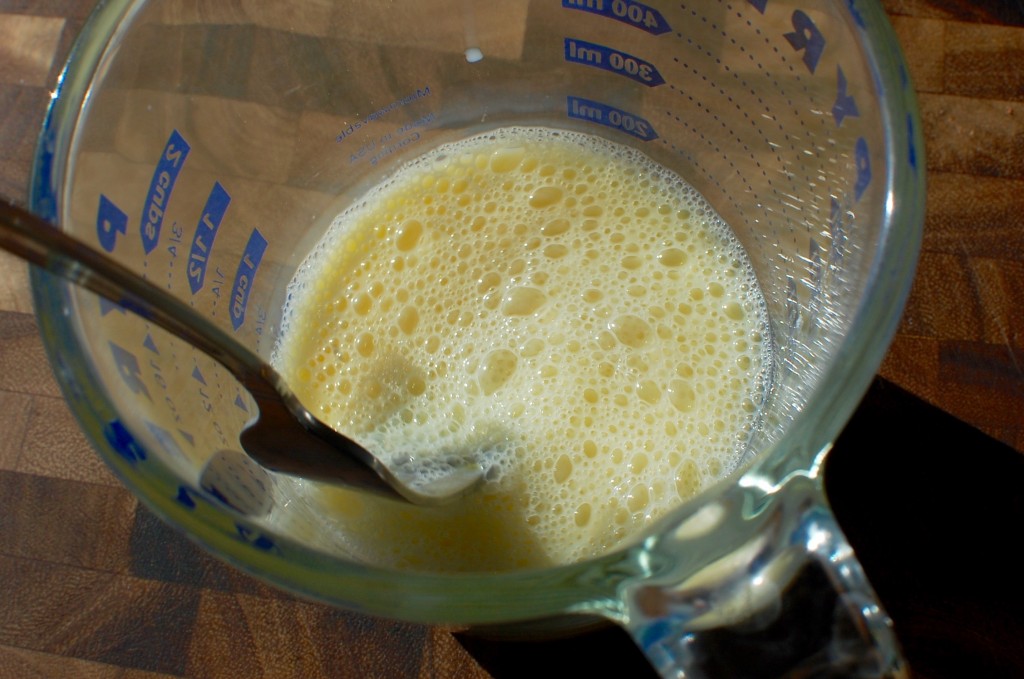 3.  Pour the egg/milk mixture and 1/2 c. orange juice into the bread machine pan.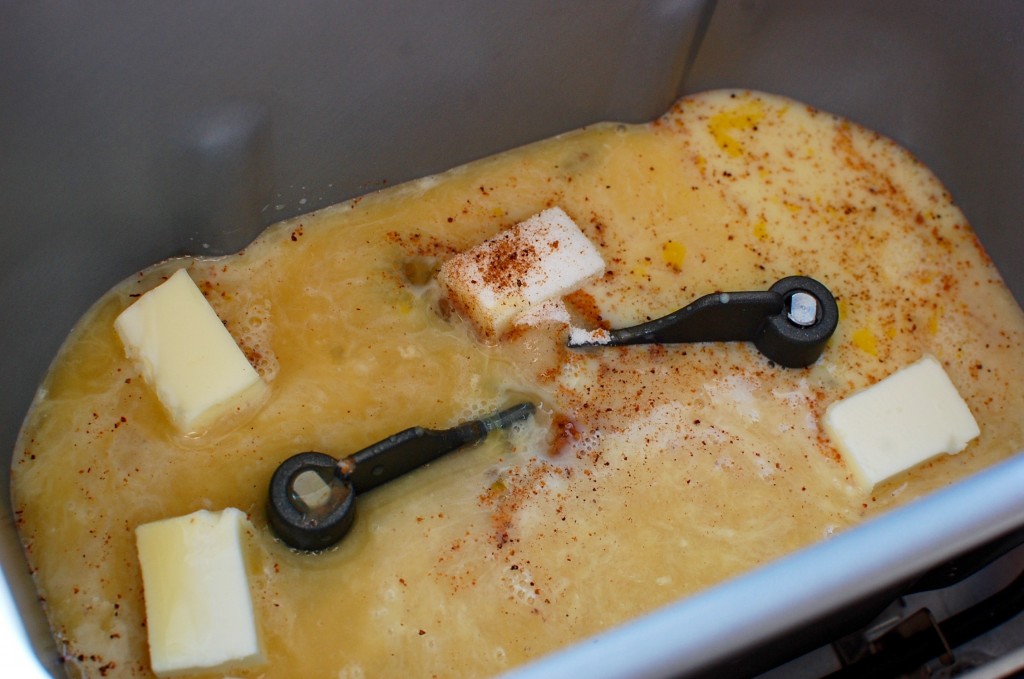 4.  Zest the orange and lemon, add the zest to the mixture in the bread machine pan.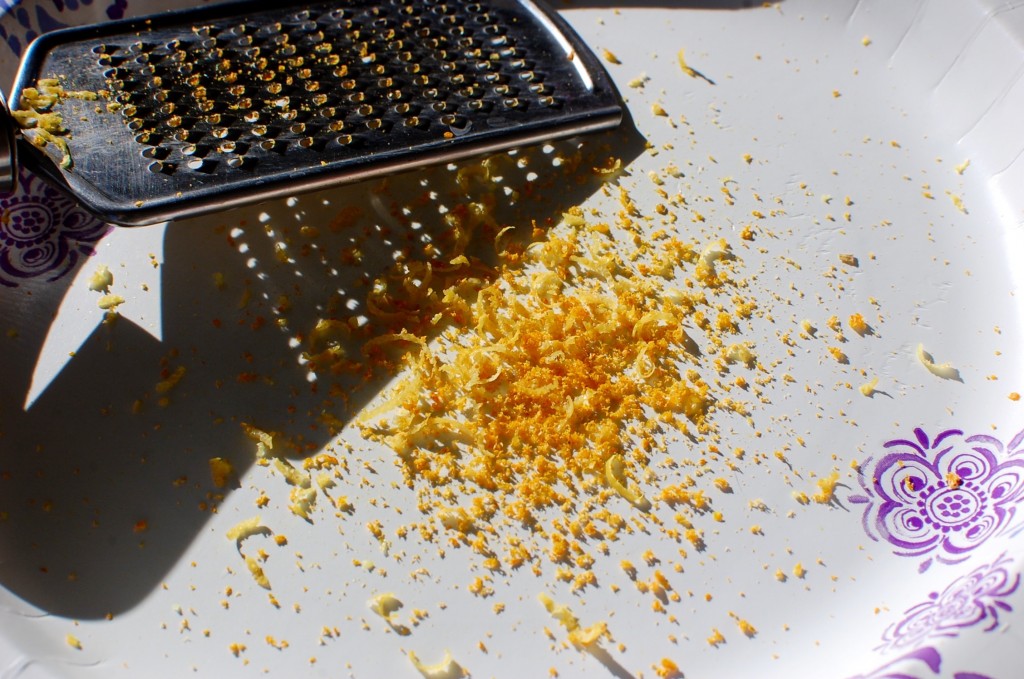 5.  Stir up the flour, then loosely scoop and level off into your measuring cups.  Place the flour on top of the liquid mixture in the bread pan, then make a small depression in the top of the flour.  Add the  yeast to the depression in the flour.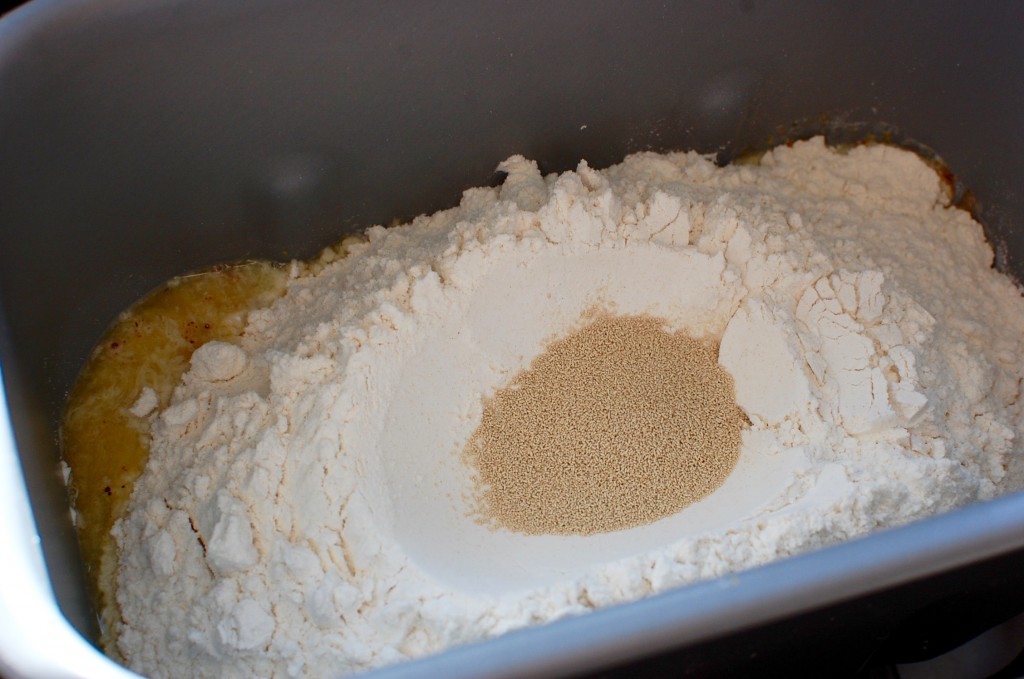 6.  Set your machine to the "basic dough function" and allow the machine to mix, knead, and raise your dough.  (If you are making the dough by hand, then use melted butter.  Warm the milk (lukewarm), then add the yeast to the milk and let it bloom for 15 minutes before mixing all the dough ingredients together and kneading by hand.  Allow your dough to rise in a warm place (covered) for 1 hour, then punch down and allow a second rise.)
While you are waiting for the dough, prepare the filling:  chop the dried apricot into small pieces.  Measure out the raisin and citron.  (You can substitute with regular raisins in the place of the golden raisins, or use dried currants.)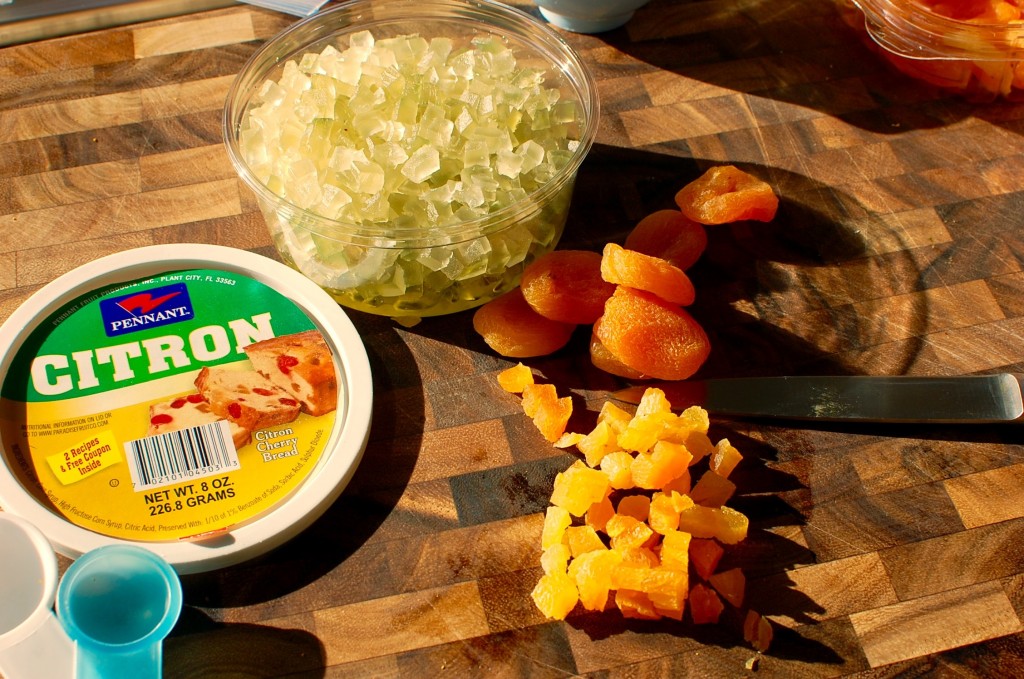 7.  Pour the 1/4 c. cognac/brandy + 1/4 c. orange juice over the dried fruits and mix.  Allow to sit for about 1 hour (to allow the fruit to absorb the liquid).  Then drain any remaining surface liquid.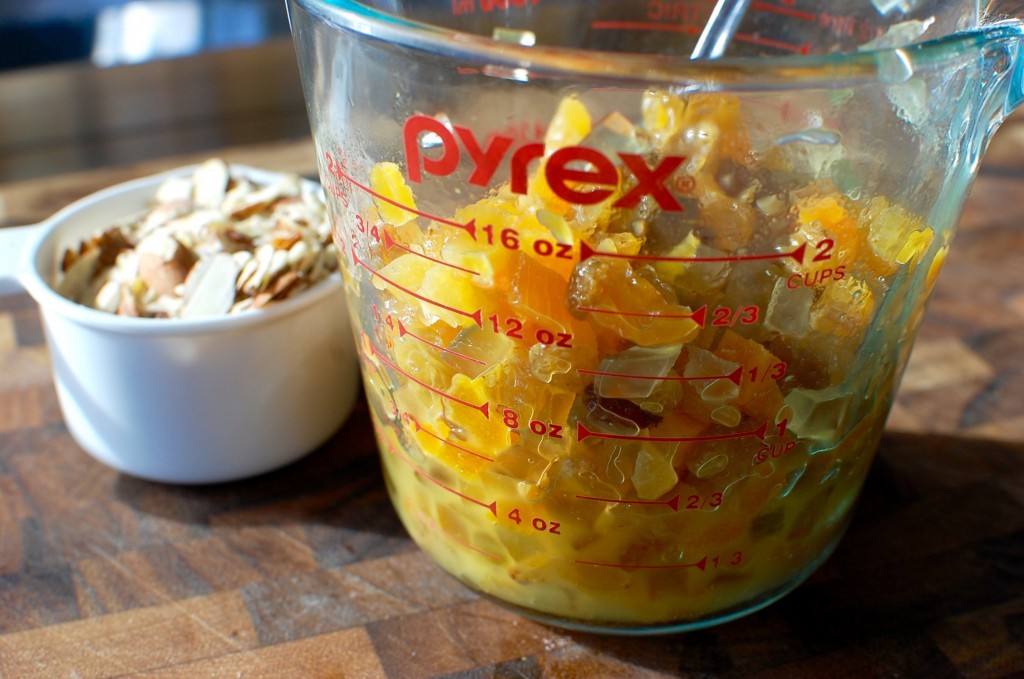 8.  When the dough is ready, remove from the bread machine onto a clean countertop.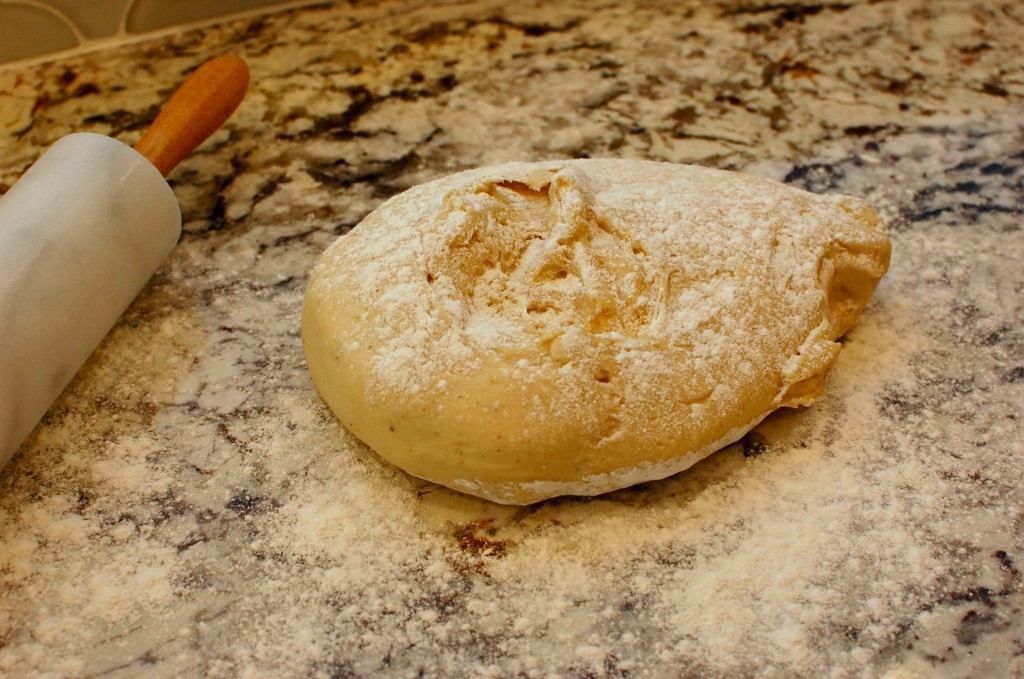 9.  Dust the dough with flour, then roll into a large rectangle (using a little bit of flour to prevent sticking).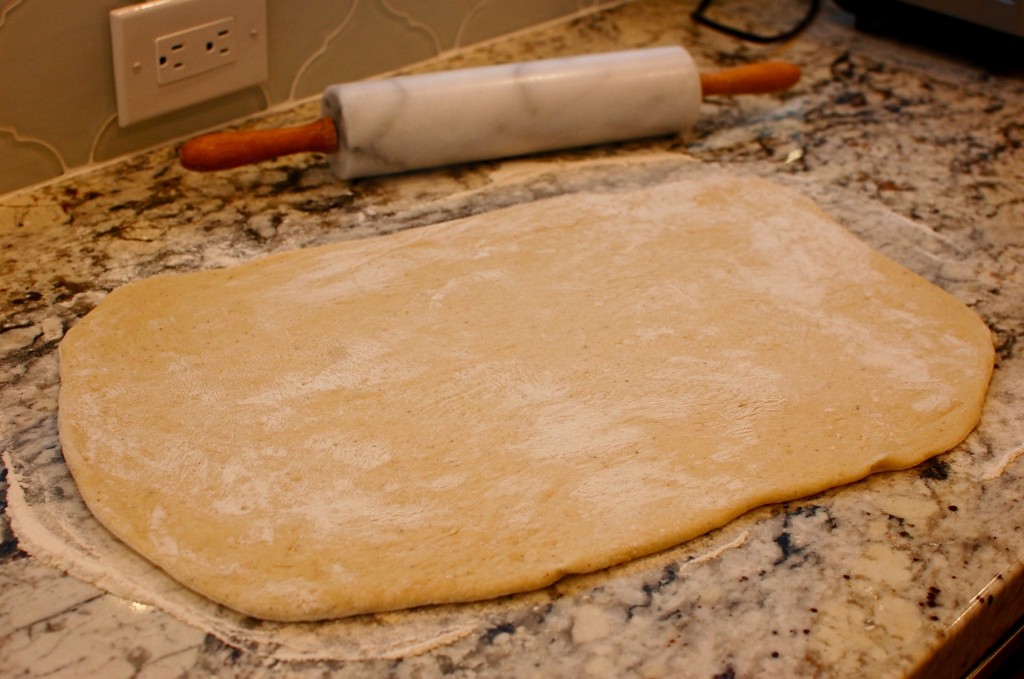 10.  Sprinkle the rectangle of dough with the dried fruit mixture and the almonds.  Press into the dough gently.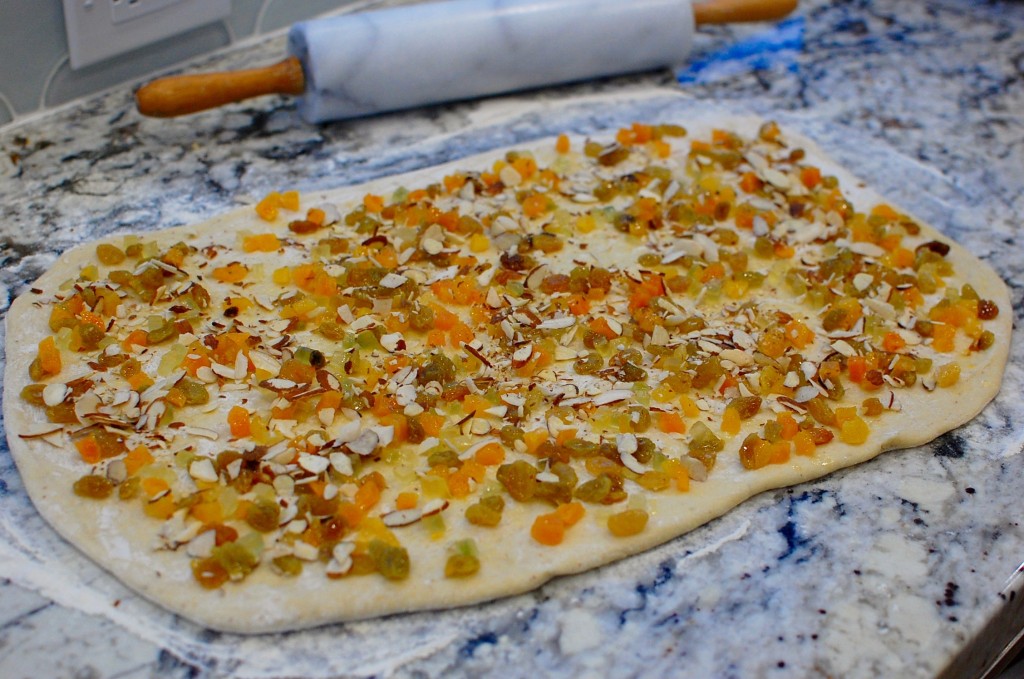 11.  Roll the dough up (cinnamon roll style) starting at one of the short ends.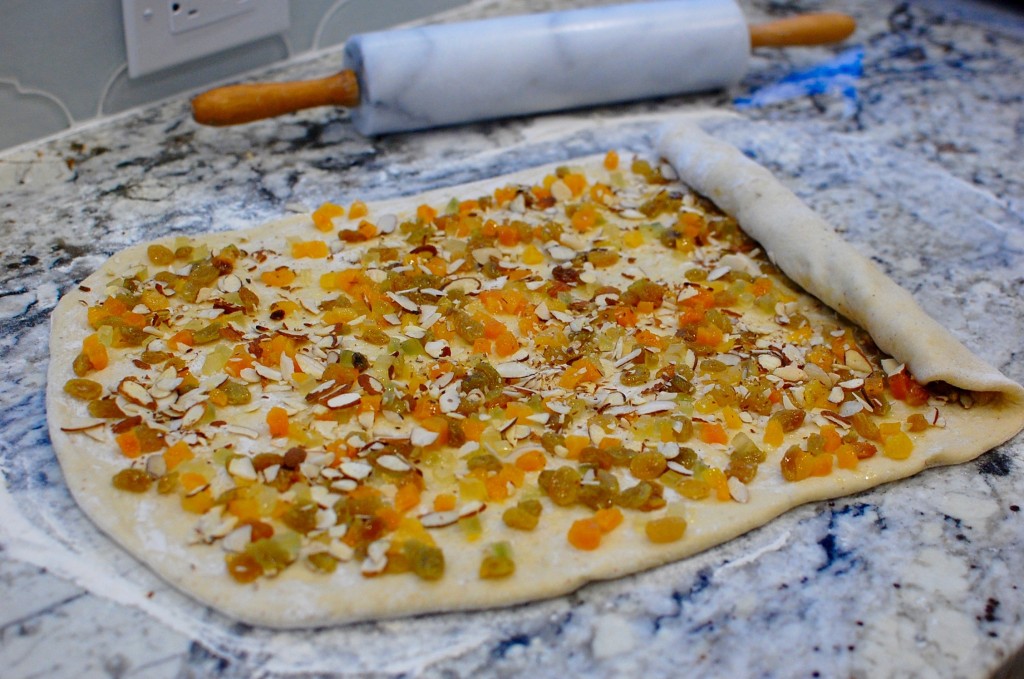 12.  Place the roll of dough (seam side down) onto a silicone lined baking sheet.  Loosely cover with plastic wrap, and allow to rise for about 1 hour in a warm place.  Meanwhile, preheat your oven to 350 degrees.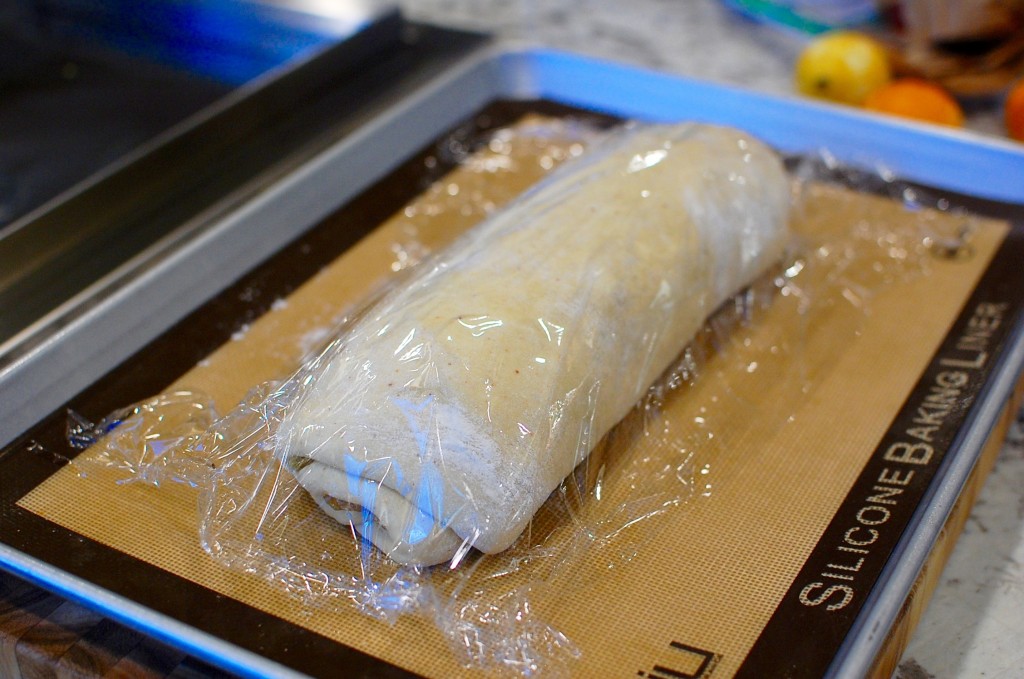 13.  Brush the top of the dough with melted butter.  Bake your stollen for 30-40 minutes until done.  (For my oven, 30 minutes is usually enough.)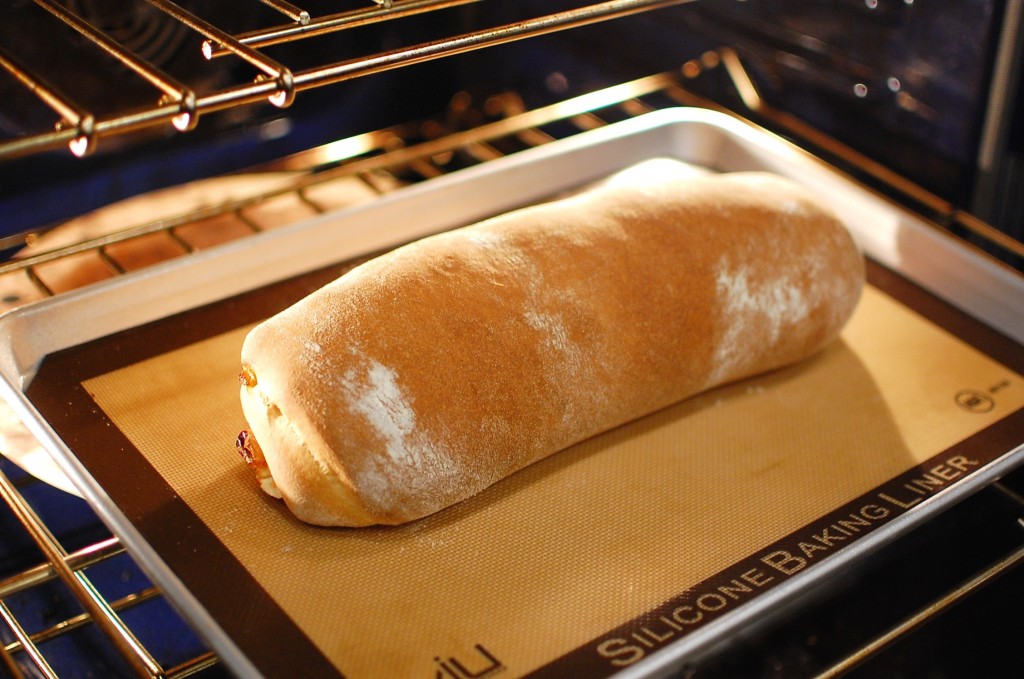 14.  Remove from oven, brush with more melted butter.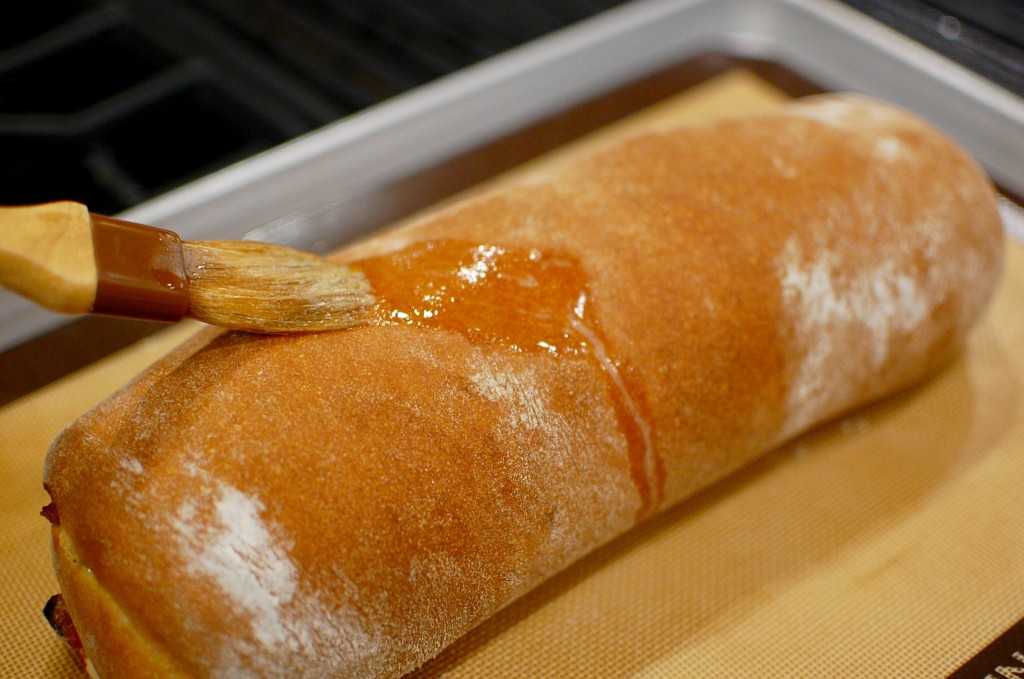 15.  Then dust with the 1/4 c. granulated sugar while still warm.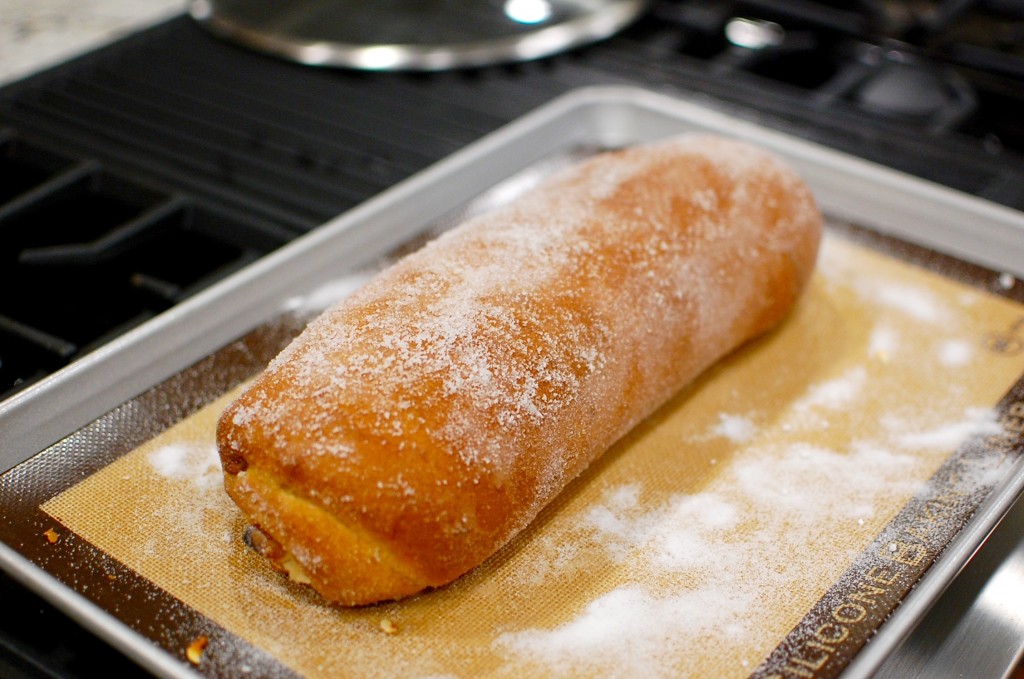 16.  Dust with about 1/4 c. powdered sugar.
17.  When cool to the touch, dust again (heavily) with the remaining powdered sugar.  Wrap in plastic, and allow to cool completely (at least overnight) before slicing.  Store at room temperature.