This New Year's Eve, we decided to stay home and be lazy (like we do every year)!  To make our home celebration more special, I decided to make martinis inspired by a recent trip we took to Maui.  In Wailea, we had dinner one night at the Monkeypod Kitchen – a fantastic restaurant that specializes in high quality fresh ingredients (that are locally sourced) and delicious craft cocktails.  Their food was so amazing, and we were blown away by the unique and flavorful cocktails.  We tried their "No Ka Oi" lilikoi martini (made with locally produced Maui Ocean Vodka), and my favorite, the "Pod Thai" cocktail which featured lemongrass from Kula Farms.  According to their menu, the "Pod Thai" contains: old lahaina light rum, crème of coconut, lime, lemongrass-cardamom syrup, and thai basil.  Based on this ingredient list, I developed a sweet martini recipe inspired by the "Pod Thai" that we enjoyed in Maui!
In order to make this martini, you will need to make an infused simple syrup ahead of time (it needs to cool off before you use it).  Simple syrup is basically a 1:1 ratio of sugar dissolved in hot water.  Normally, I make simple syrup in the microwave in small batches using a pyrex cup…. this time, I wanted to make extra syrup that I could refrigerate and keep for awhile, so my recipe below for the syrup is a larger portion.  (You can cut the syrup recipe in half if you like – or see step 5 in the instructions below if you want the proportions to quarter the recipe.)  You can use the technique below to infused simple syrup with any herb/spice flavor – for this particular syrup, I used lemongrass and green cardamom pods.
When you make this cocktail, you will be "muddling" the basil leaves into the syrup.  I got a wooden muddler on amazon for $15, and have been using it to make mojitos and mint juleps.  A muddler is a useful bar tool if you make those types of drinks a lot – if not, then you can probably use the back of a wooden spoon.  Be careful to only bruise the basil leaves (basically you want to just crush the leaves slightly to release the flavors – you don't want to shred the basil into little tiny bits).  If you can find Thai basil leaves, use those.  For this recipe, I used Italian basil, because that's what I have growing on my windowill.
One last thing – please don't use bottled lime juice!  Only fresh squeezed lime juice will do!  (You can juice your limes up to 1 day ahead of time – store covered in the refrigerator.)
Cheers!
Thai Lime Martini (1 serving):
1/2 oz. (1 T.) cream of coconut (the sweetened bar mixer)
1 oz. (2 T.) lemongrass cardamom syrup
4-6 basil leaves
2 oz. (4 T.) vodka
2 oz. (4 T.) fresh lime juice
Alternate recipe Thai Lime Martini (1 serving):
1 1/2 oz. (3 T.) lemongrass cardamom syrup
4-6 basil leaves
1 oz. (2 T.) vodka
1 oz. (2 T.) Malibu or your favorite coconut rum
2 oz. (4 T.) fresh lime juice
Lemongrass Cardamom syrup (recipe can be cut in half or quartered):
3 c. water
3 c. sugar
4 stalks lemongrass
1 T. whole cardamom
cocktail shaker
cocktail muddler stick
1.  A day before you plan to serve the martinis, make the Lemon Cardamom syrup.  Roughly chop 4 stalks of lemongrass.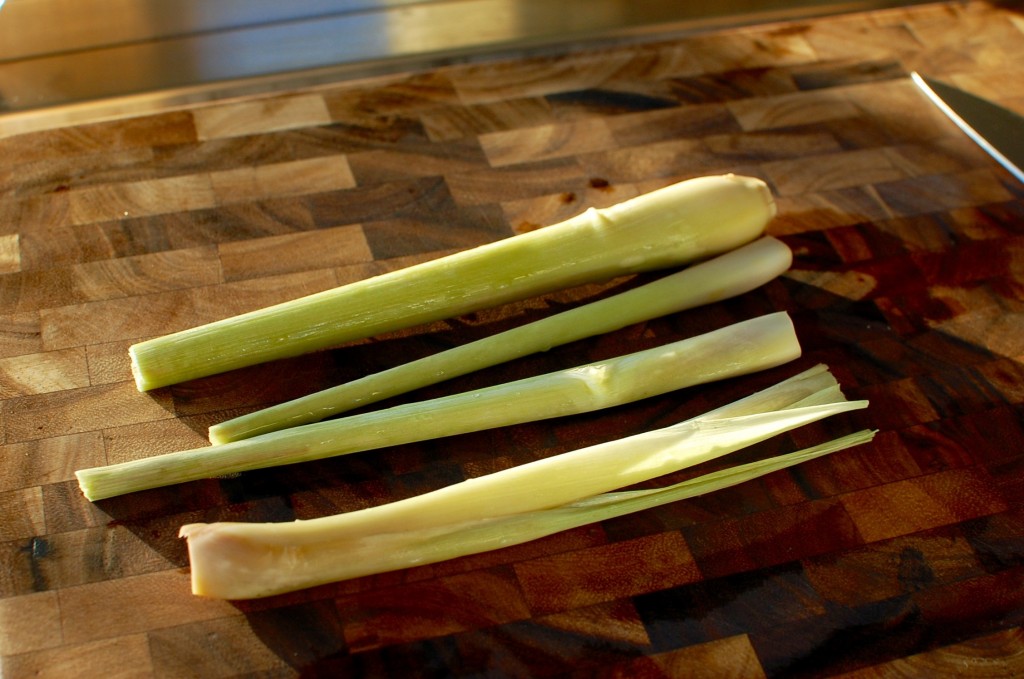 2.  Add the water, sugar, lemongrass, and whole cardamom to a small pot and bring to a boil.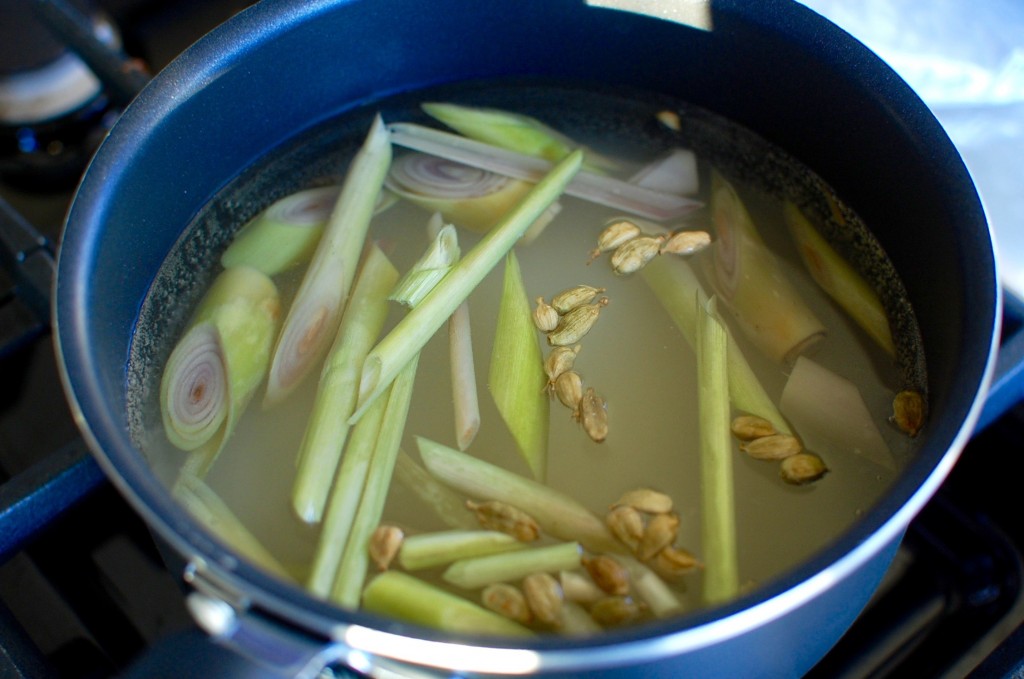 3.  Cover, then turn down the heat to keep the mixture at a simmer for 5 minutes.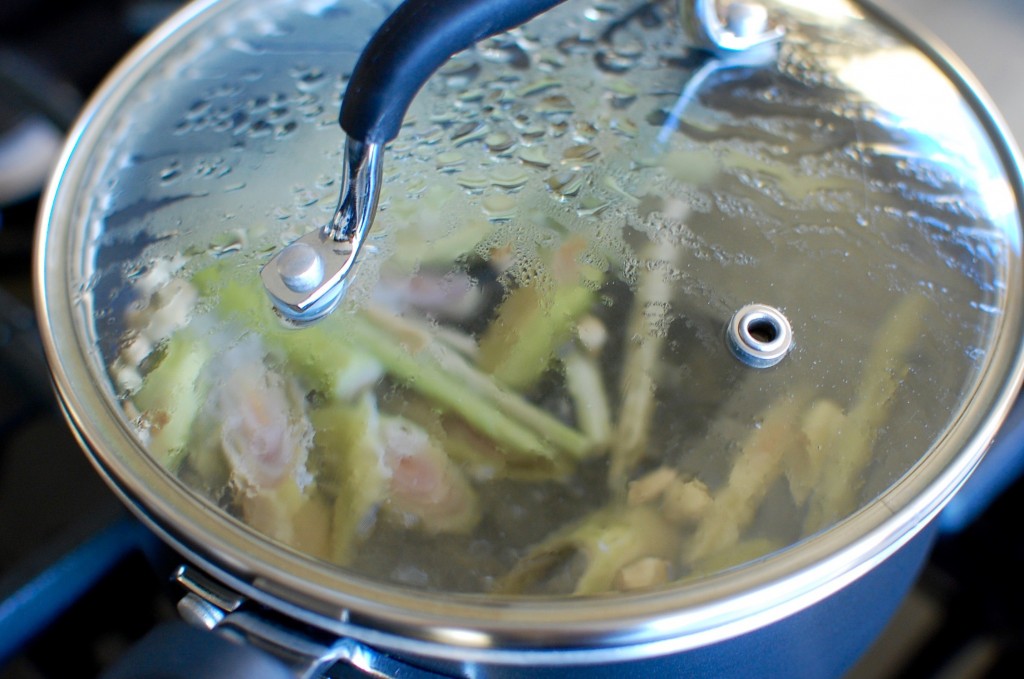 4.  Turn off the heat, and allow the syrup to cool completely.  Once cool, strain the mixture through a sieve.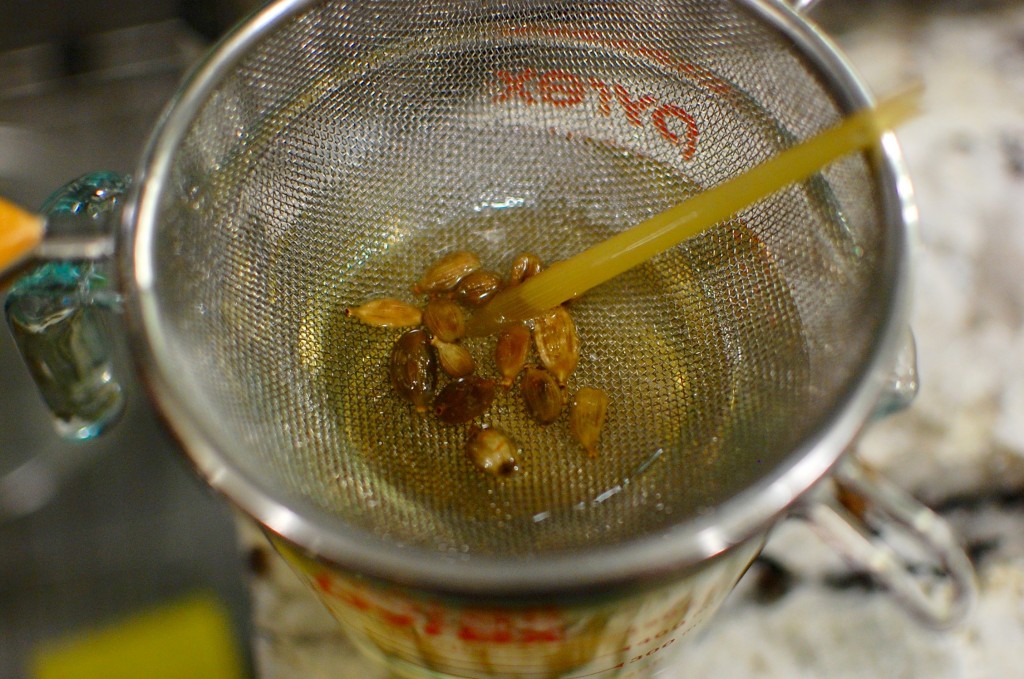 5.  Pour the syrup into clean jars, then refrigerate to store.  You will end up with about 2 1/2 pints of syrup.  The syrup will keep a long time in the refrigerator if stored in clean glass jars, so you can save the syrup to use over the next few months. (You can cut the syrup recipe in half if you don't want to make that much.  You can also cut the recipe in quarters if you don't plan to drink or serve that many martinis… for a quarter recipe of syrup, use: 3/4 c. water, 3/4 c. sugar, 1 stalk lemon grass, 3/4 tsp. cardamom.)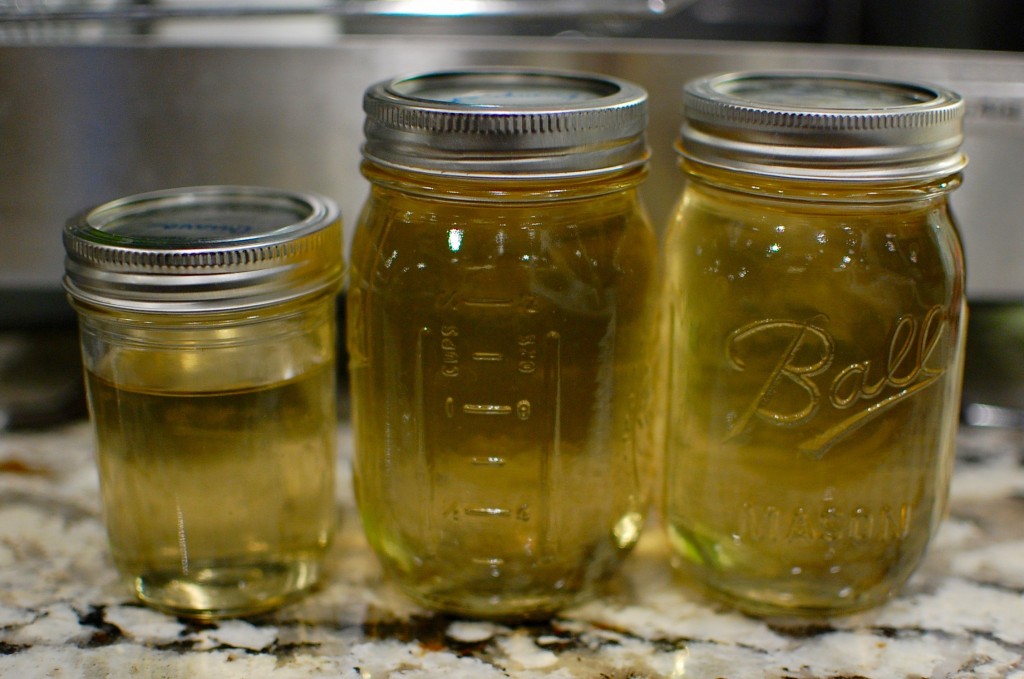 6.  Above I have listed 2 different recipes for making these martinis – they differ in the source for the coconut flavor.  If you have "cream of coconut" (which is the sweetened bottle you get from the mixer section of the liquor aisle) – use that.  Or, if you have Malibu (or any other brand of coconut rum) – you can use that too.  Which is better?  I did a taste comparison, and to me… they tasted almost exactly the same.  If you use the cream of coconut, your drink will have a tiny bit of opacity to it, while if you use coconut rum your drink will be more clear – that's the main difference (that I can tell).  **The resulting martini is sweet – so if you aren't a fan of sweet cocktails, start with half the amount of lemongrass cardamom syrup (you can always add more later if it isn't sweet enough).**
To make the martini:  Place the basil leaves into the bottom of a shaker, add the lemongrass cardamom syrup and the cream of coconut.  (If you are using the alternate recipe, just add the lemongrass cardamom syrup.)  Using a muddler (or a wooden spoon) GENTLY press and twist into the basil leaves to bruise them and release the flavor.  (You do not want to press so hard that you end up shredding the basil into little bits and pieces… keep the leaves intact.  Nobody wants tiny bits of basil stuck between their teeth!)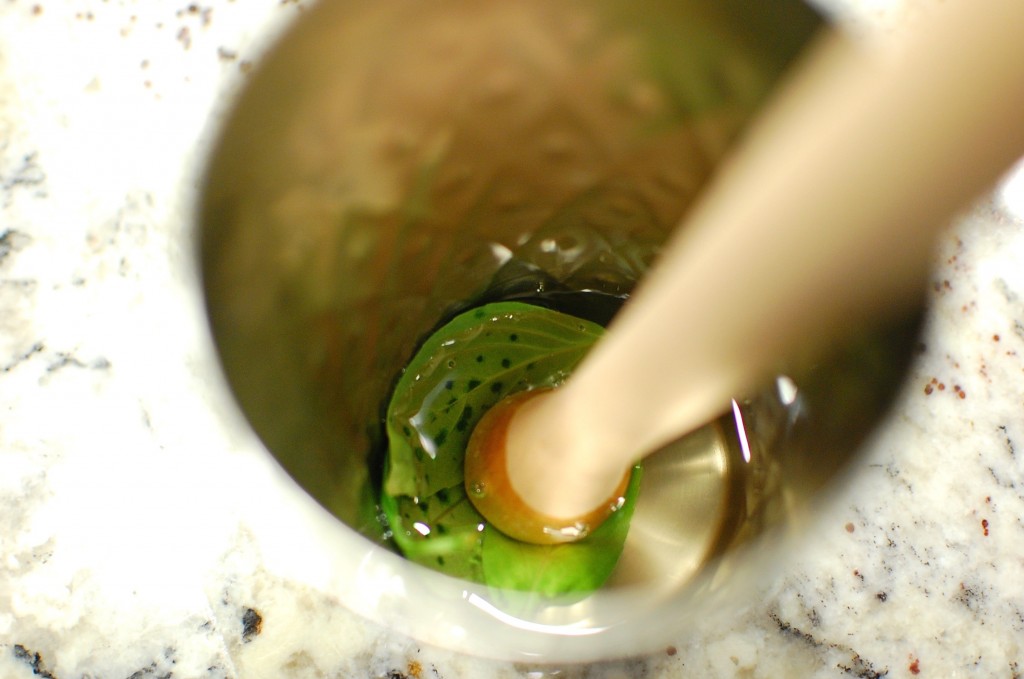 7.  Fill the shaker about 1/4 to 1/3 full of crushed ice.  Add the vodka and fresh lime juice (if you are using the alternate recipe, add the vodka, coconut rum, and fresh lime juice.)  Shake until the shaker is frosted over and very cold to the touch.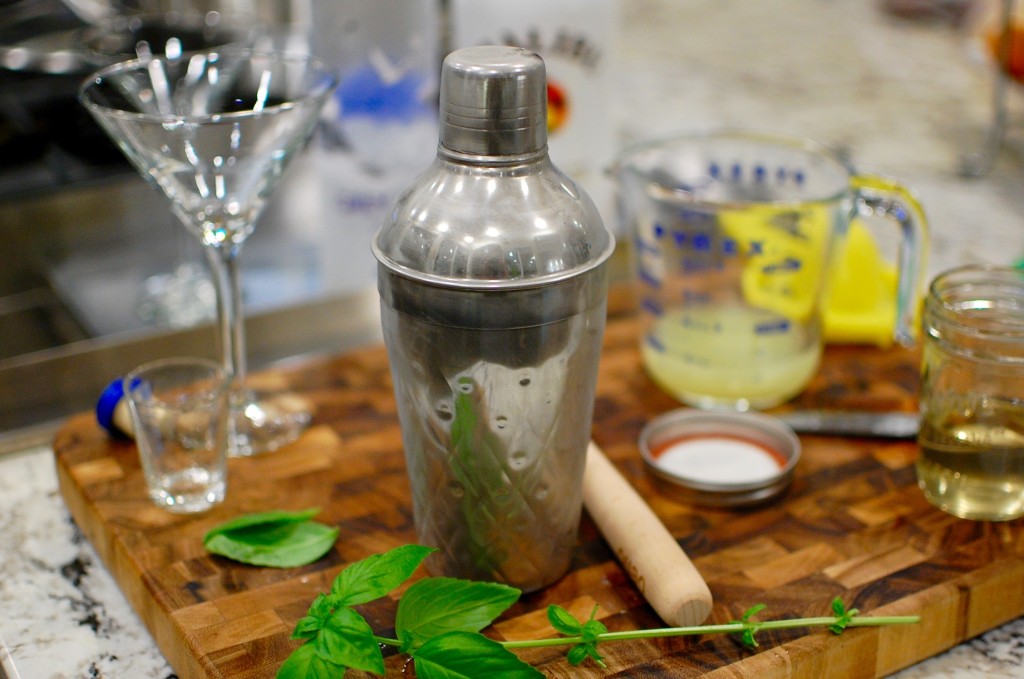 10.  Pour the mixture into a martini glass, garnish with fresh basil or pieces of lemongrass.