I think that I've mentioned before one of my favorite restaurants is Roy's (a Hawaiian fusion restaurant opened by chef Roy Yamaguchi).  At Roy's, they have a dish called "Misoyaki Butterfish" – it's a very soft white fish marinated in a salty/sweet miso teriyaki, served with a tangy citrus vinaigrette.  If you ever have a chance to go to Roy's – this is probably one of their best dishes, and I highly recommend it (It's my favorite!).
I was having some family over for a big Sunday dinner/brunch, and saw some beautiful and fresh large salmon fillets at the market…. so I thought, why not try to make the salmon in the style of Roy's misoyaki butterfish?  It turned out really well… and even my husband (who normally doesn't like salmon all that much) thought it was good.
After making the salmon (buy a large uncut fillet for a nice presentation) – I think next time I would decrease the sizzling soy vinaigrette recipe by cutting in half – as I had a lot leftover.  If you do have a lot of vinaigrette over, keep in mind you can serve it over grilled vegetables as a side dish, or use as salad dressing.
Misoyaki Salmon Fillet:
3 lb. salmon fillet
4 c. misoyaki marinade
sizzling soy vinaigrette
chopped green onion (for garnish)
Misoyaki Marinade:
3 c. sake
3 c. mirin (Japanese sweet rice wine)
8 oz. shiro miso paste (about 1 c.)
8 oz. dark brown sugar (about 1 c.)
Sizzling Soy Vinaigrette (I recommend cutting the portions in half):
1 red, 1 green, & 1 yellow bell pepper, finely chopped
1 bunch green onions (green parts only), finely chopped
1 bunch cilantro, finely chopped
1/2 c. sweet white onion, finely chopped
1 T. minced/grated fresh ginger
1/2 c. peanut oil
1 c. soy sauce
1/4 c. rice wine vinegar
juice of 2 lemons (about 1/2 c.)
up to 1 c. water
salt, pepper to taste
1.  About 3 days ahead of time, make the Misoyaki Marinade.  Put the sake, mirin, miso paste, and brown sugar in a large pot.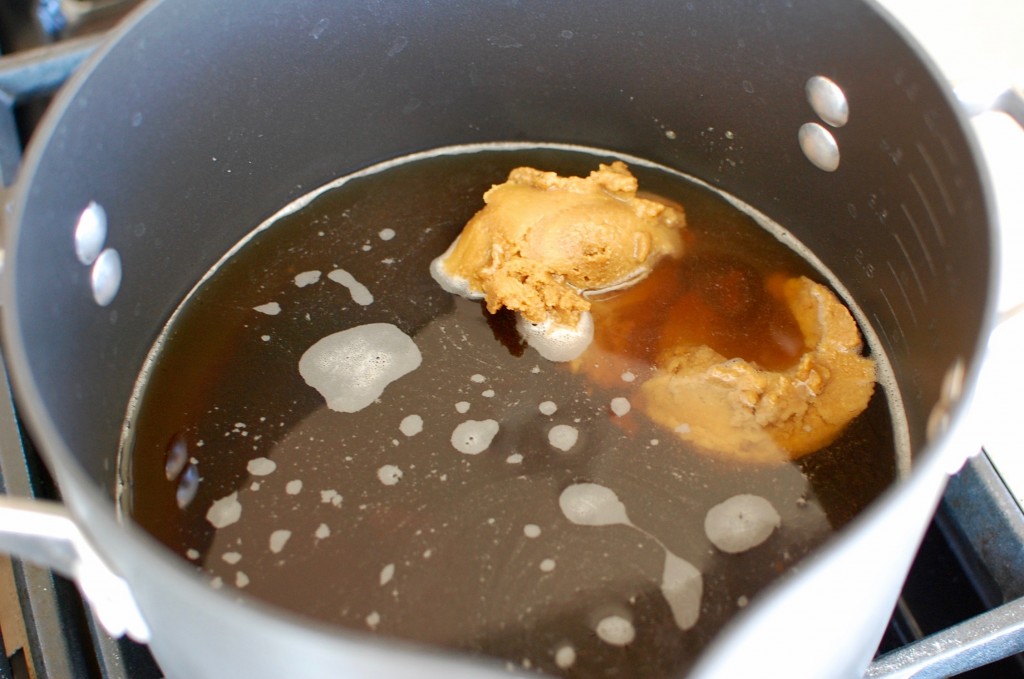 2.  Heat the mixture to a boil, whisk to combine all ingredients until dissolved.  Lower heat to medium and simmer (uncovered) for about 15 minutes to reduce.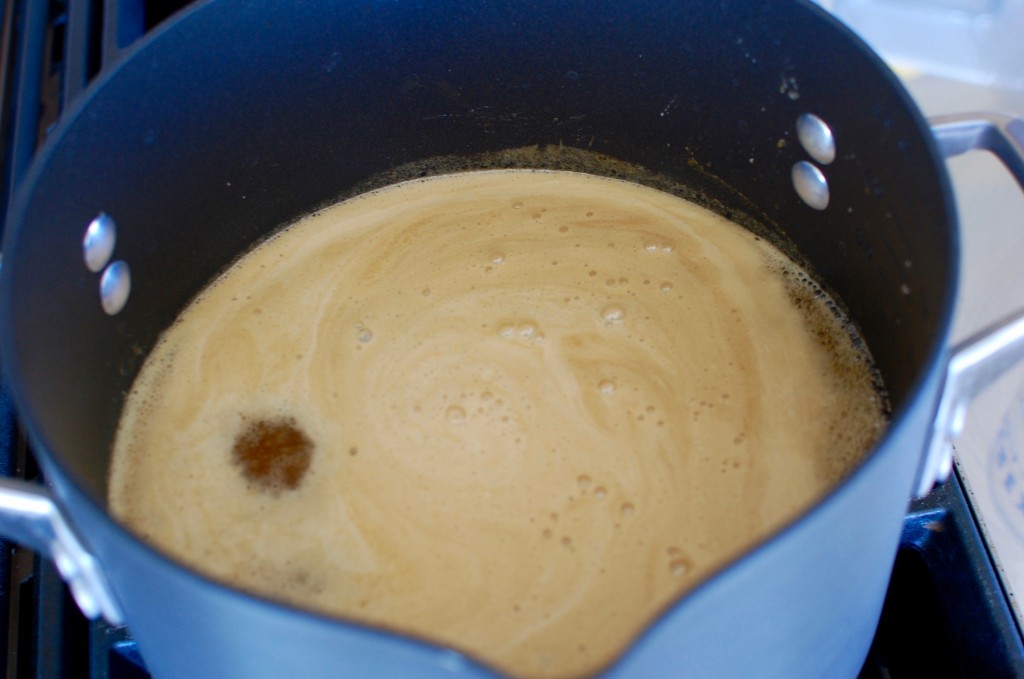 3.  Reduce temperature to low and cover.  Simmer (covered) for about 45 minutes until the mixture is a medium caramel color.
4.  Cool the marinade completely and refrigerate.  (You should end up with about 4 c. marinade total.)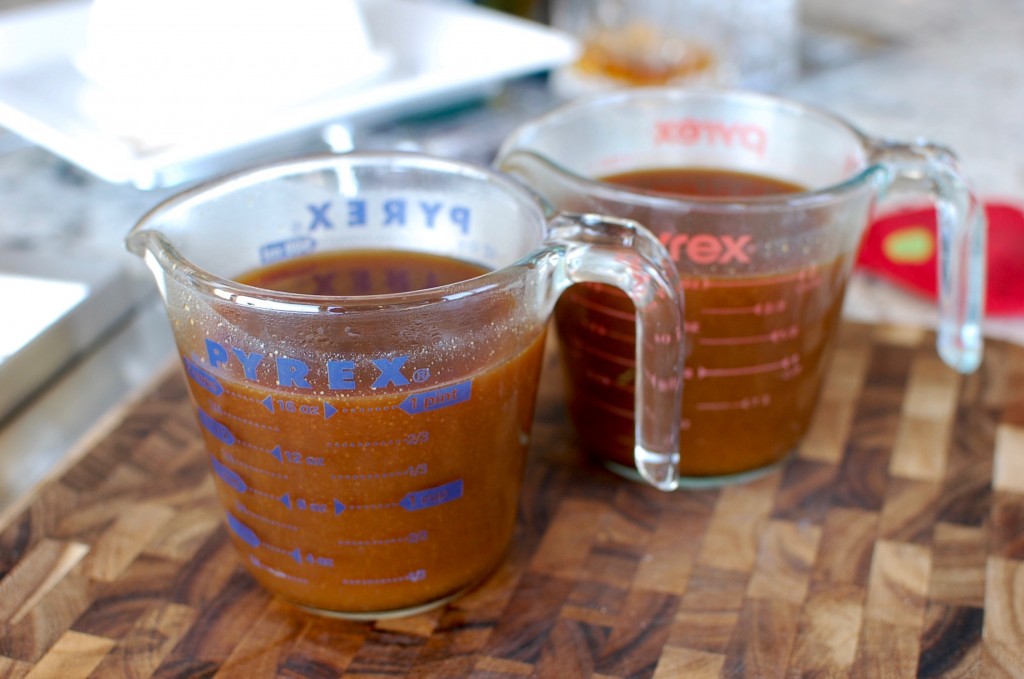 5.  Marinate the fish fillet with about 3 c. of the marinade for 1-3 days in the refrigerator.  Reserve the leftover 1 c. of marinade.  (Because the fish fillet is quite long, I didn't have a large enough container for it.  Instead, I used a Reynold's slow cooker liner that I sealed closed with some bag clips, and put diagonally across a serving tray.)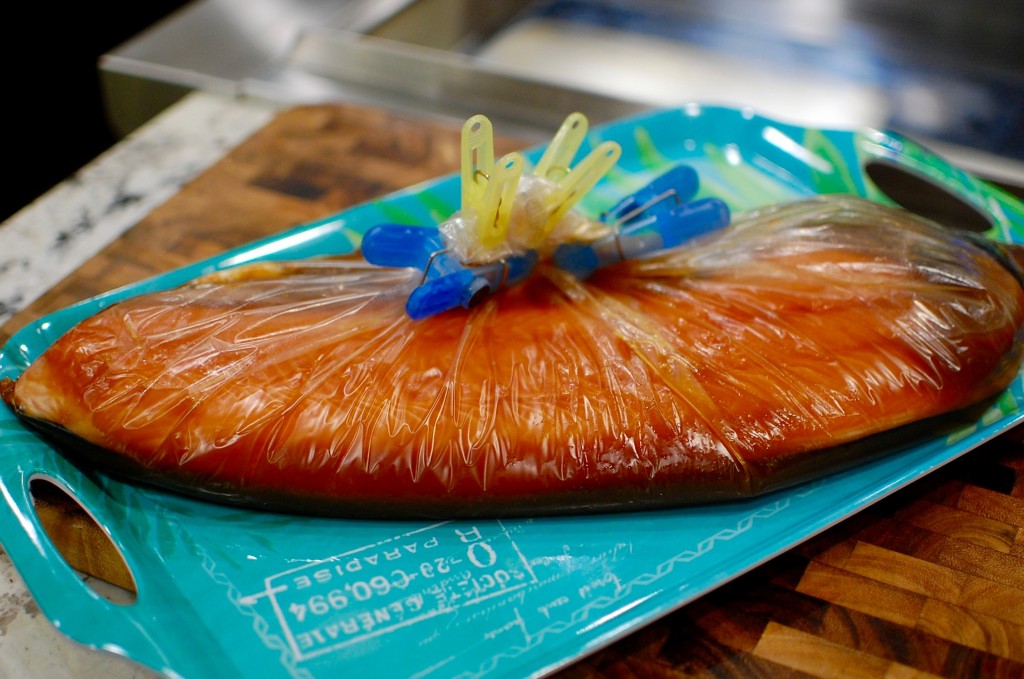 6.  The day you will serve the fish, make the Sizzling Soy Vinaigrette.  (I made a whole recipe of sizzling soy vinaigrette – and had a lot left over.  If you don't want too much left over, I recommend cutting the recipe above in half.  If you do have a ton leftover, you can use it later as a salad dressing, or sauce over steamed or grilled veggies.)  I like the acidity and balance that the vinaigrette adds to the sweeter fish – but you can omit the vinaigrette if you want.  It's  better with the vinaigrette though – so make it if you can!  Mince the bell peppers, green onions (green parts only – save the white parts of the green onion for garnish later), cilantro, and onion very finely.  Grate the ginger.  Place in a large metal bowl.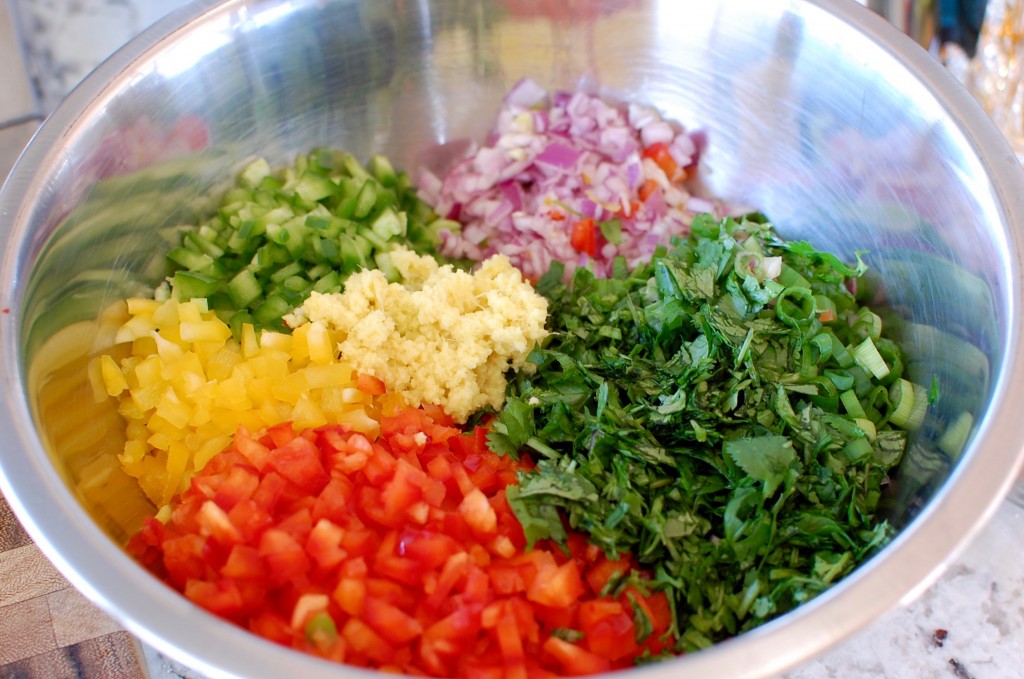 7.  Heat the peanut oil in a small sauce pan until just smoking.  (Be VERY CAREFUL, as this oil is extremely HOT!)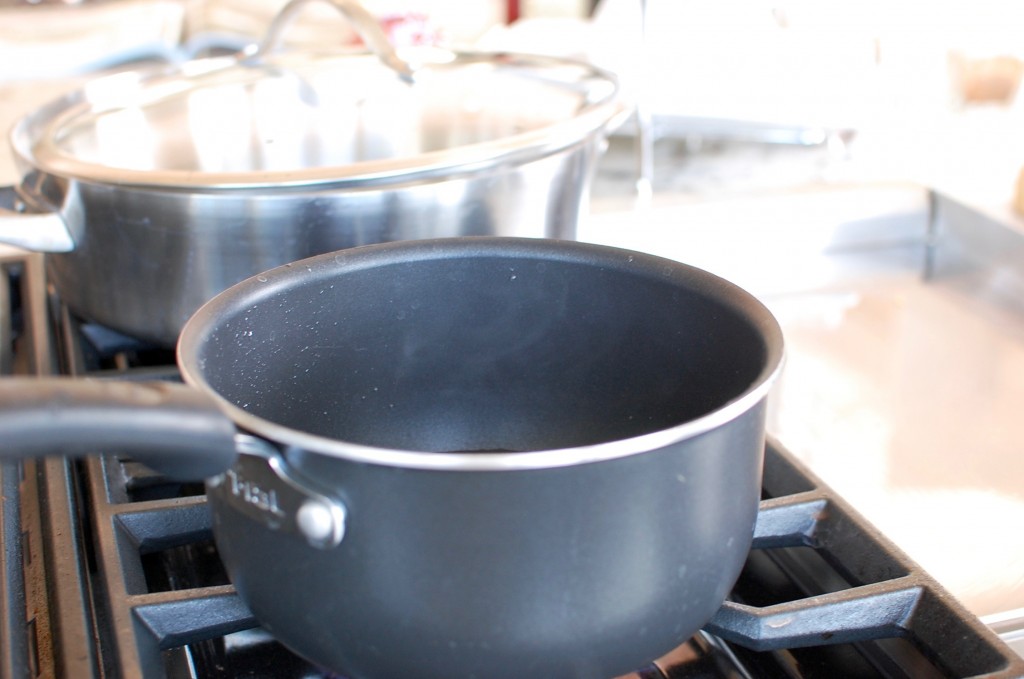 8.  Pour the hot oil in small increments over the vegetable mixture.  The hot oil will react with the water in the fresh veggies, and upon contact will sizzle and steam up – so go slowly – do not add all the oil at once.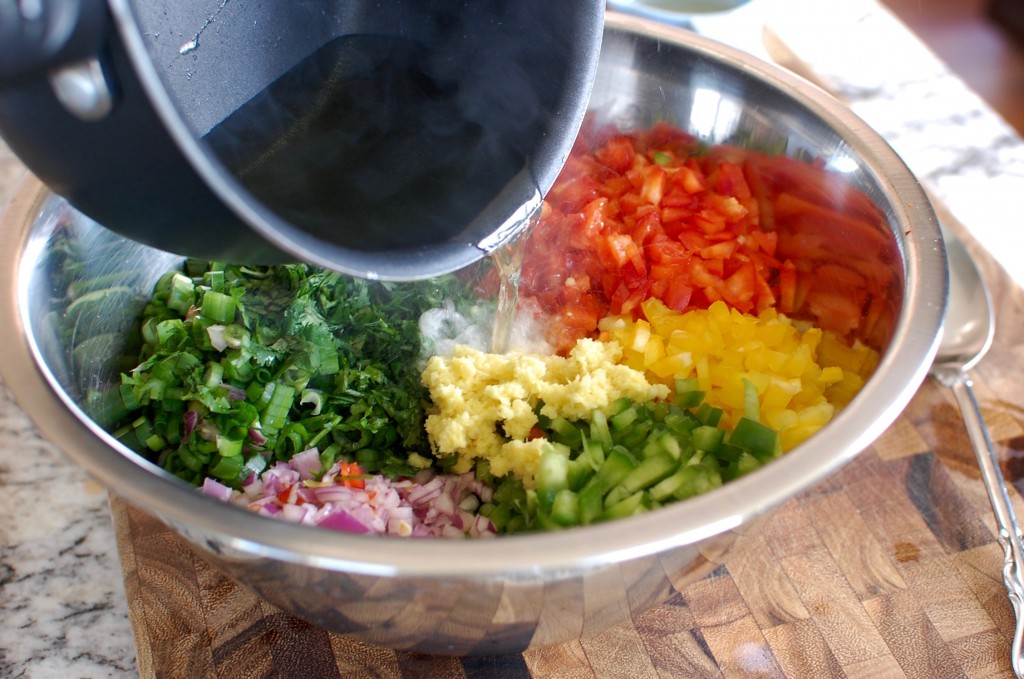 9.  Whisk in the rice wine vinegar, soy sauce, and lemon juice.  Season with the salt and pepper to taste.  Add additional water (up to 1 c.) if the mixture is too strong.  Set aside.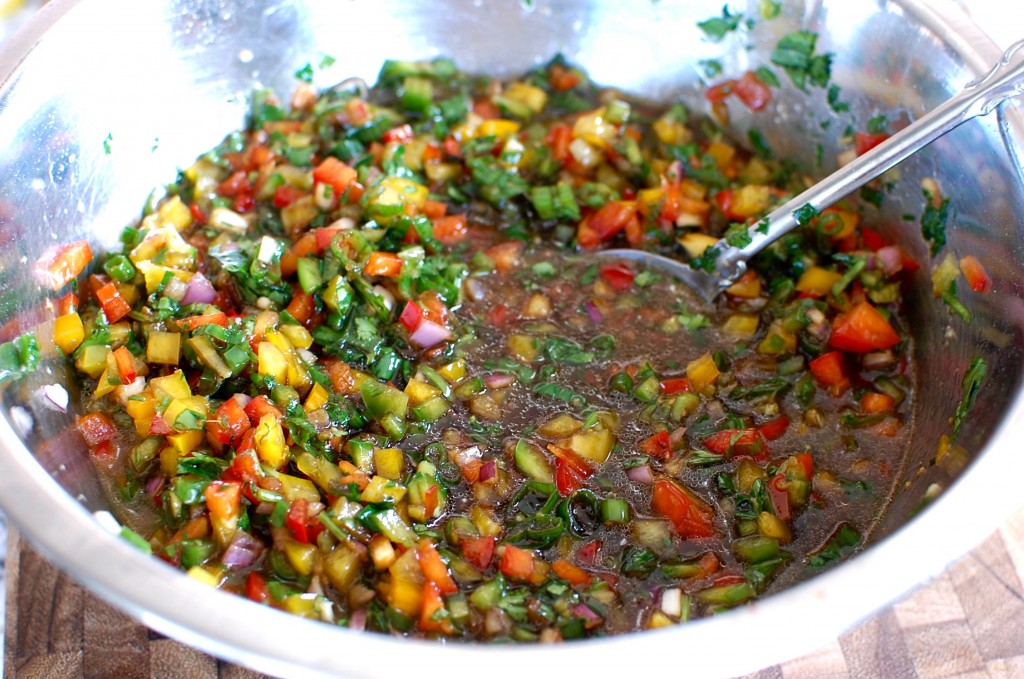 10.  To cook the Misoyaki Salmon Fillet, preheat the oven to 375 degrees.  Place the fish on a large baking sheet and coat with a little bit of the reserved marinade. (Do yourself a HUGE clean-up favor and line the baking sheet with several layers of foil – the sugar in the marinade will be quite sticky and will be hard to clean up off the pan later!)  If you have leftover marinade, you can heat it up until thick and bubbly in a small sauce pan – it makes a nice, sweet sauce if you don't want to use the Sizzling Soy Vinaigrette.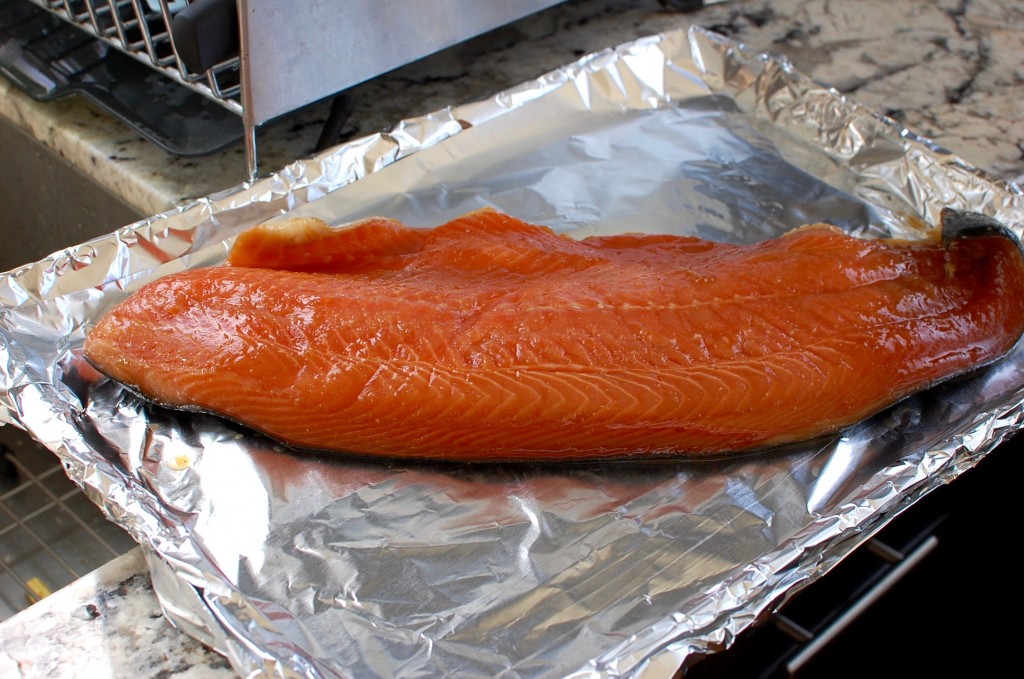 11.  Bake for about 10-15 minutes until done (thicker fillets will take longer to cook).  It should flake easily at the thickest point when fully cooked – be careful not to overcook, otherwise the fish will dry out.  (During the last 2-3 minutes of cooking, I like to change the oven setting from "bake" to "broil" to give a nice browned look to the top.)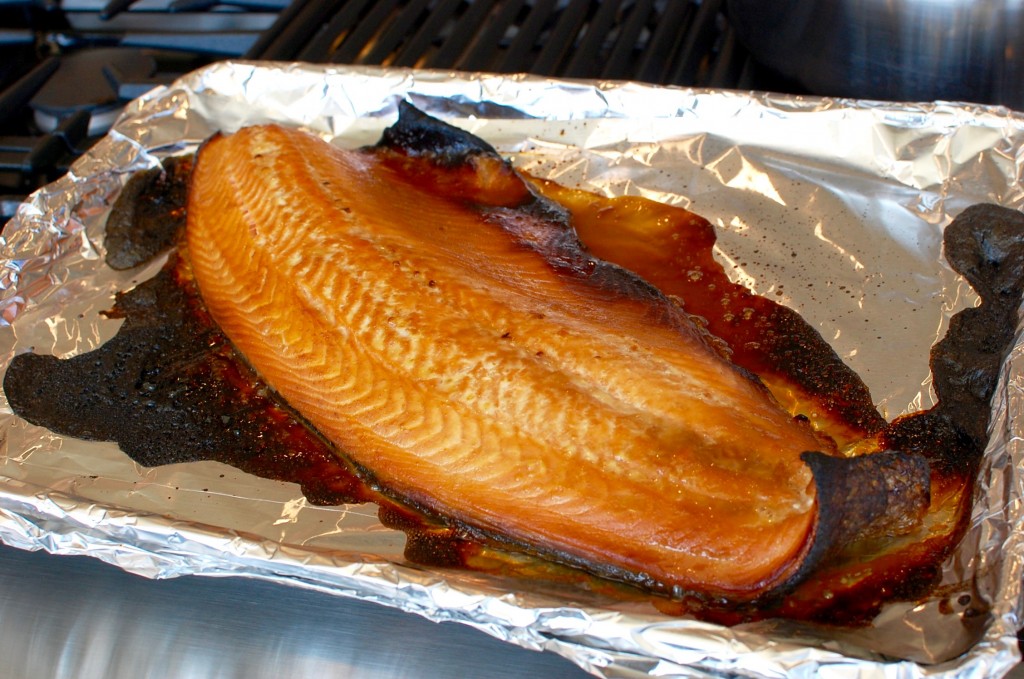 12.  To serve, spoon the sizzling soy vinaigrette over the fish and garnish with the reserved chopped green onions.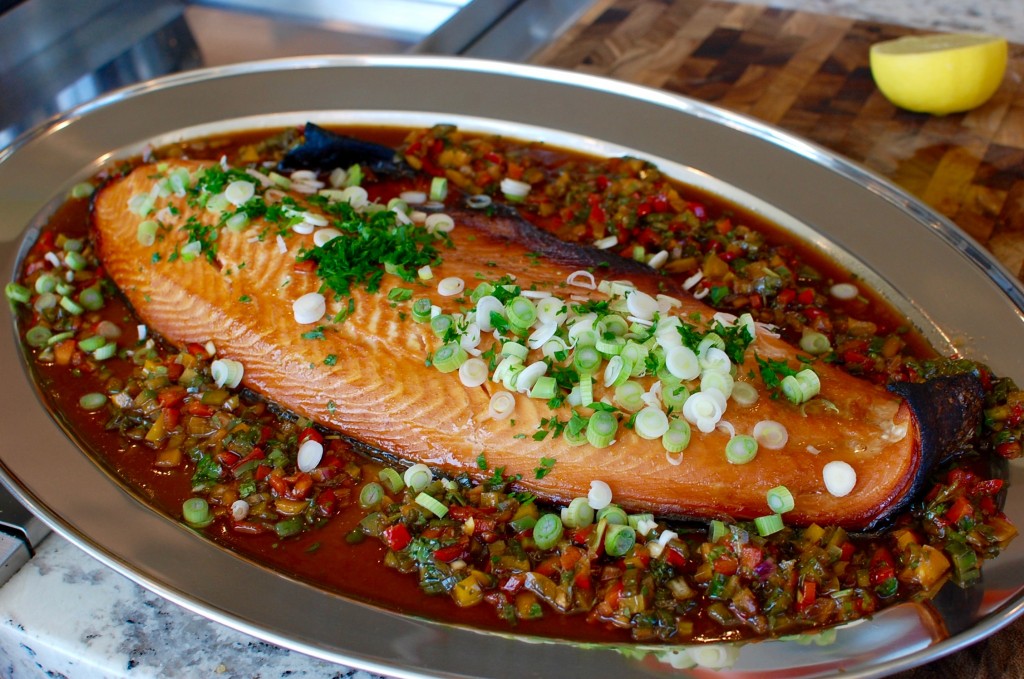 .