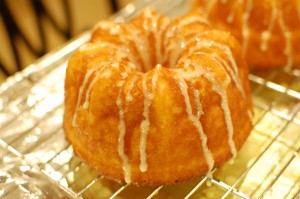 A few weeks ago, I was browsing the aisles at Target, and I found these super cute Nordicware mini bundt pans, the "Bundt Duet
" (see the image below, right).  With a total capacity of 5 cups of batter (2.5 cups per mini bundt), and at about $30 per pan… (with a little bit of hesitation) I decided to buy two.  It was a little bit expensive for the pan, but buying two meant that I could use up all of my batter at the same time – without having to halve any recipes (which can be annoying if a recipe calls for an odd number of eggs), or having to bake in two batches (leaving the 2nd batch with flat batter).
I'm so glad I bought two pans!  Each little cake makes a wonderful gift-sized portion, so you will have a few extra to give away to
friends as holiday treats.   I do like giving away cookie platters at Christmas… but cookies can be more time consuming (since I usually end up making several different varieties), and cakes are just so much easier.  I cut out 5″ circles from paper plates, put one little cake on top, then wrapped with plastic wrap (seams on the bottom).  Previously, I found Christmas cupcake boxes at Home Goods with a removable insert to hold 4 cupcakes.  With the insert removed, those little boxes were the perfect size for holding one of these mini bundt cakes (you can find similar Wilton brand boxes at Michael's or on Amazon).
Last week, I received a windfall of homegrown Valencia oranges.  While most of it is destined to make a sweet marmalade (not the bitter, traditional kind)… I am still working out the kinks in that recipe, and decided to use some in the mean time to make these pretty orange-flavored bundt cakes.
Baking with decorative bundt pans or intricate cake molds can be tricky.  I've had my fair share of failures – cakes sticking or ripping, ugly looking deformed bundt cakes… mangled results that looked straight out of a horror movie….  (Sigh.)  I've always been a fan of greasing and flouring cake pans.  For the most part, it works really well in round cake pans, loaf pans, and other simple (flat bottomed) pans… but for decorative pans where all the nooks and crannies add to the overall design, the simple grease (butter, shortening, or oil) + flour doesn't seem to quite do the trick.  Pam for Baking spray saved me.  This stuff really works.  Go ahead and spray the living daylights out of your pan… add the batter, bake, and voila!  A beautiful cake comes out perfect every time.
Orange Bundt Cake: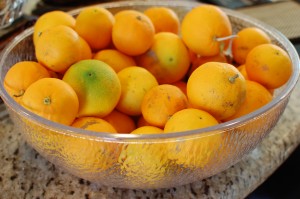 3 c. flour
4 tsp. baking powder
1 tsp. salt
2 c. sugar
2 c. plain yogurt
1 c. canola oil
6 eggs
zest of 4-5 oranges
1/2 tsp. orange extract
Orange Syrup:
2/3 c. orange juice
2/3 c. sugar
Orange Glaze:
2 T. orange juice
2 c. powdered sugar
1.  Preheat the oven to 350 degrees.  Prepare the pans by spraying generously with Pam for baking.  I have tried using oil/butter/shortening + flour… and usually end up with some degree of sticking.  For decorative bundt molds, I've found that nothing works better than Pam for Baking (It's the one that has flour added)!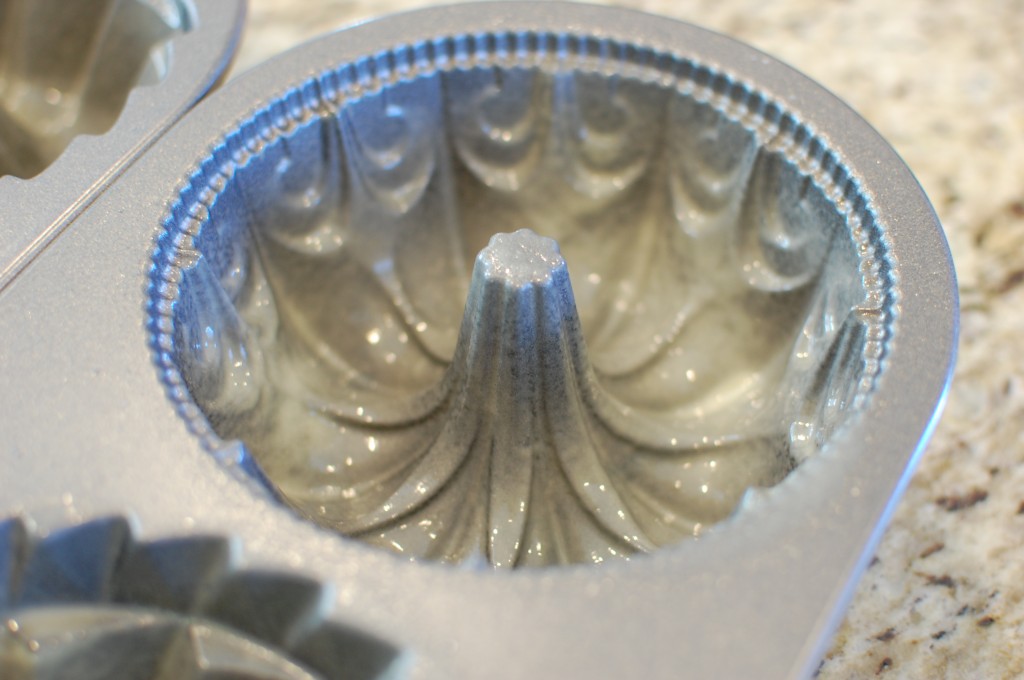 2.  Sift the dry ingredients (flour, baking powder, and salt) in a large bowl.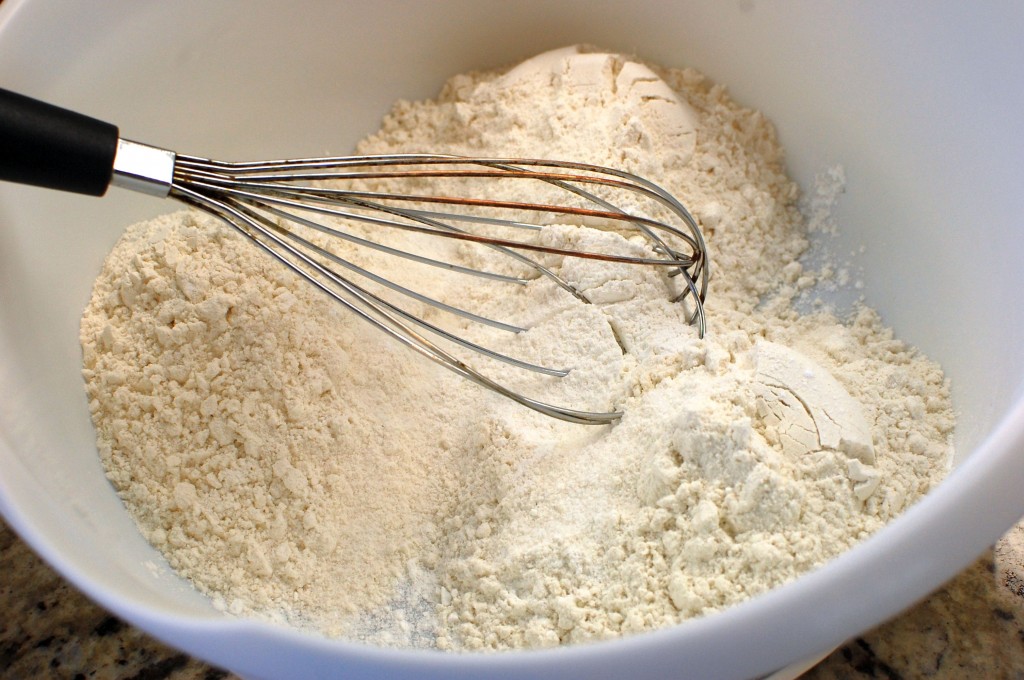 3.  Combine the sugar, yogurt, oil, eggs, orange zest, and orange extract in another bowl.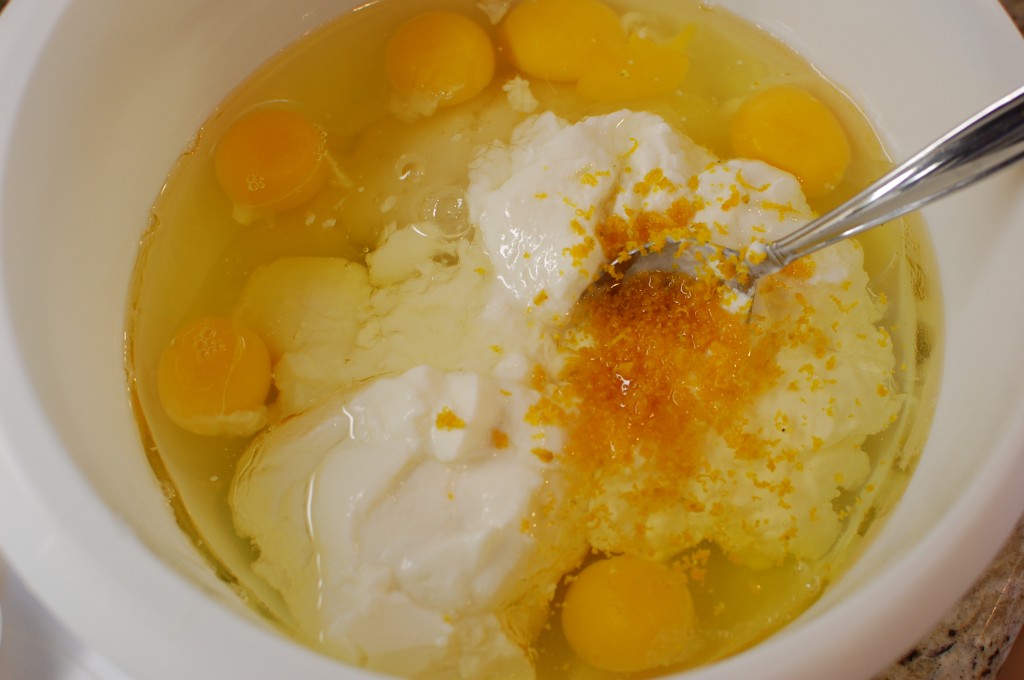 4.  Pour the wet ingredients into the dry, and mix until just combined.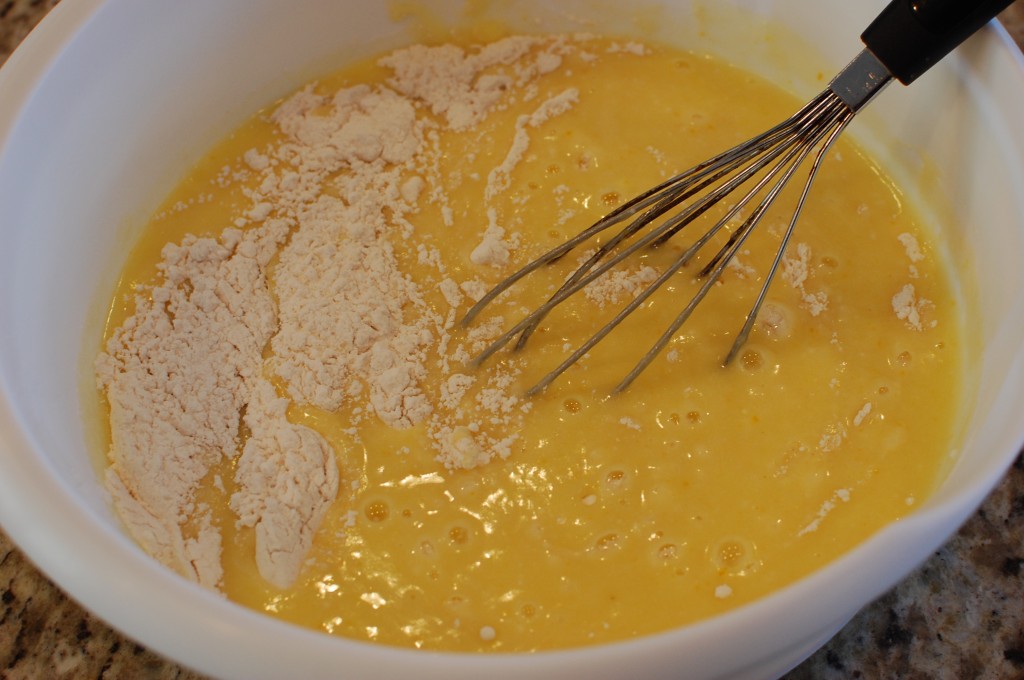 5.  Divide the batter between the 4 decorative bundt pans (My pans were Nordicware Bundt Duet pans – each individual bundt mold has a 2.5 c. capacity.)  You can use whatever decorative bundt pans you have… but definitely don't overfill – if you go all the way up to the top of the mold, the batter will overflow when baking.  Fill only 2/3 to 3/4 of the way up the mold.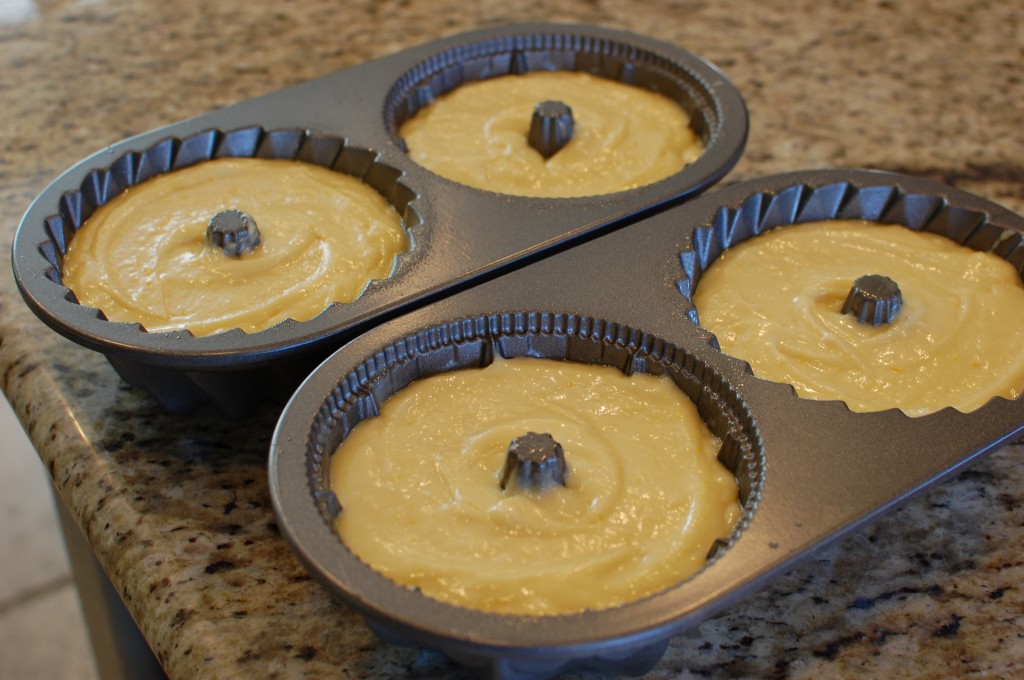 6.  Bake at 350 degrees for about 30-40 minutes.  With two Nordicware Bundt Duet pans side by side in the oven, it took my cakes about 35 minutes to bake (these have a 2.5 cup capacity for each individual mini bundt).  If you are using a larger or smaller mold, you may have to adjust the baking time.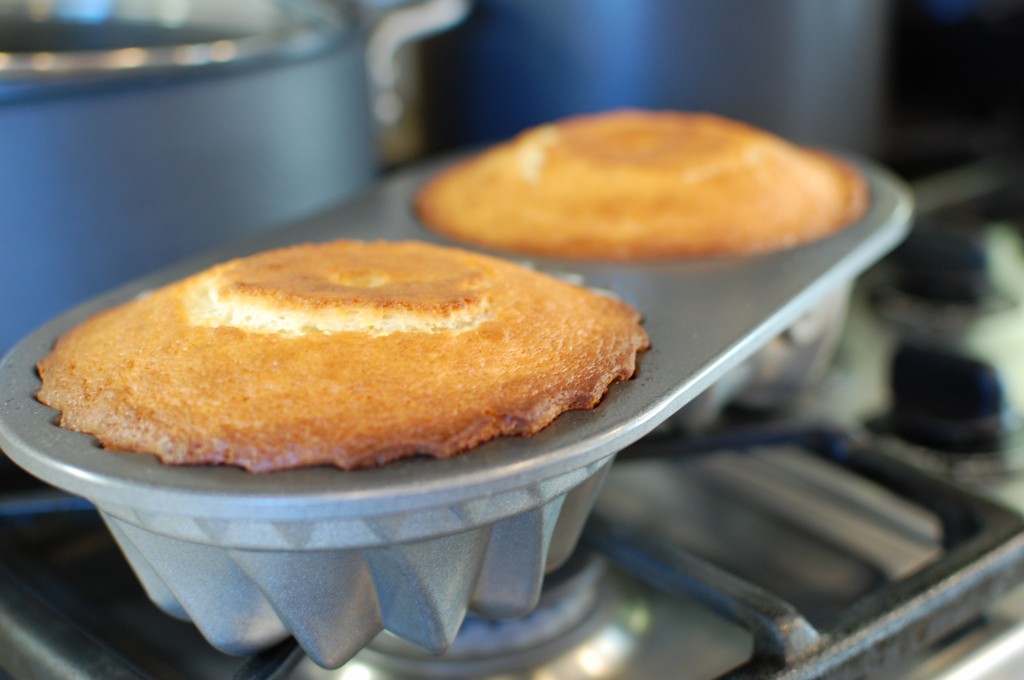 7.  While the cakes are baking, prepare the syrup and glaze.  For the syrup, combine the sugar and orange juice in a large 2 c. pyrex measuring cup (or small bowl) and microwave about 60-90 seconds, then stir to make sure sugar is fully dissolved.  If not, microwave an additional 30 seconds.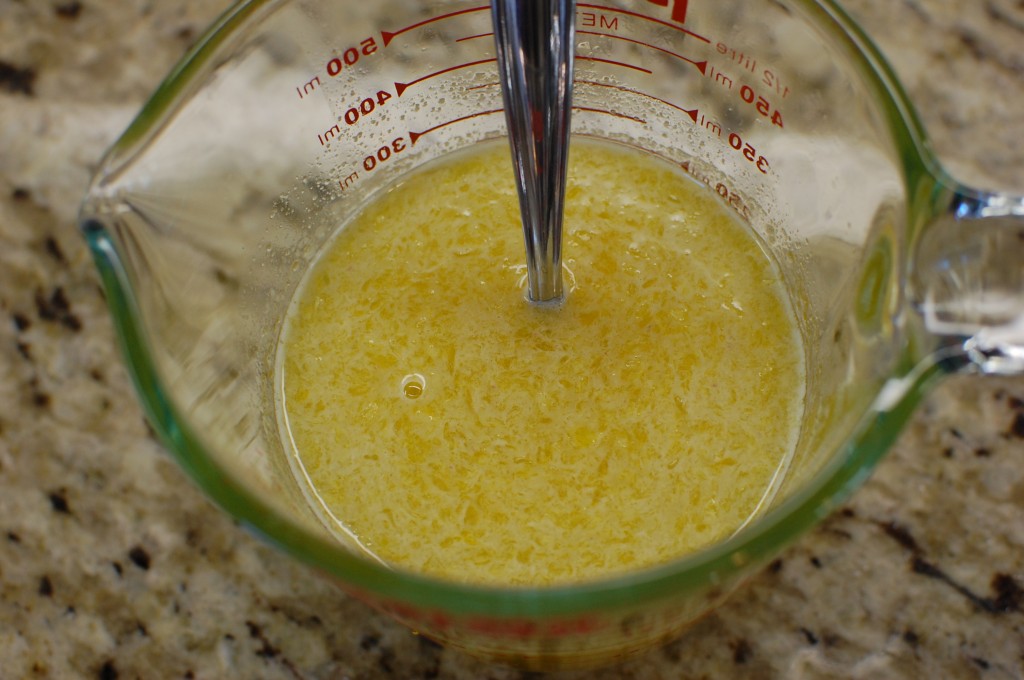 8.  To make the glaze, whisk the orange juice and powdered sugar together.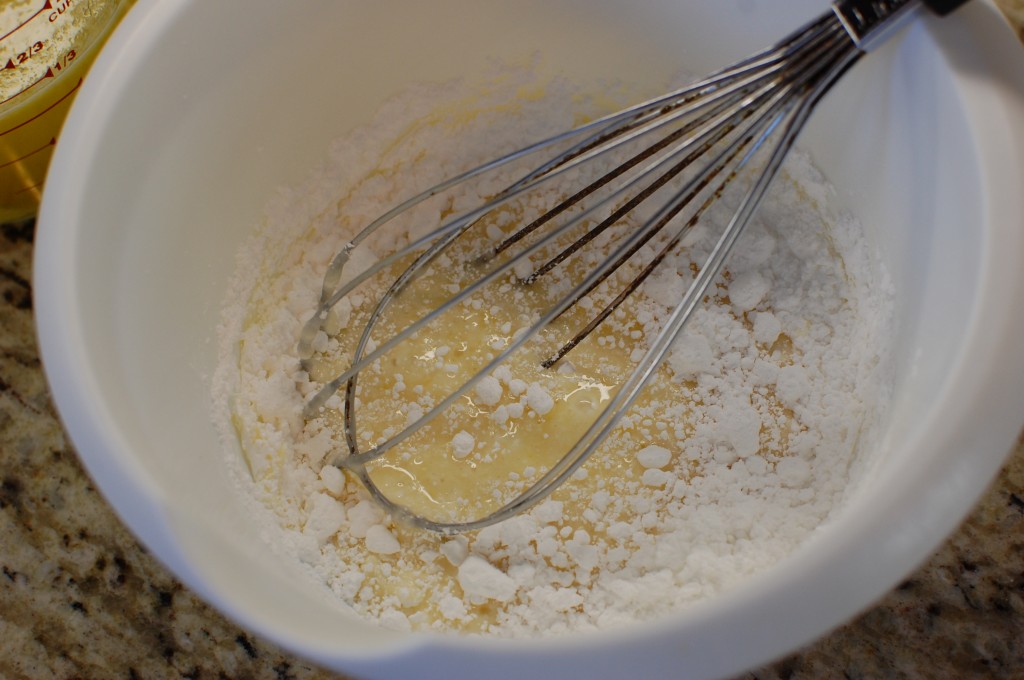 9.  When the cakes are done, remove from the oven, and allow to cool 10 minutes in the pan.  I put a wire rack on top of one pan, and flipped it over.  Then, I simply lifted the pan off the cake, with no ripping or tearing of the cake.  (Thanks to the Pam for Baking spray!!!)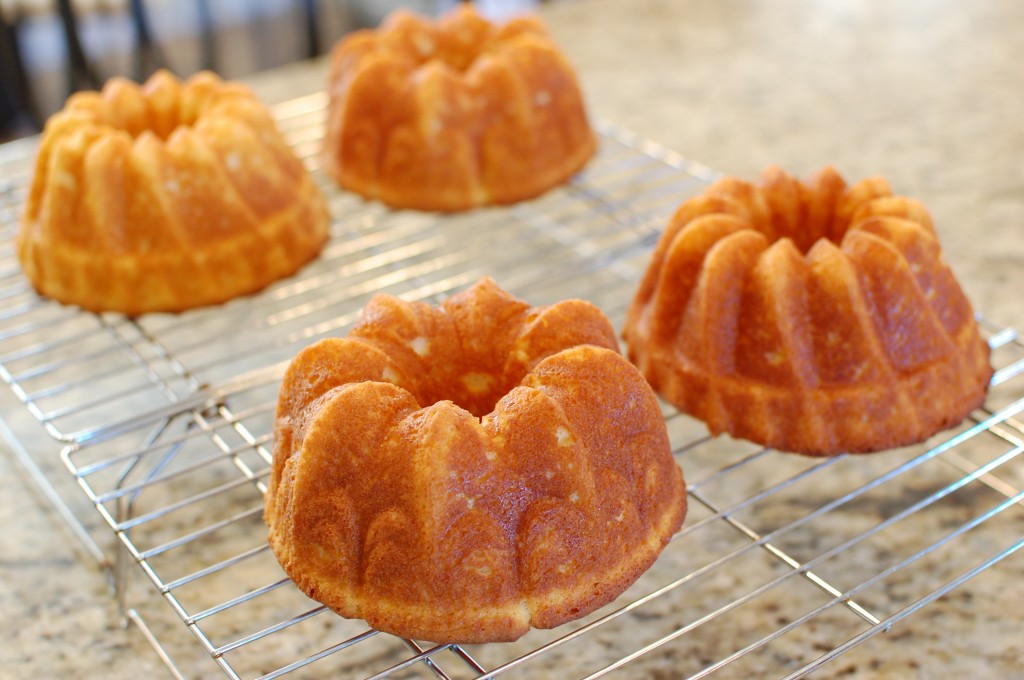 10.  While the cakes are still hot, use a pastry brush to coat each cake with the orange syrup.  It will probably take about 5-10 minutes to use up all the syrup – just keep dipping the brush and patting the surface of the cakes with the syrup to allow it all to soak in.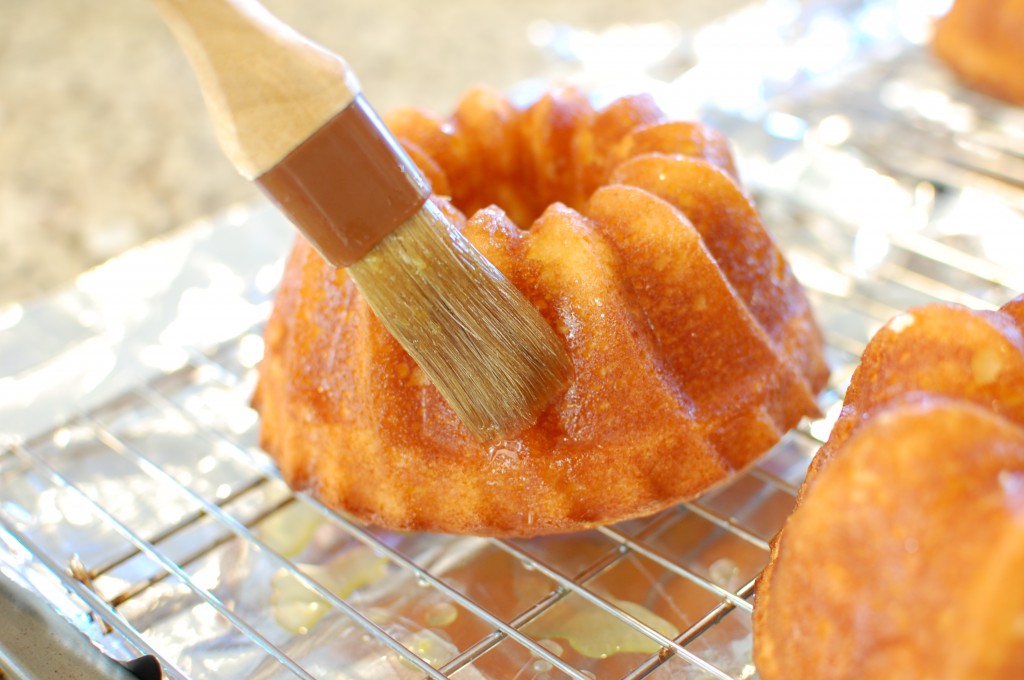 11.  When the cakes are cool, drizzle with the orange glaze.