Mochi is one of my most favorite treats to eat… I LOVE mochi!  It's so hard to come by though… Where we live, the nearest Japanese market is (at least) a 30 minute drive, and we don't go down that way very often.  Also, I've noticed that Mitsuwa Market has reduced their "fresh food/bakery" section by quite a bit – they used to have all kinds of fresh sweet buns and mochi for sale… but lately, they only sell the processed packaged kind (with chemicals) that can sit on the shelf for months.  What happened to the fresh daily mochi???
Surprisingly, mochi is not that hard to make.  I was shocked when I discovered how easy it is…  I have wonderful memories of family New Year's celebrations at the New Otani Hotel in downtown Los Angeles as a kid, where each dad would take turns pounding the hot mochi rice (in a wooden bucket) with a huge wooden mallet.  I also remember my friend's mom had a special high tech "mochi machine" from Japan – it would cook the rice and eventually hot mochi would come out a tube.  But really, to make mochi, all you need is a microwave and a microwaveable bowl – no high tech devices or giant wooden mallets needed!
Now that I know how to make mochi at home, I don't need to drive down to Mitsuwa anymore (and then become disappointed when they don't have any fresh mochi)!  All you need to buy is Mochiko sweet rice flour – and this I can find in the Asian aisle at the regular supermarket.  (Make sure you buy mochiko, the Koda Farms brand, with the blue star on the box.  Do not try this recipe with regular "rice flour" from the health food store – it must be mochiko!)  You can use either potato starch or cornstarch for dusting. Whenever we go to 99 Ranch market (the Chinese market), I stock up on cans of sweet red bean paste (I'll buy 5-10 cans at a time).  You can make the red bean paste from scratch, but the one in the can is actually pretty good – so I just make it a little bit easier on myself and use the canned sweet red bean paste.
*If you are looking for other types of mochi, try my Apple Pie Mochi, Pumpkin Pie Mochi, Yomogi Daifuku, or Kusa Mochi recipes.
Daifuku Mochi: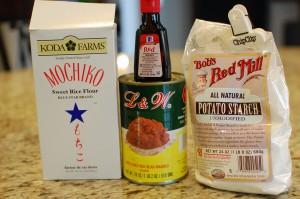 1 1/2 c. Mochiko Rice Flour
1 c. sugar
1 1/2 c. water
1/4 tsp. salt
2 drops rice vinegar
2 drops red food coloring
1/2 can sweet red bean paste
Mochi Coating:
4 T. potato starch (katakuriko) or cornstarch
2 T. sugar
1.  Combine the mochiko, sugar, salt, water, and rice vinegar in a microwavable bowl.  Mix thoroughly with a whisk.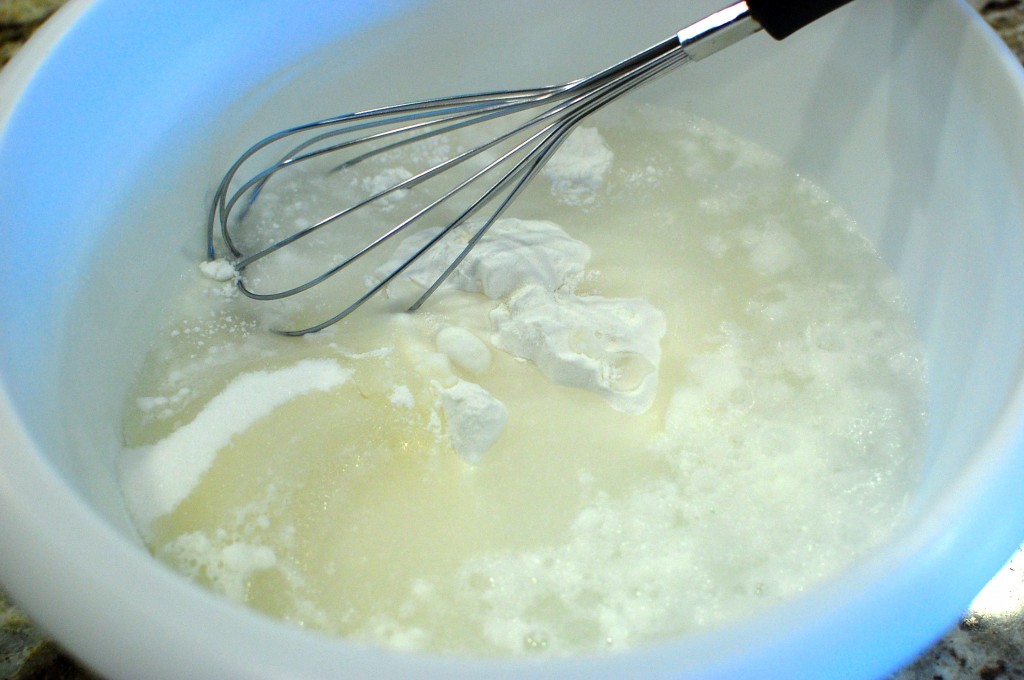 2.  Add the food coloring (optional) and whisk until your mochi batter turns completely pink.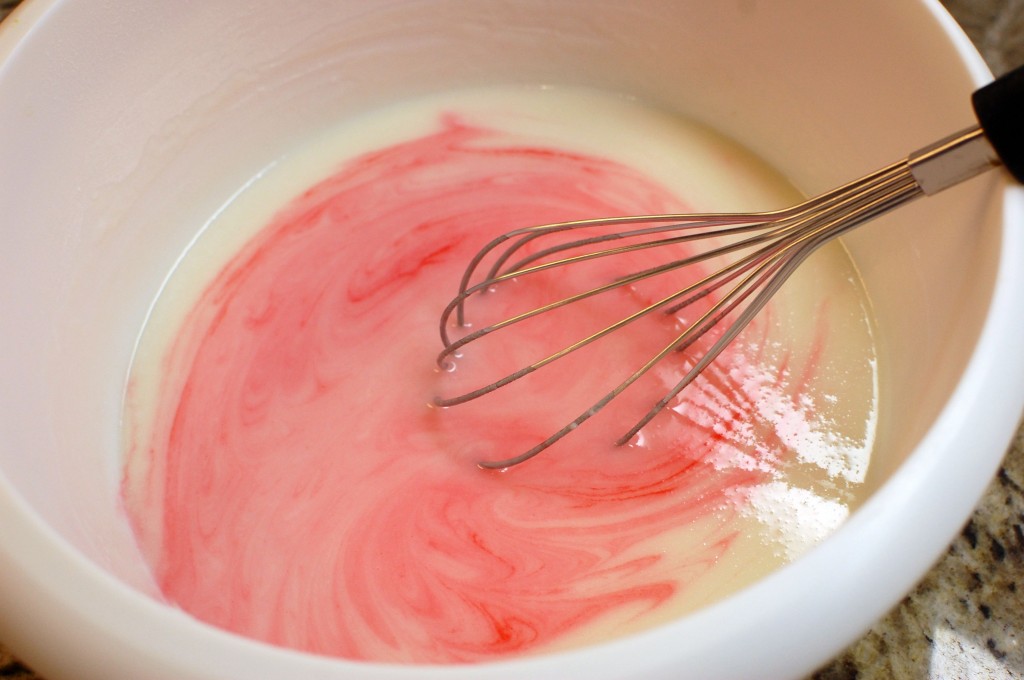 3.  Cover the bowl loosely with plastic wrap, and microwave for about 9 minutes on high.  Taste a small piece of mochi and make sure the grainy texture has cooked out.  If still grainy, microwave for 1 more minute.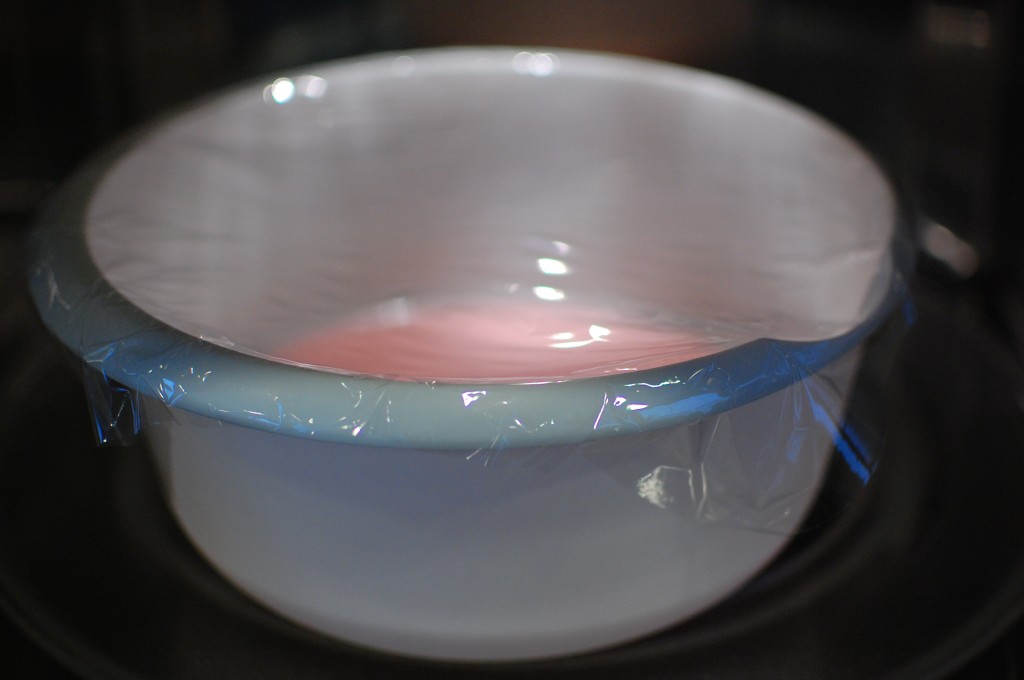 4.  Meanwhile, portion the sweet red bean paste into 12 smooth balls.  (I use a cookie scoop to do this.)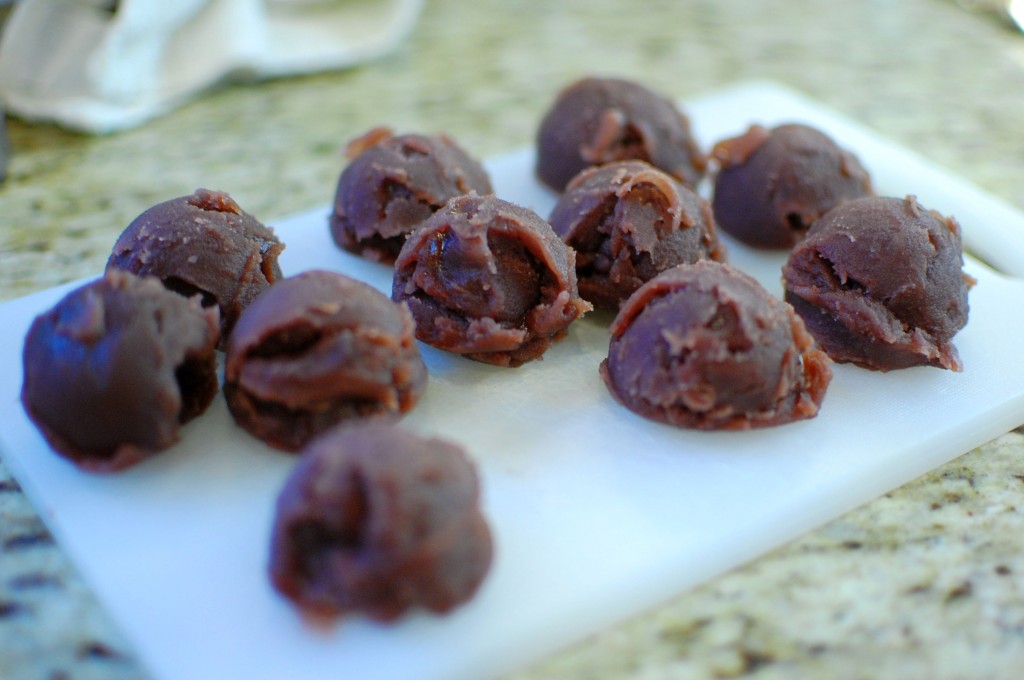 5.  Mix the mochi coating ingredients together, and sprinkle half of it onto a large cutting board.  Dump the hot mochi onto the cutting board.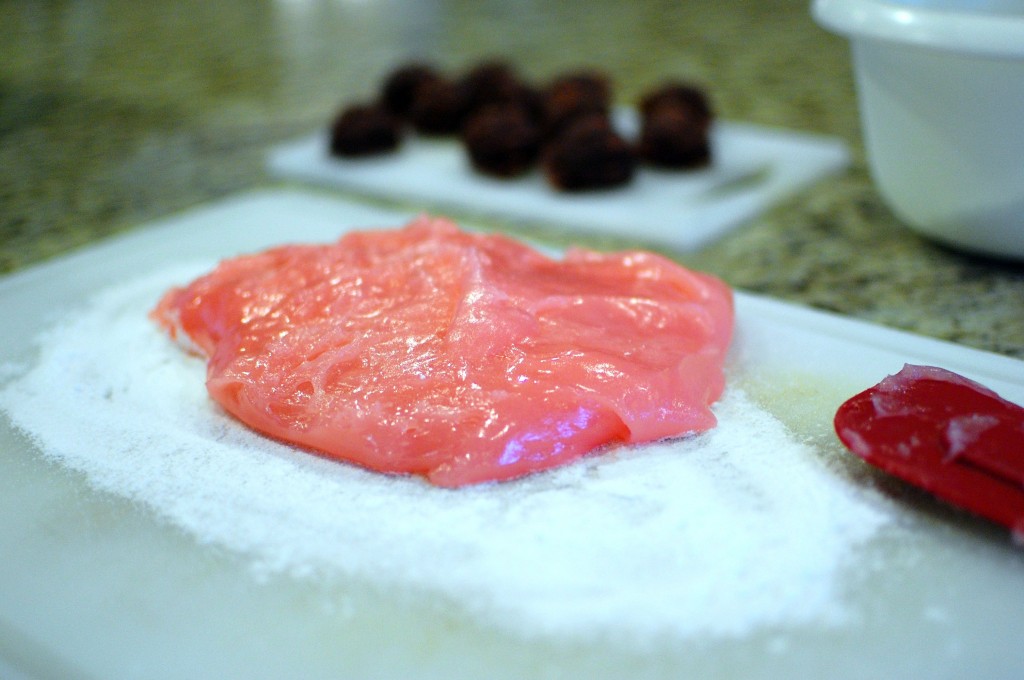 6.  With the back of a large chef knife, push the mochi into an even rectangle shape.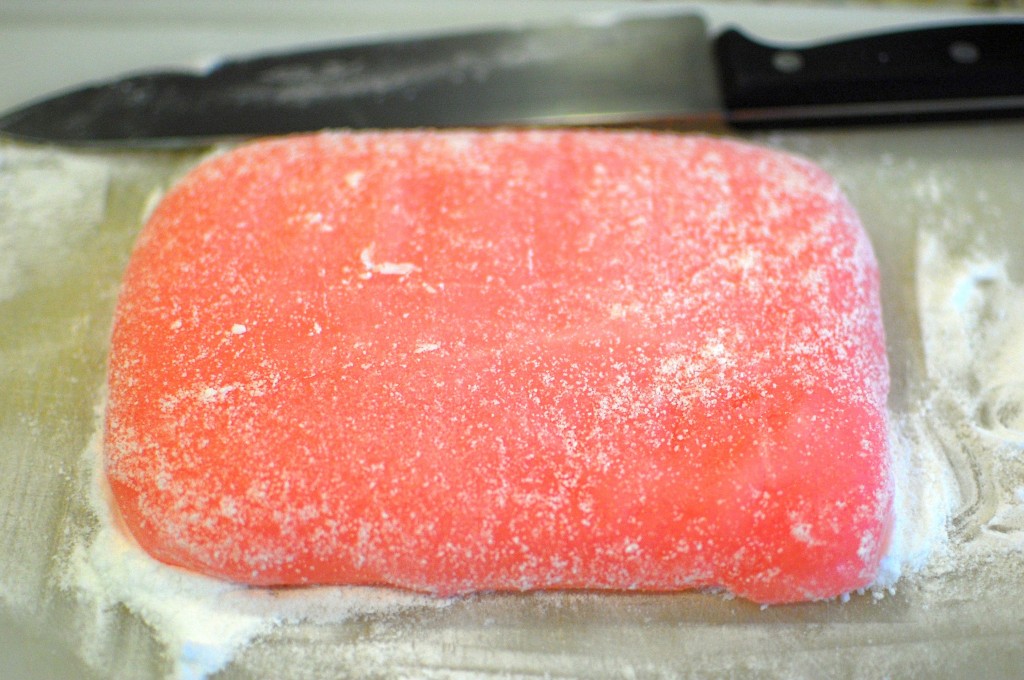 7.  Cut the rectangle into 12 even pieces.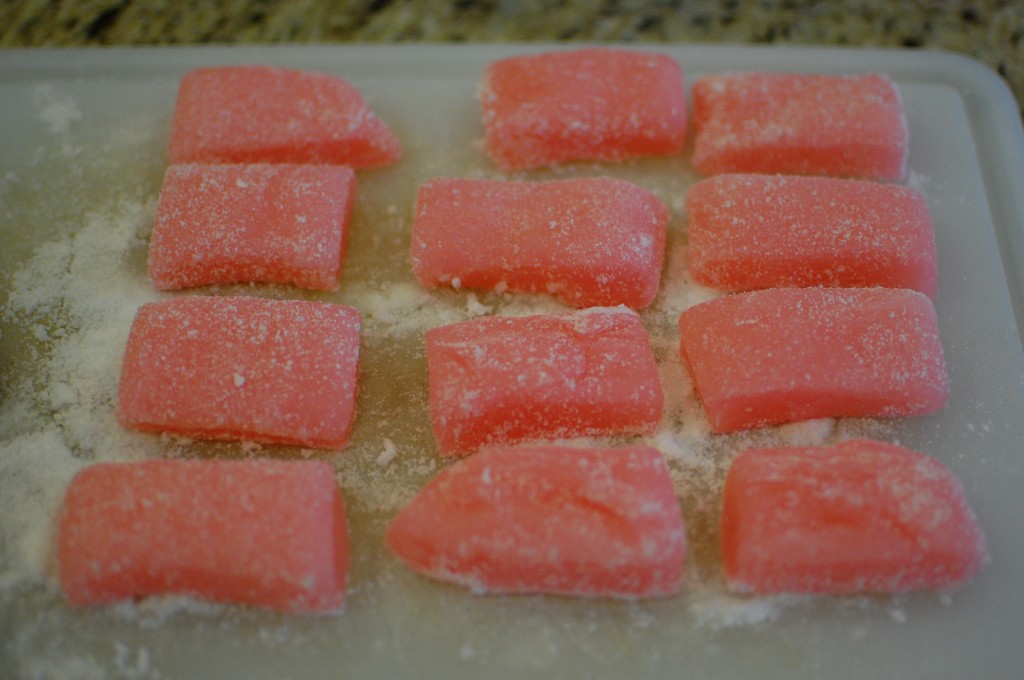 8.  While the mochi is still hot, take one piece and flatten it with your hands.  Put a portion of the sweet red bean paste on top.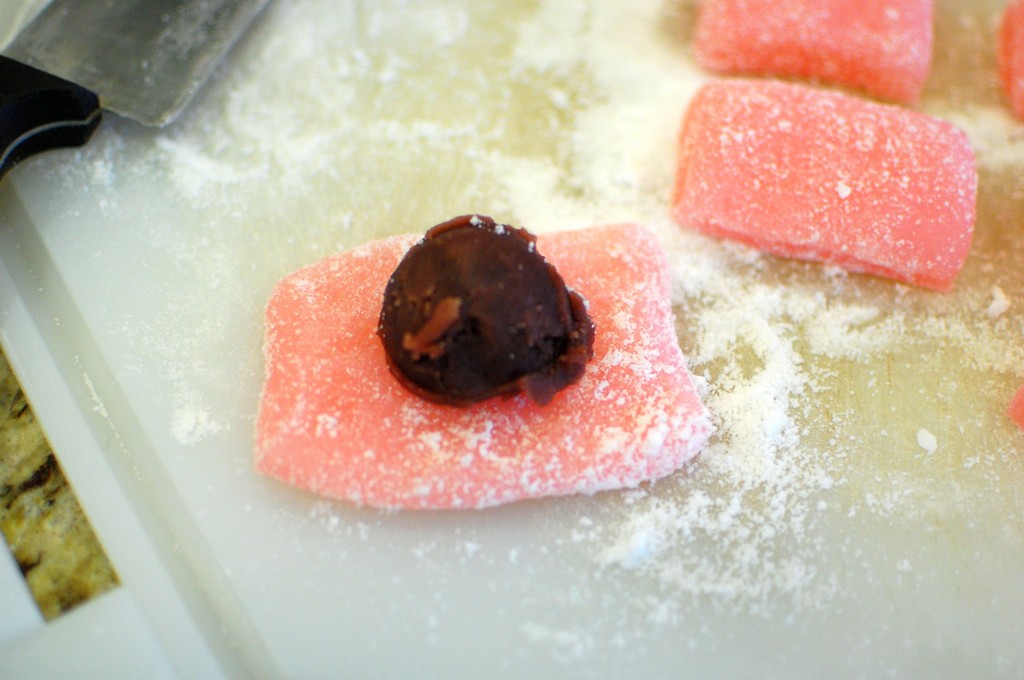 9.  Carefully fold the rectangle corners upward and continue to pinch until the filling is enclosed.  Dust the bottom and top with the mochi coating.  Repeat this process for the rest of the mochi pieces.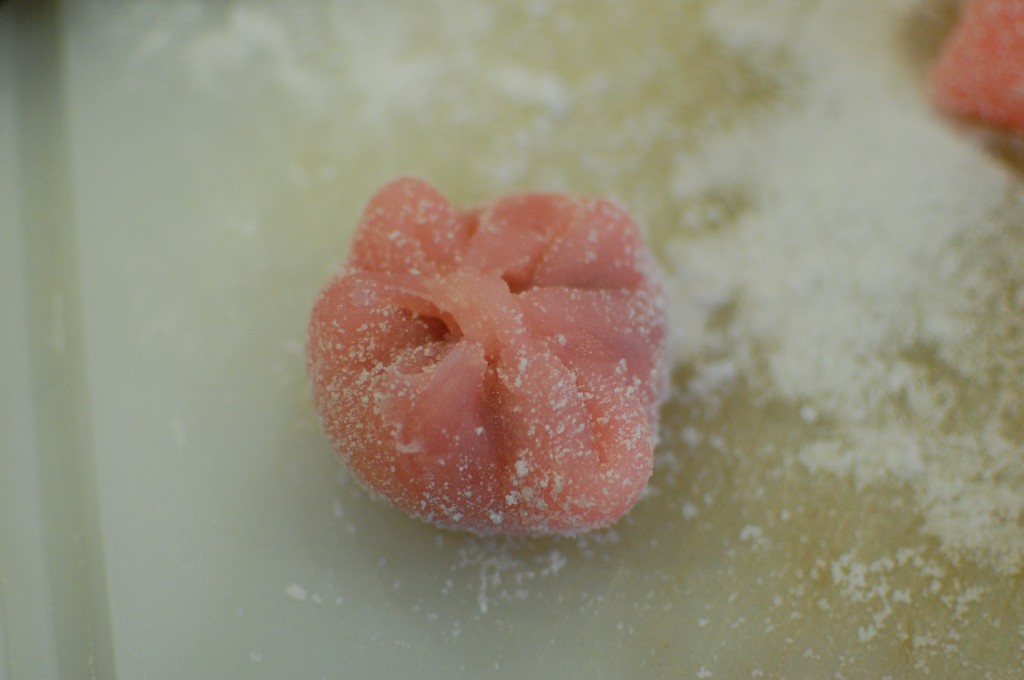 10.  The mochi is best eaten the same day, or at the latest the next day.  Cover with plastic wrap to store at room temperature.