I love fresh baked soft pretzels!   There is something intoxicating about the smell of the baking dough…  and when you bite into one, hot from the oven, the soft interior combined with the crispy bite of salt on the top…. YUM!
My trick when making home baked pretzels is to use beer in place of the water in the dough.  The beer gives the pretzels an added depth of flavor… from ordinary, to something really special.  However, the pretzels do not become overly beer-ish… the flavor is very subtle… more of an enhancement than anything else.  Use any mild beer… I chose Hefeweizen, since that is what I had in the refrigerator.
Feel free to customize your pretzels with your favorite toppings!  You can go sweet, or savory… and I listed a few of my favorite toppings down below.  For half of this batch, I used fresh rosemary from the garden and pink Himalayan Salt.  For the other half, I used coarse sea salt – this is my go-to "basic" soft pretzel.  Enjoy!
Soft Baked Pretzel Dough:
3 3/4 c. flour
1 1/3 c. beer
3 T. sugar
2 T. olive oil
1 1/2 tsp. salt
1 1/2 tsp. yeast
Egg wash:
Pretzel Toppings:
coarse sea salt or kosher salt (for classic pretzels)
pink Himalayan salt + chopped rosemary
sesame seeds or poppy seeds
Parmesan cheese + dried basil
cinnamon + sugar
chopped jalapenos + grated cheddar
1.  Add the beer, sugar, olive oil, and salt into the bottom of the bread machine pan.  Put the flour on top, then form a small depression in the center of the flour for the yeast.  Set the bread machine to the "basic dough" function and turn on.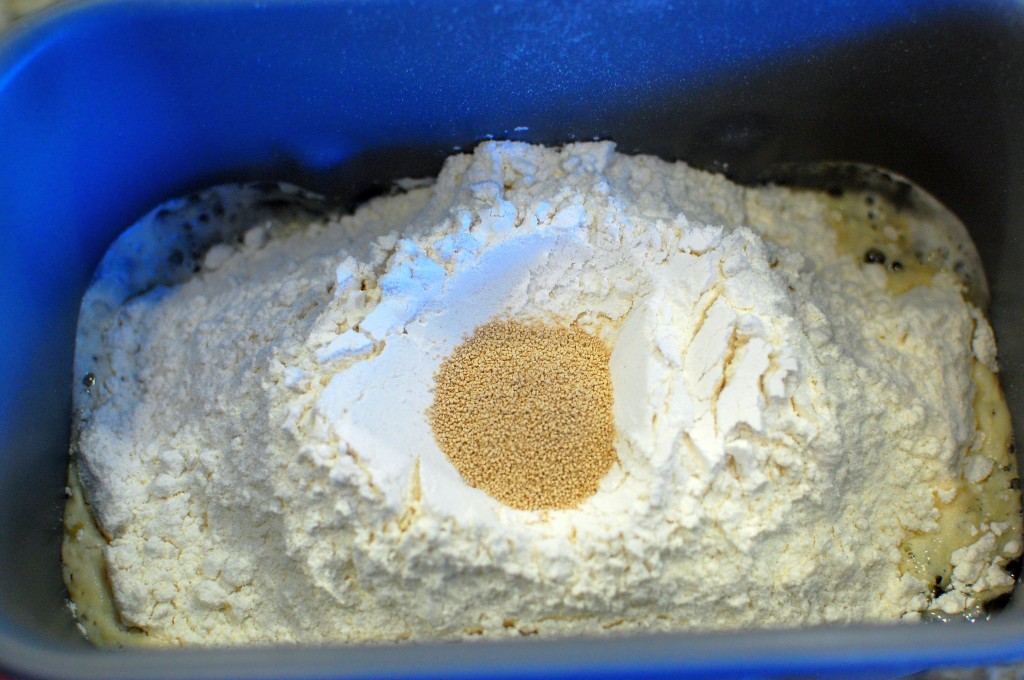 2.  Remove the dough to a floured surface.  Divide the dough in half, set aside.  Divide the other half into 8 equal pieces.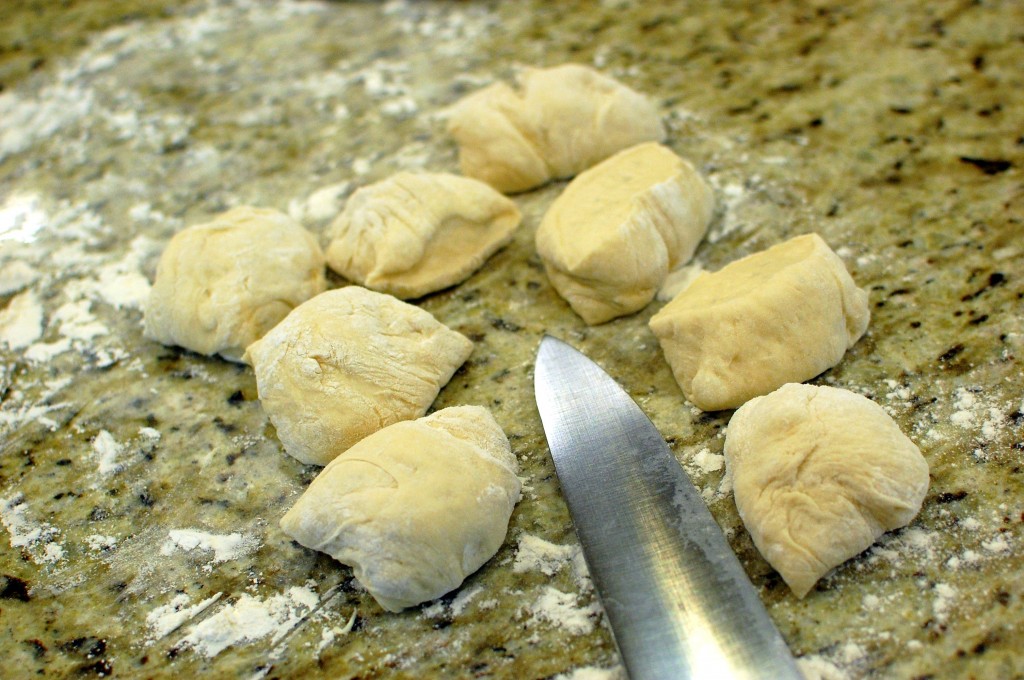 3.  Roll each piece between the hands to form a long tube of dough.  Repeat with the remaining  dough pieces.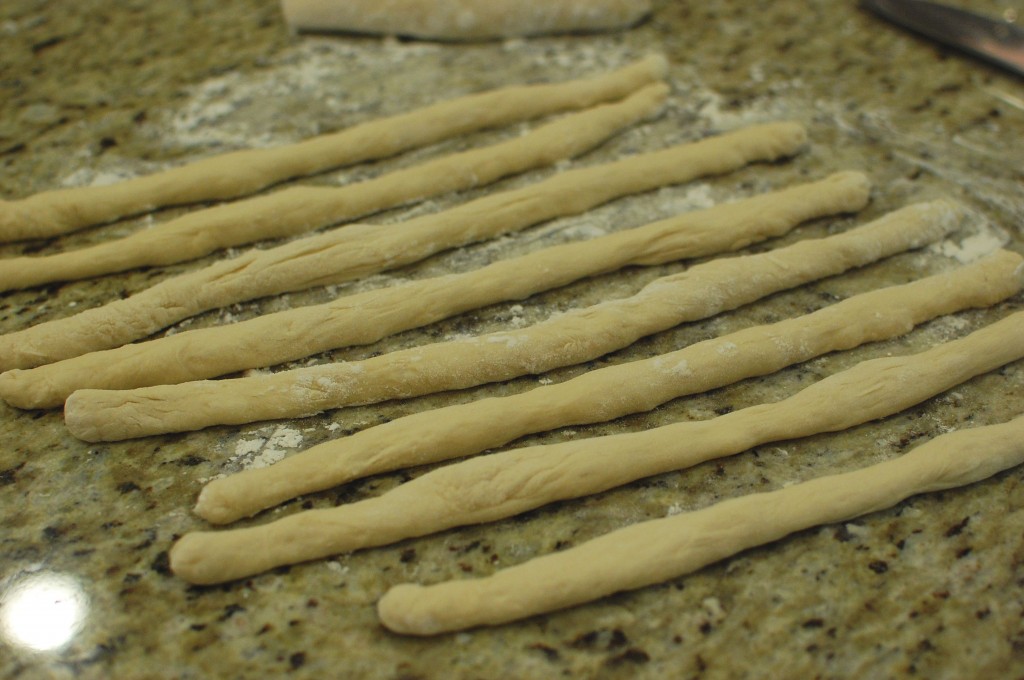 4.  Fold each tube of dough into a pretzel shape directly on the surface of a silicone or parchment lined baking sheet.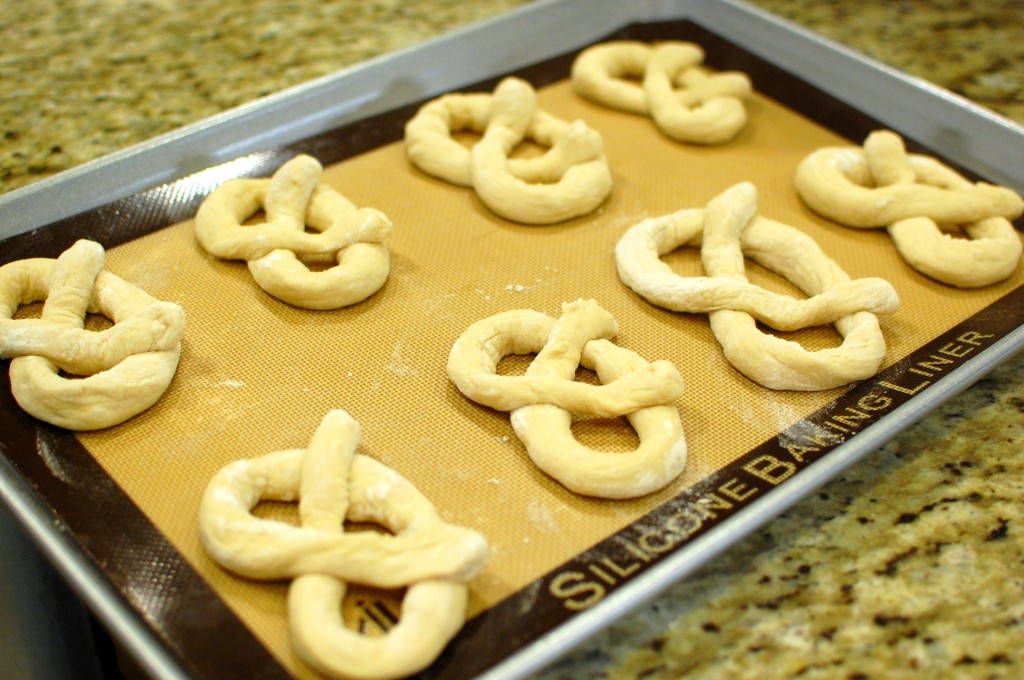 5.  Cover the pretzel dough shapes loosely with plastic wrap and set aside in a warm draft free location to rise for 1 hour.  Repeat with the remaining half of dough.  Preheat oven to 400 degrees.  Once risen, brush the pretzels with egg wash and sprinkle with desired toppings.  ( If you want to be VERY decadent… skip the egg wash, and brush the dough with melted butter instead!)  For classic pretzels, sprinkle with coarse salt.  For a gourmet option, sprinkle with chopped fresh rosemary and a little bit of pink Himalayan salt.  (Or use any variety of toppings you desire!  Be creative and have fun with it!  These are your pretzels, so choose your own favorite flavors!)
7.  Bake the pretzels one sheet at a time at 400 degrees for 10-12 minutes.  Remove to a wire rack to cool.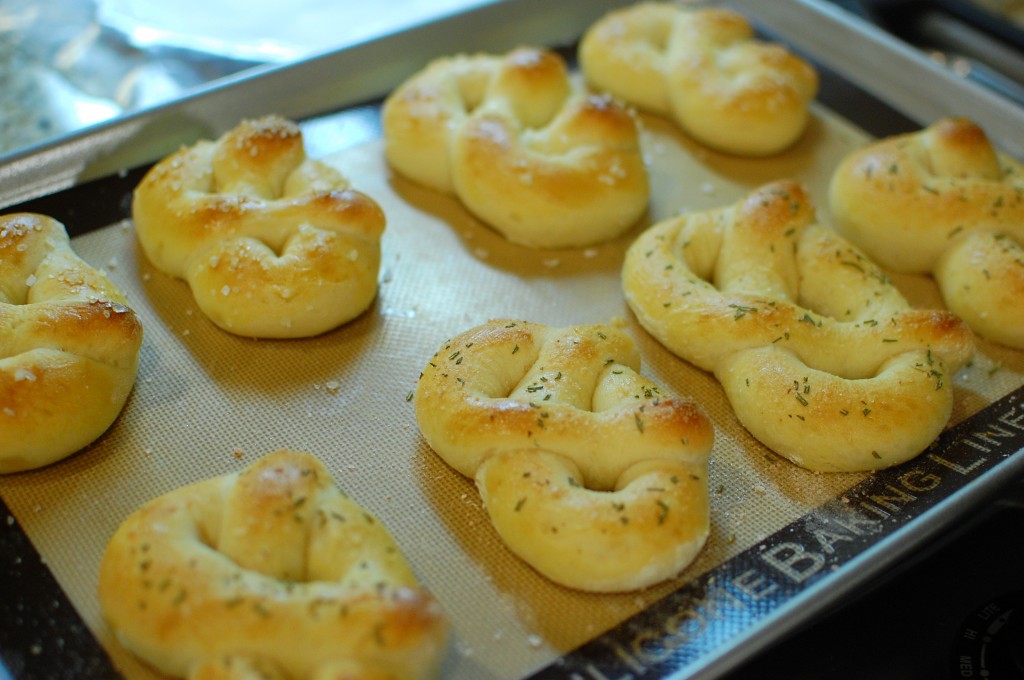 Serve immediately.  Eat them fast… since this is basically bread dough, it does tend to go stale after 24-48 hours.  (You can freeze individually wrapped pretzels and reheat later)