With Valentine's Day coming up, I've been noticing ads all over the internet for gourmet chocolate dipped strawberries.  But seriously, $39.99 for a dozen strawberries (plus shipping)???  That's insane!  I found fresh strawberries on sale at the supermarket for $1.99 the other day.  With a small portion of the melting chocolate I already have in the pantry (I got bags of Wilton Candy melts on sale at Michael's for $1.99 a bag)… I can make a dozen "gourmet" chocolate dipped strawberries for less than $5.  If you want an impressive gourmet treat to serve (or give as a gift) this Valentine's Day… make it yourself at home!  (Your wallet will thank you.)
For dipping chocolate, I find it the easiest to use Wilton Candy Melts.  Wilton Candy Melts come in dark chocolate, milk chocolate, and white chocolate – and you can also find pink and red colored white chocolate if you want a splash of color to your gourmet strawberries.  Regular price, I can get a 12 oz. bag for $3.99, but after Christmas, I got lucky and found them on sale for $1.99 – so I stocked up.  To coat half a dozen strawberries, you will probably only use 1/4 of a bag, so you don't need much.  I would just buy one bag of white, one bag of dark chocolate, then save the left over chocolate for another use.  (You can find the Candy Melts at most craft stores like Michael's or Jo-Ann's, or online.)
If you can't find Wilton Candy Melts, most supermarkets carry Dolci Frutta in the produce section (conveniently, next to the strawberries).  These are chocolate candy melts that come in a round cardboard microwaveable container.  Again, you probably won't need the entire package for half a dozen strawberries – so don't nuke the whole thing according to the package directions, just dump a small portion of the melts into a custard cup and microwave.
Now, the trick to doing this right, is that you must use DRY strawberries.  Any water or moisture on the strawberry will make the chocolate seize, and you will end up with ugly, grainy, messed up chocolate that won't work at all for dipping.  So make sure your berries are totally DRY!  Truthfully, the drying part is what takes the longest.  I left my berries to air dry for 20 minutes (after patting dry with a paper towel).  Once the berries were dry, it only took me 10 minutes to coat and decorate the berries.  So really, you can make these (from start to finish) in 30 minutes.  It's so easy!
Chocolate Dipped Strawberries:
Fresh Strawberries (I used 1/2 dozen, but you can make more easily.)
Chocolate or White Chocolate Candy Melts
Various toppings: chopped nuts, coconut, crushed cookie, chocolate sprinkles, etc.
1.  Wash your strawberries, discarding any with bruises or cuts.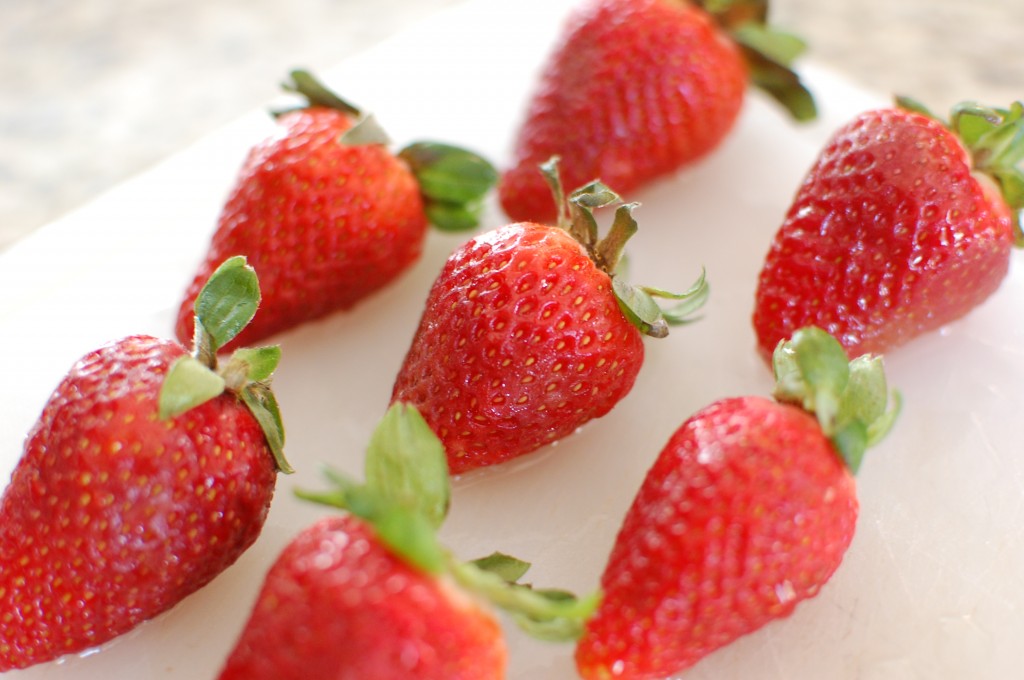 2.  Dry the strawberries thoroughly – pat gently with a paper towel (including the leaves), then set to air dry on a stack of paper towels.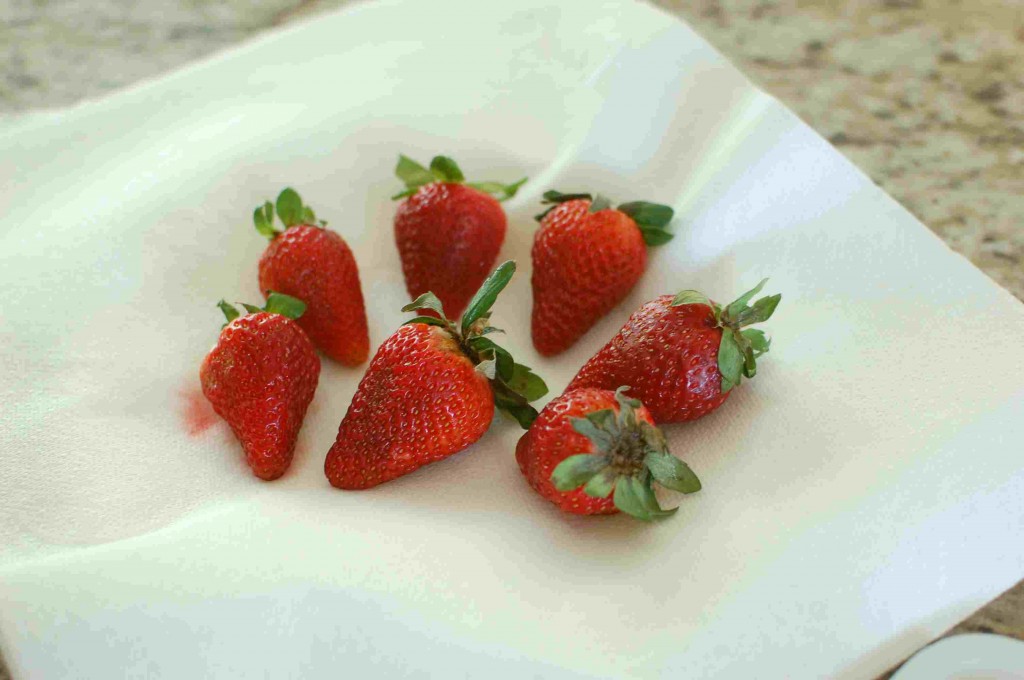 3.  Put your candy melts into small custard cups or rice bowls.  Depending on how many strawberries you want to dip – you may want to start with just a small amount – you can always melt more chocolate later if you need to.  (If you are only using one type of chocolate, you may want to melt more than I am showing here.  But since I was doing half in white chocolate, half in dark chocolate – I only needed two custard cups full of melts to dip about half a dozen strawberries.)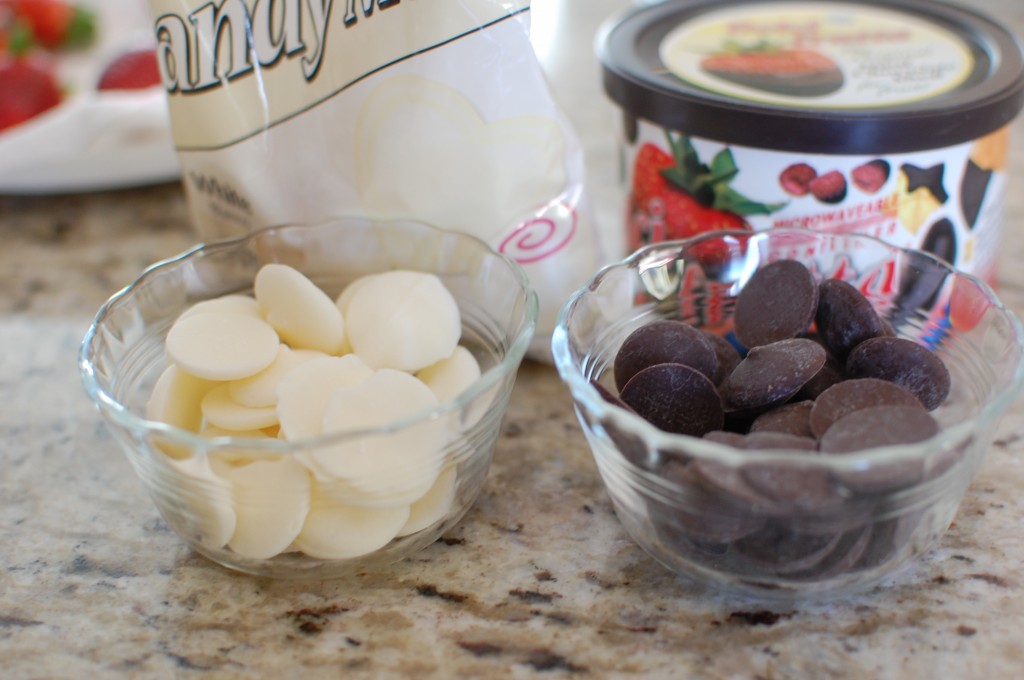 4.  Microwave the candy melts (stirring in between) at 50% power in the microwave, for 30 second intervals.  It took me about 3 to 3 1/2 minutes total to get the chocolate fully melted.  (It's important that everything you use is completely dry!  If any water or moisture gets into the melting chocolate, it will seize and be ruined!  Use DRY bowls and DRY spoons!!!!)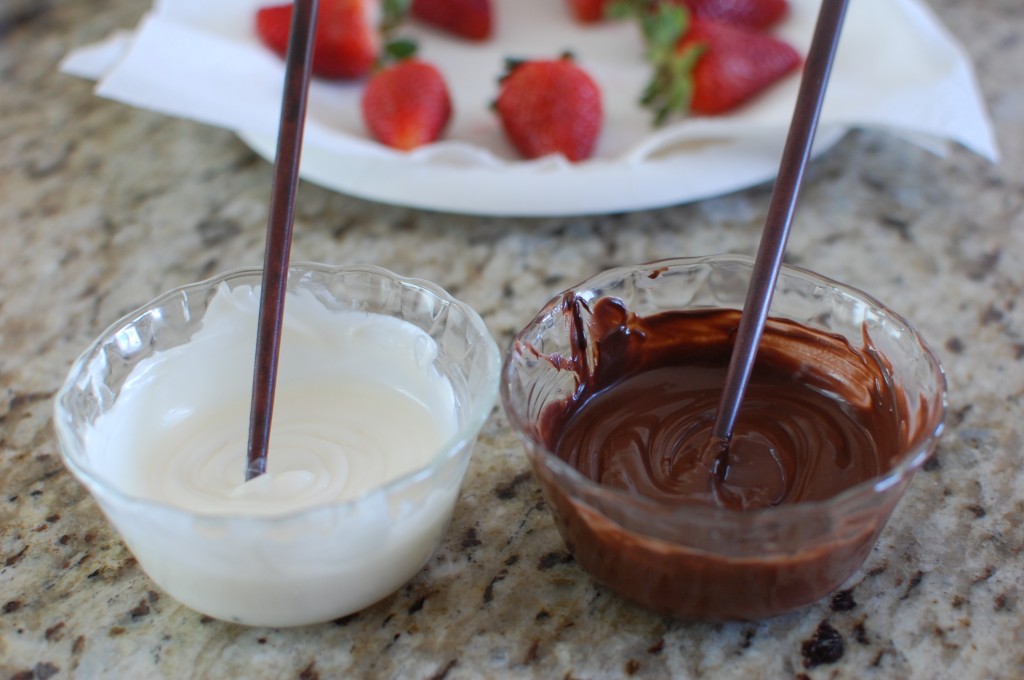 5.  Holding the strawberry by the leaves on the stem end, dip the strawberry into the melted chocolate, and turn to coat.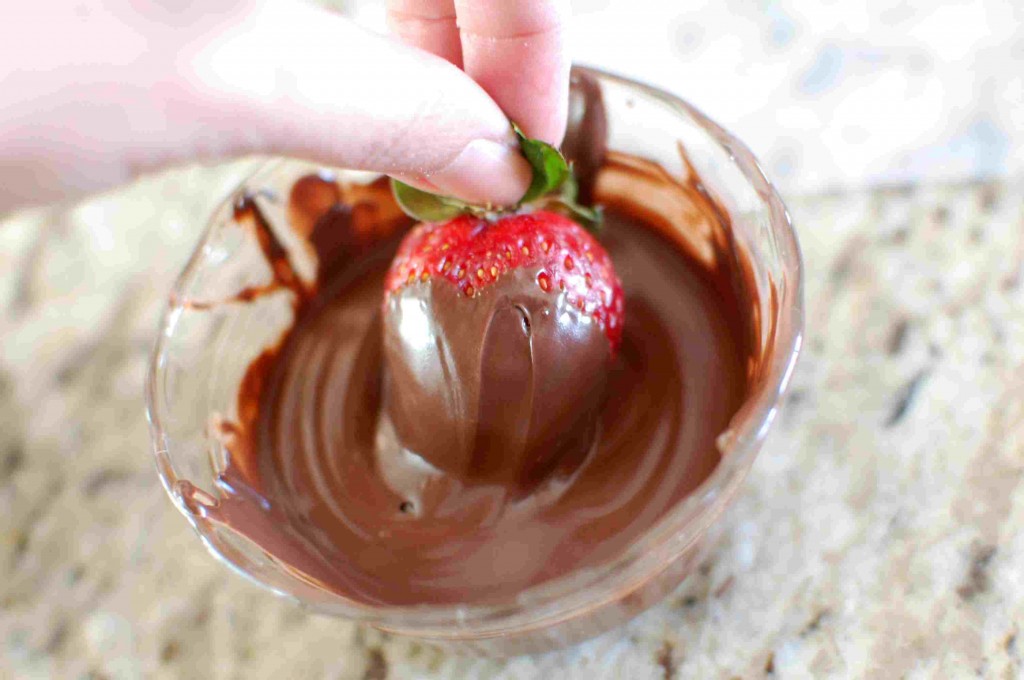 6.  Set the dipped strawberry on waxed paper to dry.  (I like to dip half in dark chocolate, half white chocolate.)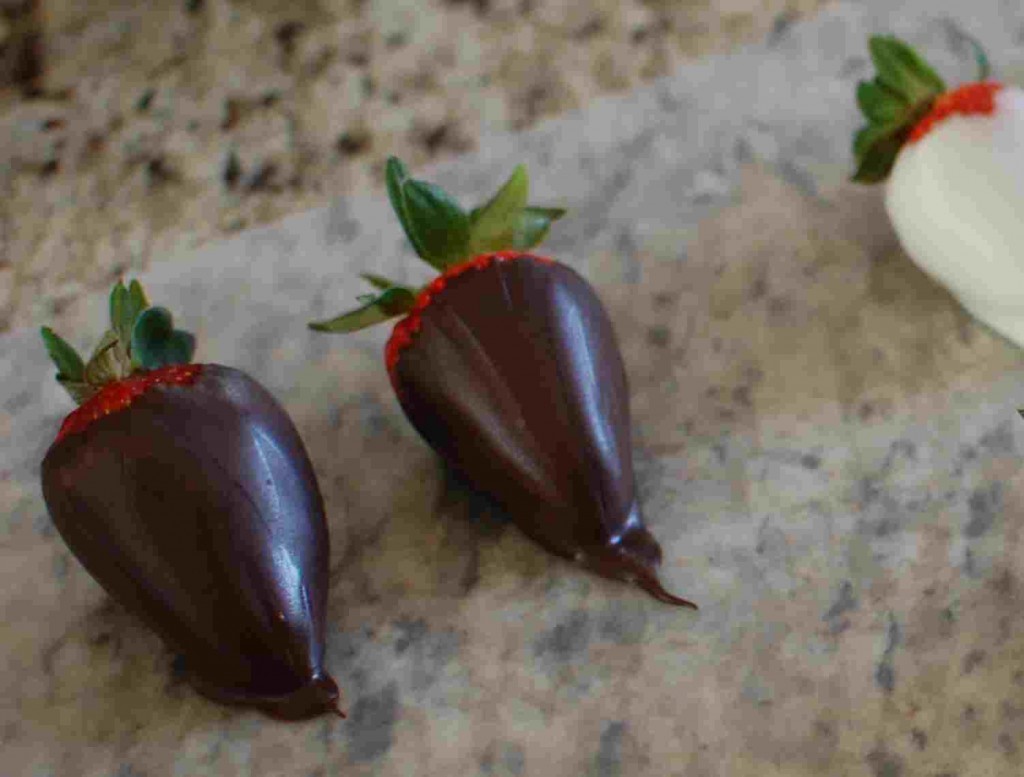 7.  If you want to coat some of the strawberries with a dry topping (which is nice, for variety), immediately after dipping in chocolate, sprinkle or roll into the desired topping, then set on the waxed paper to dry.  What kind of toppings?  Chopped nuts, grated coconut, mini chocolate chips, sprinkles, or crushed cookie bits are good choices.  Use whatever you have!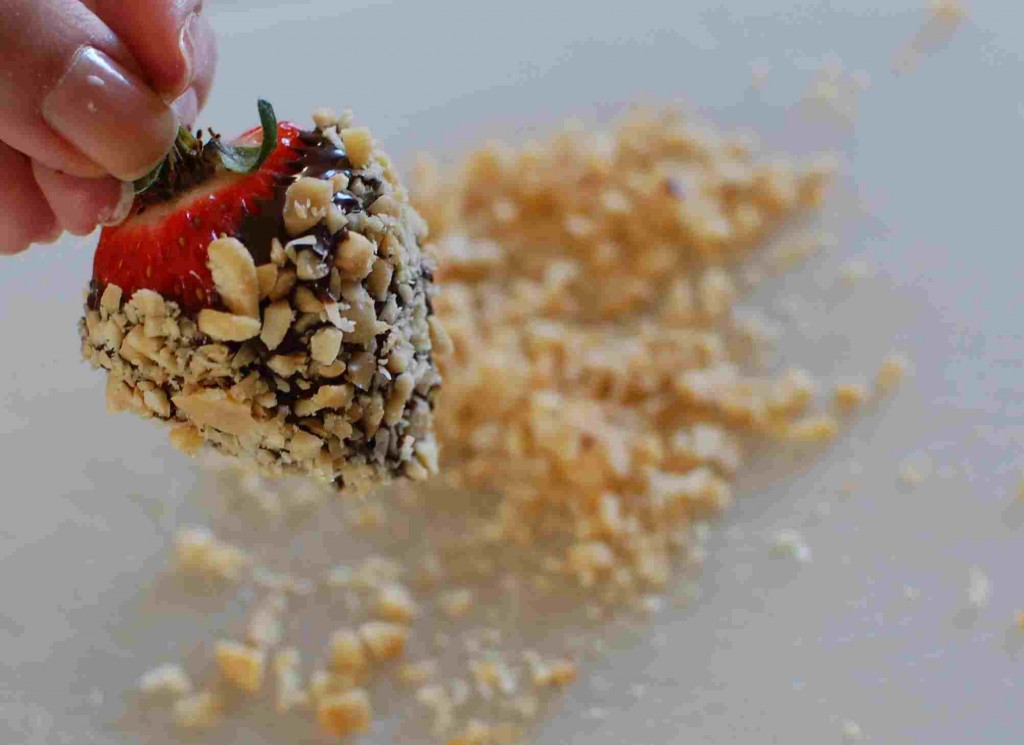 8.  To decorate the plain dipped strawberries, put the left over melted chocolate into a  ziploc sandwich bag.  (Microwave for 5-10 seconds to loosen the chocolate up a bit).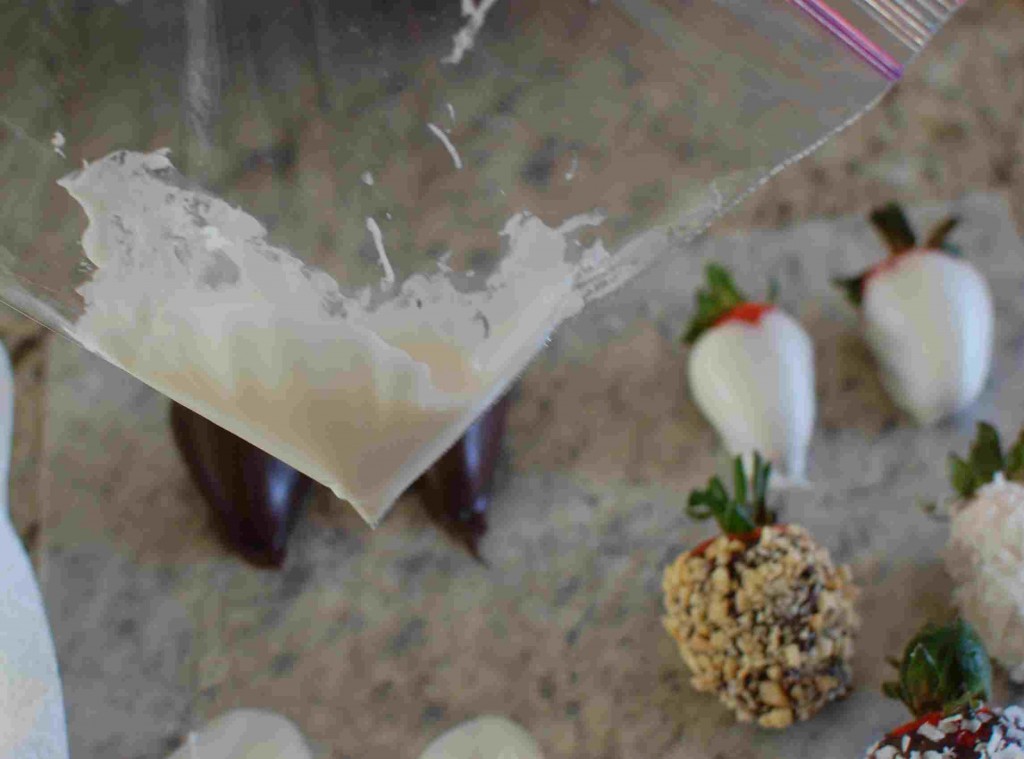 9.  Snip off a very small corner of the plastic bag, then drizzle chocolate over the dipped strawberry.  I think it looks nice to use a contrasting color – drizzle white chocolate over a dark chocolate dipped strawberry, and vice versa for a white chocolate dipped strawberry.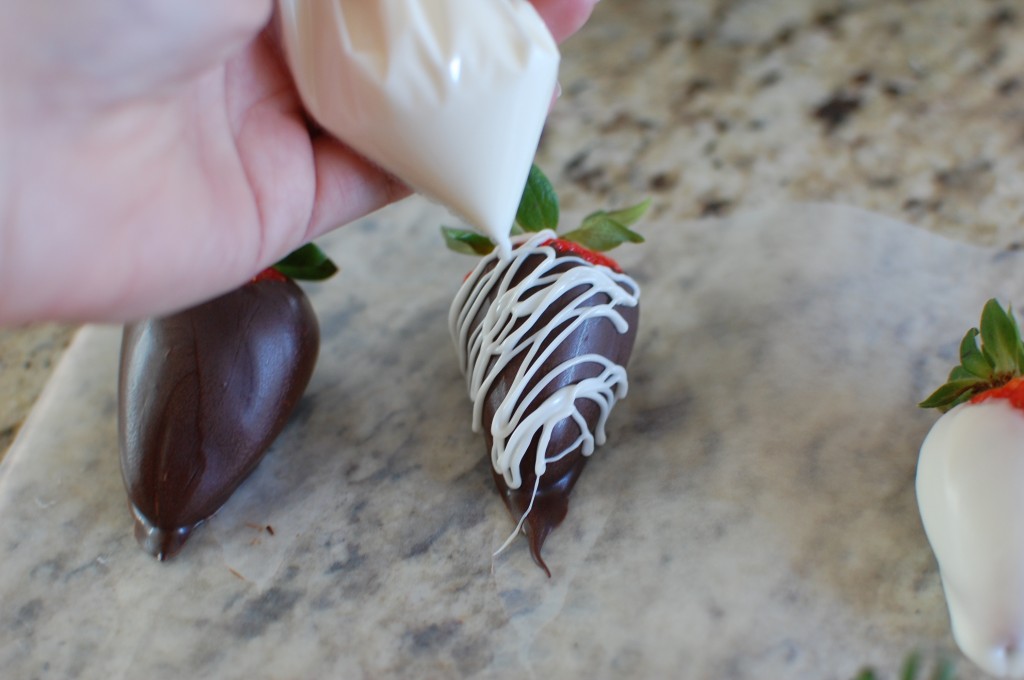 10.  Voila!  You now have the perfect treat for Valentine's Day – your homemade chocolate dipped strawberries!  (Cover with plastic wrap and store in the refrigerator for up to 3 days.)