There are a few different types of savory Chinese or Taiwanese "pancakes" (made with dough instead of batter).  One of these, is "Dan Bing," a soft tortilla like pancake which is filled with a thin green egg omelet.  The other popular type of pancake, is "Cong You Bing" (a.k.a. "green onion or scallion pancake") – a fried piece of dough with green onions layered inside.  You can buy these frozen at the Chinese supermarket – or you can easily make it from scratch at home, using basic pantry ingredients.
If you take a look at the ingredients – it's pretty basic – no fancy ingredients required.  I like to use sesame oil for more flavor, but you could easily make this with just plain vegetable oil instead.  You could also use different fillings – try green garlic or garlic scapes instead of green onion for a different twist.
Pancake Dough:
2 c. flour (all purpose)
3/4 c. hot water
1/2 tsp. salt
1 tsp. sesame oil
1 tsp. canola oil
Green onion filling:
1 tsp. sesame oil
6-7 stalks green onion, chopped
1/2 tsp. salt
Also:
1.  First, make the dough.  Put the flour, salt, and oils in the work bowl of a food processor.  Add the hot water, and process until a smooth dough ball forms.  (If needed, you can add more hot water, 1 T. at a time to form a smooth dough.)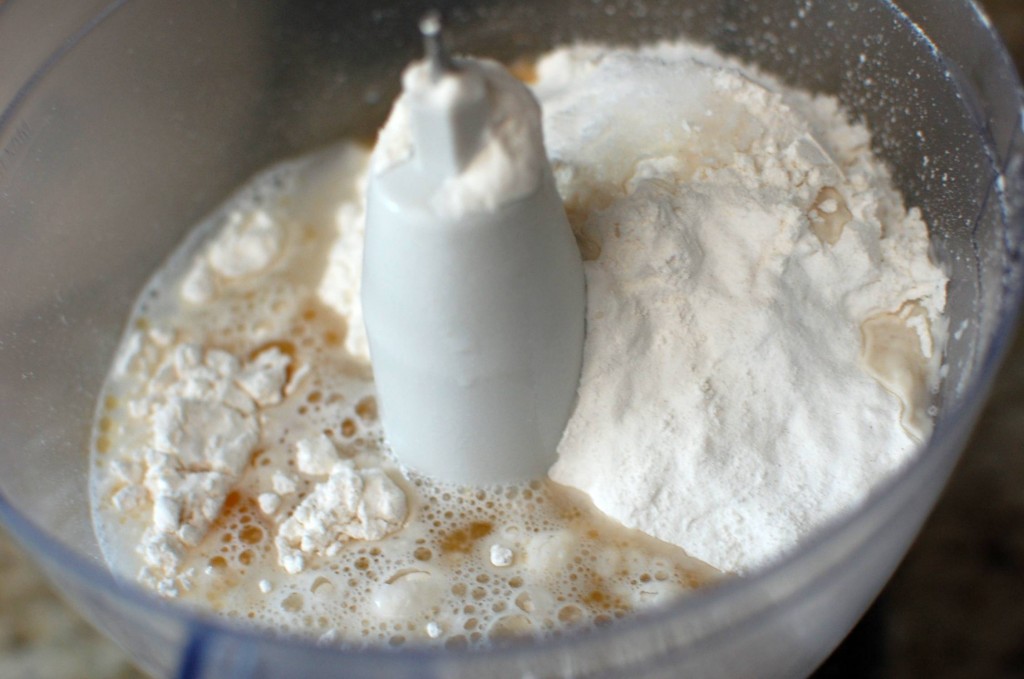 2.  Spin the ball in the food processor about 25 times to knead.  Allow to rest for about 30 minutes.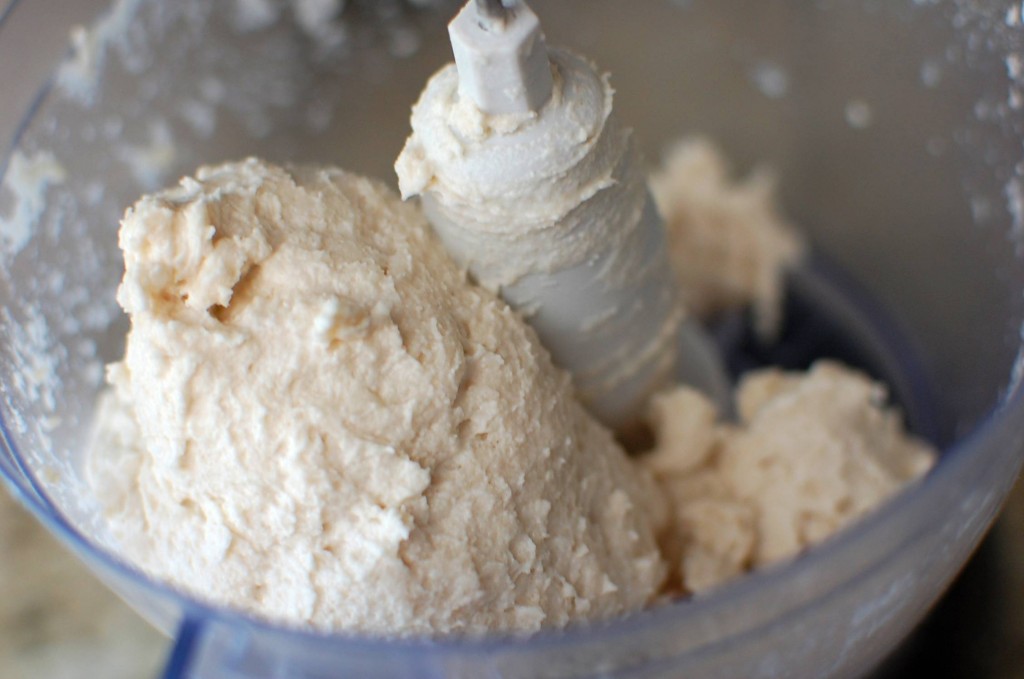 3.  Meanwhile, chop the green onions and toss with the salt and sesame oil.  Set aside.
4.  Turn the dough out onto a floured work surface, and cut into 8 equal pieces.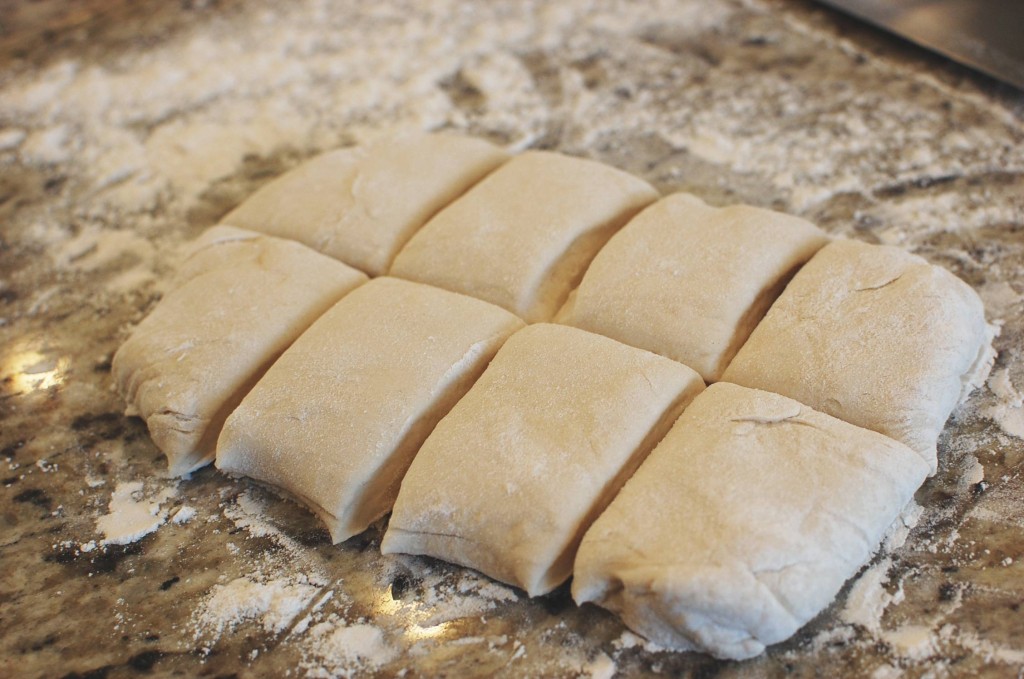 5.  Roll each piece into a thin 8″ circle.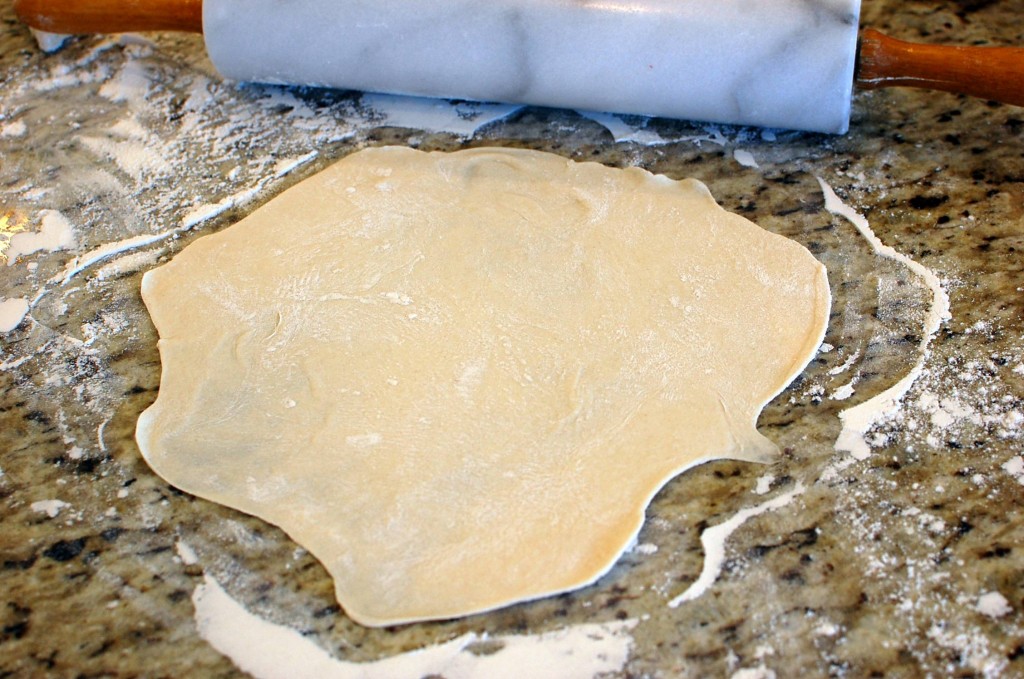 6.  Spread 1/8 of the green onion filling mixture over the surface of the dough.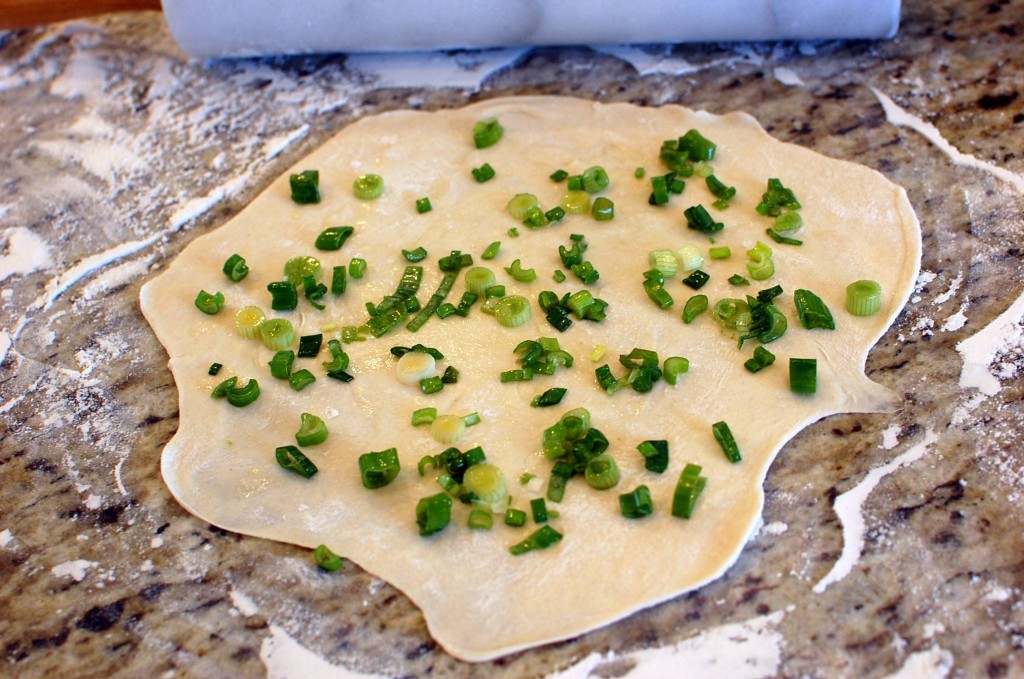 7.  Starting at one edge, roll the dough up into a cigar, cinnamon roll style.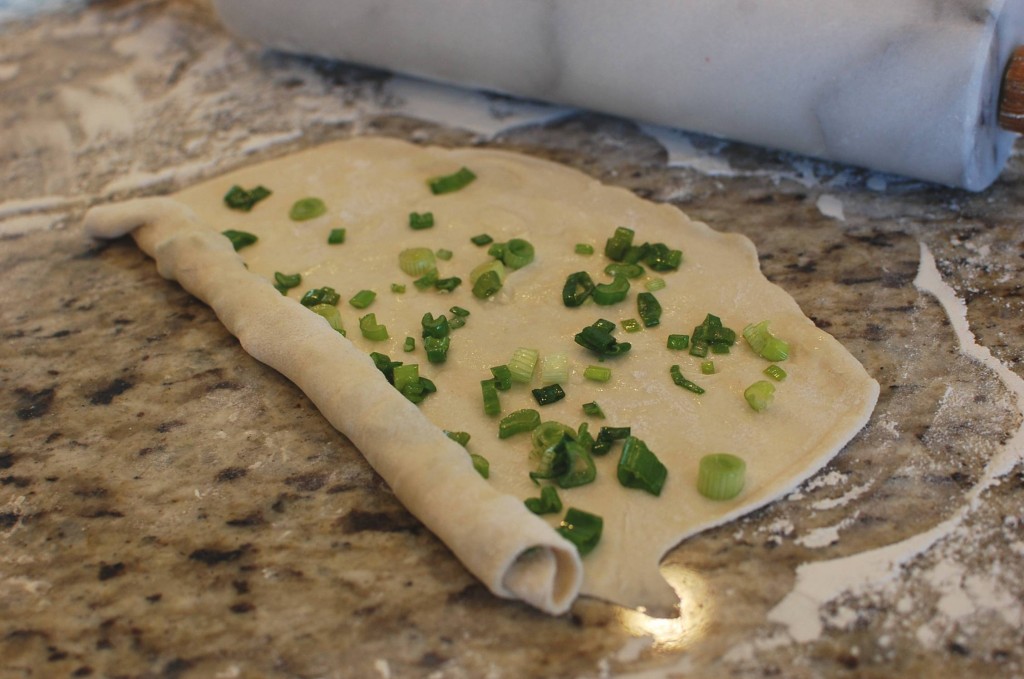 8.  Roll the cigar into a round snail.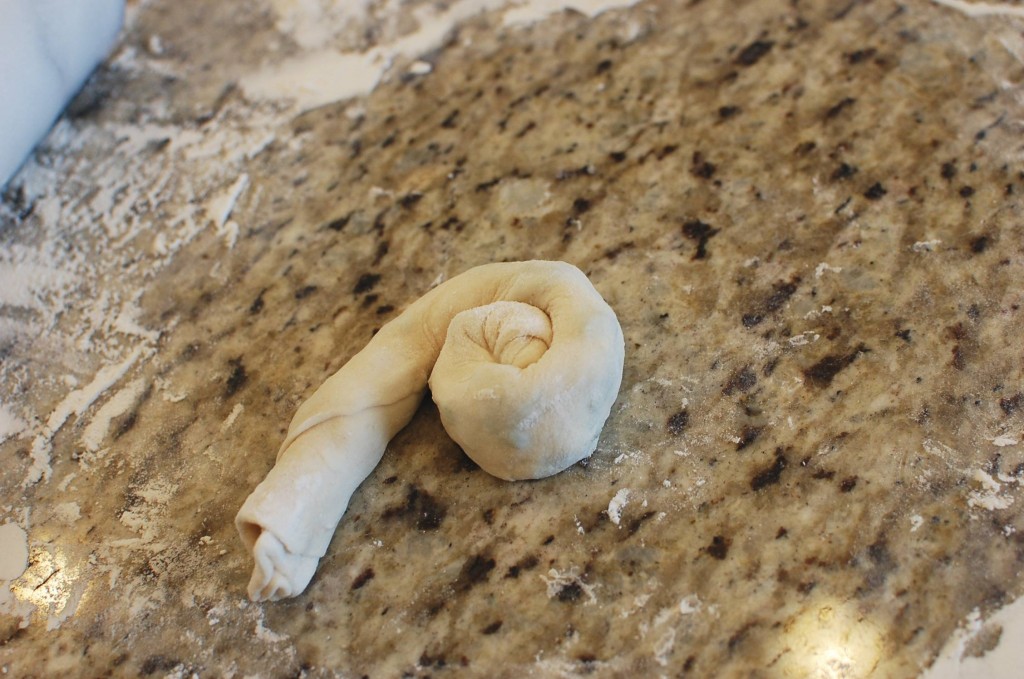 9.  Dust with flour and roll the snail into a 5-6″ circle.  Set aside and repeat with the other dough pieces.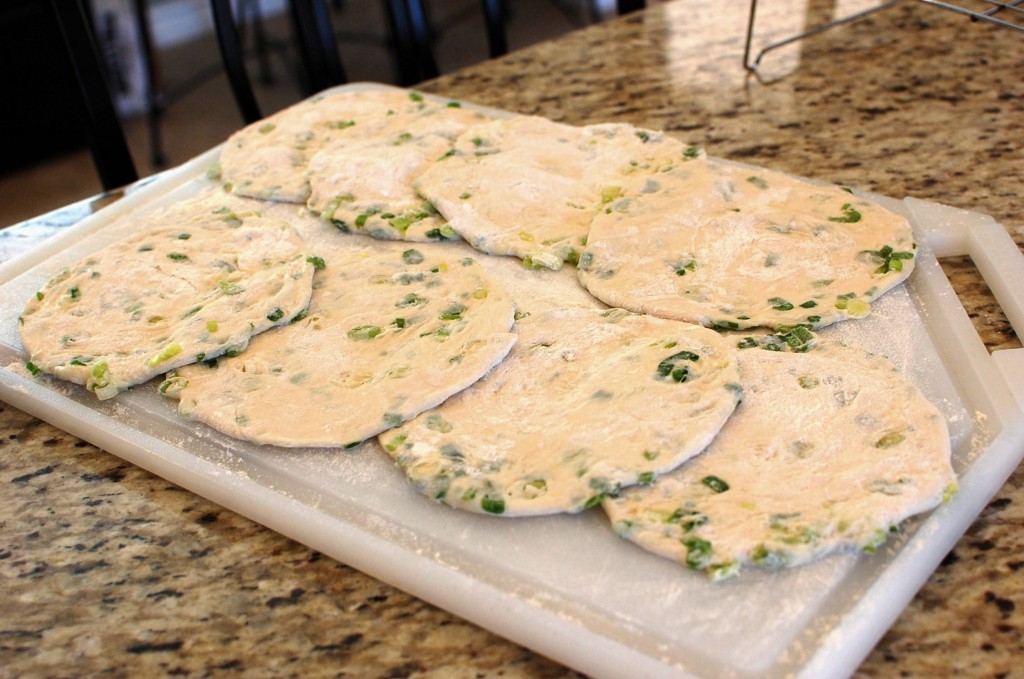 10.  Heat a few teaspoons of oil in a large frying pan, over medium heat.  Add two of the green onion pancakes, and fry for about 2 minutes (until the bottom is golden).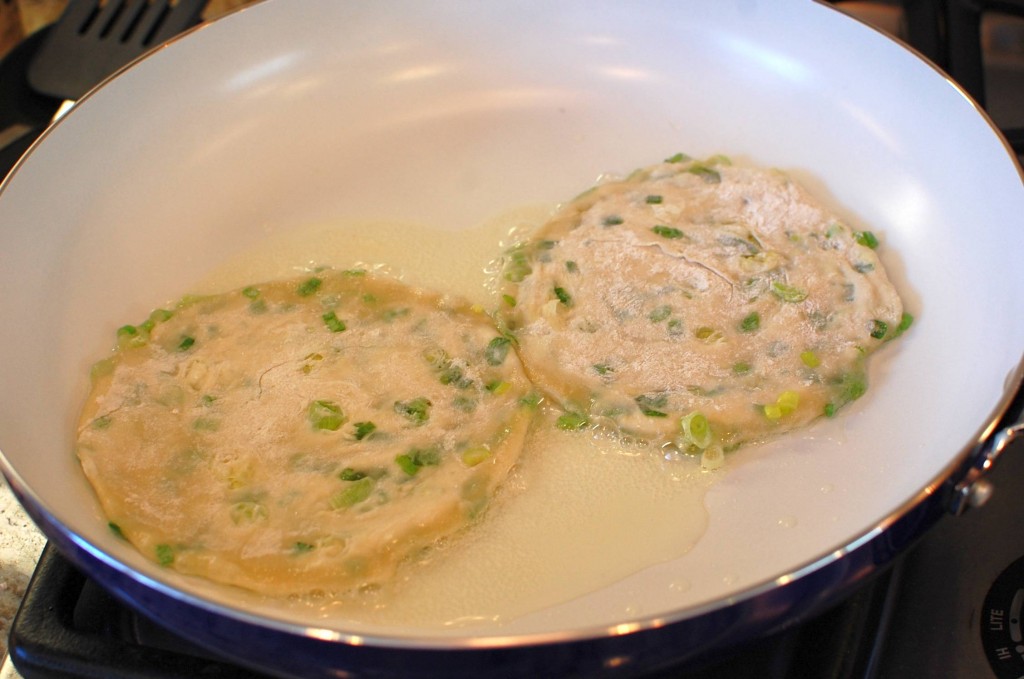 11.  Flip over and cook an additional 1-2 minutes until done.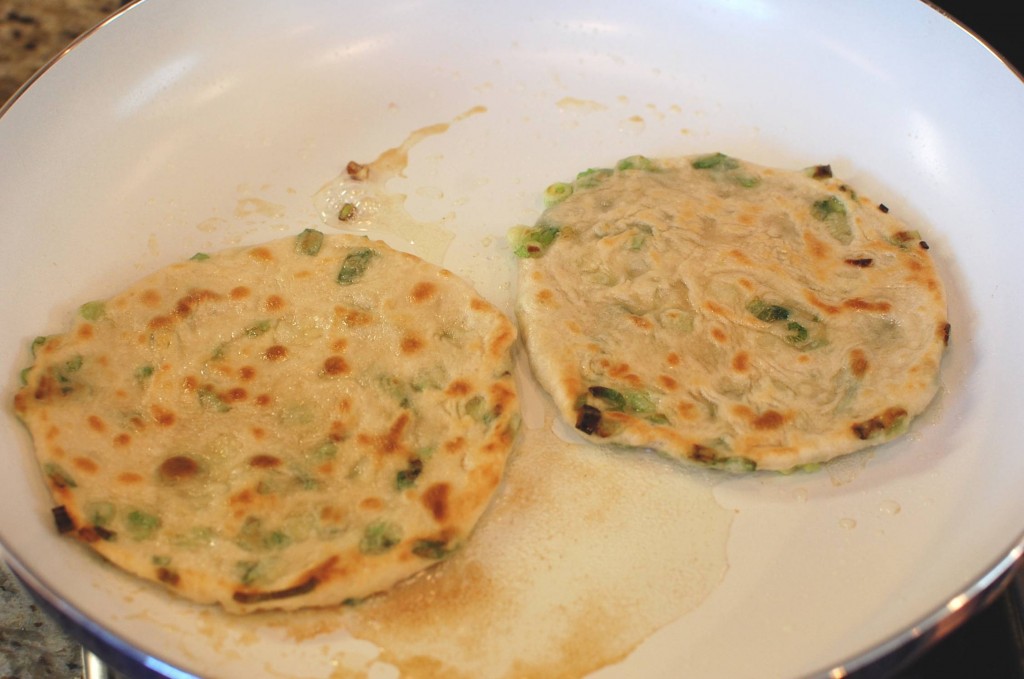 12.  Drain on paper towels.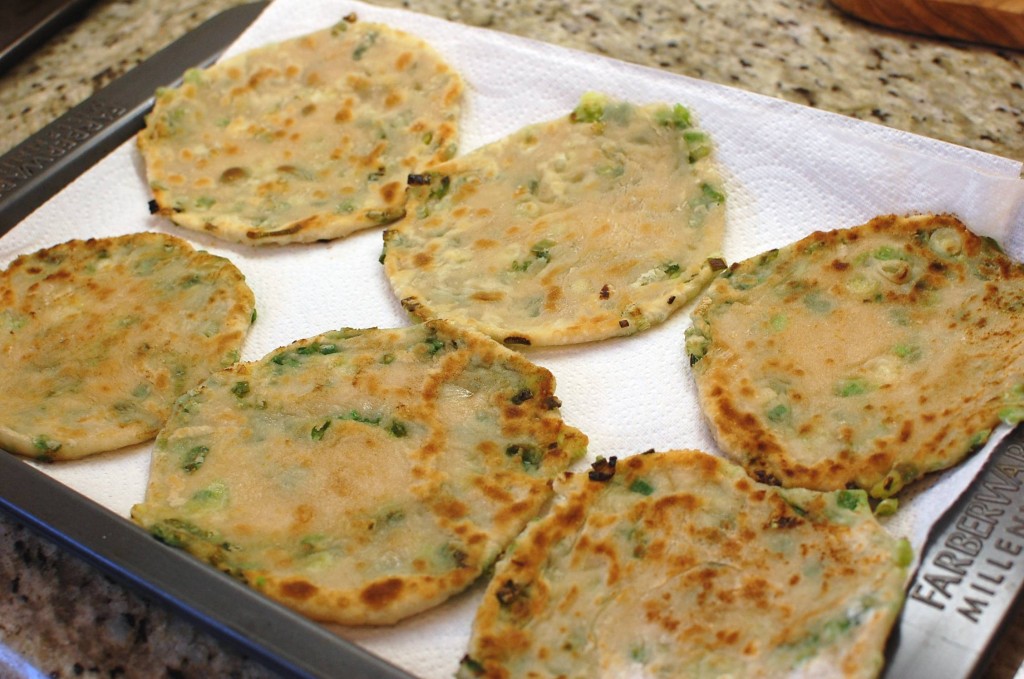 13.  Serve hot with a little bit of soy sauce.