Butternut squash risotto is a wonderful warm fall dish – it's comforting and is a rich and satisfying meal for a cold fall or winter evening!  If you have a lot of pumpkin puree leftover from Halloween… you can even substitute the butternut squash for pumpkin with no problem!
In the produce section of the supermarket the other day, I noticed prepackaged plastic bags of prepared (peeled and diced) butternut squash.  I bought two bags – the bags gave very easy microwave instructions to cook: vent the bag (stab it with a fork) and microwave for 3 minutes.  One bag, I left whole – the other bag, I pulsed in the food processor to create butternut squash puree.  I used both the puree and cooked diced butternut squash to make a creamy and delicious risotto.
To make risotto, I always use Arborio rice.  You want to use a high starch, medium or short grain rice to make risotto.  Other types of rice that make an excellent risotto are Carnaroli, Maratelli, or Vialone Nano – but these may be a bit harder to find than Arborio.  I usually  buy Arborio rice at Cost Plus World Market or Trader Joe's, but you can also find Italian Arborio Rice in the gourmet section of your supermarket, or in bulk bins at a health food/specialty store.
Butternut Squash Risotto:
2 T. unsalted butter
1 onion
3-4 cloves garlic
1 large red bell pepper
1 tsp. salt
2 c. Arborio rice
1 c. white wine
6 c. chicken broth
1 c. butternut squash puree (or pumpkin puree)
1 1/2 c. (about 12 oz.) cooked diced butternut squash (or pumpkin)
3/4 c. grated Parmesan cheese
1 T. chopped fresh sage leaves
salt, white pepper to taste
1.  Chop the onion and bell pepper, and mince the garlic cloves.
2.  Melt the butter in a large skillet or wok, add the chopped onion, bell pepper, and garlic with 1 tsp. salt.  Saute the vegetables for 3 minutes over medium heat.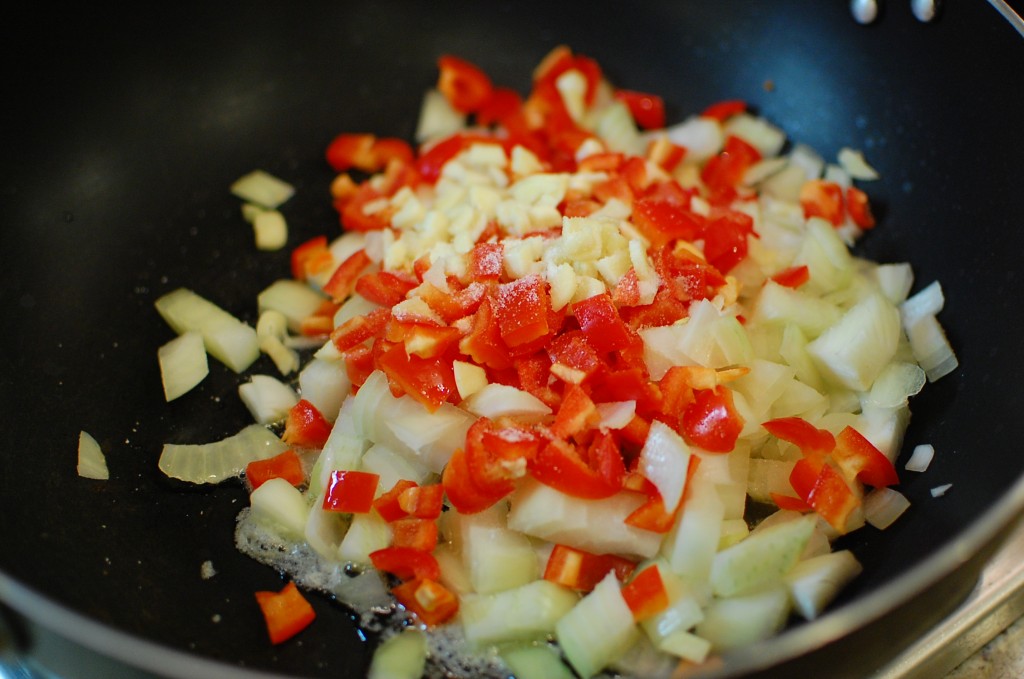 3.  Add the rice, and saute another 2-3 minutes until the edges are somewhat translucent.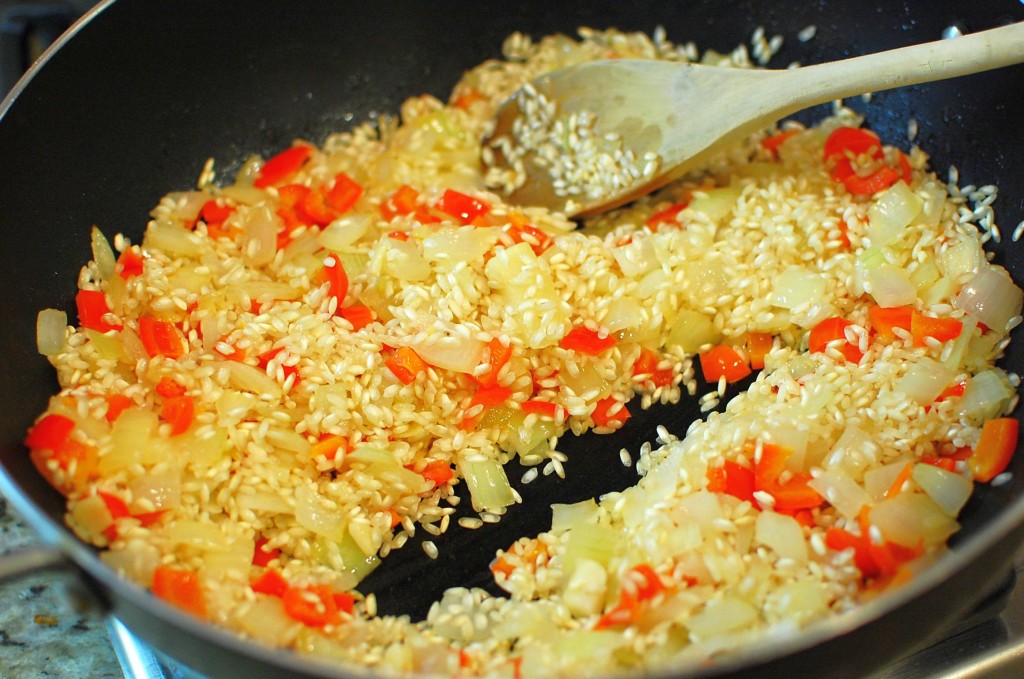 4.  Meanwhile, heat the chicken broth in a saucepan on the side.  Keep hot over low heat.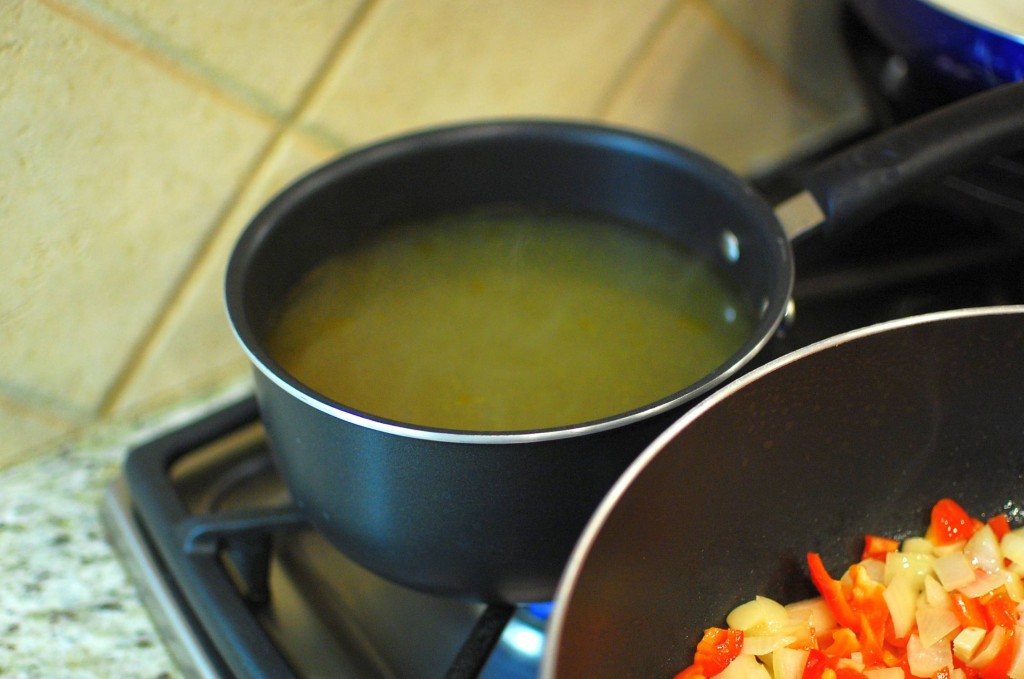 5.  Add the wine to the rice mixture and a few ladles of broth, stir, and cook over medium low until the liquid is mostly absorbed.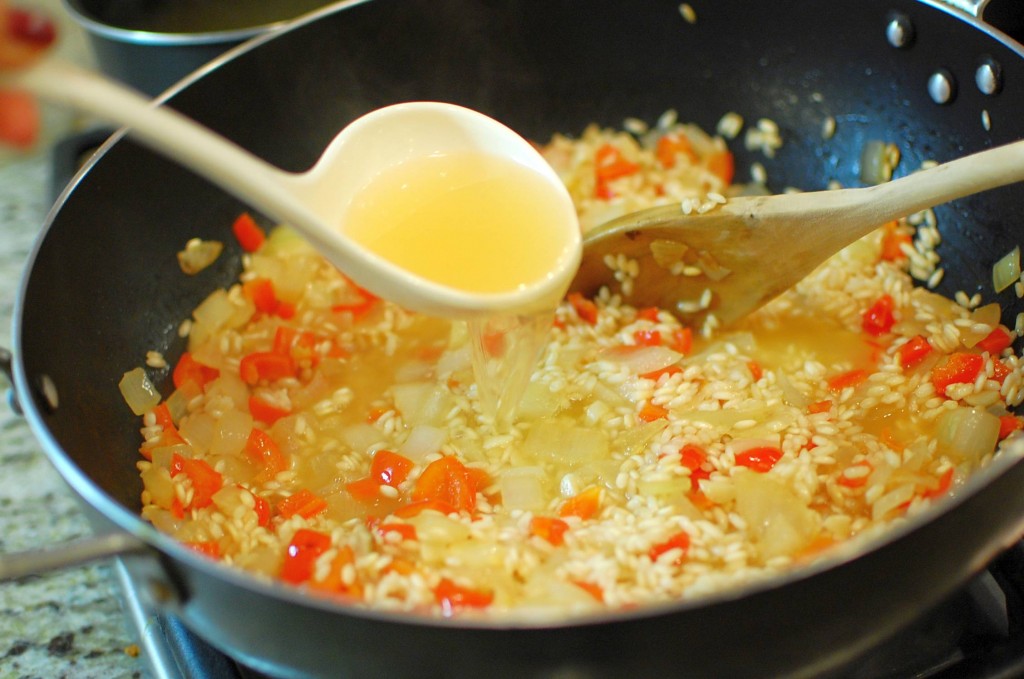 6.  Add the butternut squash or pumpkin puree, and then add a few more ladles of hot broth.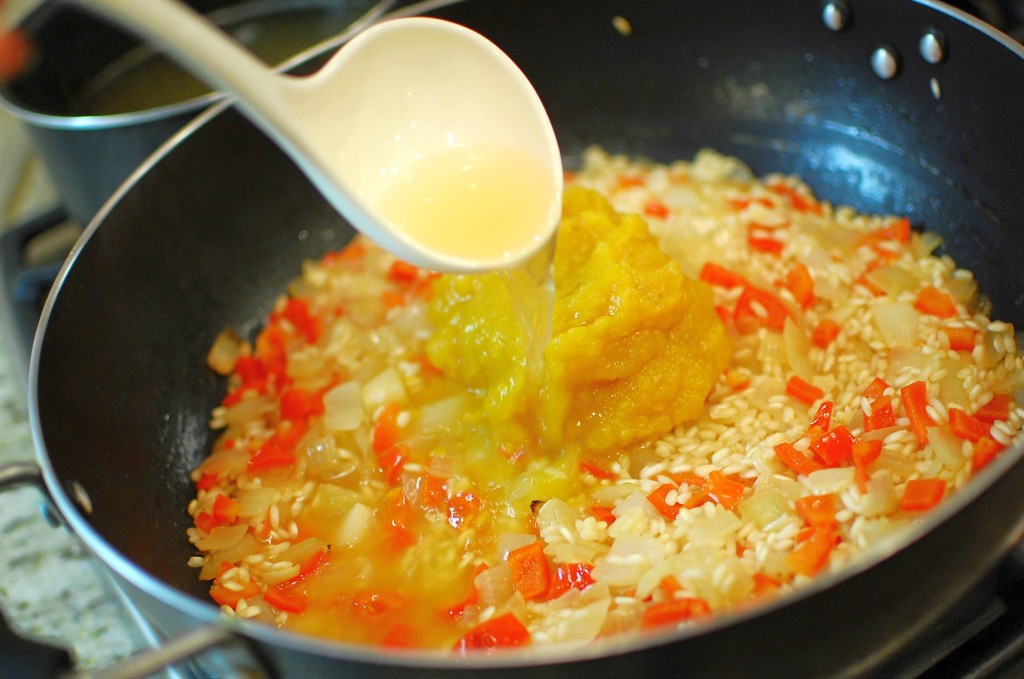 7.  When the liquid is mostly absorbed – and a wooden spoon or spatula running across the pan leaves an "empty streak" – add another few ladles full of hot broth and repeat the process.  Continue stirring occasionally, adding hot broth, and allowing it to absorb.  (This process will take about 45 minutes.)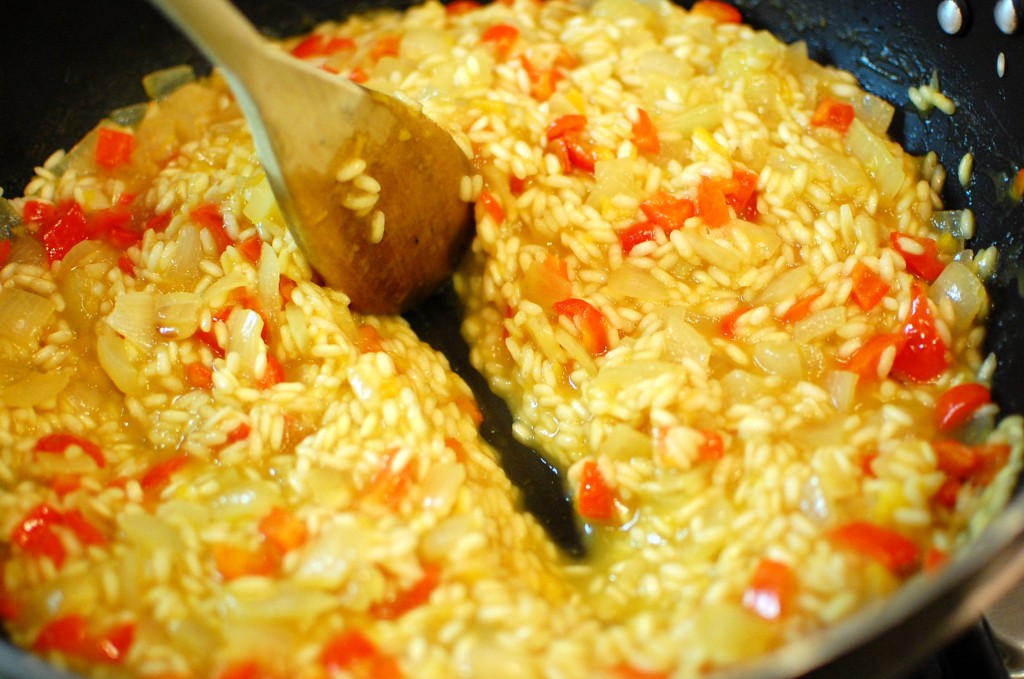 8.  (If the rice is not cooked to al dente by the time you have used all the broth, you can add 1/2 c. hot water at a time until the rice is cooked to your desired firmness.)  Add the cooked diced butternut squash.
9.  Add the Parmesan cheese and chopped sage, then taste.  Add salt and pepper to taste.  (I prefer to use white pepper powder so that you don't get black pepper flakes into the risotto.  If you don't have white pepper powder, you can use regular black pepper.)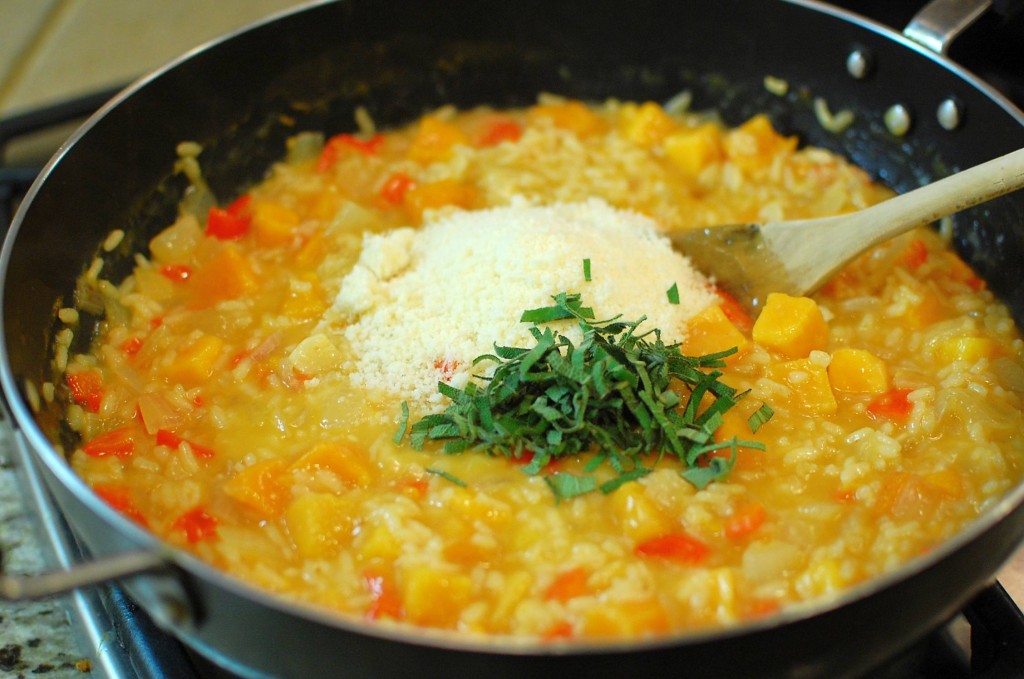 10.  Serve hot.  You will get about 4-6 servings of risotto.