Several years ago, I posted a recipe for my favorite Carrot Cake.  This is a wonderful "special occasion cake" – but I don't make it very often because it's a lot of work to bake layers, fill, frost, and decorate.  Every now and then, I feel like eating carrot cake – but I just don't want to do all the extra work.  The solution is to bake it "inside out"!  Cream cheese filling on the inside takes the place of the frosting (and it's less sweet, so more versatile than a straight "dessert").  I'll often eat a slice of this "inside-out" carrot cake for breakfast, or with tea or coffee in the afternoon as a snack.
The filling is a cross between a cake texture and cheesecake texture.  To make the cream cheese filling, I start with a basic cheesecake-like mixture… then add a bit of flour for a more cake-like structure.  While not the same as cream cheese frosting, since it is much less sweet, it does give a bit of that "cream cheese" taste that goes well with carrot cake.
You can also make this cake as one large bundt cake, or as individual carrot cake muffins.  Start checking for doneness on a bundt cake around 45 minutes, for muffins – start checking around 20-25 minutes for doneness.  Enjoy!
Carrot Cake Batter:
2 c. finely grated raw carrot (about 3-4 carrots)
2 c. sugar
1 1/2 c. canola oil
4 eggs
1 tsp. vanilla extract
3 c. flour
2 tsp. baking powder
1 tsp. baking soda
1 tsp. salt
1 tsp. cinnamon
1/2 tsp. nutmeg
1 c. chopped walnuts (optional)
Cream Cheese Filling:
8 oz. cream cheese
1 egg
1/2 c. sugar
1 tsp. vanilla
1/4 c. flour
1. Preheat the oven to 350 degrees.  Spray two 9″ X 5″ loaf pans with non-stick baking spray.  (Alternately, you can bake one larger cake using a bundt pan.)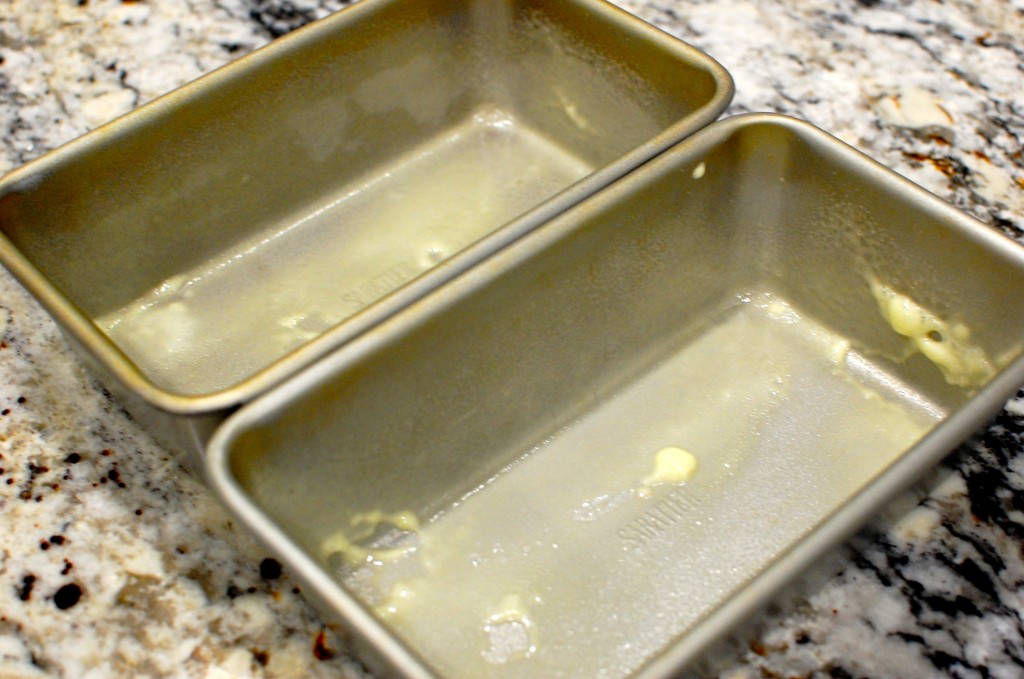 2.  Peel and grate about 3 large carrots to get 2 c. finely grated carrot.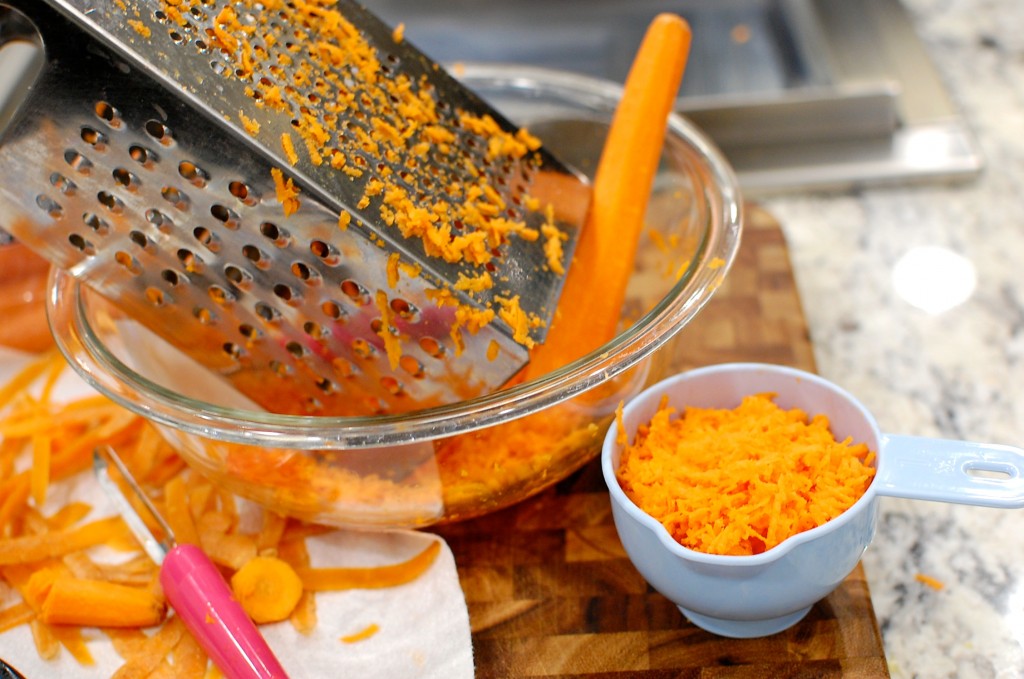 3.  Add the sugar, oil, eggs, and vanilla extract to the grated carrot.  Mix well.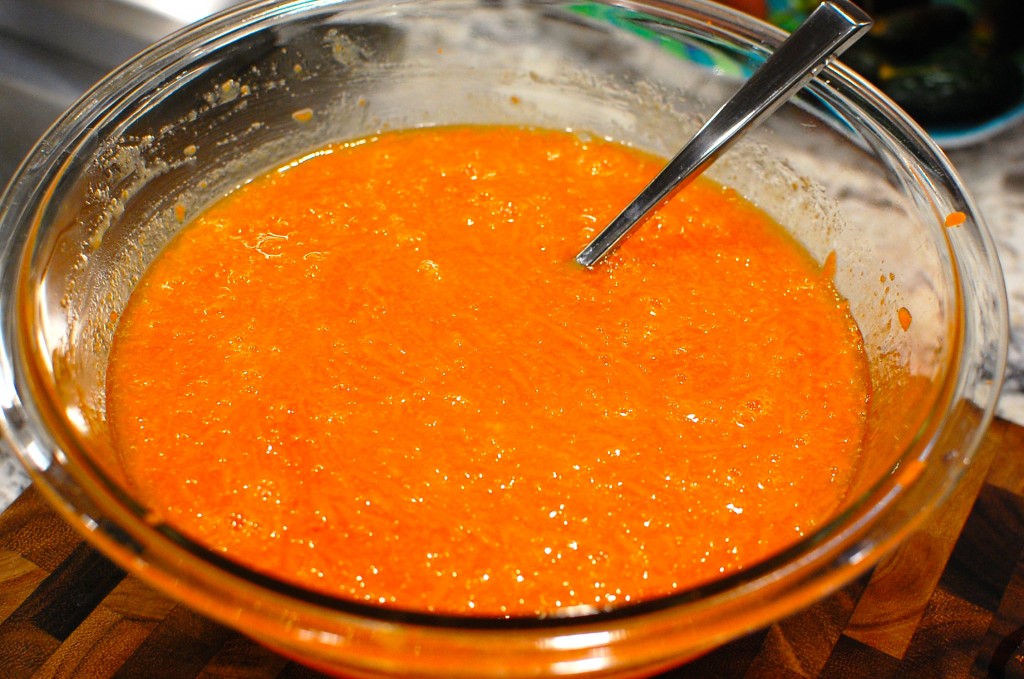 4.  Sift the flour, baking powder, baking soda, salt, cinnamon, and nutmeg until combined well.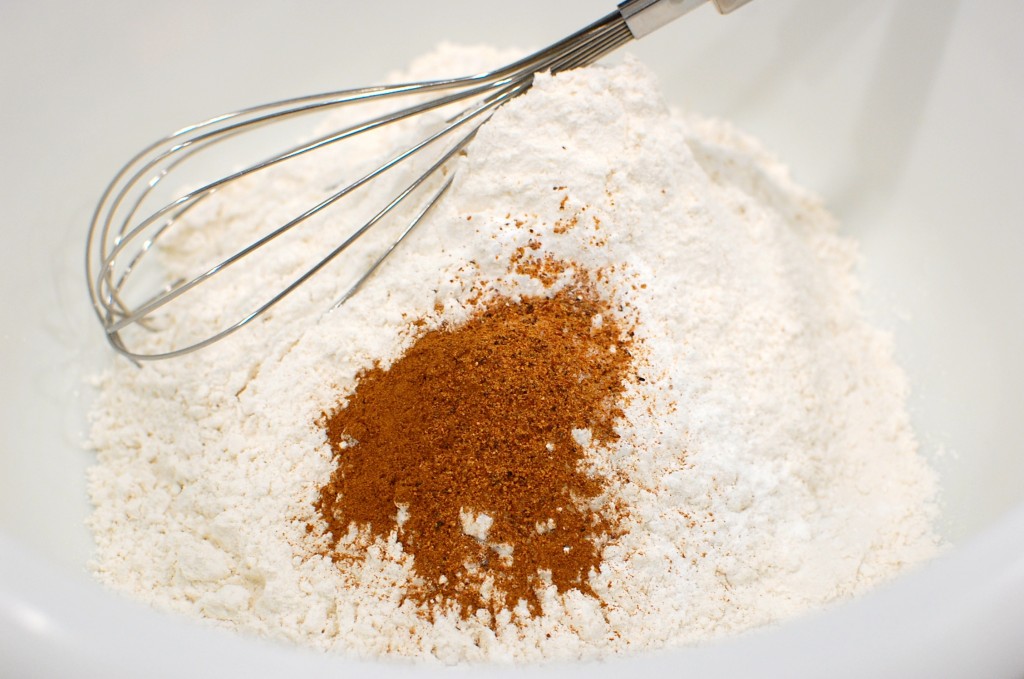 5.  Chop the walnuts.  Reserve a few T. of chopped walnuts to use for topping.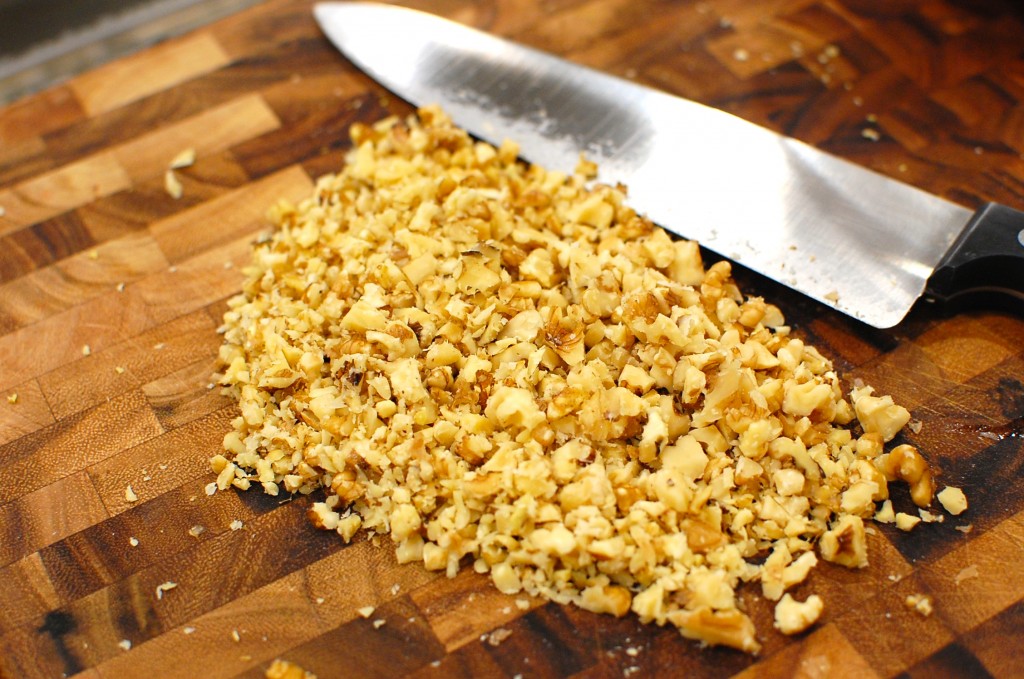 6.  Mix the cream cheese, egg, sugar, vanilla, and flour to make the filling.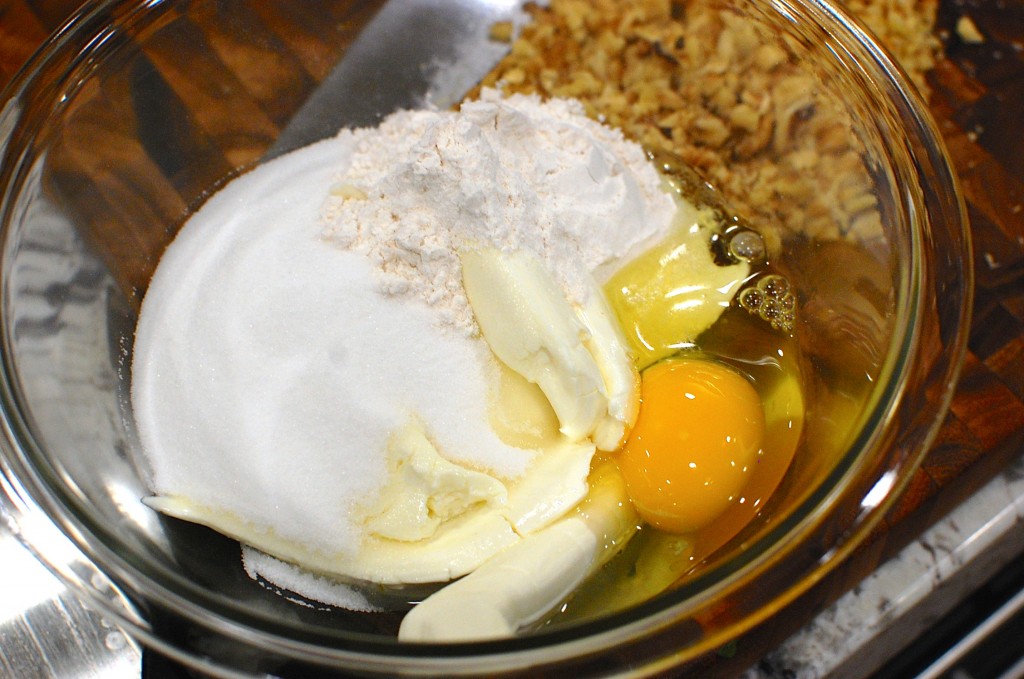 7.  Dump the carrot mixture on top of the flour mixture, and mix to combine.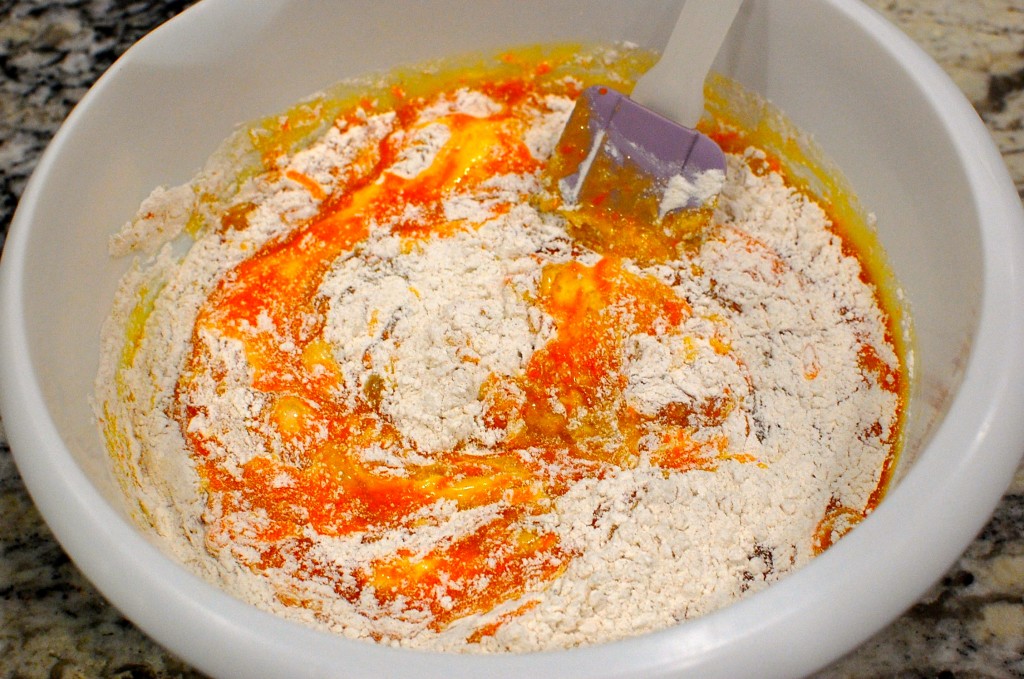 8.  Fold in the chopped walnuts.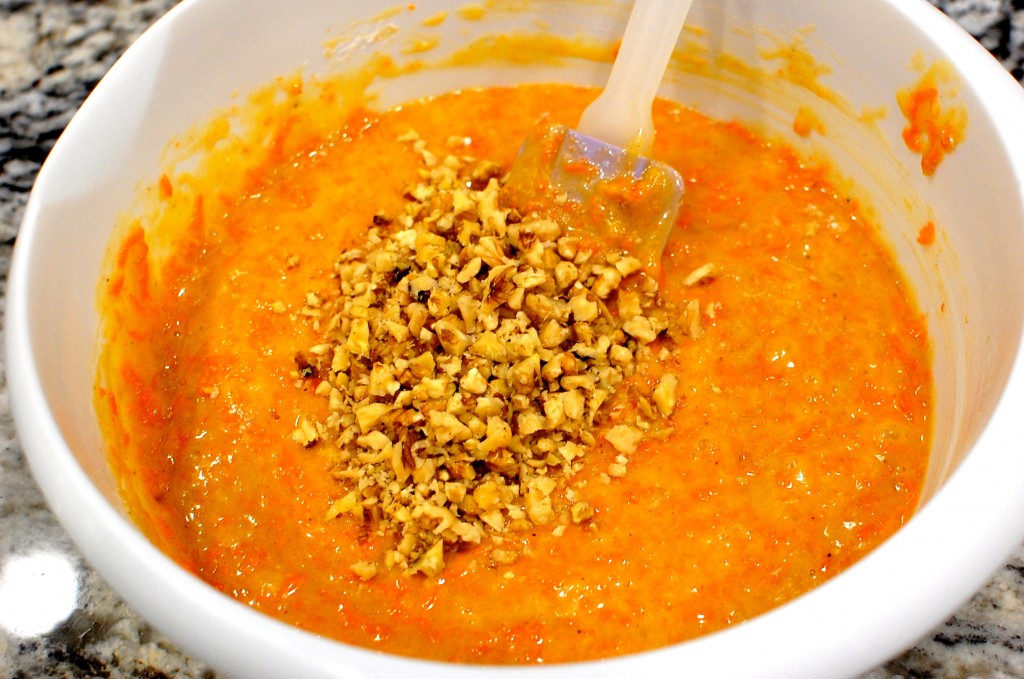 9.  Pour about 1 1/2 c. of carrot cake batter into the bottom of each loaf pan.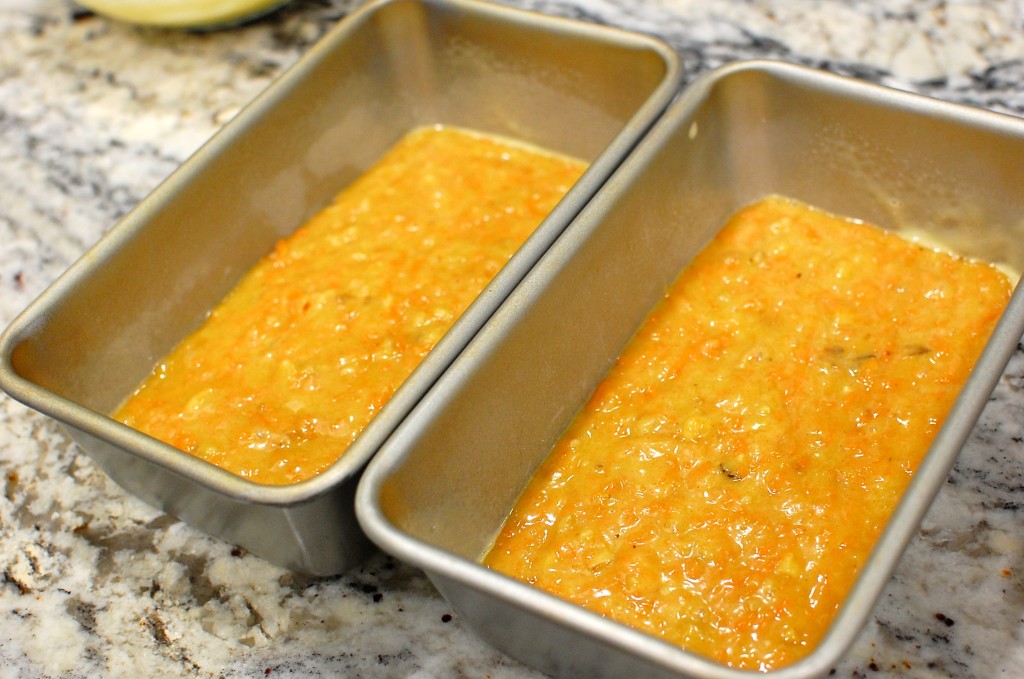 10.  Spoon the cream cheese filling down the center of each loaf pan, on top of the bottom layer of carrot cake batter.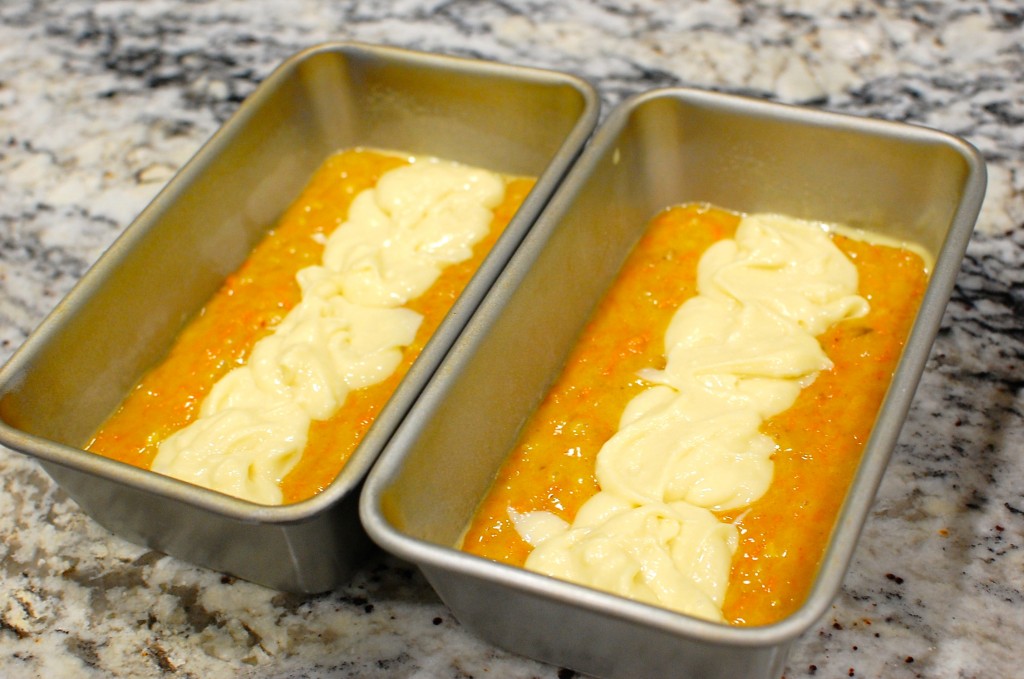 11.  Spoon the remaining carrot cake batter over the cream cheese filling to cover.  Sprinkle with the reserved chopped walnuts (if desired) and 1 T. of large crystal decorating sugar (if desired).  (If you are making this as a bundt cake, omit the topping.  You may want to top your cooled cake with a dusting of powdered sugar, or my cream cheese glaze instead.)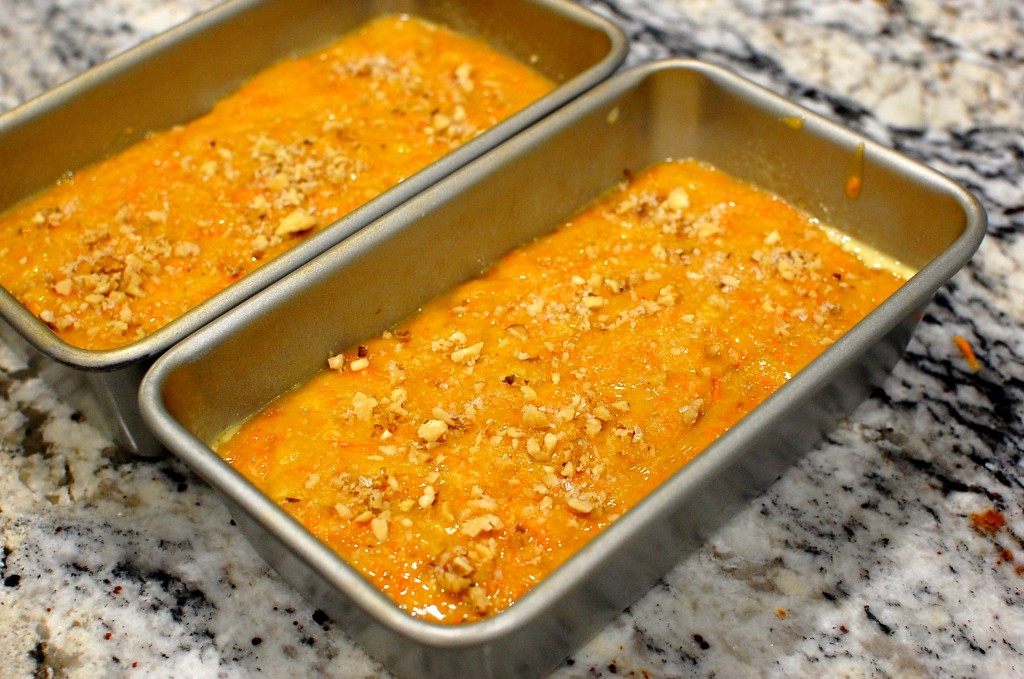 12.  Bake at 350 degrees for 45-55 minutes.  Remove from the oven, allow to cool 5-10 minutes before removing from the pan.  (You might have a crack in the top – this sometimes happens – don't worry about it as long as your cake is cooked on the inside, it won't look that bad once sliced.)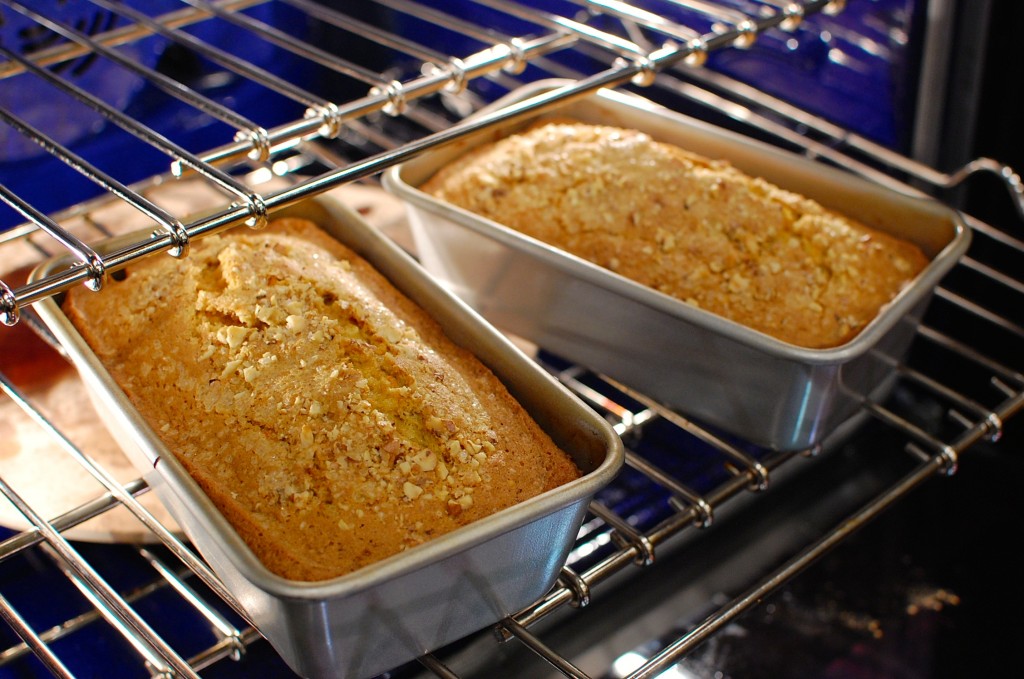 13.  Allow the loaf to cool completely before slicing.