I love pickles…. especially the salty and sour kind!  Kosher dill pickles, cornichons, giardineira, Japanese umeboshi… they're all good.  If you like pickles too, they are quite easy to make – simple refrigerator pickles can be made to taste (you can make them with all kinds of flavors and spices… whatever you like), and are ready in just a few short days.  As long as you keep them in the refrigerator, they will last up to 2 months… if you don't finish them as quickly as I do!  No canning or fermentation required!  (I recommend you don't try to home can or process pickles for long term storage… they can end up mushy and soft from the high heat… not good!)
This is a basic recipe for a spicy dill and garlic brine that you can use for cucumber halves.  For best results, use cucumbers that are not waxed, and use smaller varieties like Persian cucumbers, or the cucumbers labelled "baby" or "snacking" cucumbers.  Fresh dill weed and whole mustard seeds are the best to use for the brine… but for some reason I can never find whole mustard seeds or fresh dill at the market when I need them… so I have included instructions for just using prepared dijon mustard and dried dill weed.
Although this recipe mainly calls for cucumbers – feel free to use other vegetables.  I use the same recipe and technique to make all sorts of pickles – carrots, green beans, cauliflower, brussel sprouts, jalapenos… even homemade giardiniera!  (Giardiniera is a spicy Italian pickle mix of bell peppers, celery, carrots, cauliflower, and cucumbers.)  You can also make pickle chips to use in sandwiches by cutting the cucumbers crosswise instead of lengthwise.  Enjoy!
Spicy Dill & Garlic Cucumber Pickles:
~24 oz. "baby"/"snacking" or Persian cucumbers (un-waxed)
9-10 cloves garlic
1 T. peppercorns
2-3 small bay leaves
8-9 small dried chili pepper pods (or 2 tsp. crushed red pepper)
1 T. dried dill weed (or 1/4 c. fresh chopped dill)
1 tsp. dijon mustard (or 1 T. whole mustard seed)
2 c. distilled white vinegar (5% acidity)
4 c. water
3 T. kosher salt (or pickling salt)
1 T. sugar
Hardware needed:
2-3 quart sized glass jars (or you can use recycled pickle or spaghetti sauce jars)
1.  Sterilize your jars and lids in boiling water for about 10 minutes.  Meanwhile, wash your cucumbers, scrubbing the peel to remove any debris or residue.  (Use un-waxed cucumbers!)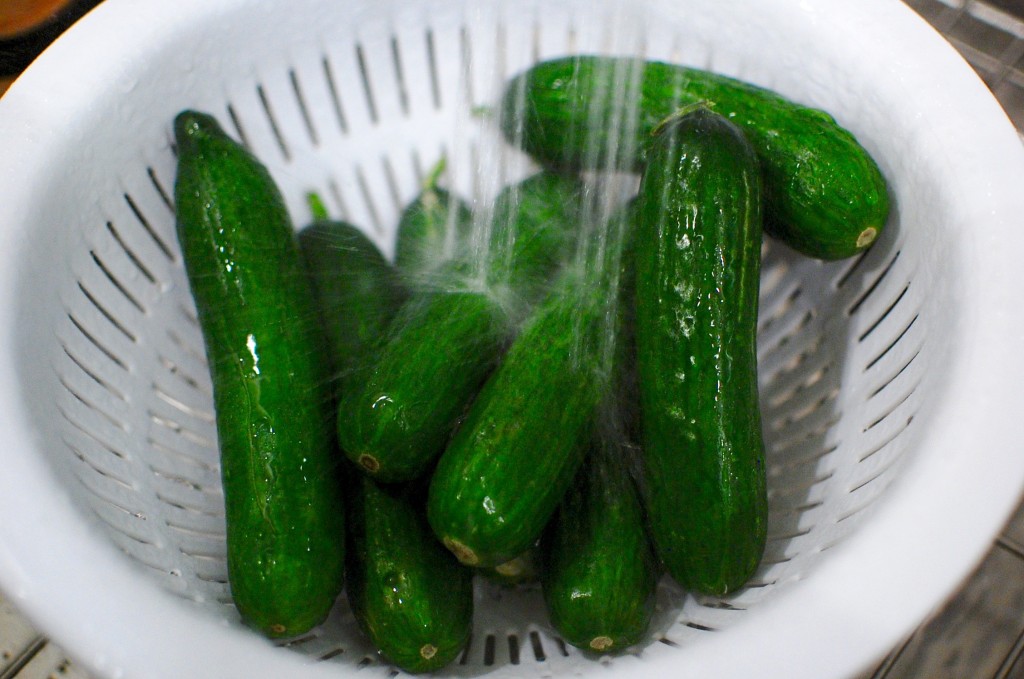 2.  Cut both ends off of the cucumbers, then slice them in half lengthwise.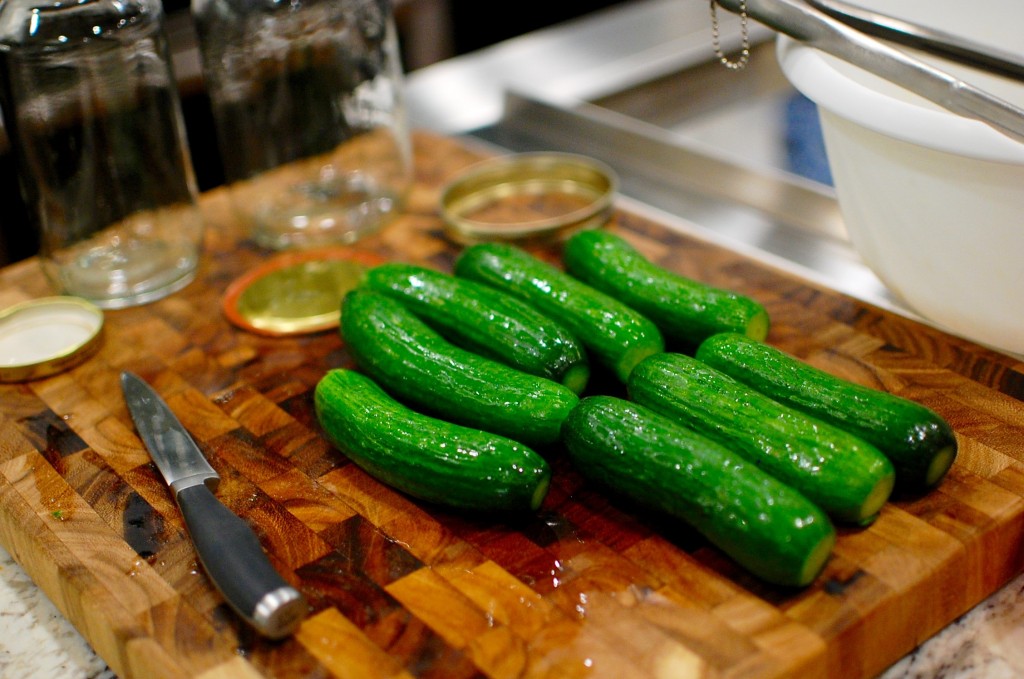 3.  Measure out your spices and seasonings and set aside: the garlic, peppercorns, bay leaves, chili pepper pods, and dill weed.  (Ideally, fresh dill is better than dried… but the supermarket was out of fresh dill, so that's what I'm using here!)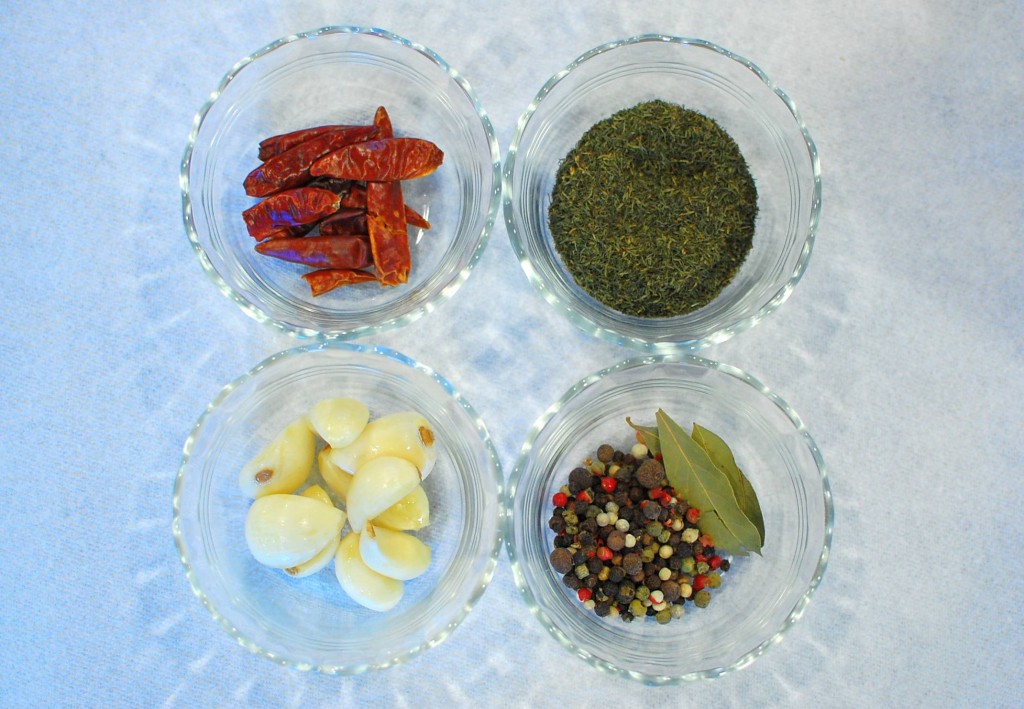 4.  In a non-reactive pot (I used a non-stick pot, which is metal – but does not react with acids) heat your vinegar and water over high heat.  Add the Kosher/Pickling salt and sugar, then bring to a boil.  (The reason why you don't want to use regular table salt is that the additives (iodine/anti-caking agents) will cause your brine to be cloudy and can lessen the quality of your pickles.)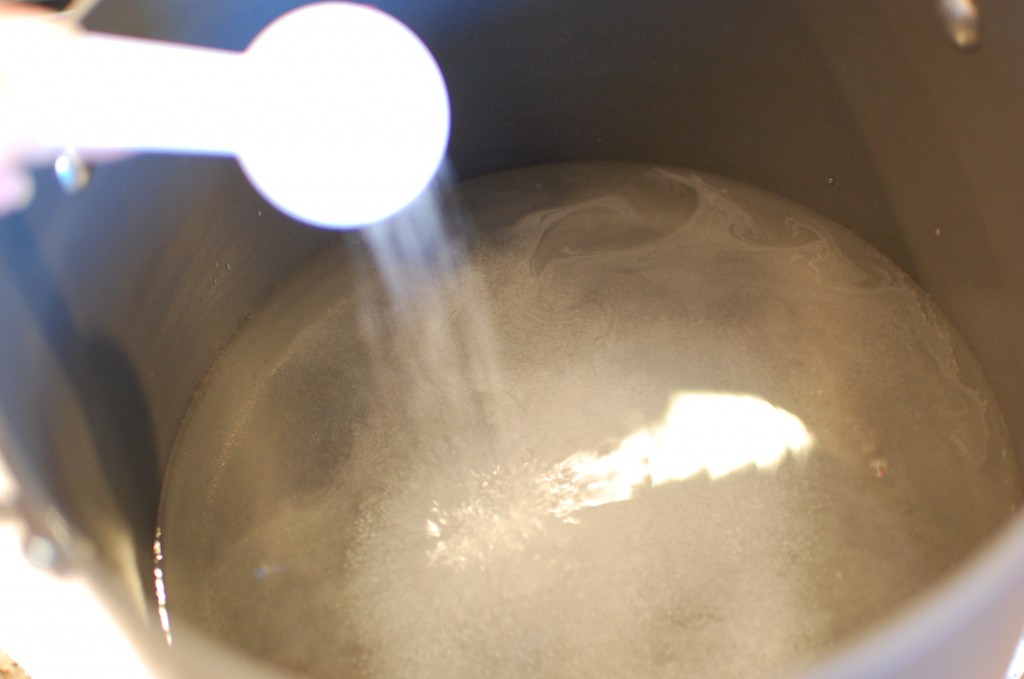 5.  Add the dill weed and mustard, stir with a whisk for about 30 seconds, then turn off the heat.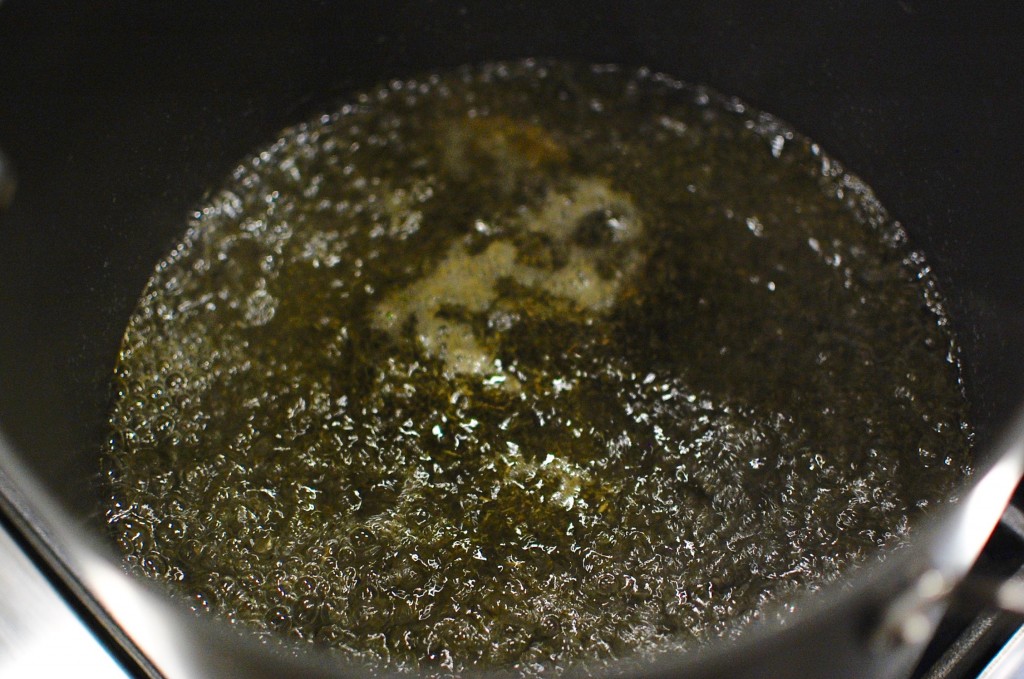 6.  Pack as many cucumber halves as possible into the two quart-sized jars.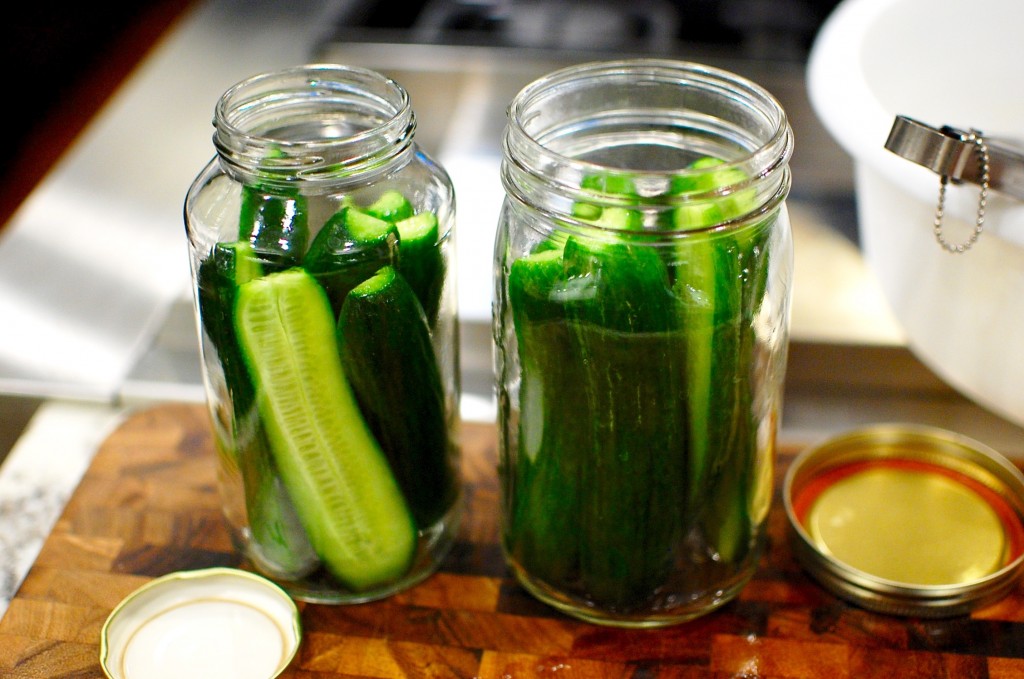 7.  Divide the garlic, peppercorns, chili peppers, and  bay leaves between the jars.  Ladle the hot vinegar solution into each jar – make sure to cover the cucumbers.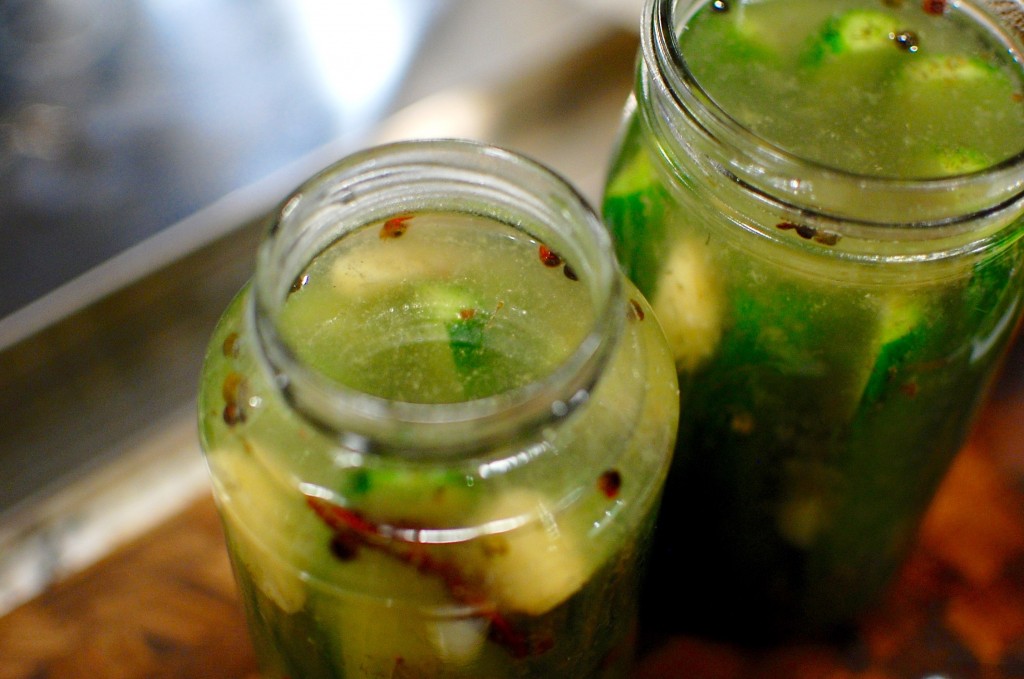 8.  Screw the lids on.  If you have extra pickling solution, you can slice up some clean peeled carrots, more cucumbers (crosswise for pickle chips), or other vegetables (cauliflower, bell peppers, celery, jalapenos, etc.) and add to an extra jar and pour the remainder of the solution over to cover.
Allow the jars to cool and refrigerate.  Your pickles will be ready to eat in a few days (3-5 days), and you can store up to 6-8 weeks in the refrigerator.  (I don't recommend processing/home canning these pickles – the processing time will often "cook" the pickles, and you will end up with soft and soggy pickles.)