What is Puttanesca Sauce?  Puttanesca is a tangy and salty Italian sauce, made with tomatoes, olives, capers, garlic, and (sometimes) anchovies.  The story goes… back in the 1950′s, some late night patrons were hungry – but the restaurateur was almost out of ingredients, as it was near closing time.  They told him to make them "any kind of garbage" ("Facci una puttanata qualsiasi")… so he used the only ingredients that he had left: four tomatoes, two olives, and some capers to create a sauce for spaghetti, which he later added to his menu as "Spaghetti alla puttanesca".
There are many ways to use Puttanesca sauce.  The simplest is to serve it with spaghetti, as a pasta dish.  You can also use the sauce as a wonderful and flavorful topping for a main course meat like fish or chicken – I think that pan roasted cod pairs nicely with the Puttanesca sauce… this combination has made it into my "after-work dinner" rotation because it is quick and easy!
While the sauce itself is very quick cooking (only 10 minutes!) – you can also make Puttanesca sauce ahead of time and freeze – then just defrost and whip up a main course dinner in no time!  I like to get frozen individually wrapped cod fillets from the market (they come in bags in the frozen seafood section) – they defrost very quickly, and cook fast.  Pan roasting a defrosted cod fillet takes less than 10 minutes – start on the stove to sear, then finish cooking in the (pre-heated) oven while you throw a salad together… dinner is ready!
Cod Puttanesca (3-4 servings):
1 T. olive oil
3-4 cod fillets
2 c. Puttanesca Sauce
salt, pepper to taste
1 T. chopped fresh parsley
Puttanesca Sauce (Makes 3-4 cups):
1 T. olive oil
1 T. chopped anchovies (optional)
24 oz. can crushed San Marzano tomatoes
1/2 – 2/3 c. chopped pitted green/red olives
1 1/2 T. capers
1/2 tsp. red pepper flakes (optional)
1/2 tsp. garlic paste
salt, pepper to taste
1.  First, make the Puttanesca Sauce.  Chop the olives.  You will need at least 1/2 c. of chopped olives, but I will sometimes use up to 2/3 c. chopped olives.  Today, I'm using a combination of olive oil marinated green olives, and pitted kalamata olives.  (Whatever type of olives you use, make sure they are flavorful olives that have a salty/briney flavor!)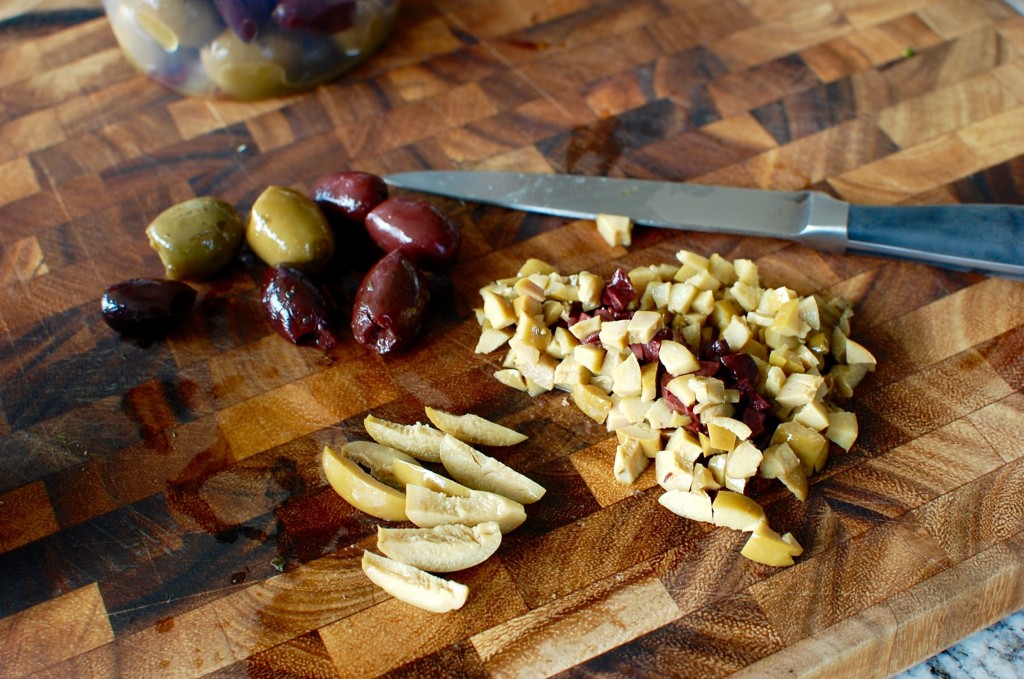 2.  Heat the olive oil in a pan over medium, add the chopped anchovies.  Cook for about 1 minute (to allow the anchovies to flavor the oil).
(Sorry… the sun was shining really bright through the window when I took this photo, casting a weird shadow…)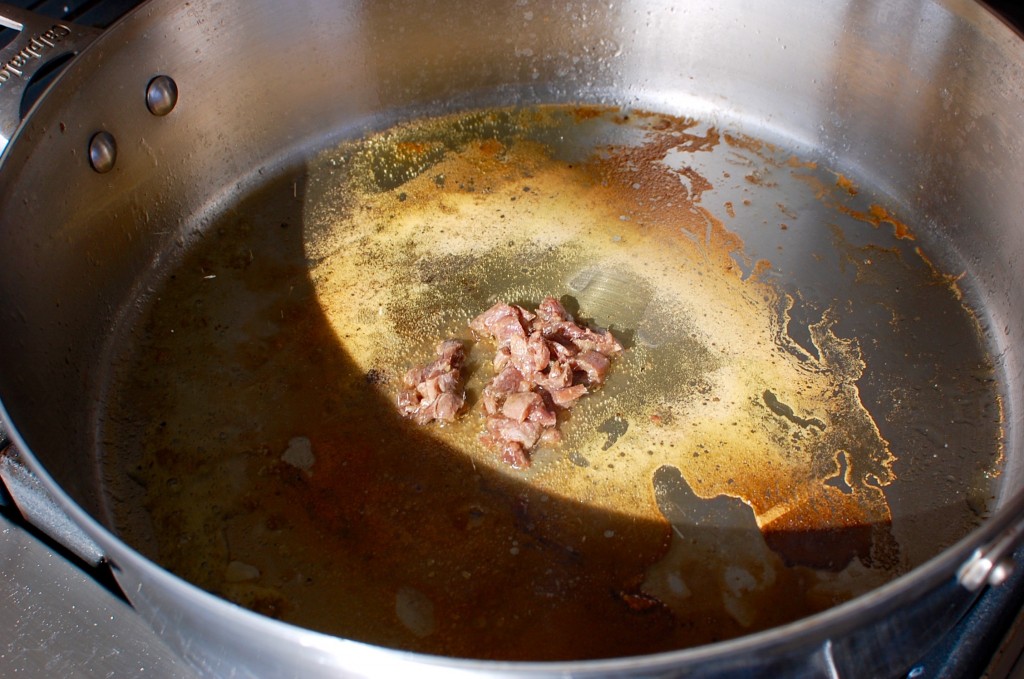 2.  Add the crushed San Marzano tomatoes, chopped olives, capers, garlic paste, and red pepper flakes.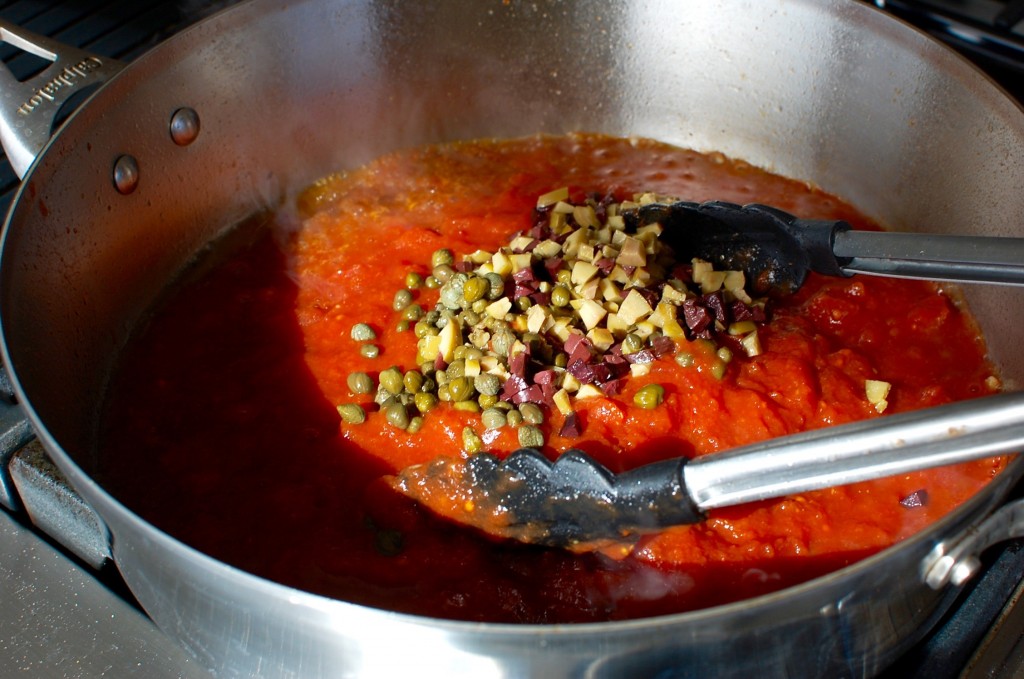 3.  Cover, and simmer for 10 minutes over medium.  Taste, add salt and pepper to taste.  Set sauce aside.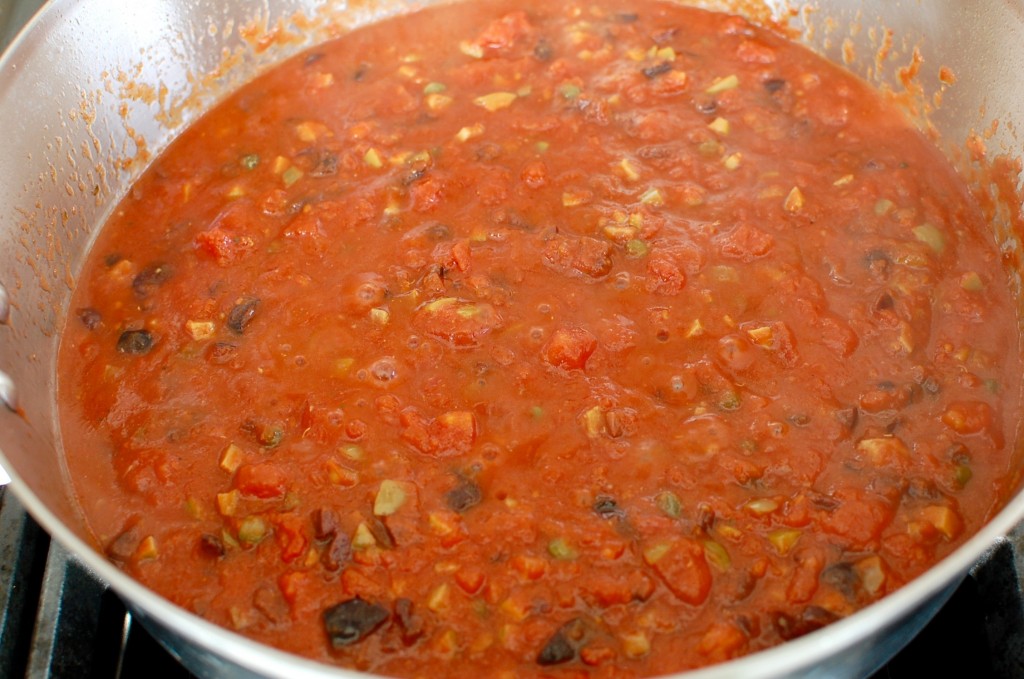 4.  Next, cook the cod (start on the stove, then finish in the oven).  Preheat the oven to 425 degrees.  Add the olive oil to an oven-safe pan, heat on high.  Pat dry the cod fillets, then add the cod fillets to the pan.  Sprinkle lightly with salt and pepper, cook for about 1-2 minutes.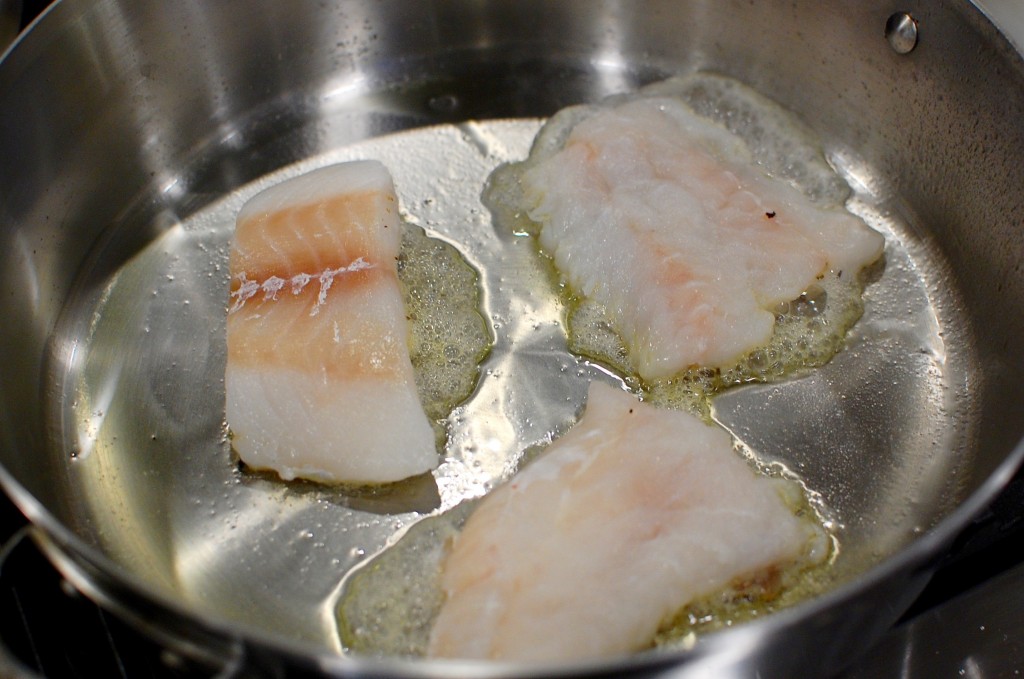 5.  Flip the fillets, sprinkle the other side with a little bit of salt/pepper, then continue cooking about 3-4 more minutes.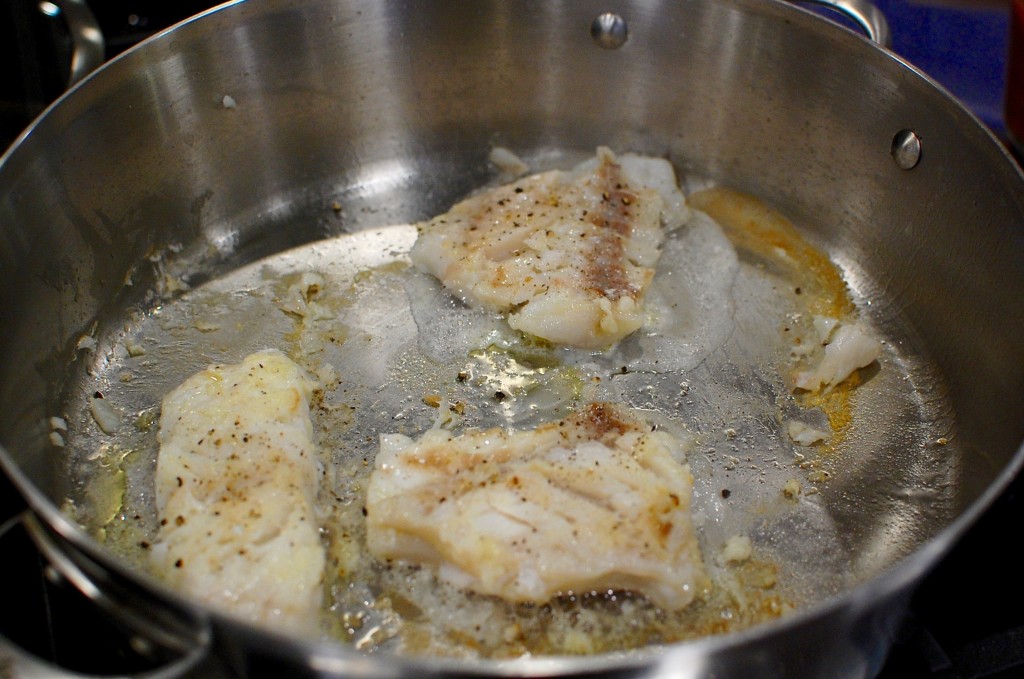 6.  Add about 2 c. puttanesca sauce to the pan (surrounding the cod), then place the pan into the preheated 425 degree oven.  Bake for 4 minutes.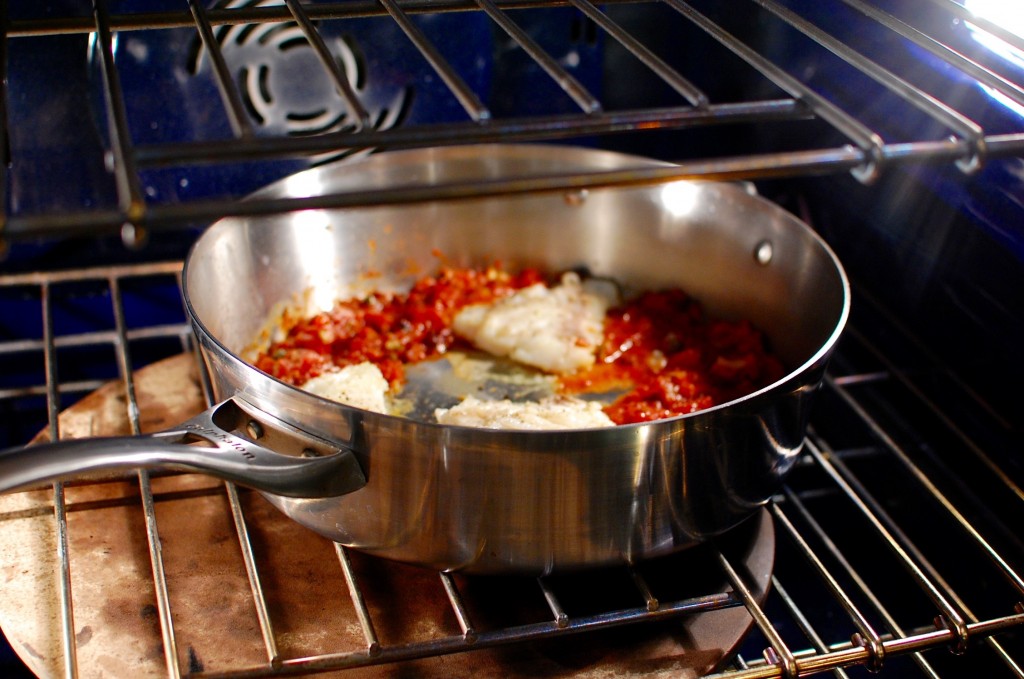 7.  Remove from the oven, sprinkle with the chopped fresh parsley.   Serve the cod with the puttanesca sauce spooned over the fillet.  Enjoy!  (Leftover puttanesca sauce is great to mix with cooked pasta for a quick lunch or pasta course.)