About a year ago, I started getting a farm box of produce delivered to my door once a month.  (This is a really great way to try interesting and weird produce that the regular market doesn't carry.)  Well, last winter, I ordered "purple yams"… and wow, those were soooo good!  I made a sweet buttery casserole topped with brown sugar… every bite was so delicious.  After we finished them… I wanted more, but they were "out of stock" for the season from the farm box company.  Nooooooooo!!!!  :(  Over the summer, I was talking to my friend, lamenting my lack of purple yams… and then she enlightened me to the fact that I can buy those very same yams at the Asian market!  Duh… why didn't I think to look there?  A few days after our conversation, she even brought me a bag from the Vietnamese market in Orange County to prove it!  After that, we started buying them at H-mart (the Korean market) down in San Diego (It's a 30 minute drive to get there… but hey, you do what it takes, right?).  And just to make me feel even more silly, I went around the corner to Sprout's market last week… and they had "purple sweet potatoes" piled right next to the orange ones.  How long have all these markets been selling "purple yams" a.k.a. "purple sweet potato"… and I just never noticed?
Because so many people use the words "yam" and "sweet potato" interchangeably, I haven't yet figured out which this tuber really is, a yam or a sweet potato (I suspect they are actually sweet potatoes)… but the important thing is that it's PURPLE!  Why are they purple?  Well, these tubers contain anthocyanin (the antioxidant pigment that you can also find in blueberries and blackberries).  Besides being purple, there is something different about this tuber, flavor-wise.  I can't tell you exactly, or explain it – but they have an interesting taste to them.  Similar to regular yams, but maybe with more of a vanilla-like flavor… which I play up by adding a bit of vanilla extract to this recipe.
You can serve this dish as a wonderful side for any roasted meat dish… it works great as a side for steak as well!  Or you can do what I do, and just eat a bowl of this for fun.
Purple Sweet Potato Casserole:
3 lbs. purple sweet potatoes (about 4)
1/2 c. unsalted butter
1/2 c. sugar
1 tsp. salt
2 tsp. vanilla extract
1/4 to 1/2 c. brown sugar
1.  Preheat the oven to 375 degrees.  Cut off any bruised spots.  Wrap each individual sweet potato with foil.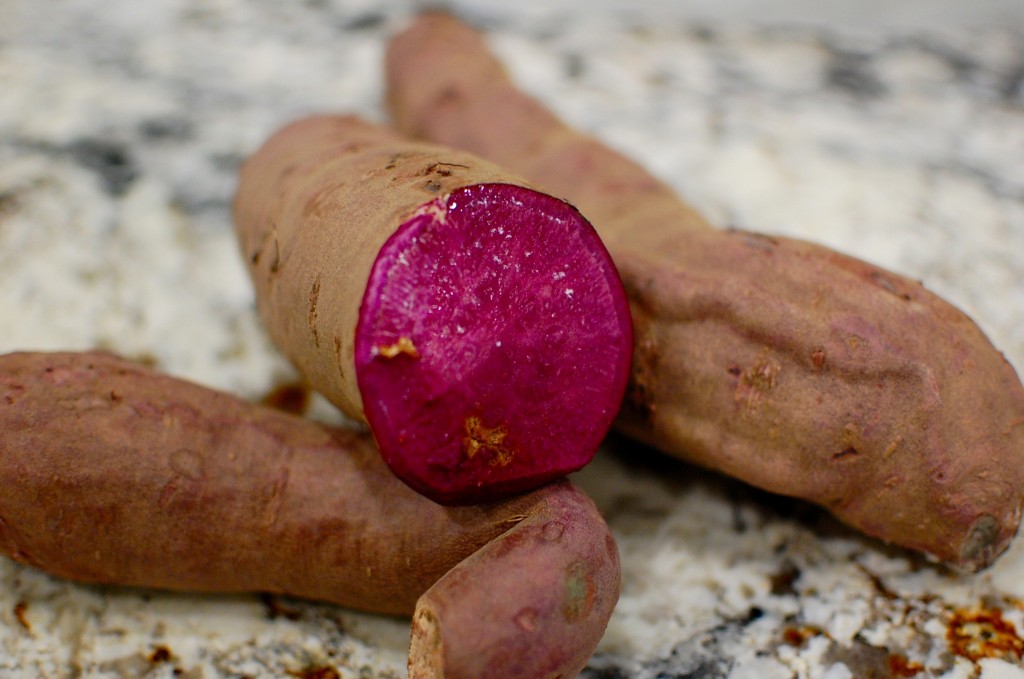 2.  Bake the sweet potatoes for about 1 hour or until soft.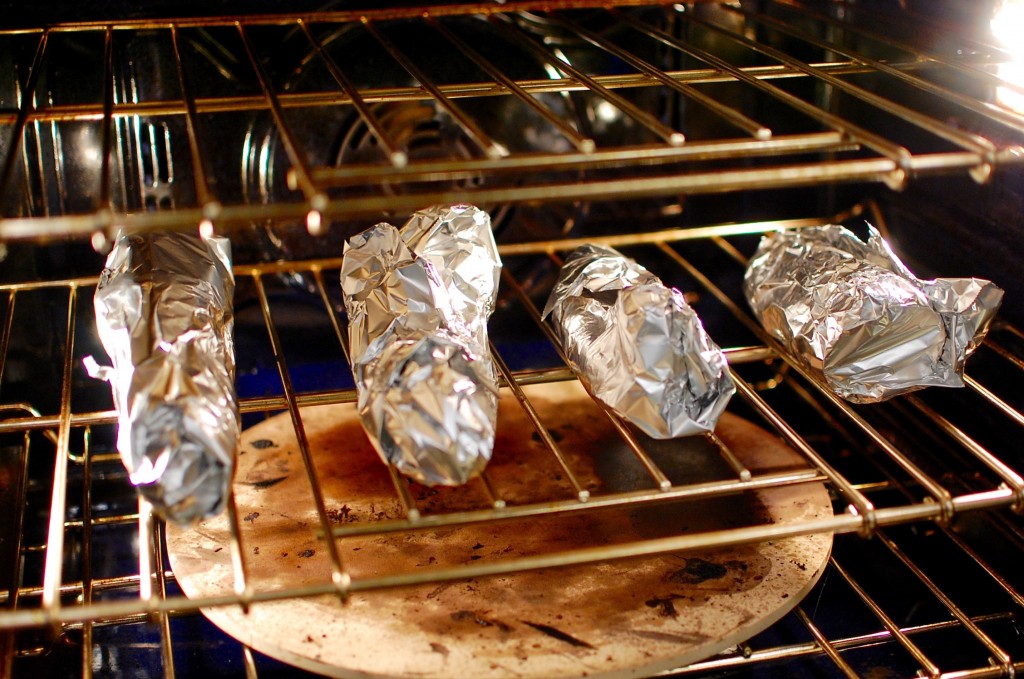 3.  Remove the sweet potatoes from the foil and let rest until cool enough to handle.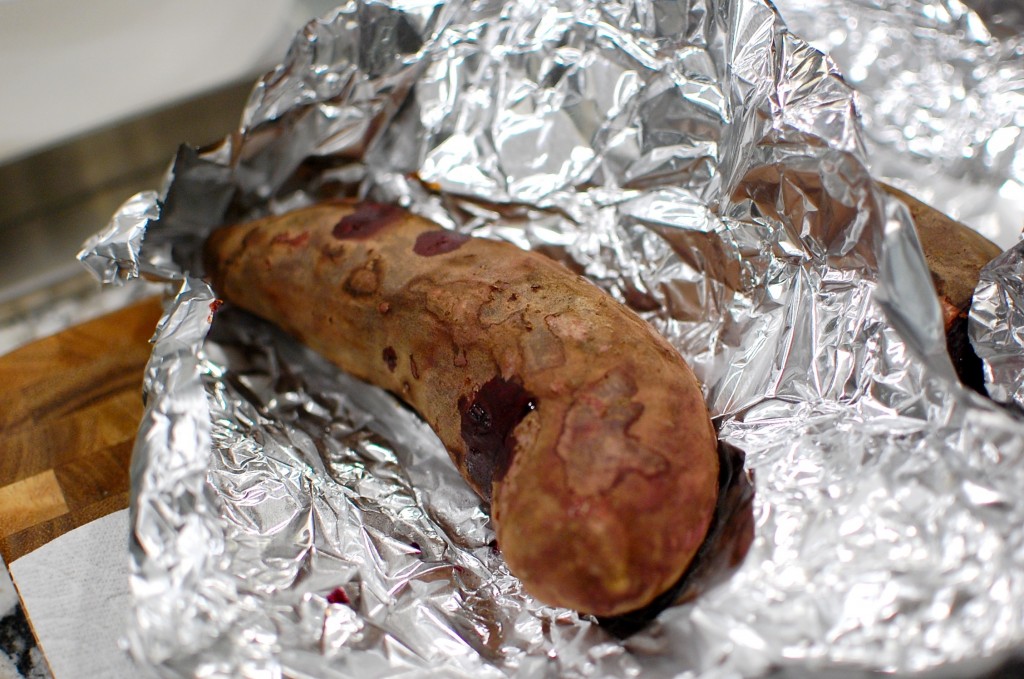 4.  Remove the sweet potato from the skins, discard the skins.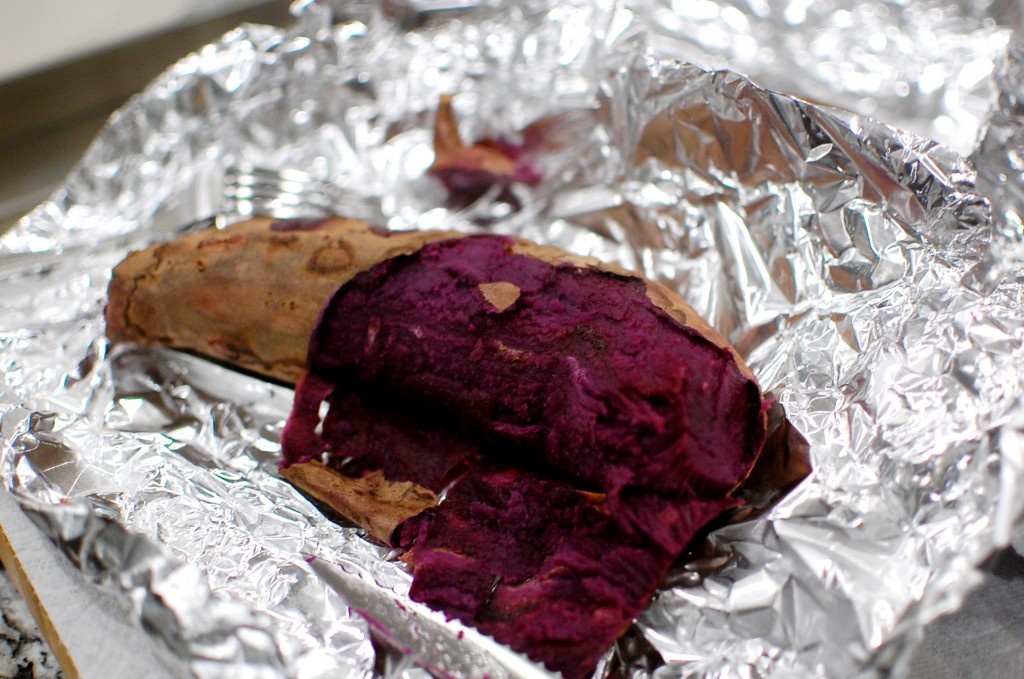 5.  Place the cooked sweet potato into a bowl with the butter, granulated (white) sugar, salt, and vanilla extract.  Use a potato masher to break down the sweet potatoes to the desired smoothness.  (I prefer not to leave any chunks.)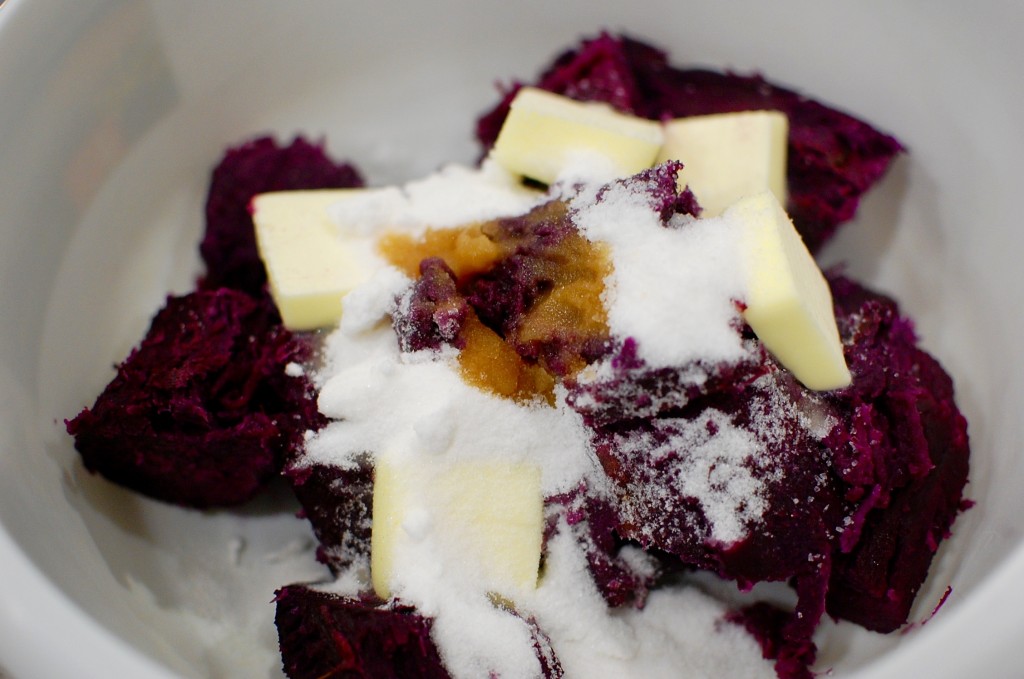 6.  Transfer the sweet potato mixture into a 2 qt. casserole dish (the one I'm using here is a 7″ X 11″ pyrex baking dish).
7.  Sprinkle brown sugar over the top.  At this point, you can proceed to step 8 and bake immediately, or you can cover with plastic wrap and refrigerate overnight. Optional: to make the brown sugar crust extra decadent, you can dot the top with 3-4 T. butter cut into small pieces before baking. (If you plan to make this ahead of time and you refrigerate overnight, make sure to remove from the refrigerator an hour before baking to allow the casserole to come to room temperature.)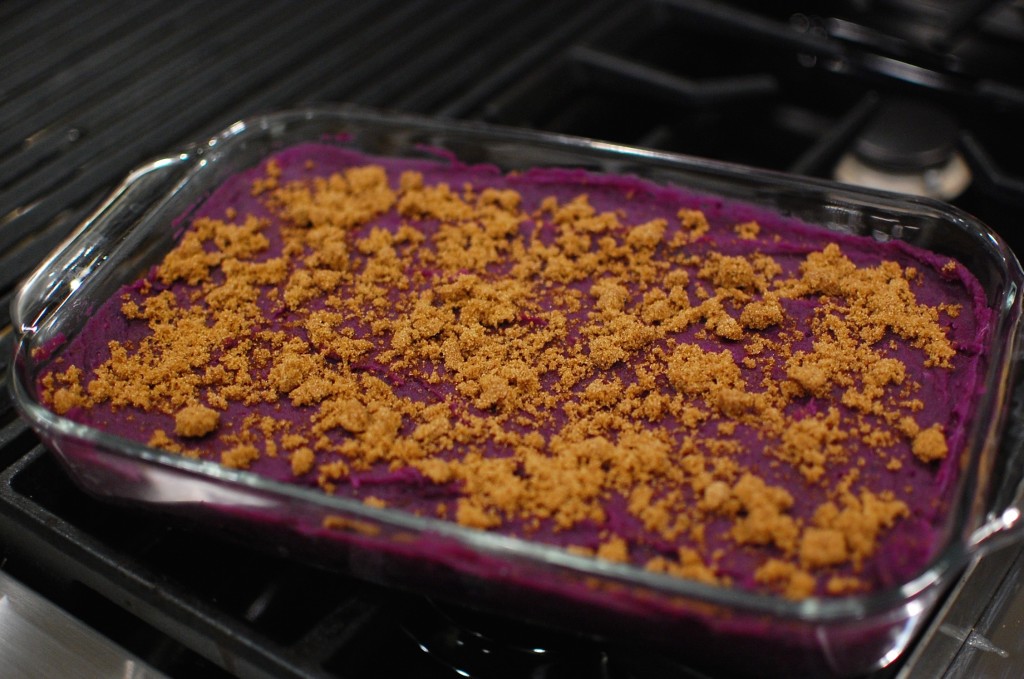 8.  Heat the oven to 350 degrees.  Cover the top of the casserole with foil, and bake for about 30 – 45 minutes.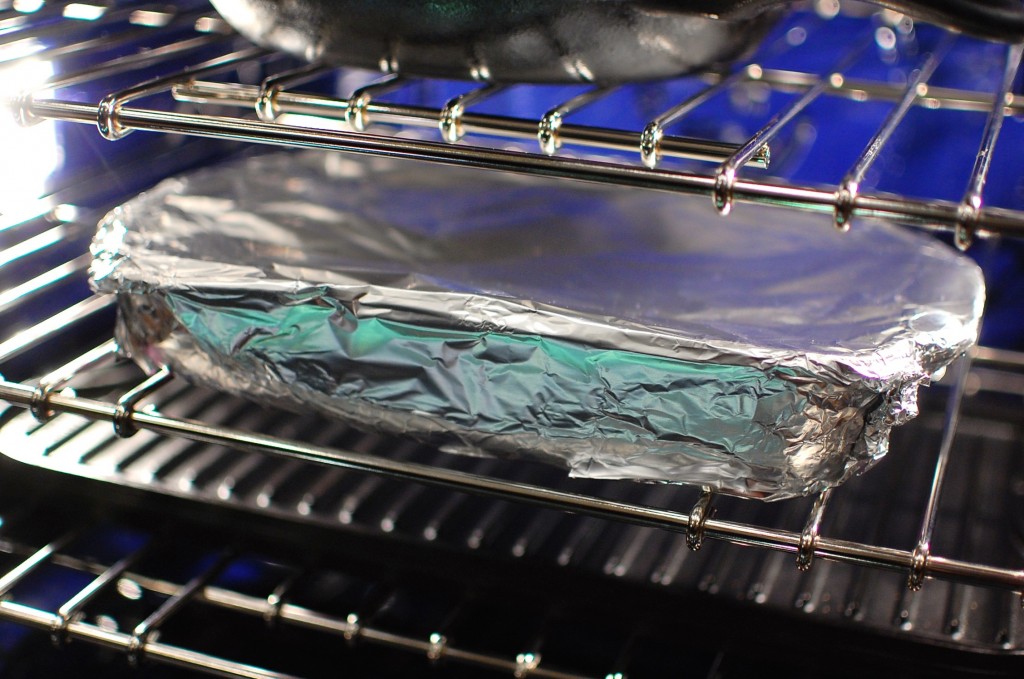 9.  Remove the foil, then turn the broiler on.  Broil the top of the casserole for about 2-5 minutes until the sugar begins to caramelize.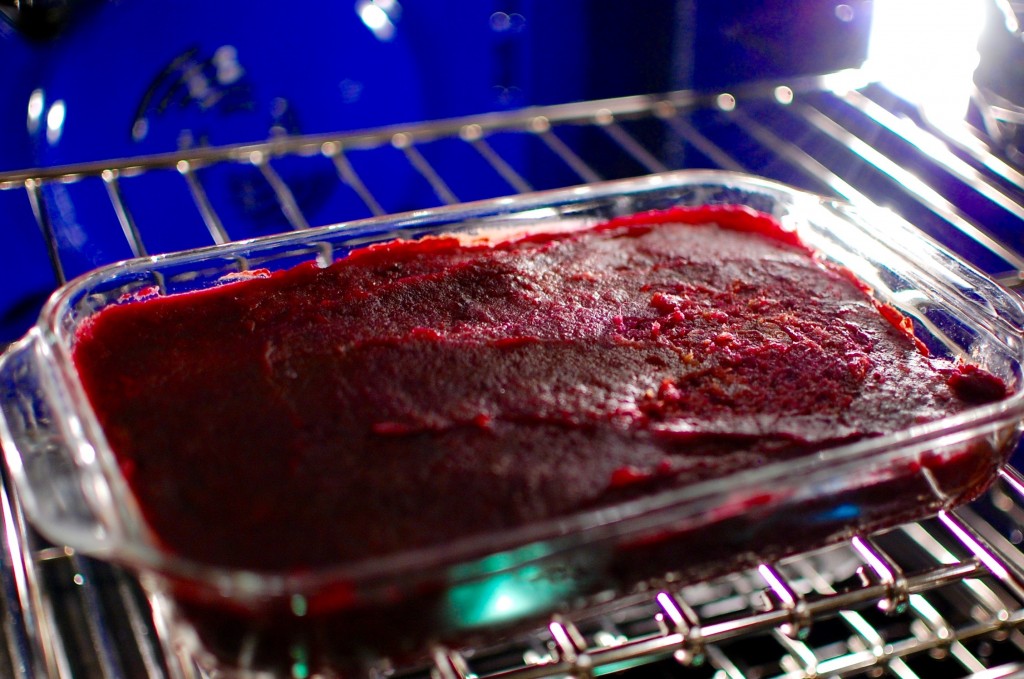 10.  Remove from the oven, and serve immediately.