Last Halloween, I turned my leftover Jack O'Lanterns into baked field pumpkin puree.  Making pumpkin puree from field pumpkins is a little bit time consuming, but worth it if you feel bad wasting your Halloween Jack O'Lanterns.  I always feel bad throwing away Jack O'Lanterns!  I mean, pumpkin is a vegetable, and while field pumpkin doesn't have quite the same flavor as a sugar pumpkin… it can be cooked into a variety of dishes and baked goods.  (And don't forget to turn the seeds into gourmet roasted pumpkin seeds!)
This year, I went for a sci- fi pumpkin theme (as you can see from my pumpkin photos below).  On the left, is my Autobot "Transformers" pumpkin, in the middle is my "Hitchhiker's Guide to the Galaxy" pumpkin, and on the far right is my "Thundercats, Ho!" pumpkin.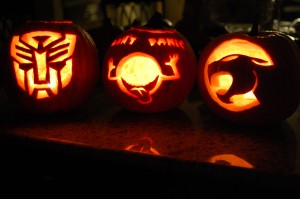 To complete the sci-fi theme, I answered the door for all the Trick-or-Treaters wearing a Star Trek: TOS science officer uniform.  (Because I'm so cool like that!  Lol.) One little kid told me, "My dad is Star Trek for Halloween also.  I don't know what that is."  Sigh.  Poor kid.  He doesn't know what he's missing out on….
Last night, I stayed up until 1am (Oct. 30th) carving my Jack O'Lanterns, and saved all the cut out parts for baking Pumpkin Streusel Bread with today.   You can treat grated field pumpkin similar to shredded zucchini in baking cakes and quick breads.  It's much quicker using the food processor to grate up raw field pumpkin, than baking it down, pureeing, and straining.  You can also freeze the grated field pumpkin for baking later down the road… just make sure you squeeze it dry after thawing before using.
Update 10/13/2012:  Check out my updated version of this recipe featuring more cinnamon and a slightly different topping: Cinnamon Crumble Pumpkin Bread.
Pumpkin Streusel Bread: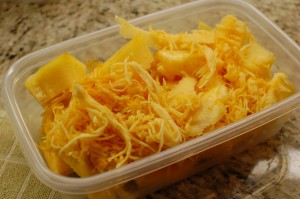 2 c. grated raw field pumpkin
1 c. sugar
1 c. brown sugar
1 c. canola oil
4 eggs
2 tsp. vanilla
1 tsp. salt
3 c. flour
1 tsp. baking powder
1/2 tsp. baking soda
2 tsp. cinnamon
1/2 tsp. nutmeg
3/4 c. mini chocolate chips or chopped nuts (optional)
Streusel Topping:
1/3 c. flour
1/3 c. brown sugar
3 T. unsalted butter
1/2 tsp. salt
1/2 tsp. cinnamon
1.  Preheat the oven to 350 degrees and grease&flour two 9 X 5″ loaf pans.  Remove the hard rind (skin) from your pumpkin pieces.  Using the food processor (or a box grater), grate the raw pumpkin.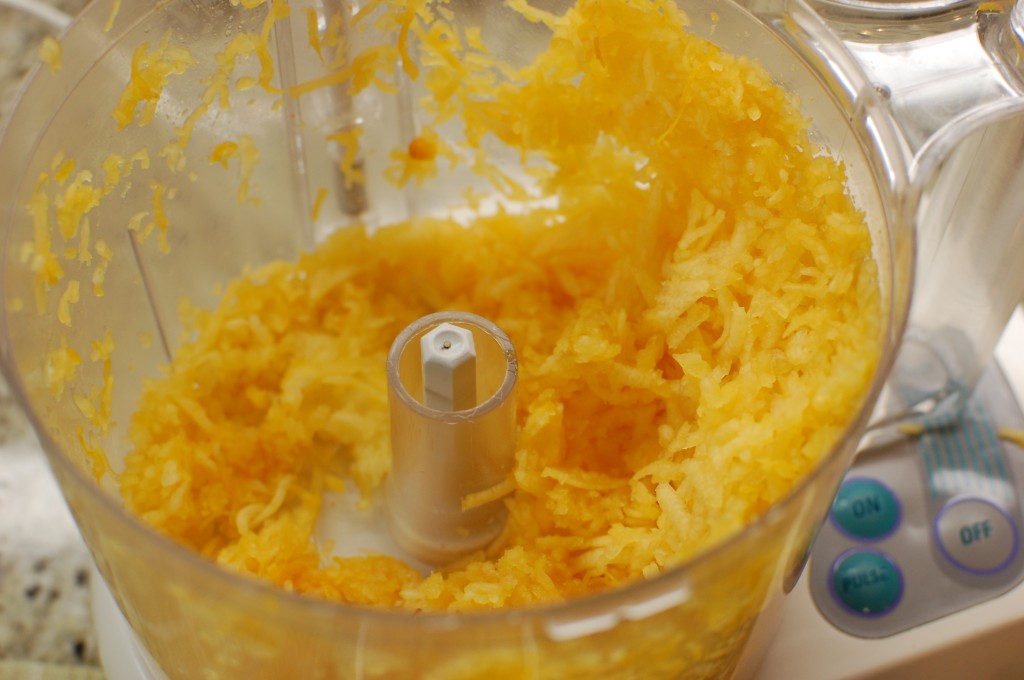 2.  Prepare the streusel by pulsing all ingredients in the work bowl of a food processor until coarse crumbs form.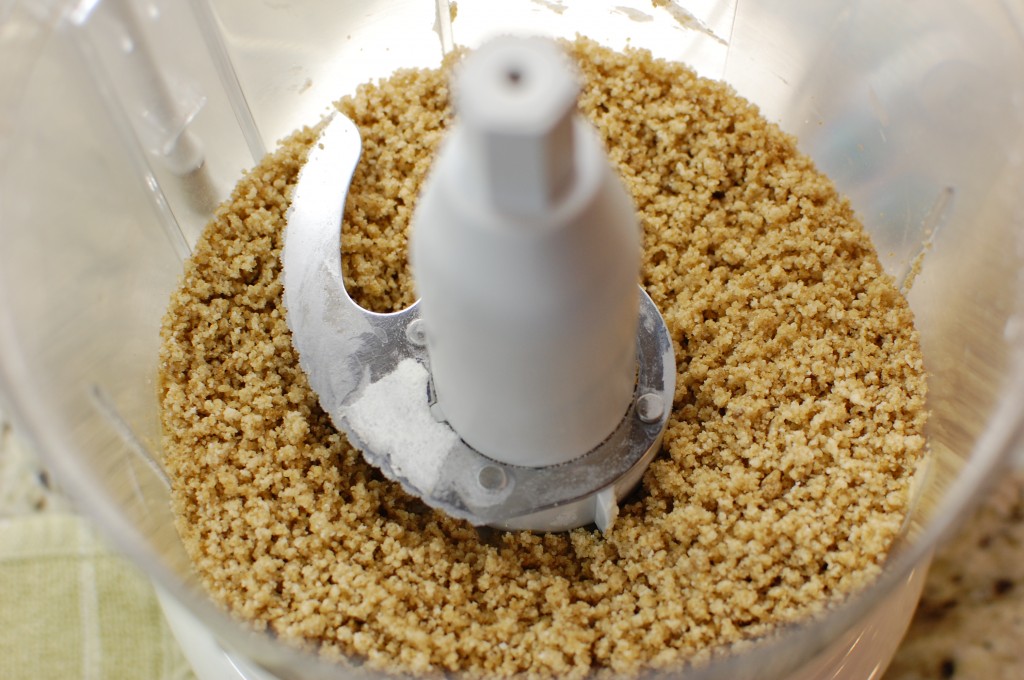 3.  Combine the grated pumpkin with the sugar, brown sugar, oil, eggs, vanilla, and salt in a large bowl.  Mix well.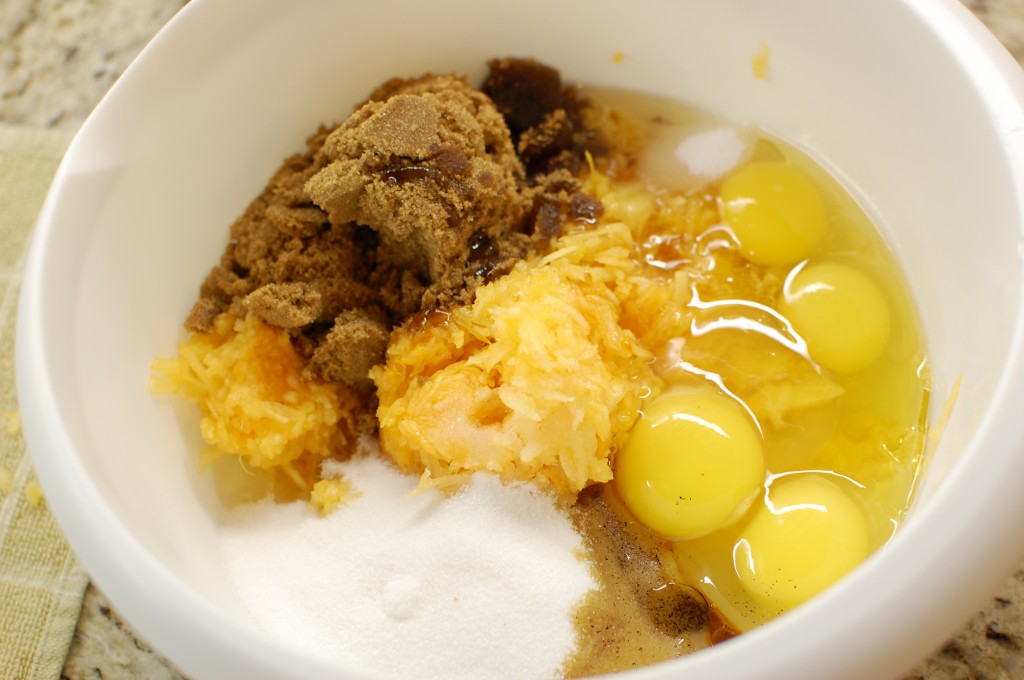 4.  Sift the flour, baking powder, baking soda, cinnamon, and nutmeg in a large bowl.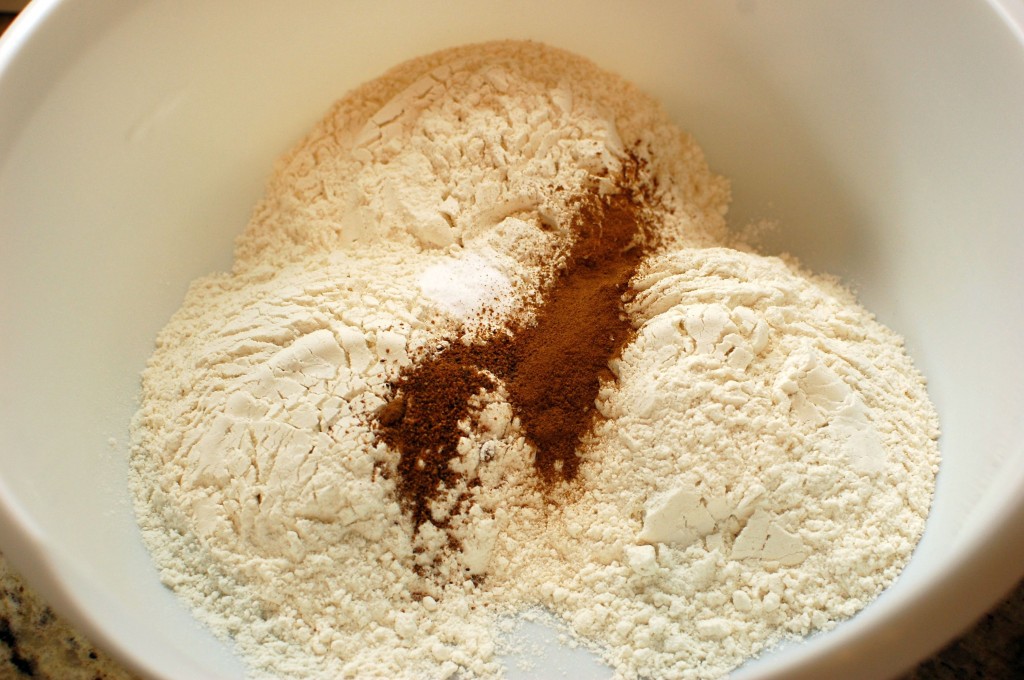 5.  Combine the wet ingredients into the dry ingredients and stir in the chocolate chips or nuts.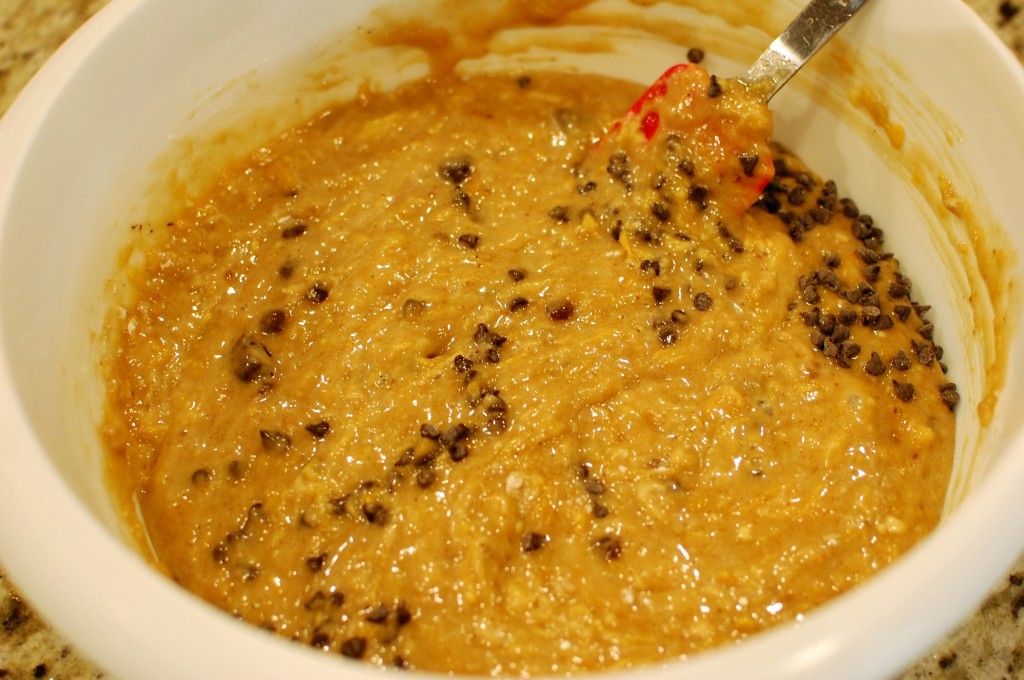 6.  Divide the batter  between the two loaf pans and top with the streusel mixture.  Bake at 350 degrees for 50-60 minutes.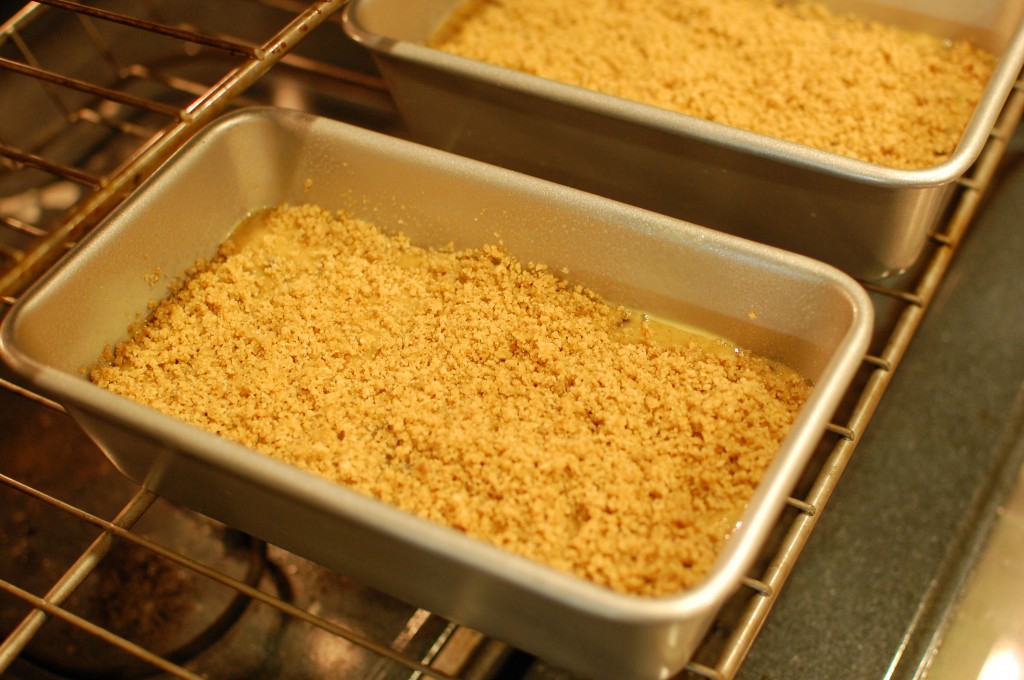 7.  Cool 5 minutes before removing to wire rack to cool completely.