Here is a quick and easy (but impressive) bite sized dessert/appetizer that you can serve at a holiday party or get together – triangles of filo pastry, stuffed with… whatever you want!  I've made these little triangles with savory cheese filling, different types of meat fillings, and my favorite – dessert fillings like Nutella!  This time, instead of Nutella, I used a new organic chocolate hazelnut spread from Italy – Nocciolata (It was really good – crispy and flaky on the outside, rich, sweet, and creamy on the inside.)  Another good choice for a fall holiday party would be a thick pumpkin butter filling.  Almost anything thick will work as a filling – just don't use anything too liquid-like… thicker fillings seem to turn out the best – too much liquid will make for a soggy triangle that explodes during baking.
You can find frozen filo dough pastry sheets in the freezer section of the regular supermarket (usually near the frozen pie crust and frozen puff pastry dough).  Just defrost 1/2 a package in the refrigerator overnight, and you are all set for the next day.  You will get somewhere around 3 dozen little triangles with about 1/2 a package of filo dough if you cut the sheets into fifths, as I did below.  But you can make your triangles bigger, or smaller if you like (you might have to adjust the baking time).
Stuffed filo pastries: 
1/2 package filo dough, defrosted
6 T. unsalted butter, melted
Sweet Filling ingredients ideas:
1 jar Nutella or Nocciolata (an organic chocolate hazelnut spread)
1 jar. pumpkin butter
peanut butter + chocolate chips
Savory Filling ingredients ideas:
1 c. grated mozzarella + 1/2 c. ricotta + 3 T. Parmesan
buffalo chicken dip
cooked taco filling (crumbled, seasoned ground beef) + shredded cheese
1.  Thaw your filo dough in the refrigerator overnight.   Open the package and unfold the pastry sheets.  Cover with a lightly dampened cloth to prevent the sheets from drying out and sticking together.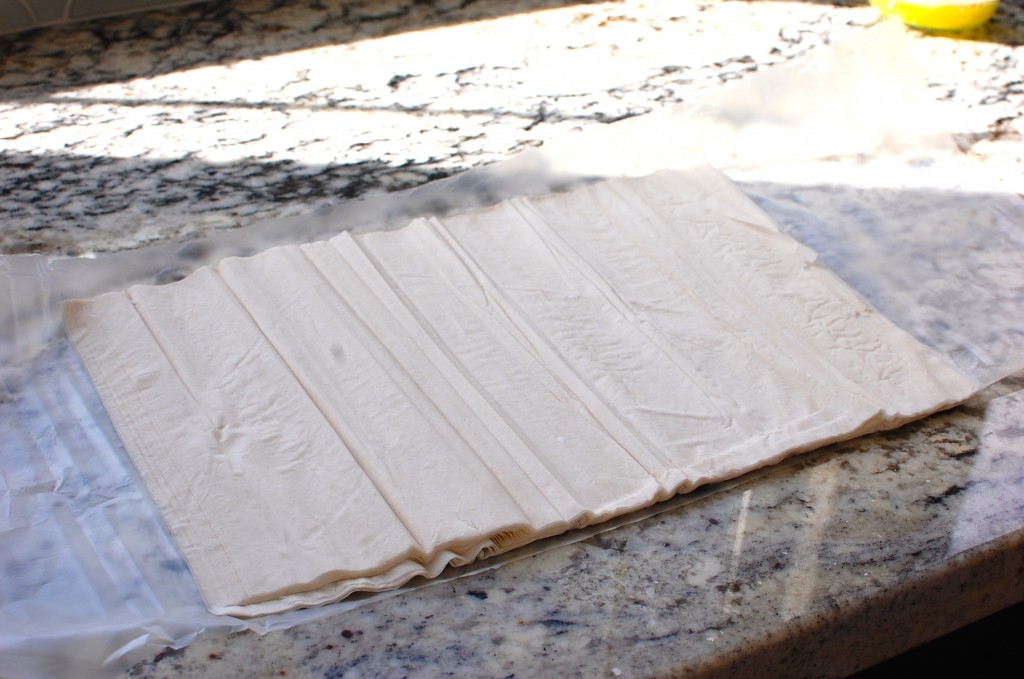 2.  Preheat the oven to 400 degrees.  Brush one sheet of filo dough (gently to avoid tearing) with melted butter.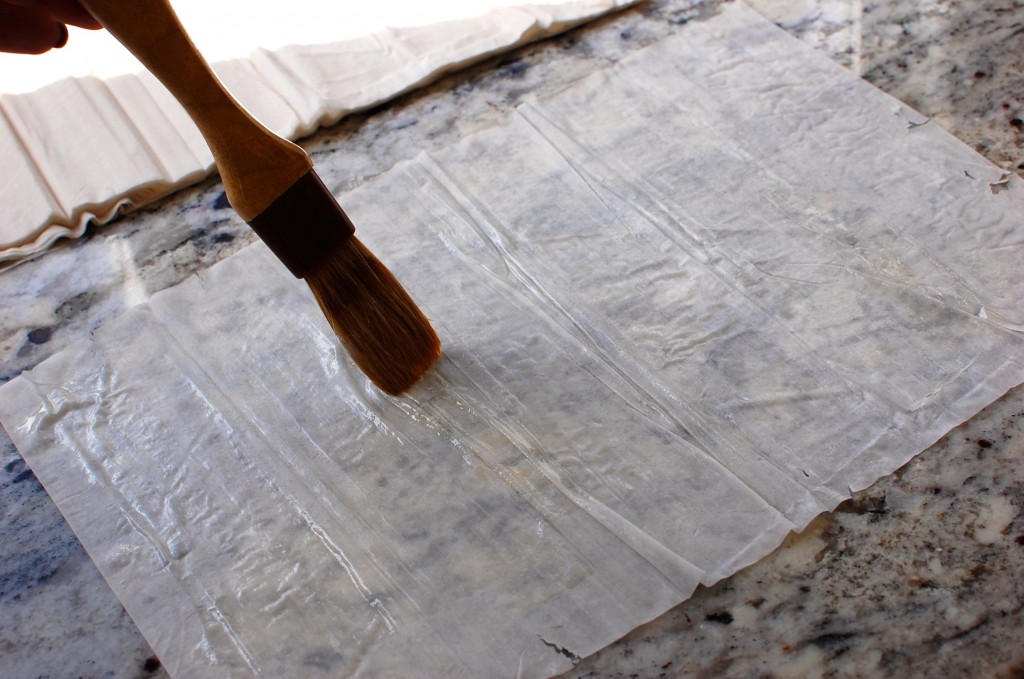 3.  Lay another sheet of filo dough on top of the first, brush with melted butter.  (The filo sheets are very fragile.  If they tear, that's ok – just try to flatten it and put the edges together as best you can.)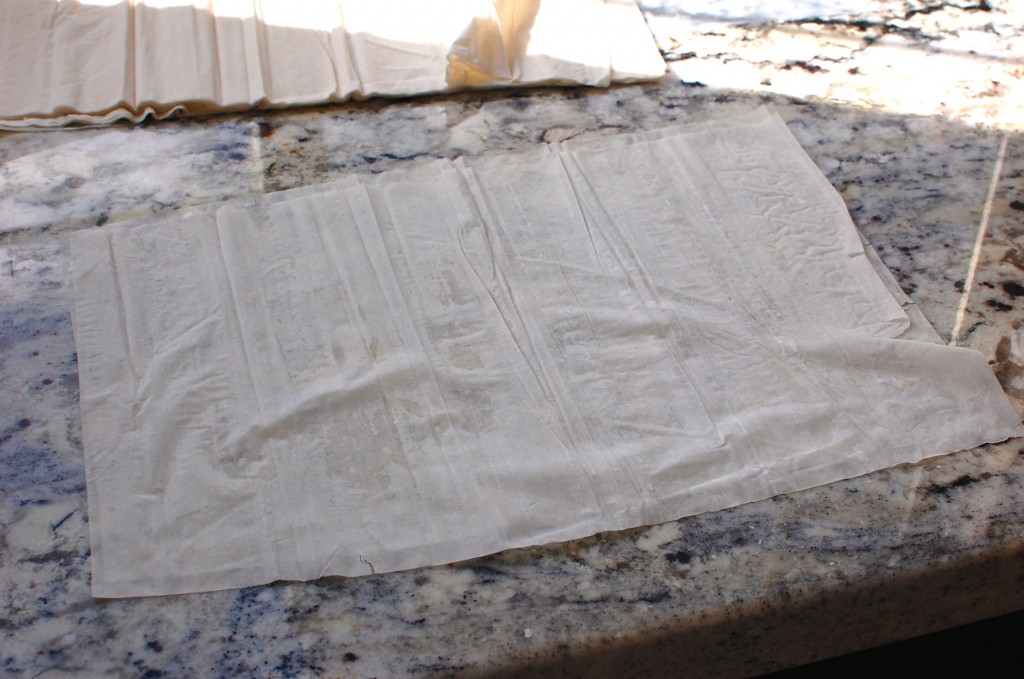 4.  Using a pizza cutter or sharp knife, cut the dough into 5 long strips.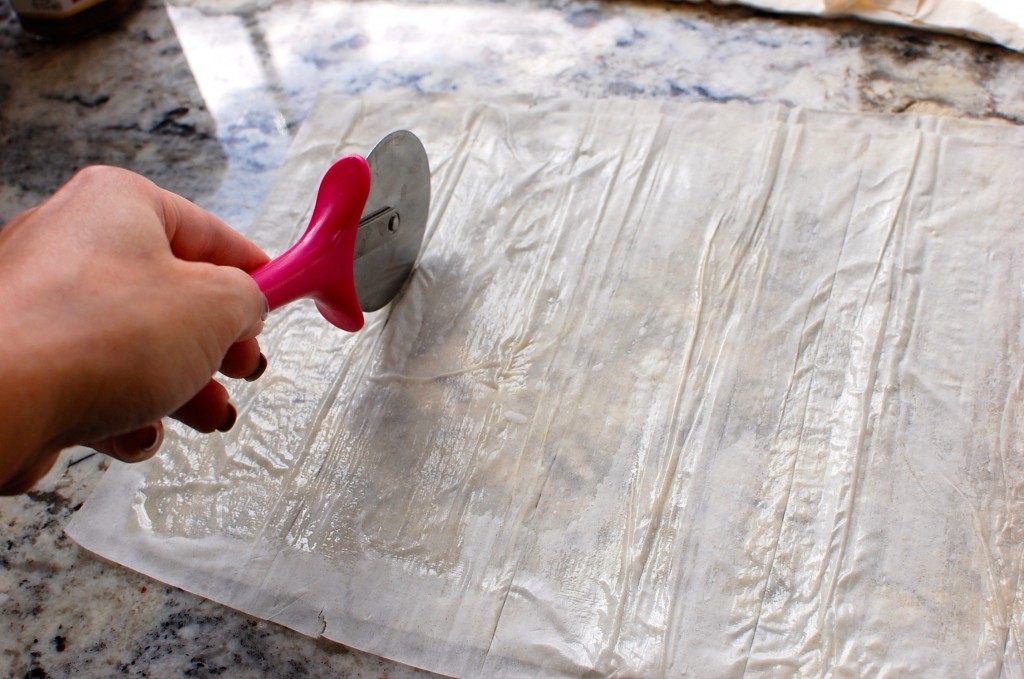 5.  Place a small amount of filling (about 1 tsp.) in a corner of each strip.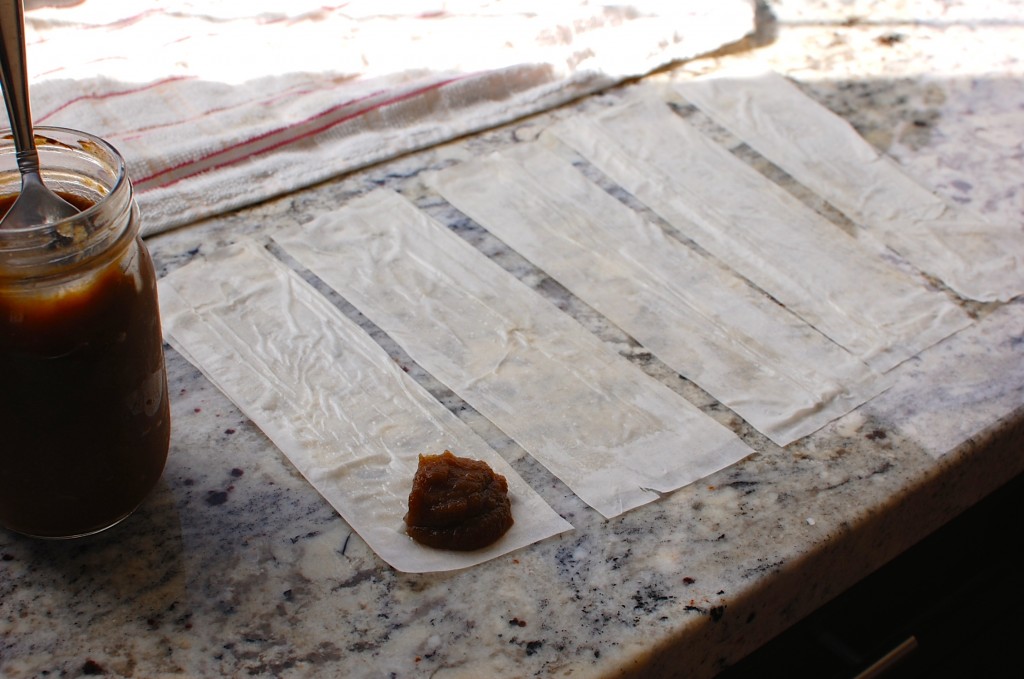 6.  Fold the corner over the filling to create a triangle shape.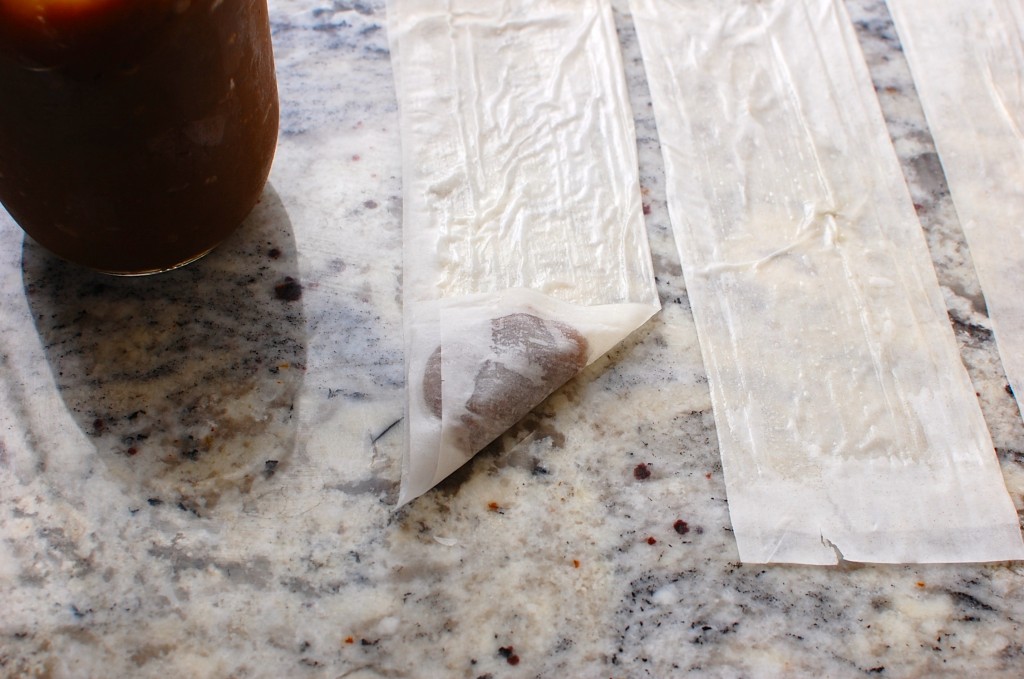 7.  Fold the triangle up.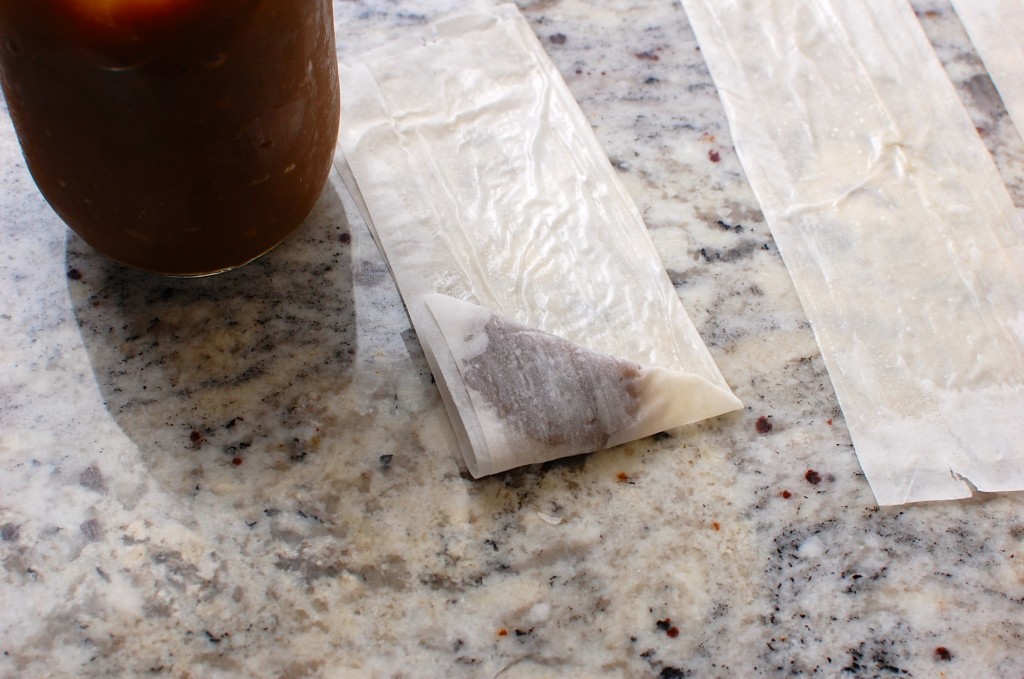 8.  Continue to fold the triangle all the way up, maintaining the triangle shape.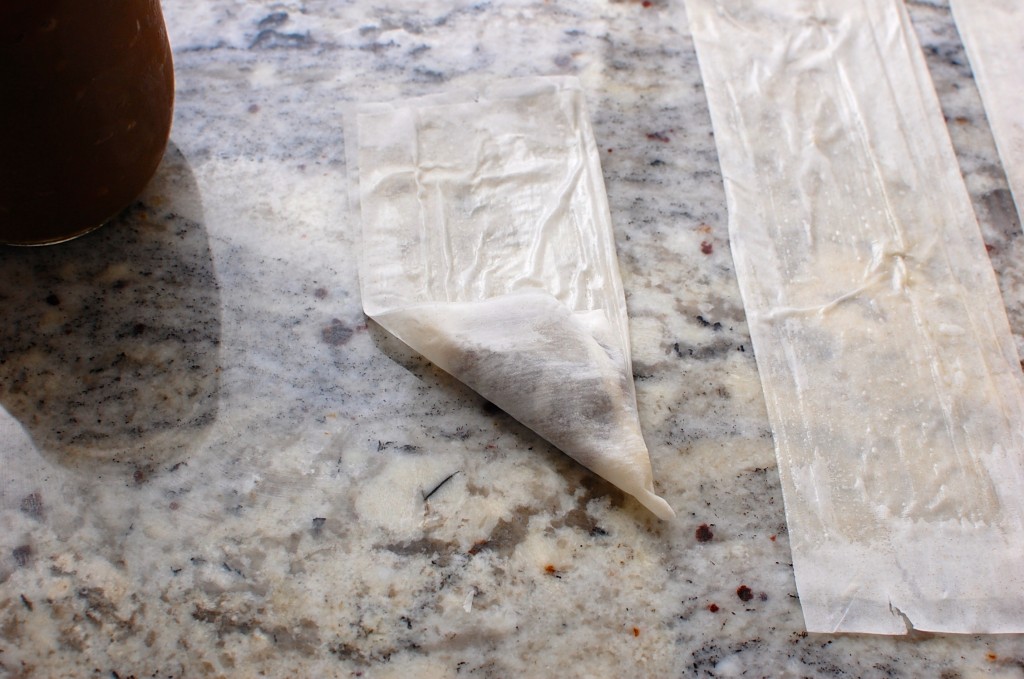 9.  Place the triangle on a silicone lined baking sheet and brush the top with melted butter.  Repeat with the remaining filo and filling.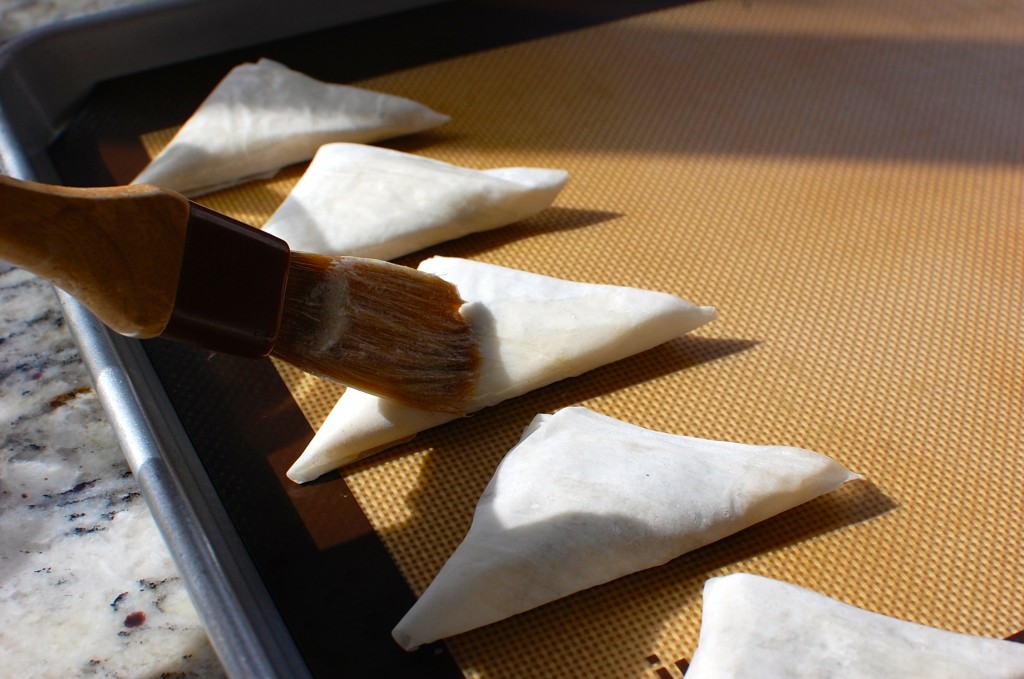 10. Bake for 10-15 minutes or until golden brown and crispy.
11.  For filo pastries stuffed with sweet filling, lightly dust the top with a bit of powdered sugar (if desired).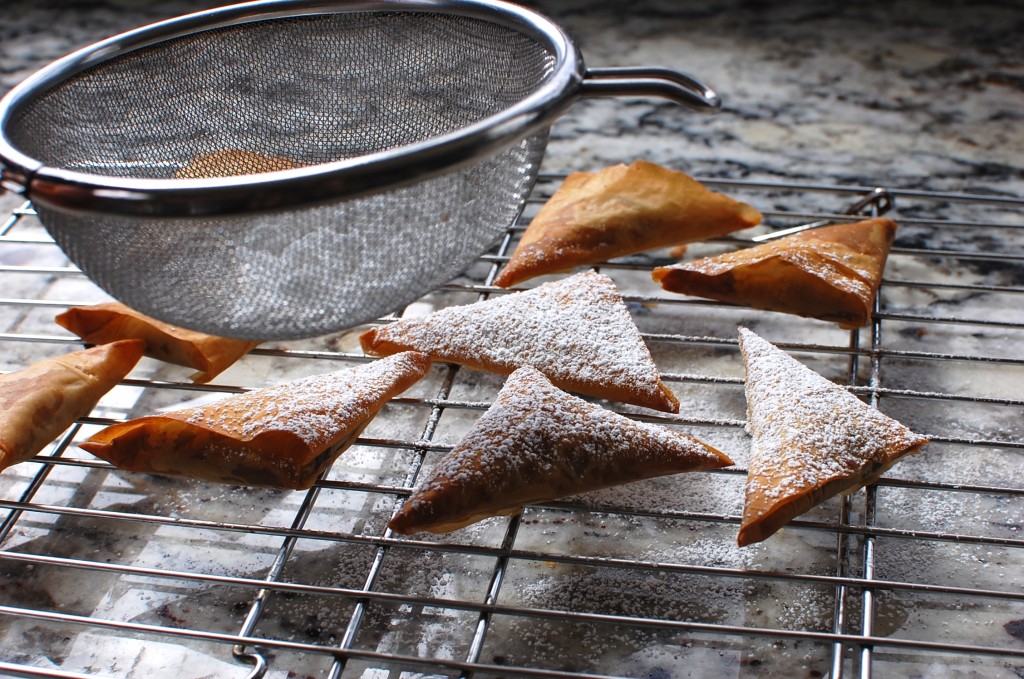 12.  Serve warm.  (These filo pastries in the picture below were filled with pumpkin butter, so I also dusted them with a little bit of pumpkin pie spice.)