Lately, I've been trying my hand at craft cocktails… trying to come up with interesting and delicious drinks to serve to my friends when they come over for dinner!  I've made a bunch of different martinis that have had good reviews… the Roy's Hawaiian Martini, Fresh Squeezed Lemon Drop Martini, Pear Martini, and the Thai Coconut Lemongrass Lime Martini.  I've also had some success with super easy party drinks like Sangria and Kalimotxo.
Many of those drinks are sweetened with simple syrup and have various flavors added in the form of infused spirits/liqueurs and fruit juices (although sometimes I add herbs to the simple syrup to infuse it with more flavors).  This time I wanted to experiment by making various syrups from fruit juice, instead of attempting to add flavor to simple syrup (white sugar dissolved in an equal portion of water).  It's actually quite easy to make delicious and completely wonderful fruit syrups from 100% fruit juice… just simmer and reduce to 1/8th of the original fluid volume!  I made both apple cider syrup and passionfruit syrup to make two different cocktails I have been meaning to try: the vintage "Avenue" cocktail from the 1930′s, and the more modern "Ciderhouse Whiskey" (at least I think it is more modern!).   (**If you aren't a drinker, these syrups are also wonderful to serve over pancakes, waffles, and french toast… you can also add a shot of syrup to sparkling soda water for refreshing beverage!)
I recently purchased the 2008 reprint edition of the 1937 Café Royal Cocktail Book.  It gave a recipe for a drink called the "Avenue" invented by W.G. Crompton… I was intrigued because I've actually had this drink the local neighborhood gastropub!  Initially I tried the recipe as written by using Welch's passion fruit juice – but I felt that it was missing a little bit of sweetness and body and would benefit from a substitution of a concentrated syrup for the juice.  So I took the passionfruit juice and cooked it down to make a syrup… and the drink was much better!
For the other drink listed below ("Ciderhouse Whiskey"),  I cooked down a bottle of 100% apple cider juice to make an apple syrup…. next time I went to the market I bought two more bottles of juice to cook down because I KNOW this syrup will not last!  (The apple syrup was so good… so I made another double batch to keep in the refrigerator.)  I think this is my new favorite cocktail!
Apple Cider syrup:
1 bottle 100% apple cider
Passionfruit syrup:
1 bottle passionfruit juice (or passionfruit blend)
The Avenue Cocktail:
1 oz. Bourbon whiskey
1 oz. Calvados (apple brandy)
1 oz. passionfruit syrup
1 dash pomegranate grenadine
1 dash orange flower water (or use 1 strip orange peel)
orange zest for garnish (optional)
The Ciderhouse Whiskey Cocktail:
2 oz. Bourbon whiskey
1 oz. apple cider syrup
1 strip lemon zest
lemon zest or apple slice for garnish (optional)
1.  First make the Apple Cider syrup and/or Passionfruit syrup:  Place the juice in a large pot (I used a 64 oz. bottle of apple cider here).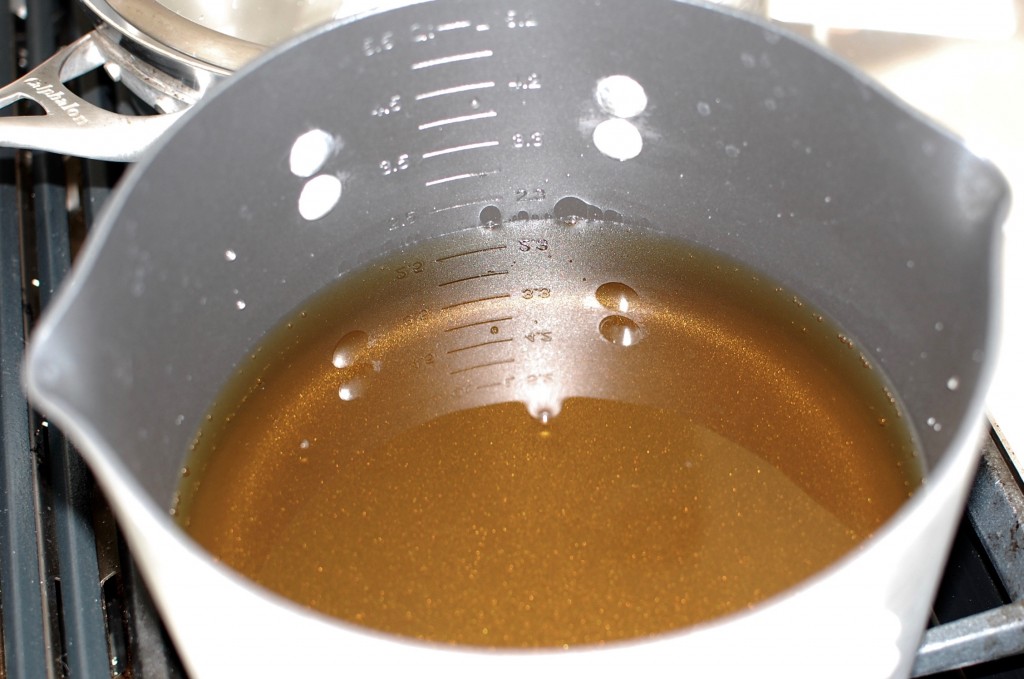 2.  If your pot does not have measuring marks on the side, stick a bamboo skewer into the pot to check the level of the liquid.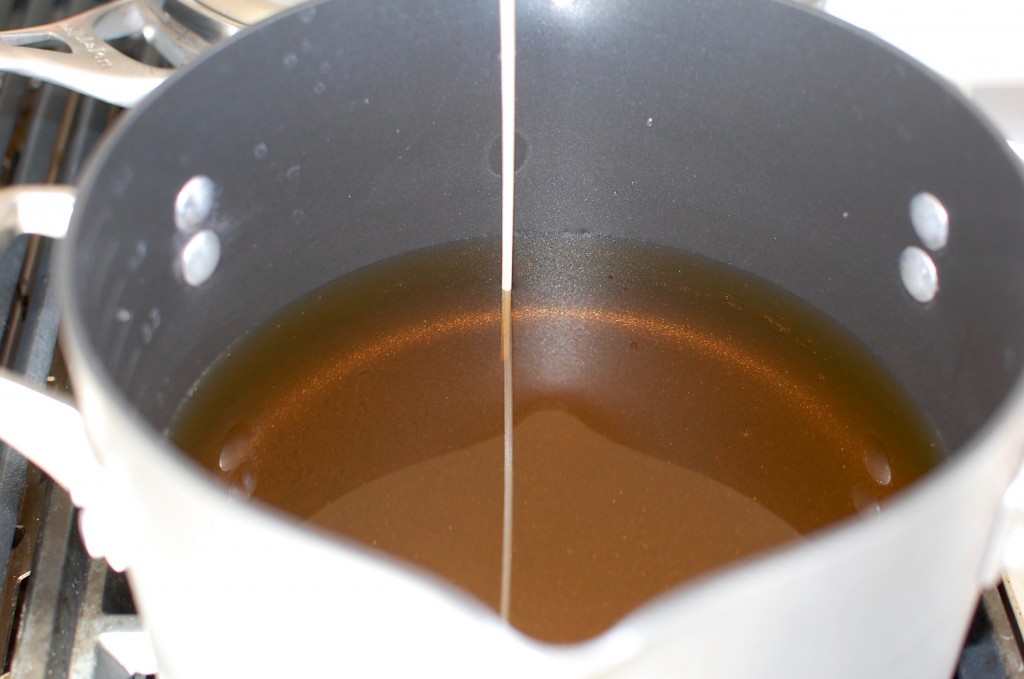 3.  Mark your liquid level on the skewer with a sharpie, then below that, make a few more marks: at the 3/4, 1/2, 1/4, and 1/8 points (approximately).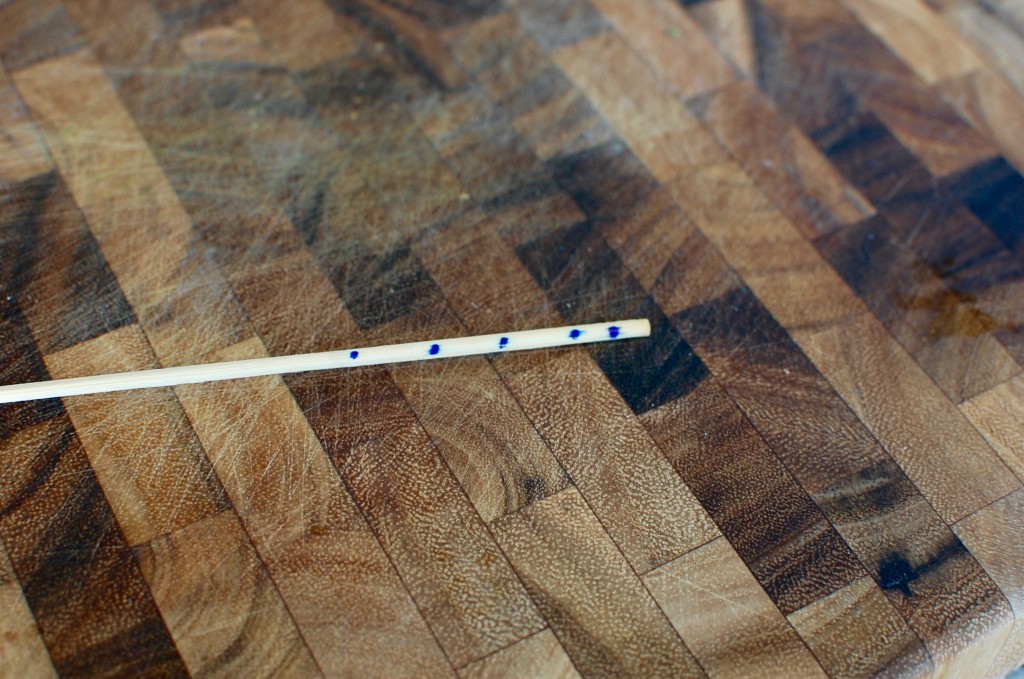 4.  Bring your liquid to a boil, then reduce heat and simmer (uncovered).  Check the liquid level every 5-10 minutes by sticking your skewer into the pot to see how far it has reduced.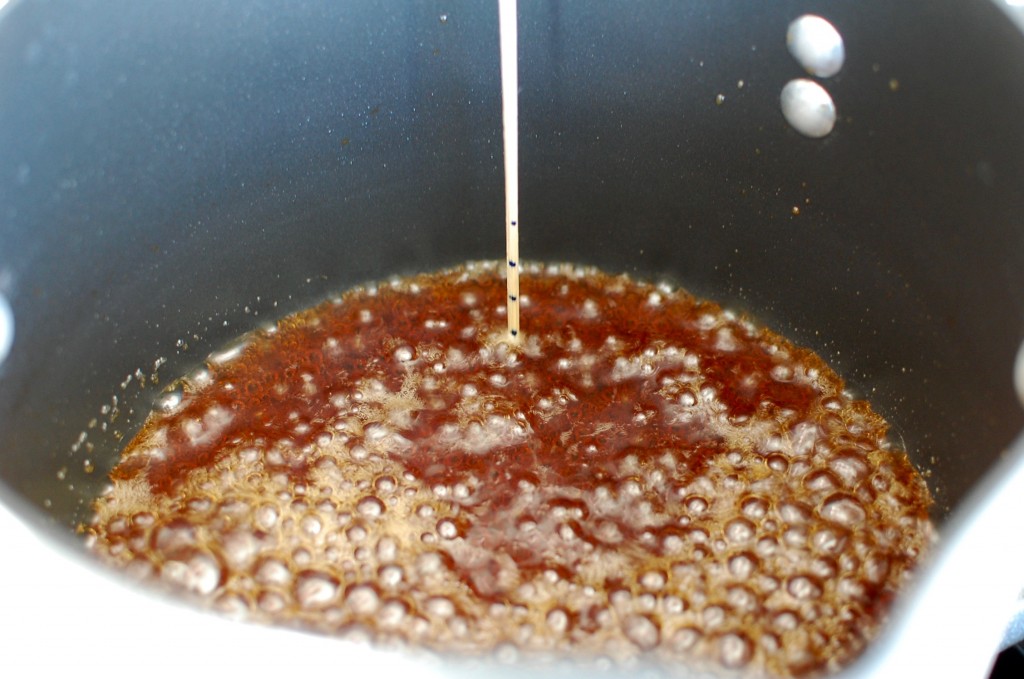 5.  Continue to simmer until the volume is reduced to 1/8.  Turn off the heat and allow the syrup to cool.  (I started with 64 oz of juice, so this process took me about 1 hour – how long it takes for your syrup to reduce will depend on how much juice you start with, how high the heat on your stove is, and what type of pot you use…. so don't take my word for it that it will take 1 hour – it could be done much more quickly, or might need more time.)  If any "foam" accumulated in your syrup during the reducing process, strain the syrup before using/storing.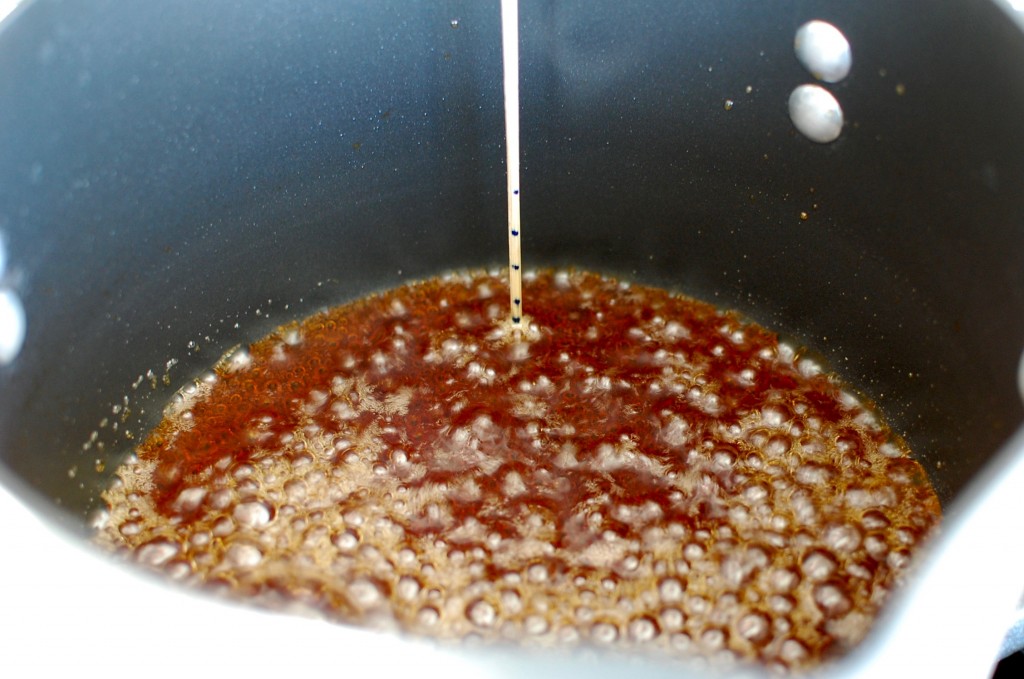 6.  As the syrup cools, it will thicken.  Store the syrup refrigerated in clean glass jars or bottles.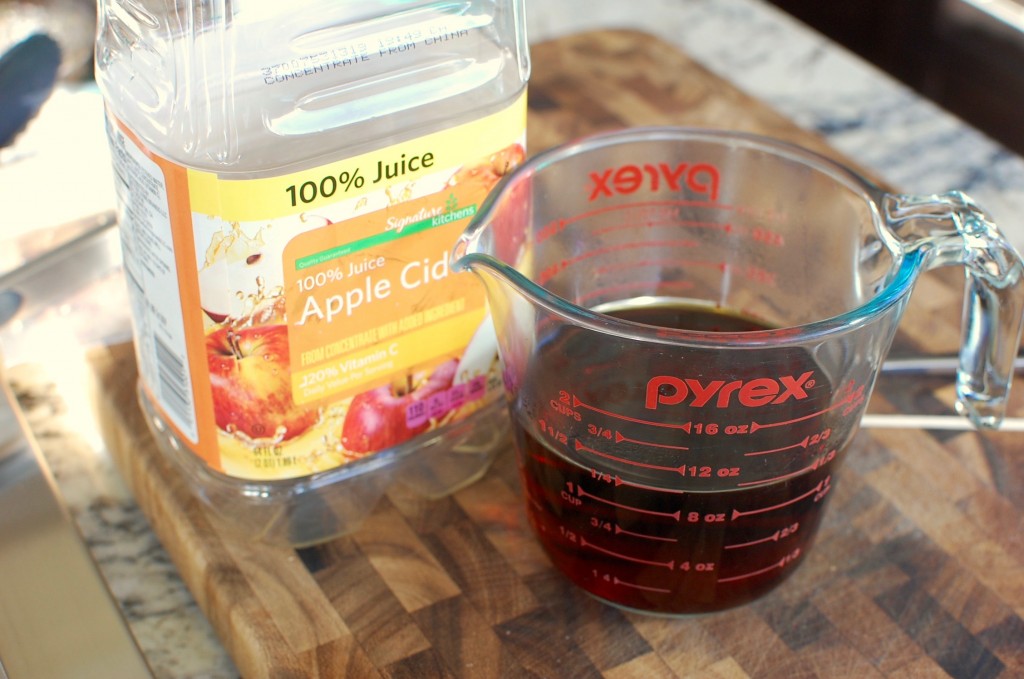 7.  To make a Ciderhouse Whiskey Cocktail:  Add 2 oz. bourbon, 1 oz. apple cider syrup, and a strip of lemon zest into a cocktail shaker.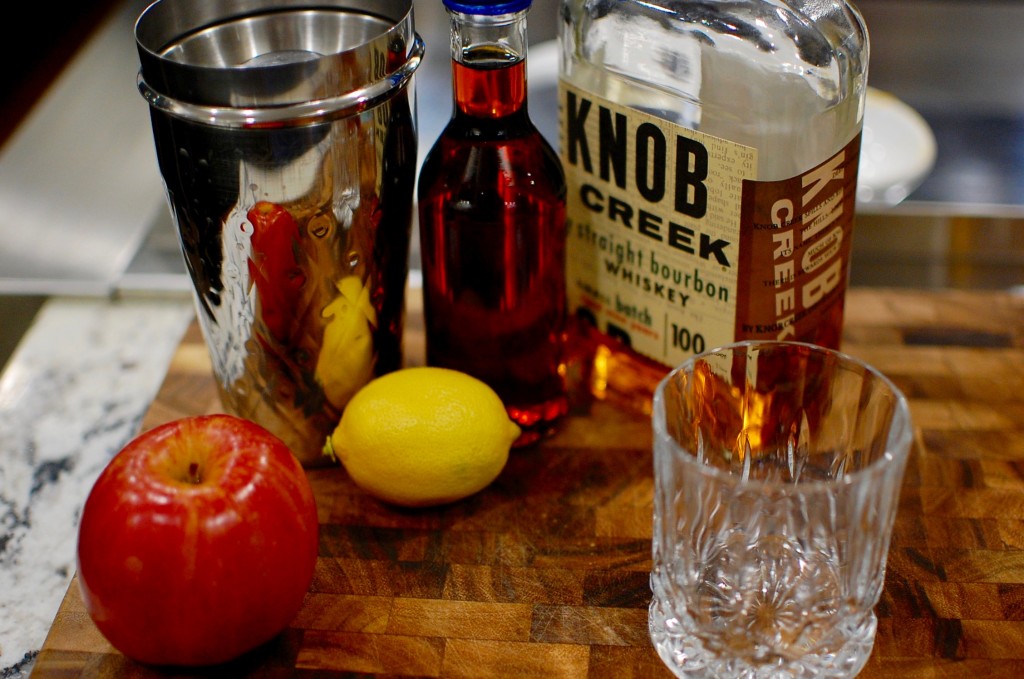 8.  Add crushed ice.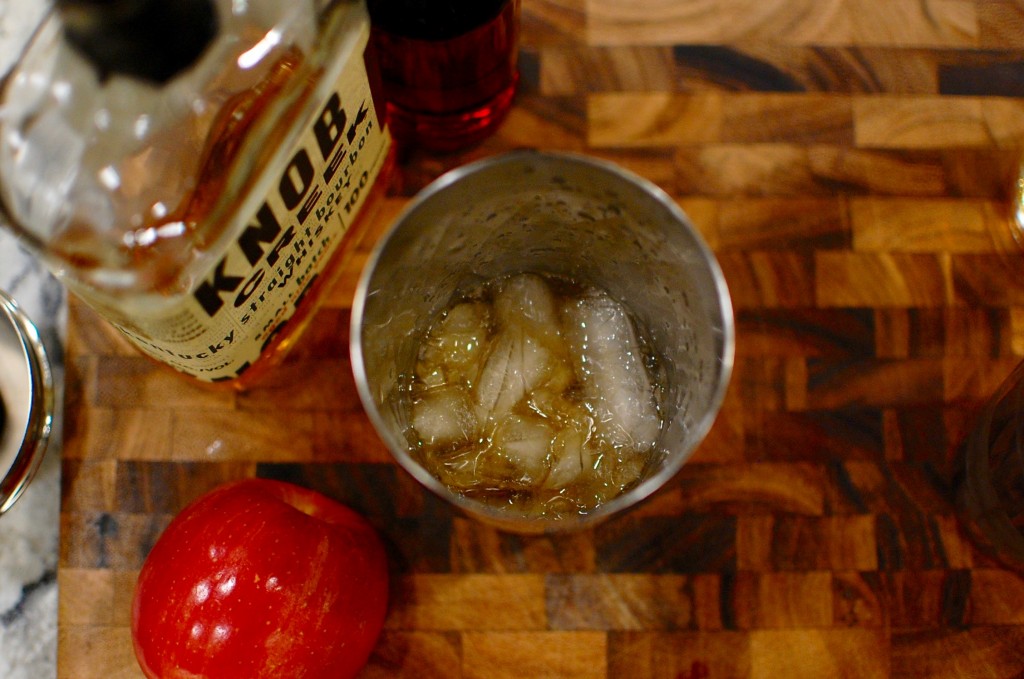 9.  Shake for 10-15 seconds until the outside of the shaker is frosted over, then pour into an old fashioned glass over ice.  Garnish with a strip of lemon zest and a slice of apple.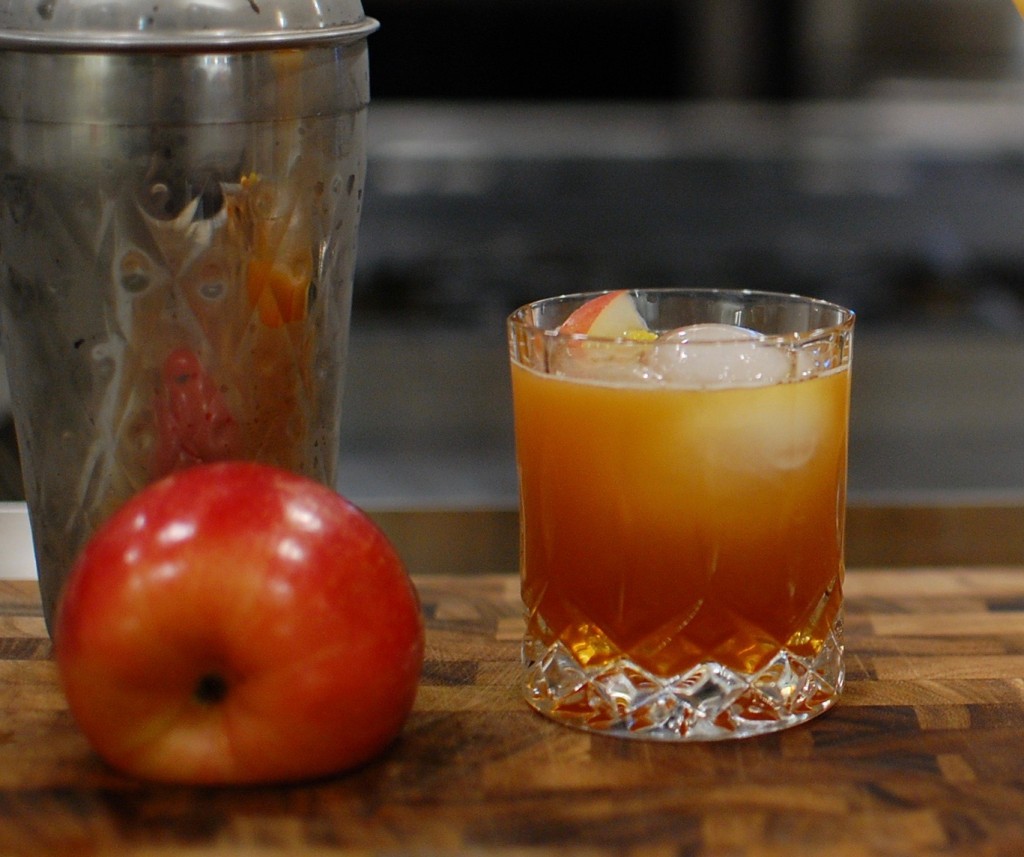 10.  To make a vintage Avenue cocktail:  Add 1 oz. bourbon, 1 oz. Calavados (apple brandy), 1 oz. passionfruit syrup, 2-3 dashes grenadine, and 2-3 dashes orange flower water (you can substitute with a strip of orange zest) into a shaker.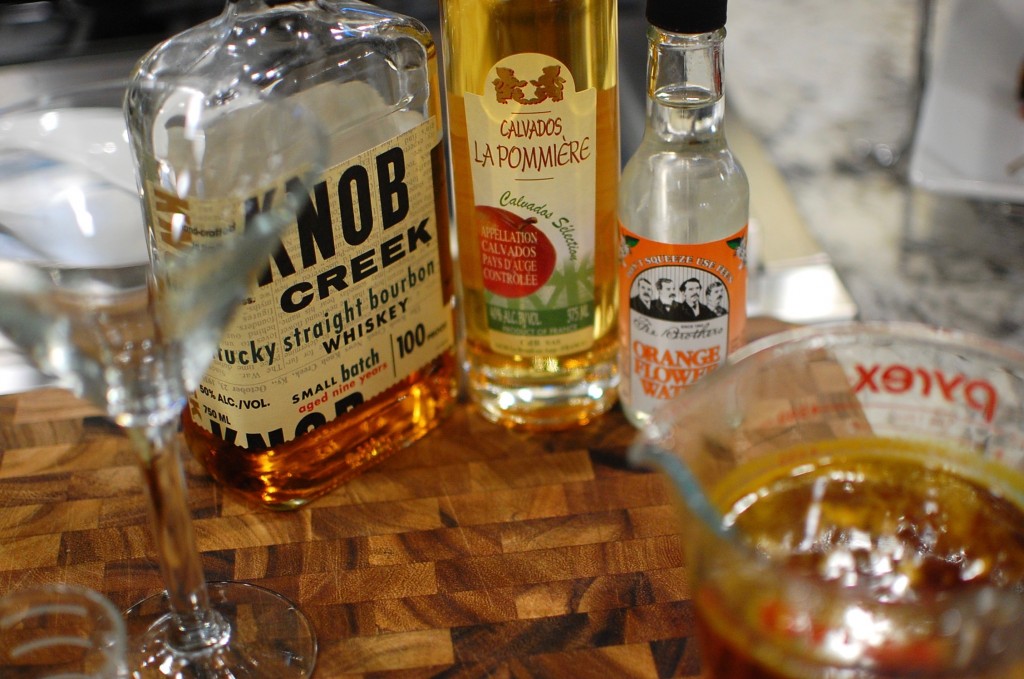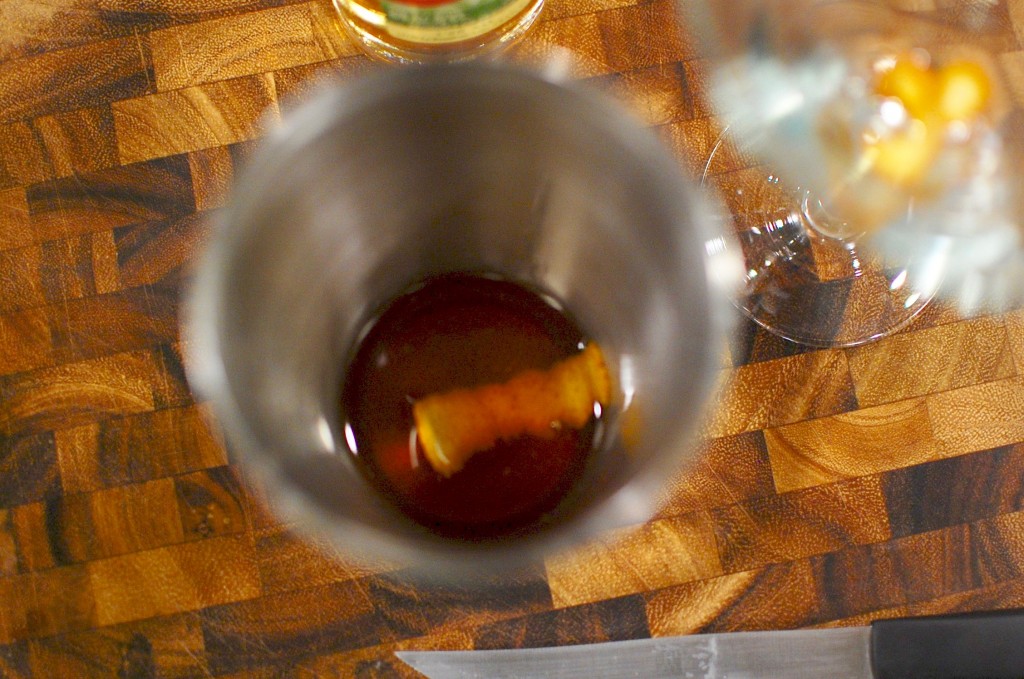 11.  Add crushed ice to the shaker and shake for 10-15 seconds until the shaker is frosted over.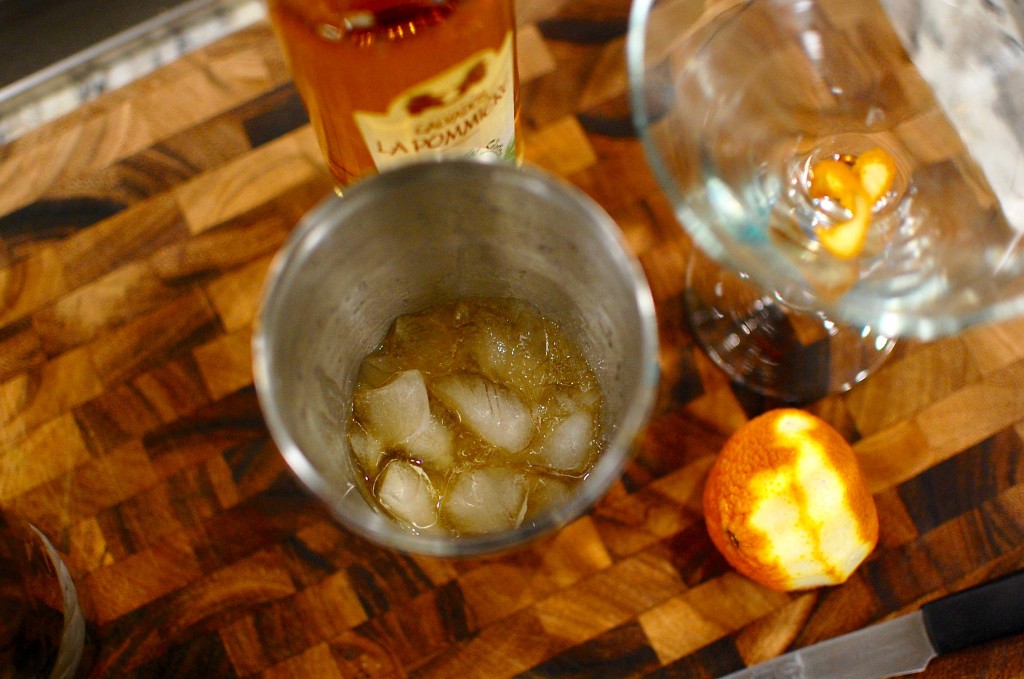 12.  Serve "up" in a martini or coupe glass.  Garnish with  orange zest.